SIHH 2017: Day 2 – It's complicated!
This second day at the SIHH provided the opportunity to meet a number of CEOs and hear their opinion on the future of the industry. Their optimism for the coming months was all the more motivating when it came to looking at the marvels on display, especially since the market seems headed for a new cycle.
Montblanc: precision at work
This year, Montblanc went into overdrive by offering a collection that reveals its will to move quickly to conquer hearts and minds. Worthy of special note in this chapter is the TimeWalker line, featuring models with elegant designs that are bound to seduce fans of beautiful cars. Among the timepieces presented is the magnificent Chronograph Rally Timer Counter Limited Edition 100. It looks quite imposing at first glance, but fits the wrist surprisingly well. It is not only a watch, however. Thanks to the foldable lugs and integrated supports, it can be transformed into a desk clock or a dashboard chronograph. It's a piece that is chic as well, and furthermore, the caliber inside – visible through the transparent case back – is a manual marvel with perfect finishing, all by Minerva.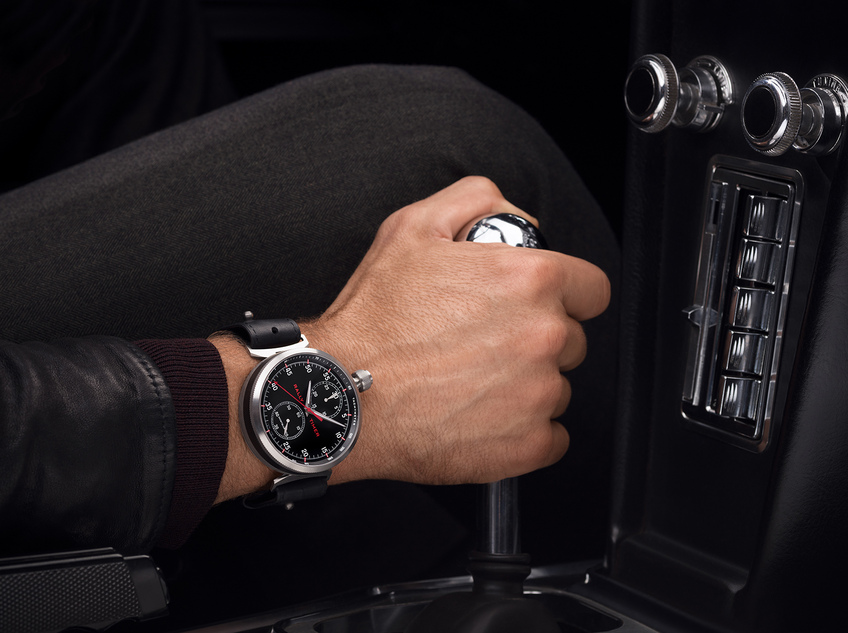 Montblanc TimeWalker Rally Timer
Another exceptional product that needs to be highlighted amongst the novelties is the TimeWalker Chronograph 1000, which comes in a limited edition of 18 pieces. This model will be coveted, indeed. The case is of modern design, bringing together black satin titanium DLC for the barrel and ceramic for the bezel. Purists will particularly appreciate the manually-wound movement (made up of 488 components), clearly an outstanding device that boasts two separate regulating mechanisms. The first runs at 18,000 vibrations per hour (vph) and is dedicated to the hours (apparently it has a power reserve of 100 hours).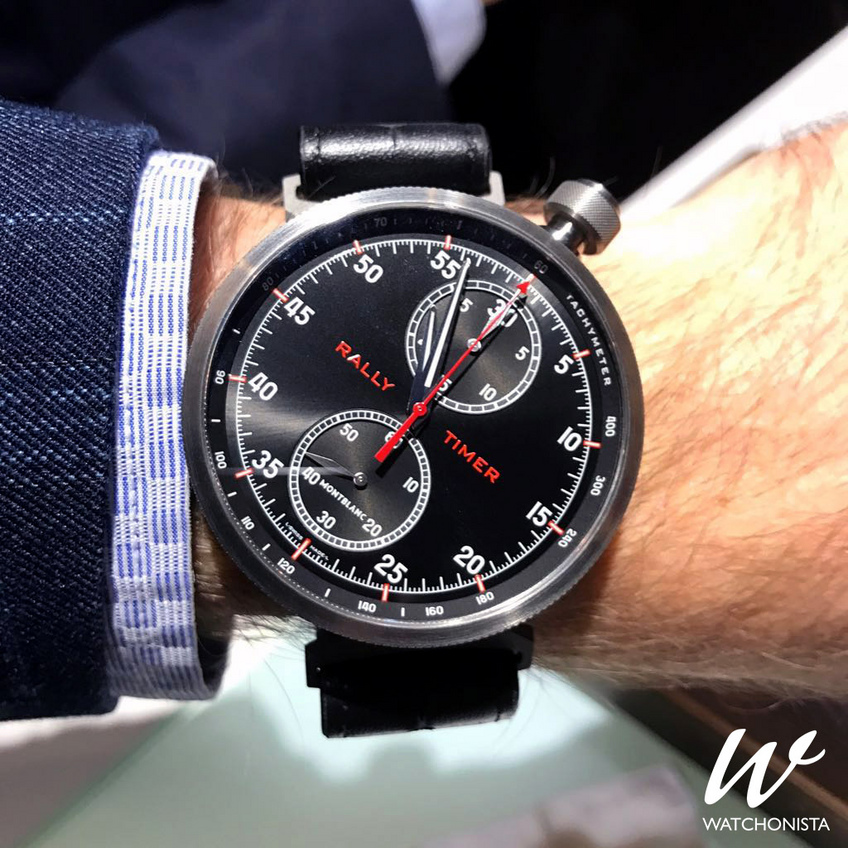 Montblanc TimeWalker Rally Timer
The second mechanism is on-demand: Once you press the chronograph pusher, it will run at 360,000 vph (equivalent to 50 Hz), in order to measure 100th of a second, thanks to a chrono hand that sweeps the dial once a second. A separate mechanism was developed to measure 1000th of a second. It features a kind of sensor that comes to rest on a toothed arm of a dedicated wheel. The 100th of a second are then displayed in a large aperture. Pressing the pusher a second time sends all the hands back to their point of origin for a second time measurement. This sublime and highly precise complication measures up to 45 minutes on a single winding.
Montblanc TimeWalker Chronograph 1000
Girard-Perregaux: the world in a case
According to all present, the presentation at Girard-Perregaux revealed two watches that really stand out. The Neo-Bridges, a 45-millimeter piece in titanium is, indeed, a genuine success story. It has a modern bearing, with an automatic movement that appears on the dial side. The watch is large, with a deep black color scheme. It features two vaulted bridges inspired by last year's Néo-Tourbillon model. The watch offers a coherent, balanced look.
There is something hypnotic about the large, 10.15-millimeter balance wheel with variable inertia oscillating at 21,600 vph (3 Hz) at 6 o'clock. The size of the balance wheel makes it less vulnerable to turbulence, so it's more precise. Furthermore, to maintain the sense of equilibrium, the barrel acts as a kind of counterweight to the microrotor of the automatic winding system, which delivers up to 48 hours of power reserve.Another marvel: the Planetarium Tri-Axial. This timepiece reveals Girard-Perregaux's mastery of high-precision movements. The tridimensional Planetarium combines a tri-axial tourbillon that moves in space, a globe that makes one turn every 24 hours, and, as the cherry on the cake, an astronomical moon phase. The earth complication can be adjusted as a GMT function or as a day/night indication, since the geographic zones are a little difficult to see with the naked eye.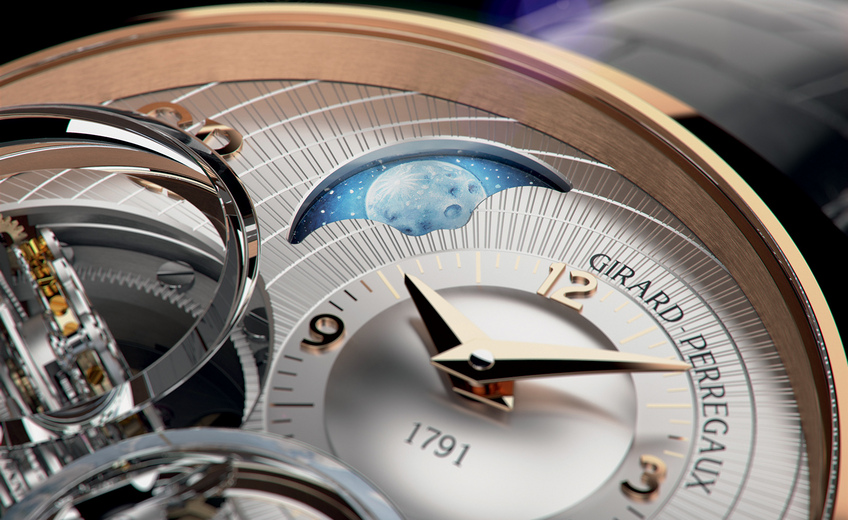 Girard-Perregaux Tri-Axial Planetarium
Greubel-Forsey: 935 components for their Grande Sonnerie
It took eleven years of research and development to produce the new Grande Sonnerie by Greubel-Forsey. It's core is made up of 935 parts, a genuine feat of technical prowess protected by two patents. This manually-wound movement provides 72 hours of power reserve and is truly innovative: The acoustic resonance cage is made of titanium. Furthermore, the chiming mechanism has an automatic winding system. Fully wound, it supplies about 20 hours of functionality for the Grande Sonnerie – more if the watch is being worn, because it rewinds itself. And because the designers understand how fragile this type of assembly can be, they also installed eleven security elements to protect its functionality and to ensure maximum comfort for the users.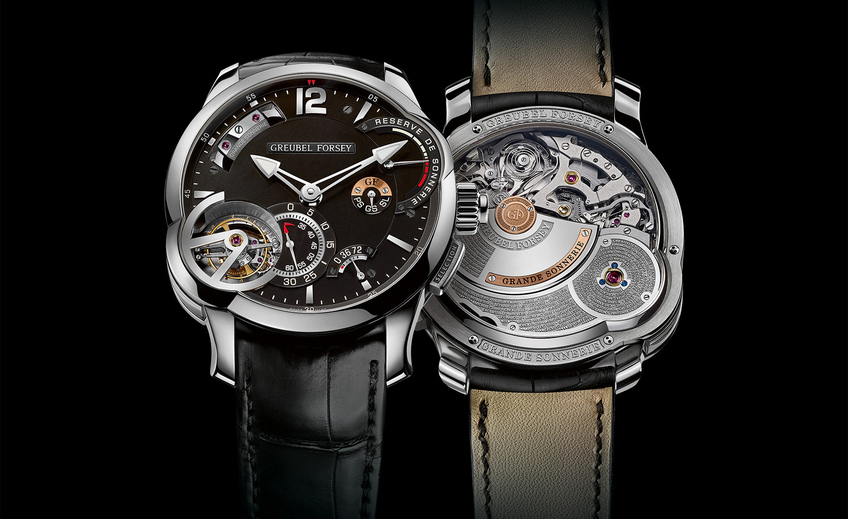 Greubel Forsey Grande Sonnerie
There's no doubt that the Grande Sonnerie is the most complex of the classic complications to manufacture. And this particular watch was thought up by Robert Greubel and Stephen Forsey right from the start of their partnership. Both men intended to give this "queen of all complications" a contemporary dimension. They worked for eleven years and in total secrecy to assemble the timepiece's 935 components, much of that work going into ensuring perfect harmony between the movement, the decoration and the acoustics.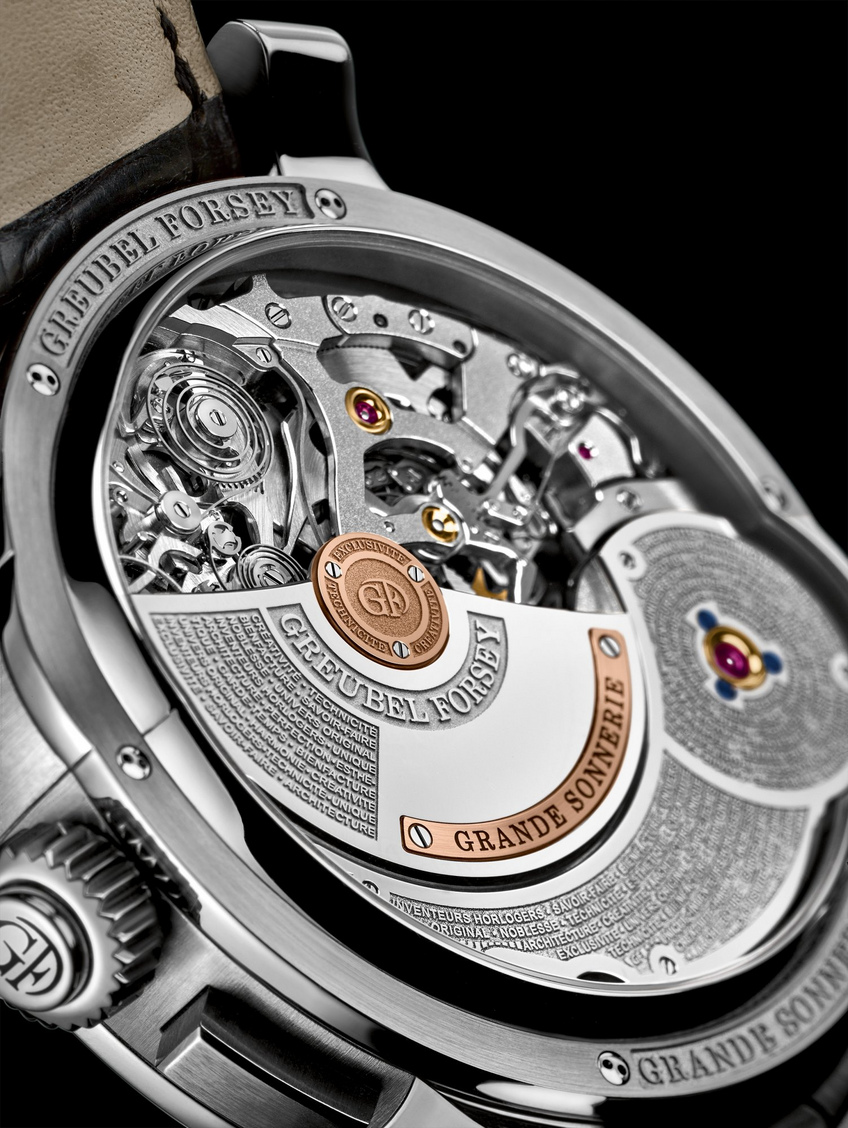 Greubel Forsey Grande Sonnerie
Today, this watch, which is almost a mechanical musical instrument on its own, represents the quintessence of their know-how and of their ideals in terms of watchmaking excellence. The acoustics of the Grande Sonnerie, which is regulated by a 24-second tourbillon, are exceptional, in spite of water-resistance set at three atmospheres. It is an impressive technical feat. Plus, this marvel of reasonable dimensions (43.5 millimeters in diameter for a thickness of 16.13 millimeters) was conceived for ergonomics and can be worn in all situations. It ensures the wearer top comfort and outstanding sound quality.
FOLLOW US DURING THE SIHH 2017! VISIT OUR SPECIAL PAGE