Marine chronometry in Japan
Marine chronometers play a special role in the history of timepieces. Their importance rests mainly on two factors that the case of Japanese watchmaking industry illustrates perfectly. Here are some explanations.
The first factor is that marine chronometers are by definition essential navigation instruments for maritime countries. It was not a coincidence that the Briton John Harrison was one of the key designers of marine chronometers in the 18th century. Furthermore, and what is the second factor is that the necessity to produce high-precision clocks resulted in producers mastering certain skills that paved the way for the creation of quality watches later on. These are two dimensions that Japanese watchmaking illustrates perfectly.
Controlling navigation in open sea
During the Edo period (1600-1853), Tokugawa shogunate prohibited navigation in open sea and strictly controlled Japan's relations with other countries. Then, when the Japanese archipelago started international trading, the mastering of navigation became a fundamental skill.
Utagawa Toyokuni I (1769-1825) © Honolulu Museum of Art Allure
Consequently, in 1862, Japanese authorities sent Norichika Ono, from the government calendar office, to the Netherlands to learn marine chronometry. Born in a family of Japanese clock (wadokei) producers, Ono had a son, Noriyoshi, whom he sent to study at the Geneva school of watchmaking in 1877. After a stint at Patek, Philippe & Cie, Noriyoshi returned to Japan in the early 1880s and started working at a watchmaking factory in Osaka, which would close down shortly after.
Wadokkei Temporal Hour Watch
Despite the Ono family's interest in watchmaking, no advanced technology in marine chronometer production reached Japan. Indeed, marine chronometers are particularly complex instruments to make and so, from the 1890s, the Imperial Navy started buying them from European producers, especially from Nardin in Le Locle.
Kubota Watch
Growing military demand
However, imperialism and wars arose the need to produce marine chronometers in Japan. The Navy did not want to depend on other countries anymore and made sure to secure its supply of navigation instruments.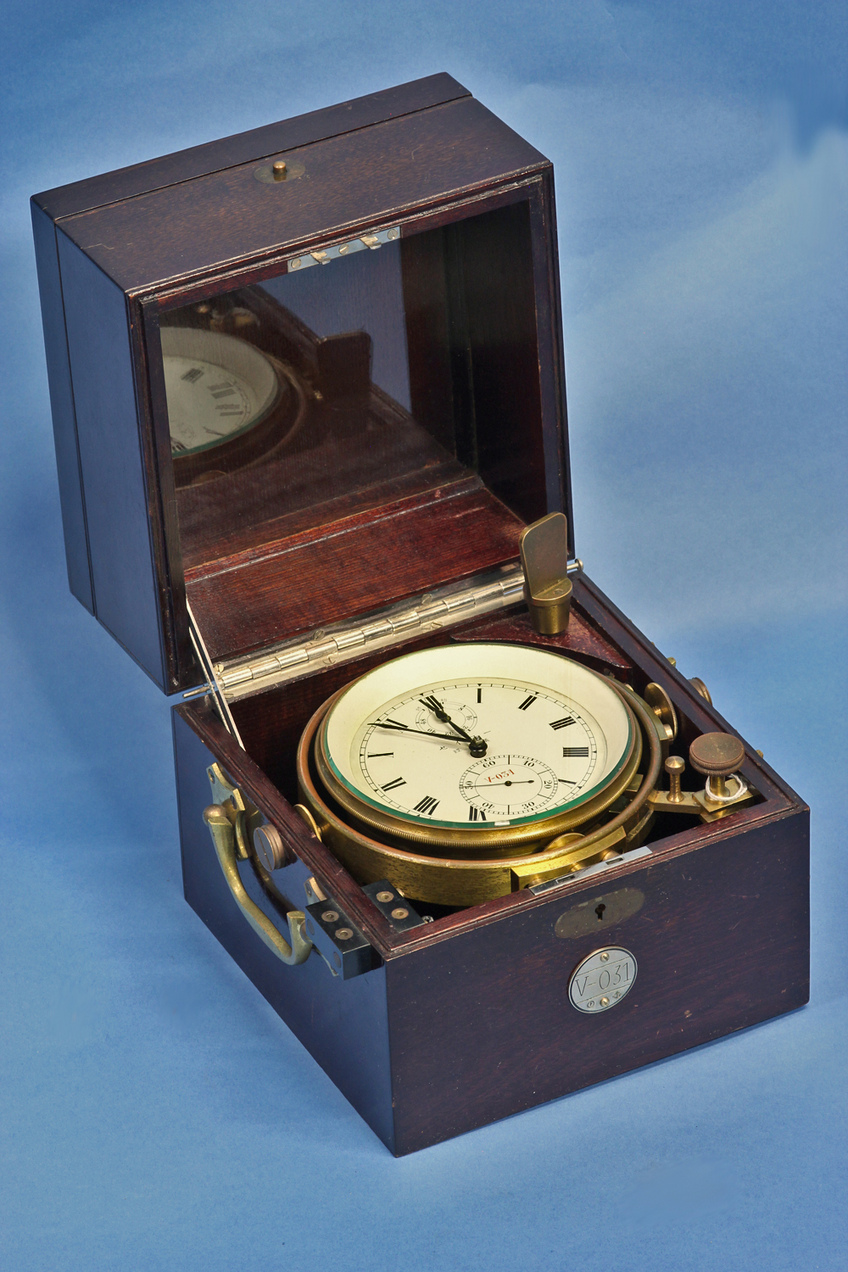 Japanese 56-Hours Marine Chronometer
At first, Gunji Okada, an engineer from the central meteorological observatory who graduated from the imperial University of Tohoku, was chosen to carry out the plan. In 1928, he was sent to train at the Geneva school of watchmaking and then at Nardin, in Switzerland. The arrival of a young Japanese man at the two institutions caused the disapproval and reproach of the Swiss Watchmaking Chamber, to which the Geneva school of watchmaking sarcastically replied: "if Japan only has Okadas to make chronometers, Switzerland should be safe enough."
However, upon returning to Japan in 1932, Okada went back to work at the Observatory. Encouraged by Mitsui Trading, a company that had been considering a transition to industrial production since 1936, Okada developed several measuring instruments, among which was a marine chronometer (prototype introduced in 1939). In spite of this undeniable technical success, he couldn't meet military demand on his own. It was thus Seiko, a watchmaking company, which took on the task.
Seikosha Clock Factory in 1920
Founded in 1881, the Hattori group & Co. – also known as Seiko – undertook research on marine chronometers in 1941, under the co-supervision of Ryuzo Yamada and Saburo Sato. Two years later, in 1943, the company launched a first prototype, which was the imitation of a Nardin chronometer. A total of approximately 500 pieces were produced for the Navy until the factory was bombed in 1945.
Kintaro Hattori
War legacy
Seiko did not resume the production of marine chronometers after the war since at the time electrical timepieces were being used as navigation instruments. However, the experience acquired in the design and assembly of highly accurate chronometers became useful for the technological development of Seiko.
Yamada continued his career at Daini Seikosha, the group's watch factory and he oversaw prototype and quality monitoring in the late 1950s. His most important position was when he was put in charge of assembling chronographs developed for the 1964 Olympic Games. In 1961, Seiko appointed him to develop a sports chronograph based on an Omega model.
Yamada introduced his prototype the following year and it was submitted to the International Committee in 1963. As a result, Seiko was named official timekeeper of the Games. This brought the brand so much reknown that its sales in international markets increased dramatically after 1964.
Seiko served as Official Timer of the Tokyo Olympic Games - 1964
Sato continued to develop products. Along with marine chronometers, he designed several high-accuracy watches during the war, particularly watches for officers, inspired by Longines and Nardin watches. His technical skills allowed him to continue working in the same field even after 1945. He was promoted to production manager in 1947, then to head of the technical department in 1950 and to chief of research and development in 1960. He eventually joined Hattori & Co.'s board of directors in 1961. He was a key player in the design of the Seiko mechanical watches that challenged the monopoly of Swiss watchmakers in the global market.
For more information: Read Pierre-Yves Donzé's, "Rattraper et dépasser la Suisse": Histoire de l'industrie horlogère japonaise de 1850 à nos jours, Published in Neuchâtel: Alphil, 2014.
English version: Pierre-Yves Donzé, Industrial Development, Technology Transfer, and Global Competition: A history of the Japanese watch industry since 1850, Routledge, 2016.