Harry Winston Histoire de Tourbillon 6
The sky is the limit when it comes to human spirit, and the Histoire de Tourbillon 6 by Harry Winston is a clear expression of this.
Before making a closer examination the object in question, one must first and foremost note that the caliber with the reference number HW4701 developed for the sixth chapter of the Histoire de Tourbillon series is among the most complicated movements ever made by watchmakers.
As a concentrate of technology born of human genius, this beating heart drives a new vision of time by combining two independent hour displays each driven by ultra-complicated regulators, a triaxial tourbillon and a carrousel. The caliber of the Histoire de Tourbillon 6, built in two separate sections, is brand new and is part and parcel of the "ultimate" developments of the past few years. Specifically, it has a regulator for each function. Nevertheless, this watch undoubtedly stands out from the batch of existing products, because the choice of technologies is both daring and fascinating.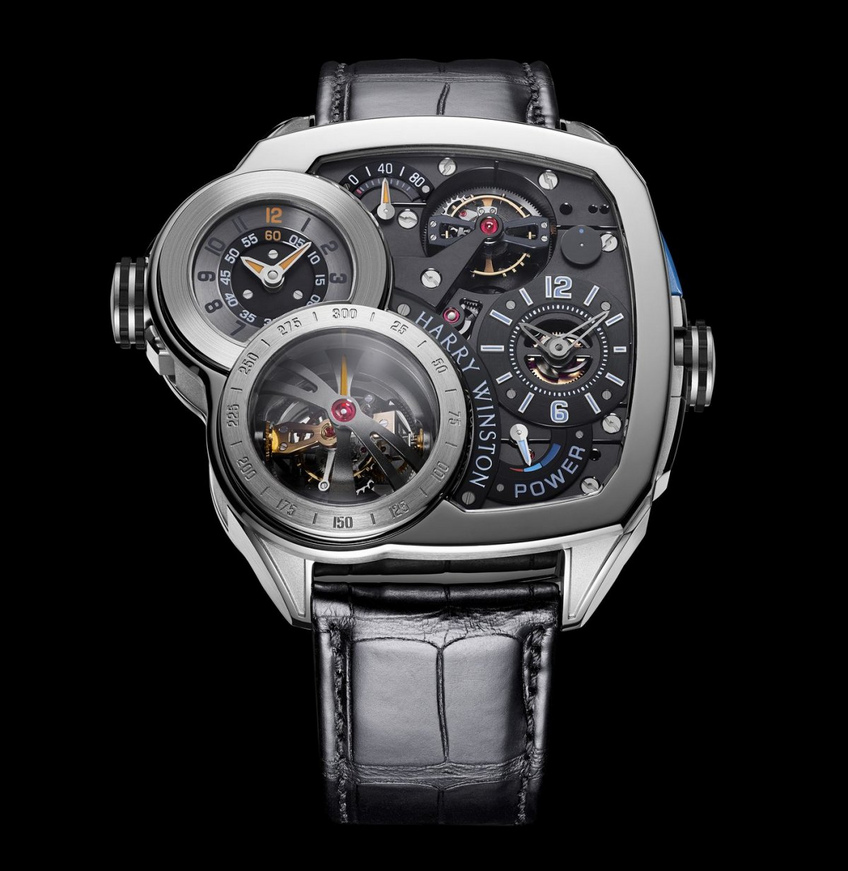 Harry Winston Histoire de Tourbillon 6
A special case
It is obvious that this timepiece, whose case is made of white gold (an alloy of gold with a fair amount of palladium) with a satin finish, will not go unnoticed on its owner's wrist, what with its exceptional size of 64 millimeters across, from crown to crown. It's an imposing piece, but comfortable to wear. This horological gem, which comes on an alligator bracelet, is produced in a limited edition of twenty pieces. It features a special galvanic treatment known under the acronym NAC. It offers greater resistance and value and gives the watch as a whole a shadowy sheen that enhances its visual impact. It acts as a kind of miniature safe, enclosing and protecting an exclusive caliber whose complexity and overall shape required that the designers rethink the architecture even of the middle case, which boasts never-seen volumes.
A unique caliber
This manually-wound caliber, numbered HW4701, was built around a mainplate and bridges made of titanium, to reduce the weight of this rather massive watch on the wearer's wrist. Powerful and impactful, this watch has a heart made of 683 components, with 141 alone reserved for the triaxial tourbillon, whose weight does not exceed 1.85 grams. It's in a monobloc construction, which nevertheless includes the other two indications, which are kept separate and have their respective regulators.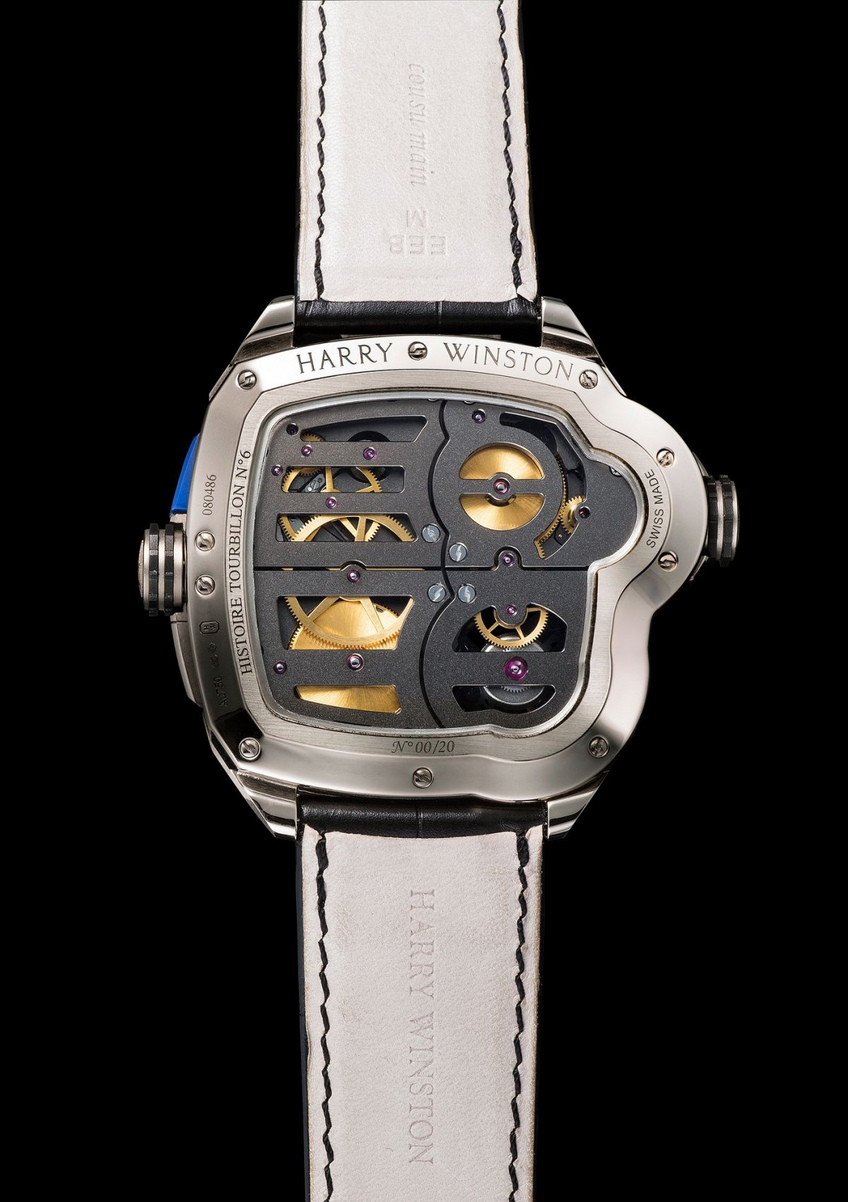 Harry Winston Histoire de Tourbillon 6
So the display of legal time, shifted to the left and harbored in a small off-centered circular counter, is run by a gear train connected with the triaxial tourbillon, whose architecture, sidereal in style as usual, is perfectly well known to specialists today. The function placed at the right of the case might have been run by the same omnidirectional tourbillon was ultimately disconnected entirely from that precision device. Instead, it is regulated by a carrousel (developed by the Dane Bahne Bonniksen in 1892), which does one 30-second rotation and is driven by a system of two rapidly rotating coaxial barrel springs, with serially mounted sliding flanges.
An original dual functionality
This construction design is of rare complexity. In addition to demonstrating the extremely high skill level of the watchmakers at Harry Winston, it also aims to minimize any modifications to the two functions in order to ensure that the precision of time (hours, minutes and small retrograde seconds) will not be affected by the integrated double function. This dual function appears on the right of the case and can be activated using a blue ceramic pusher. It allows for two things, depending on one's need: It can start a chronograph that measures relatively brief spans of time (hours, minutes) with a stop and zero reset (carousel cage). And it can adjust the second time zone as needed, once the hands have been set using the winding crown at 3 o'clock.
By
Vincent Daveau
,
Contributor
The arrival of a 6th creation in the "Histoire de Tourbillon" collection made us want to review the first five pieces of a collection that pushes...