Akrivia, A Passion for Finishings
Rexhep Rexhepi came to Switzerland in 1998 during the Kosovo war, his country of origin. His father worked there in watchmaking and brought back home watches. Rexhep always wanted to understand how these tiny mechanical hearts were beating.
He took a few internships in the industry and quickly realized it was what he wanted to do. He started as a watchmaker apprentice at Patek Philippe at 14 years old. There, he discovered every step of the building process, of strict control and of outstanding finishing. He worked two years but saw his evolution in the firm would not be easy. So when the opportunity to work at BNB Concept (subcontracting motorist, ndlr) came, he seized it. He spent 3 years with them, working on tourbillons, a complication that beats at the heart of all his creations today. He quickly came to manage the department at 21 year old. This experience gave him a clear vision of what he wanted to achieve himself. One of his dream as a watchmaker was to work with François-Paul Journe… so he did. He started on the Chronomètre Souverain, then moved to the Octa and finished on the Résonance. There he really learnt what it meant to be independent, to create one's own brand, to have a vision beyond the products, to forge one's identity.
Rexhep Rexhepi's workbench
Akrivia's DNA: precision, contemporary design and outstanding finishings
It means «precision» in Greek. It is the first pillar of the brand. Rexhep pays hommage to the best tradition of watchmaking in his quest for chronometric precision and by creating rare timepieces. His first model the Chronographe Tourbillon Monopoussoir is a very rare complication. The second pillar is its contemporary design and a symmetry between dial and calibre. Finally the watchmaker approach to finishing is central for Akrivia. All dials appliques are hand-made, the dial itself offers inward angles, mirror polished or «matt» polished finishings, hand hammered dial faces. Every step is accomplished by a watchmaker from A to Z : escapement making, setting, beveling, polishing, decorating. Each piece becomes a unique art piece with superlative finishings.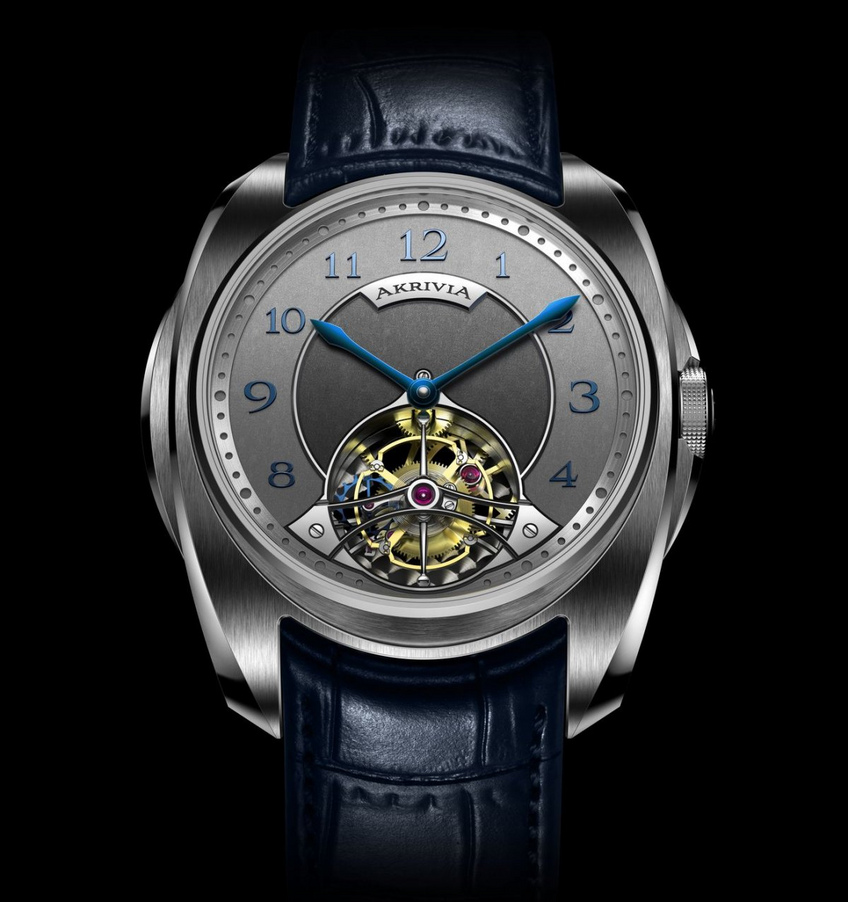 Akrivia Tourbillon Barette-Miroir
Production, distribution and communication
Production wise, the whole conception is made in-house. All components come from the Geneva Canton and are finished, decorated, mounted and set in Akrivia's workshop, which also acts as their first point of sale. A maximum of 25 timepieces are made yearly. Even though he does not have his own CNC machine (not yet) to build his own components, Rexhep considers that 90% of the production is done internally… indeed finishings are a painstakingly long process!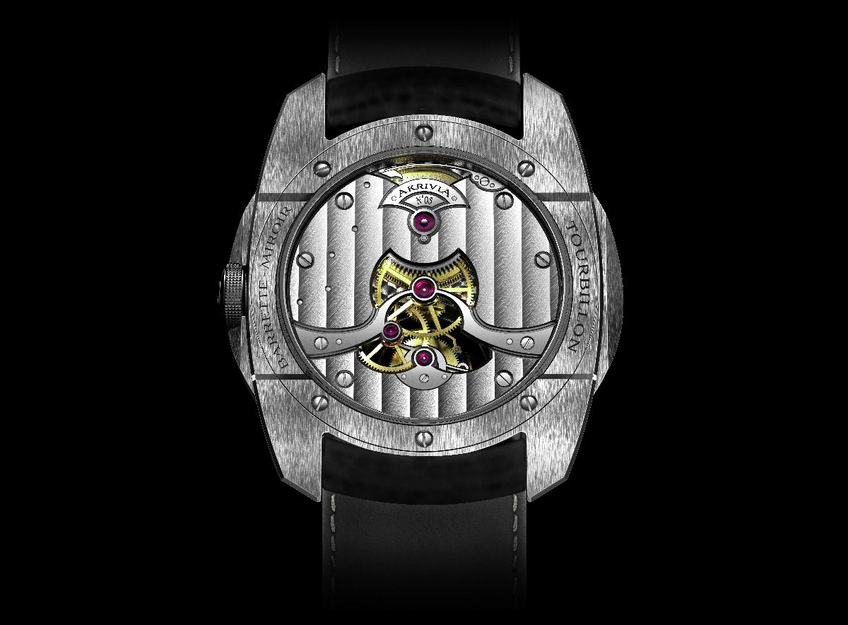 Akrivia Tourbillon Barette-Miroir backcase
Distribution is developing slowly. Sincere in Singapour just started with them and other points of sale are emerging soon in the Middle East, Japan, USA and France. Akrivia takes its time and mostly sells directly, in particular through its Geneva boutique. For collectors, witnessing live the work of Rexhep is a real plus. Nothing is hidden and they can have a true understanding of the craftsmanships involved in the creation of these timepieces.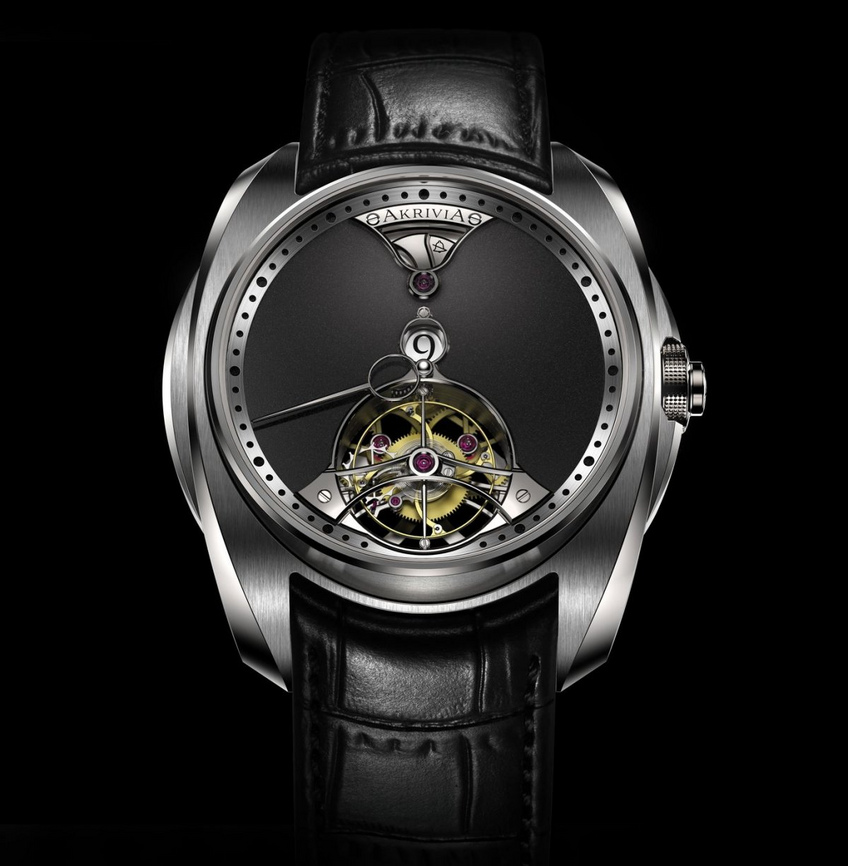 Akrivia Tourbillon Chiming Jump Hour
Like many independent brands, Akrivia uses social media like Instagram, Facebook or watch blogs to gain awareness. They sold in Indonesia and India without having set foot there! But watch shows are paramount to meet collectors and conclude a sale: Baselworld, Salon QP, private show during SIHH are key for Akrivia's development.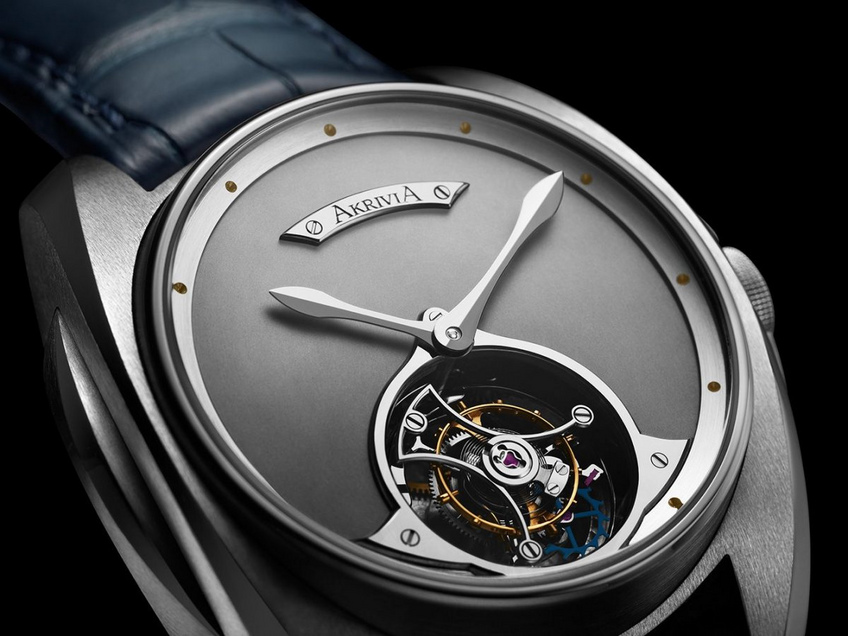 Akrivia Tourbillon Heure Minute
Finishings by Akrivia
Rexhep has always been fascinated by the level of finishings on ancient timepieces from Patek. The first time he discovered the 10 days Tourbillon from Patek, he fell in love with the complication and has wanted to create his own ever since… with his own finishings. What does he do that is so particular? «Nothing» he replies simply. He just wants to enjoy what he does and be able to be proud of his achievements. His technics are the ones of fine pocket watchmaking with a strong emphasis on inward angles even on the smallest of pieces. His hand made «matt» polishing is spectacular. It is the work of master craftsmen who mix crushed stone powder with olive oil then, with his finger, creates micro movements pressing the dial face on a marble stone to give birth to the desired effect. Some of the applique of the dial, which are driven onto it, can take up to two weeks work. For Rexhep, it is the only way to achieve fine watchmaking… and when one dwells on the result with a magnifier or a microscope, one understands what he means.
Front picture: Akrivia Tourbillon Monopusher Chronograph
By
Josh Shanks
,
Contributor
Last week, Watchonista joined forces with our friends at EsperLuxe to host watchmaker Rexhep Rexhepi and his eponymous brand Akrivia.
By
Josh Shanks
,
Contributor
Akrivia founder Rexhep Rexhepi is causing a stir at Baselworld. Here's a closer look.