Manufacture Royale: the recipe for profitability
Their adventure is almost unheard of nowadays: A family that took over a watchmaking brand, Manufacture Royale, and used its own production tools to make it profitable in their very first exercise. Lights, camera…
As a privileged observer of the watchmaking world for almost half a century, I have adhered to Beaumarchais' saying: "without the freedom to criticize, there is no true praise". Bolstered by the accuracy of the words of the prestigious writer of the Enlightenment, I have never hesitated to criticize even when criticism was not welcome. However, today I intend to shower praise on a family team of four excellent professionals. To those who know that I am friends with Gérard Gouten, I must insist that I am not doing this out of friendship but because I admire his skillful work. And since teamwork pays off, they formed a group of four to achieve this amazing success.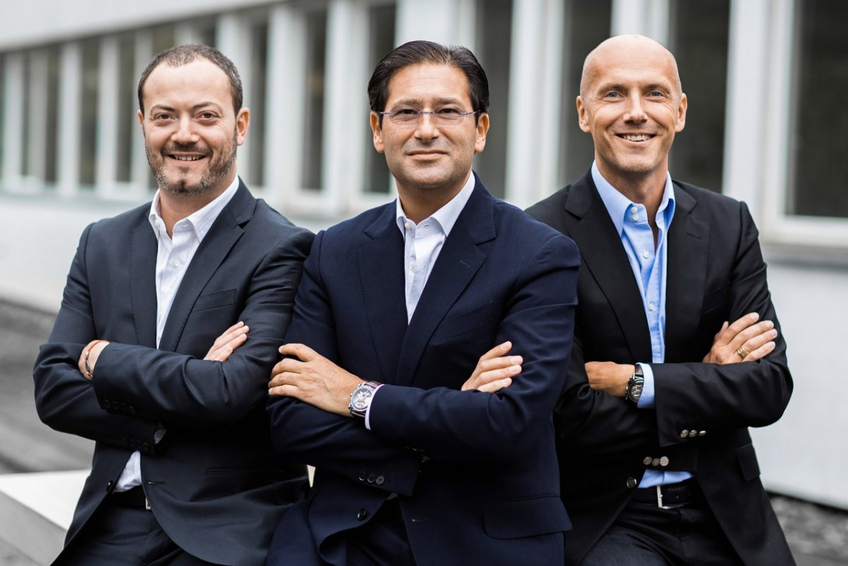 Alexis Gouten, Marc Guten & David Gouten
I thus asked Marc Gouten to explain his recipe for profitability:
"I think that the essence is to gather all skills, characters and differences. Apart from that, when buying a watchmaking brand, you need to choose a brand you share affinities with. It has to have a history. In the case of Manufacture Royale, we found the perfect match as the brand did have a prestigious past. In fact, it was Voltaire, the great writer and philosopher who created the brand in 1770. It made it throughout the years but also experienced difficult times. Nonetheless, we already had an interesting anchor point with these references".
And then?
"And then came the engine, of course. When you acquire a watchmaking brand, it is perfectly normal to buy movements from different suppliers. But we did not want this. We were looking for a company that designed, created and produced in-house movements. We thought it was essential that the brand had something added to its history. The third element was our personal and family know-how. We already had a sales network and suppliers from our different previous professional experiences. Indeed, we are developers".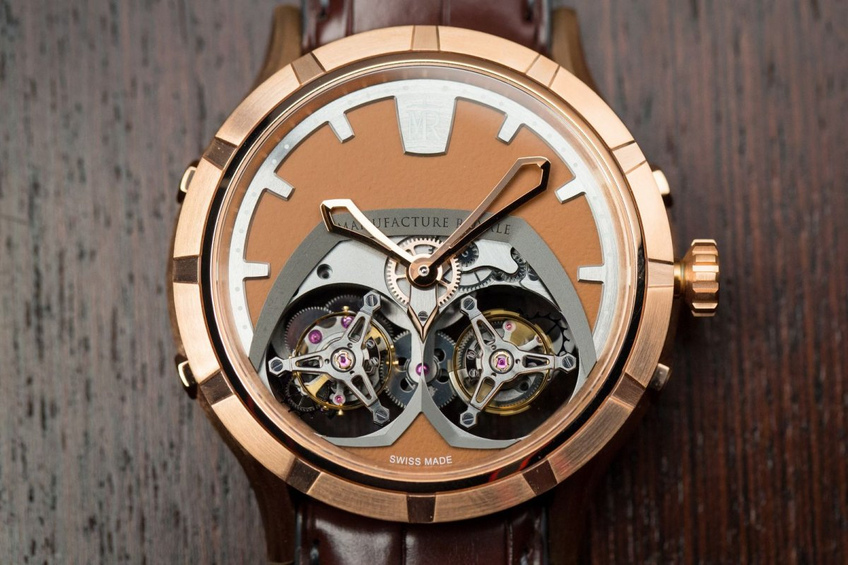 Manufacture Royale 1770 Micromegas
And so come what may?
"Yes, this is how it is supposed to be but is not that easy. You know, whatever we do, we will never be able to avoid entrepreneurial risks.
That is why when we acquired the company we also bought its products. As we were already operational in sales, we had to seize the opportunity to sell those products and bring in money, which is, after all, the lifeblood of any company. Hence, in our case, it is indispensable and even vital to sell watches. Nonetheless, our family name reassured people, to be perfectly honest. Many we have known for years, and when we knocked at the door of both big supply organizations and the most prestigious retailers, they received us with a smile and outstretched hands and they listened to what we had to say with rapt attention. For years, we have forged strong bonds that go beyond simple business with them. This is why we know each other".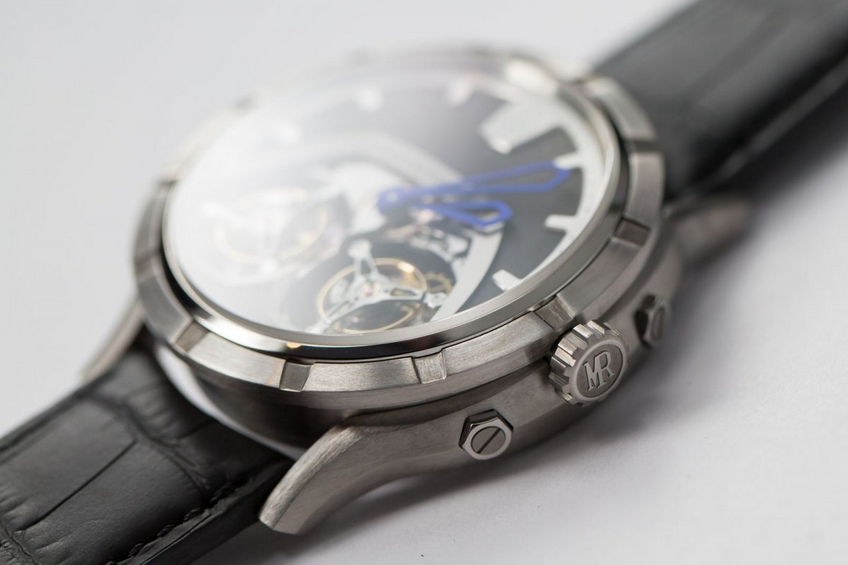 Manufacture Royale 1770 Micromegas
And how about the others?
"For the others, we develop our approach around four strong values and their price: legacy, timepieces, family and functions. It is very important that we don't lose sight of our approach as we are back in an age of reason when it comes to value for money. We must never forget that we have potential clients who sit across from us in their stores.
This is not about emptying people's pockets. Today, some seem to forget that customers are king. We have not forgotten that".
"I will only add that not only is Manufacture Royale's strategy exemplary but that it is served by true professionals who respect their job, their contacts and their clients. This is rare to get nowadays which is why I am bringing it up. It is also proof that miracles do not exist. As the saying goes "success favors the bold"; that has once more materialized in the example of Manufacture Royale. Having said that, we must highlight that boldness is not improvised but rather it is the result of constant effort. In other words, as Jacques Brel put it, 'talent comes with 18 hours of work per day!"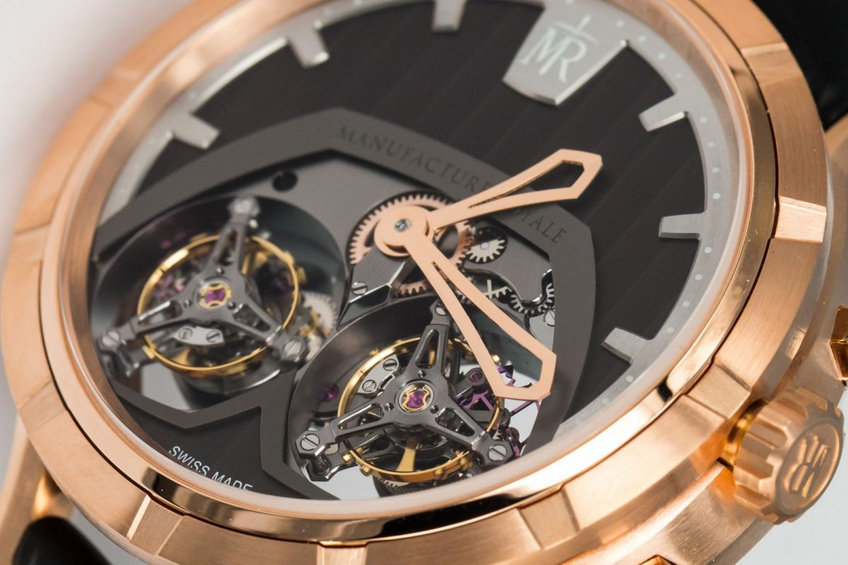 Manufacture Royale 1770 Micromegas
Stunning creations
Among the watches introduced at BaselWorld 2015, the pieces of the "Androgyne" and the 1770 collections notwithstanding, there is the Opera. Its name reveals that it is the result of uniting the skills of master watchmakers Michel Navas and Enrico Barbasini. Manufacture Royale explains that they have developed a minute repeater that is set by a tourbillon whose aesthetics is fundamentally canonical but which has a definitely daring and functional approach. Indeed, the caliber was completed after three years of research and development.
While the plate and bridges followed classical making patterns – brass, rhodium-plated, hand-finished and hand-chamfered –, the components of the escapement were made with the future in mind. For functional and efficiency reasons, the manufacture opted for an escapement wheel and a lever cut in silicon for the assortment of the tourbillon carriage. It has a much greater sustainability than those frequently used in watchmaking and guarantees higher precision in the long run.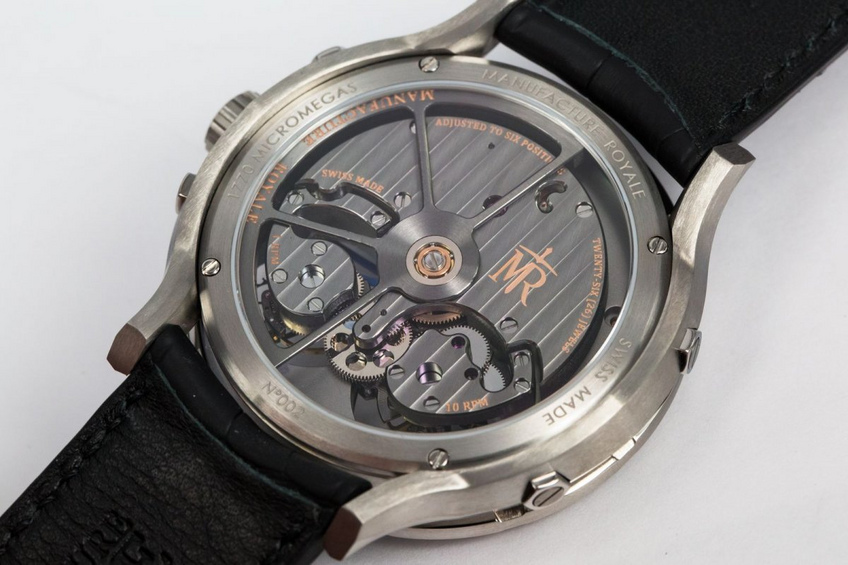 Manufacture Royale 1770 Micromegas
It is not just about materials
However, their creativity goes beyond the futuristic materials used. In fact, the 319-part organ has a 100-hour power reserve. Moreover, the watch features three main innovations to guarantee its powerful and clear sound, which is identical to the sound we can hear when engaging one of the most beautiful pocket watches of the late 19th century.
In order to make sure that wearers heard the striking mechanism of minute repeaters without having to bring the piece close to their ears, the mode of sound wave formation had to be entirely redesigned and the transmission mode in cases had to be revisited.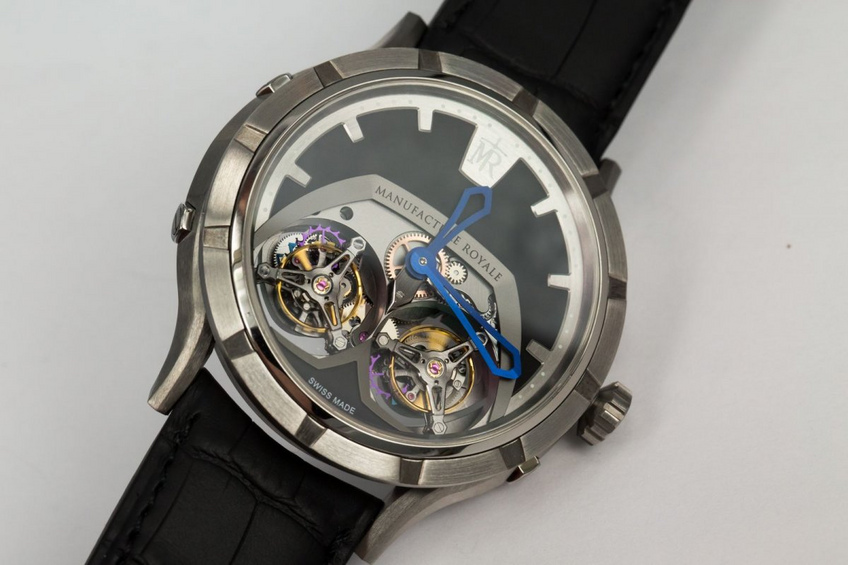 Manufacture Royale 1770 Micromegas
Manufacture Royale has particularly sought to develop the power and regularity of sound by creating an original minute repeater mechanism. It sports three innovations; a more solid minute-rack spring, a longer striking mechanism spring than those usually found in classic mechanisms (6 turns instead of 3) and in-house gongs produced out of one single piece with an alloy following a secret method. And since the sound is hence structurally louder than that of average minute repeaters, it was fitted with customized external parts.
Charles Grosbéty is a watch sculptor in the true sense of the word who also works without a computer. He was challenged to create a case whose design gave the possibility to substantially increase the sound power of this extraordinary timepiece. He designed a jointed middle that spreads like an organ bellow. This superb sound box that comes in different sizes and which has a profile similar to that of the Fibonacci curve – the geometric expression of the golden ratio – is a miniature reproduction of the external structure of Sydney's Opera House. Indeed, the artist confessed to have taken the liberty to draw inspiration from the great architectural construction.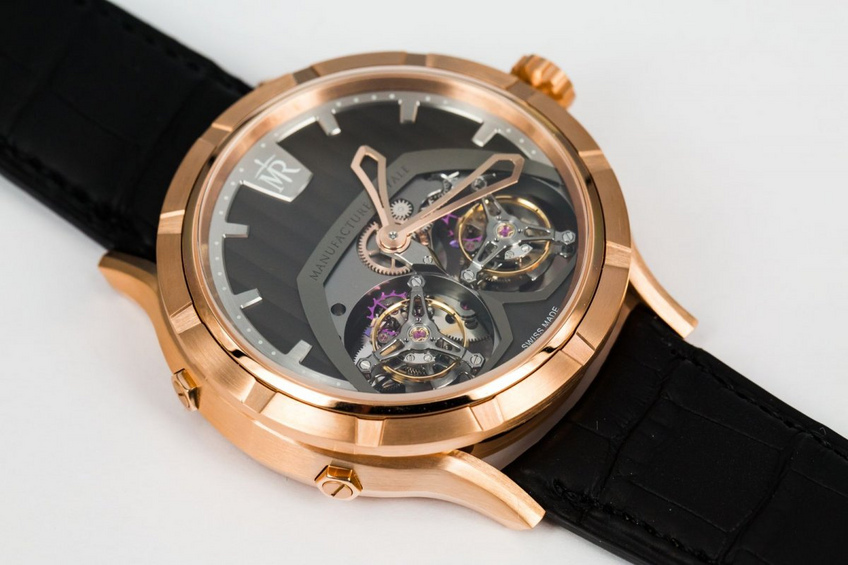 Manufacture Royale 1770 Micromegas
Manufacture Royale 1770 Micromegas pictures credits: Amr Sindi from The Horophile
Manufacture Royale multiplies time with a groundbreaking double flying tourbillon rotating at two speeds. Successfully combining the height of horological...
Review of Manufacture Royale 1770 Micromegas with analysis, hands-on session, full specifications and prices. BaselWorld 2015 Novelty.
Hands-on review, photos, & video of the Manufacture Royale 1770 Micromegas watch with dual tourbillons spinning at different rates.