Manufacture DeWitt: imperiously independent
In the industrial estate of Meyrin, the know-how of a secret manufacture, working alone in a sector dominated by groups, shines discreetly.
DeWitt deserves that, from time to time, a journalist passes through the doors of its spacious building, whose huge and bright atrium could easily host a magnificent event. From all stories the crowds of attendees at the event would look down and see the comings and goings of communicative and knowledge-sharing workshops. This watchmaking hub blends the science of complications and the essence of chronometry with the skills that convey and perpetuate codes of excellence that often require perfect manual dexterity. The human hand and mind have inspired Jérôme de Witt's approach in the production of his limited edition timepieces. (Please refer to the article "Jérôme de Witt universe").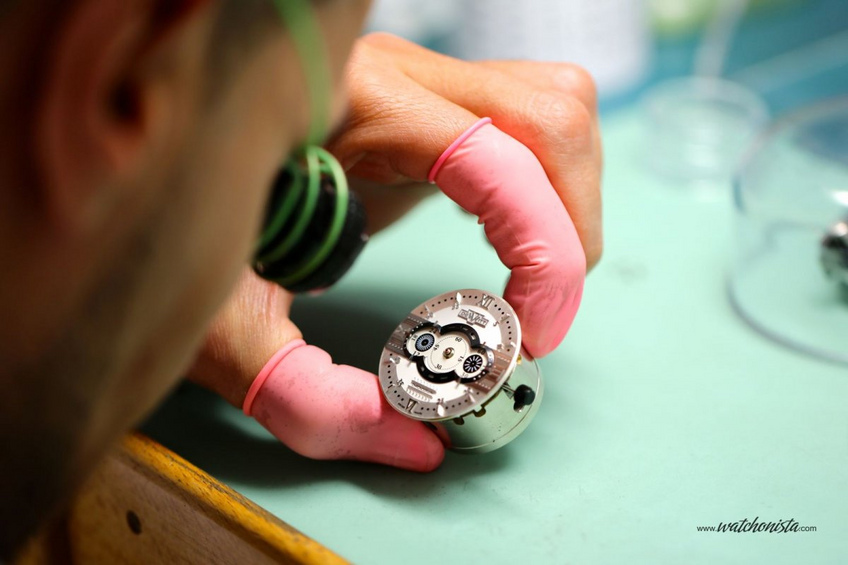 Dewitt Manufacture, craftsman at work

Due to limited media coverage we tend to only remember the brand's imperial dimension, which it does not hesitate to mention when asked about the design of, for example, its signature cases.
Whilst it is true that the brand's founder is of French Napoleonic descent, it would be unfair to stop there when describing him. Indeed, it is not easy to outdo DeWitt in the world of integrated manufactures; that is, those that strive to become independent by carrying out as many operations and producing as many pieces as possible in-house.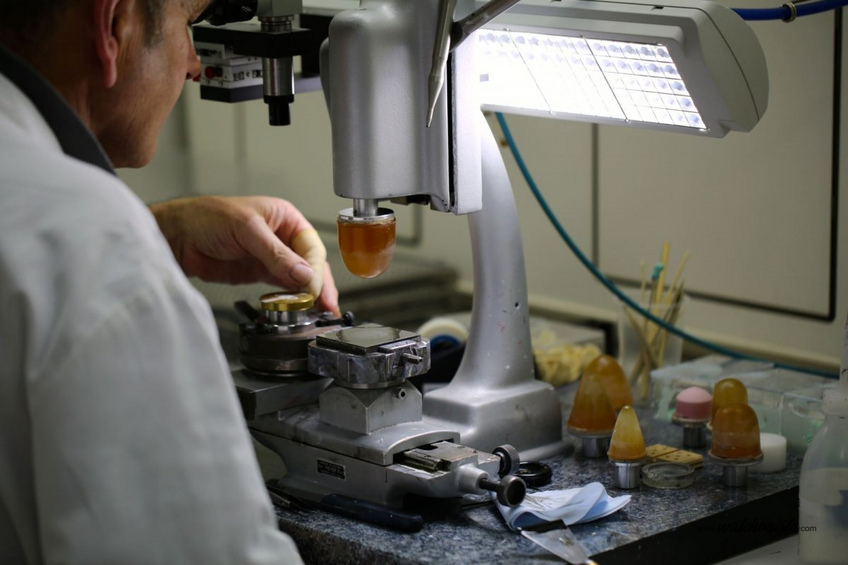 Dewitt manufacture: dial printing
Top-notch dial making, an endangered craft
Even better, De Witt may well be the only brand to have both a workshop and a group of professionals completely devoted to the creation, manufacturing and production of dials of such quality and level of skill. The in-house dial-makers are masters at what they do. They come from the best subcontracting brands and are able to design and produce dials with more than 45 components, hands, tiny riveted numerals, and indexes. As they know how to wisely use all the attachment, gluing and fixing systems, they can fashion complex dials using in-house manufactured pieces and their magical fingers. The dials are complex in terms of their design and assembling, but further because of the numerous reliefs, levels and repeating flanges they comprise.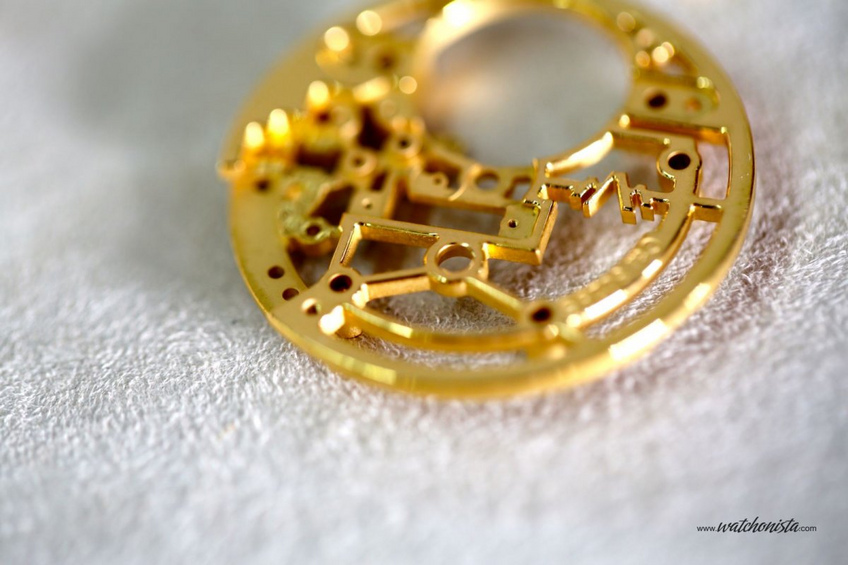 Dewitt manufacture: handcrafted golden bridge

During the visit, we come across some other increasingly rare crafts. These are not passed on to new generations because they are manual tasks, which need to be taught manually.
Said crafts include jewel setting, where extensive knowledge of materials and stones allows experts to identify the tiniest of problems (that's what you call experience!). We also find polishing, which requires craftsmen to get their agile fingers dirty to make a subtle dosage of pastes of multiple consistencies and functions. In the end, it is always dexterity – something that can only be mastered through constant practice – that makes the difference. The same goes for engine turning, which deals with decorating spaces mainly dedicated to functionality and which are not always visible as they are juxtaposed at the heart of the calibers. Yes, in traditional Swiss watchmaking all parts of a watch – even the most hidden – have been given their dose of aesthetics. Be it as it may, even the most uniform and regular decoration will always be "human", as it will be engraved with the unique signature of the craftsperson.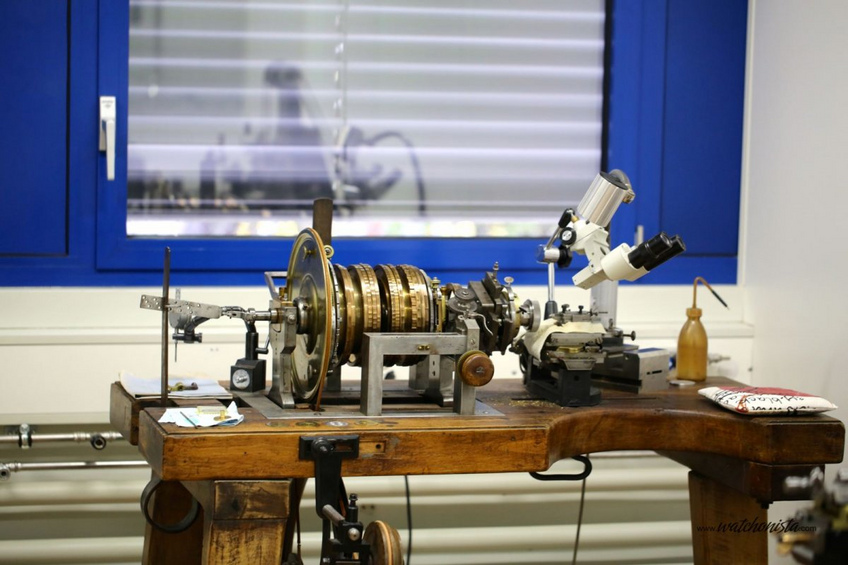 Dewitt manufacture - a guilloché machine

We find the last of these crafts at the unity of electro-deposition – with its myriad baths and trays, its variety of chemical products and blends conducive to electrolytic deposition and chemo-material space treatments. This reminds us that part of the magic of watchmaking is sometimes linked to the fascinating mysteries of alchemy, a world sprinkled with atomic mastery, where colors are crucial.
From hyper complication to the in-house 3-hand caliber
Throughout its initiatory journey, the DeWitt complication workshop proved to be familiar with the production of the most notable watches such as the tourbillon, the minute-repeater and the perpetual calendar. However, the list also includes simple chronographs or even the last piece of real creative craziness by Jérôme de Witt, the heart and soul of the company. Lacking a watchmaking past filled with constraints to honor, de Witt is free to take different paths and ventures carefree to find mechanical solutions that he discovered thanks to his avid curiosity. He comes up with out of the box solutions that are constraint-free and that rely on an acute sense of observation. His strokes of craziness are most of the time feasible and after a few years of observed functioning, they reach a high degree of reliability. Proof of this is the Twenty-8-Eight Regulator A.S.W, which is much more than a talking piece.
Working on the Dewitt WX-1, a concept watch
It is precisely between these micromechanical walls that the last in-house 3-hand caliber was created; the place where casing, chamfering and decorations such as "Côtes de Genève" are carried out.
The 3-hand caliber is a sophisticated but simple and efficient motor: a concentration of mechanical watchmaking that reminds us of the brand's well-established independence in movement production.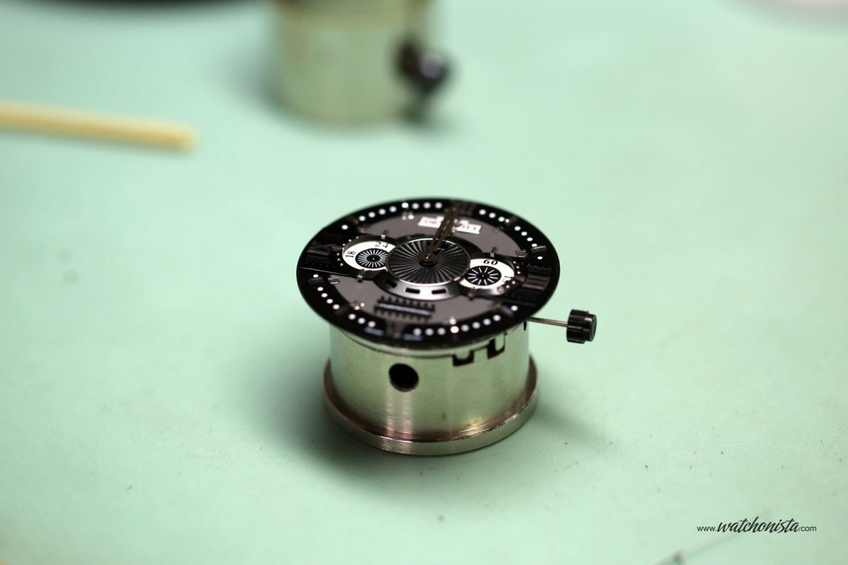 Dewitt Glorious Knight movement
Innovation based on respect for the past
There are certain things we know for sure about this independent manufacture in Meyrin, whose owner is always at the disposal of his collaborators to have spontaneous brainstorming sessions. First of all, what features prominently at DeWitt is know-how and those who possess it (indeed, the staff's degree of loyalty to the brand proves it). Secondly, watchmaking past is important here. This we can see by just walking down the corridor that connects the reception area to the spaces where the work is done. This corridor has been transformed into a museum gallery that blends the tribute paid to ancient machines – which incidentally still work – with the latest timepieces of DeWitt collections. It is a true reflection of our host, who has managed to respect the very rich past of secular watchmaking and at the same time offer his researchers and developers innovating ideas to work on. It is no surprise at all, thereafter, to find an ancient machine with cams and gear trains being used for key tasks in the midst of all the state-of-the-art digital machines and computer-aided developments.
By
Joel Grandjean
,
Editor-in-Chief
His life revolves around his three passions: music, mathematics and mechanics. Count de Witt – founder of the eponymous watch brand – shares his...