The man who compared client to big cats
A man wearing two watches, because it is arythmetical and he only has two wrists. The same man who goes to Africa twice a year wearing his Safari watch for the matter. A man adapting to nature with a watch mounted on a Nato bracelet, a yellow gold Rolex Safari with a chocolate dial and bezel.
A man who has always done what he ever wanted, who has been collecting watches for the past 40 years, and was comfortable enough to teach a few things to a watch salesteam can only be Denis Asch. Watchmaker and watchlover forever but he is not just that…
His first watch was an Omega from the fifties or sixties, offered by his grand father at the age of 6, reason why he claims to be a collector ever since. Beyond aesthetics, his desire was to understand how a watch worked. Saving his pocket money weeks after weeks, he bought a few tools in the famous BHV Parisian hardware store, acquired a pocket watch and started to assemble and dissemble his piece. Rare were the times he was able to re-assemble a watch that could keep on working… but he what he wanted more was understand the technical parts. As fussy and meticulous as he is, Denis Asch became without surprise a terrific watchmaker. From Paris to the Cayman Islands before landing to Geneva, the founder of L'Heure Asch has more than one string to his bow!
Twenty-five Years in the business… how many more?
Life expectancy is growing! I am assuming … until I turn 120. I may be shaking a bit, but if that happens, at least my automatic movements will wind up faster!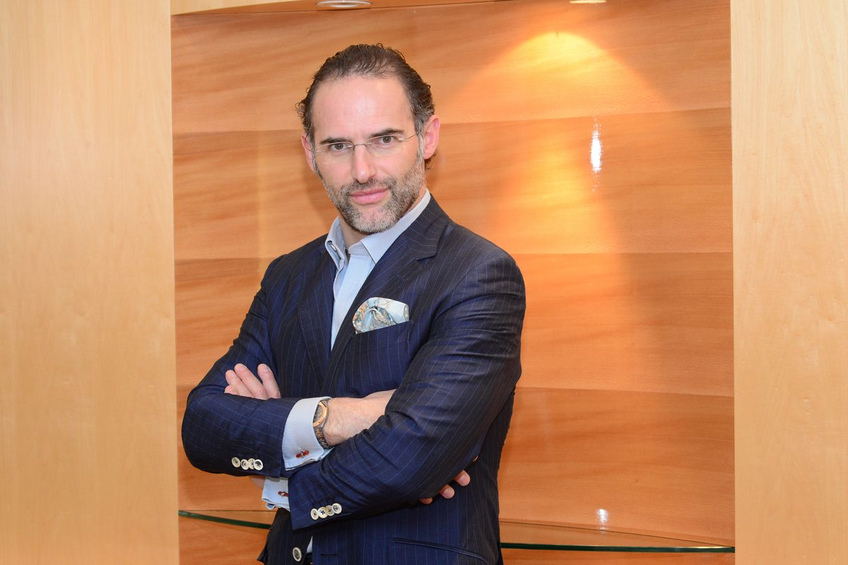 Denis Asch in his boutique: L'Heure Asch
Who was influent in guiding you through life?
My grandfather, a watch collector whom I was observing since the age of 6 put up on a wall behind his bed 30 watches one by one. He would always wear 4 watches on his wrists if not 5 with one in his pocket. Every morning he would choose the watch he was going to wear.
Then comes my father. After a couple of unsuccessful internships in banking, my father encouraged us to commit fully to an occupation we would be devoted to. "Do what you like, but do it with passion," he used to say. I became a watchmaker, my twin became a pilot and was the French champion for high-flying and my sister devoted her life to drawing and painting.
Could you have considered another profession?
Nope! I knew when I was 6 that I would keep on collecting watches but I only realized when I was 14 or 15 that I would go into watchmaking. I started going window shopping Place Vendôme, admiring the vitrines and talking to salespeople trying to teach them their own job… but they would not take me seriously and laughed at me. I may have been 14 when I knocked on the door of the CEO of Breguet at the time. He was skeptical for a few minutes but he finally listened to what I had to say and we talked for over an hour.
I was young, but I had the guts to enter a shop and talk to "grown-ups". I had more knowledge than money, so I would exchange, buy on second-hand then sell watches. A watch could cost CHF 10, but at the end I would be the one buying my own timepieces.
A watch souvenir ?
The sight of a QP Skeleton from Vacheron Constantin who at the time cost around 110 000 French Francs -(nearly CHF 25'000 today). I wondered how a watch could sell such a fortune. I was actually both fascinated by the movement and the price. My second memory is the first expensive watch that I bought: it was a Breitling Chronomate with a mechanical movement.
After Paris, the Cayman Islands and Geneva… would a change of destination be possible?
Moving to the Caymans Islands was for Rolex only. The shop on site needed a watchmaker for all of their after-sale service. I applied and went! Now… I am pretty open. Miami is an expanding city moving and dealing with art and watchmaking. There are more and more young or even less young moving to Miami. Even retirees of all ages! Could be in the pipeline …
What fascinated you in the watchmaking profession?
If I managed to sell watches it is not because I am a good seller, it is because I knew the product I was selling. I was able to convey a story and share what my feelings were. By telling real stories I was telling the truth. The day you lie to a client, he goes elsewhere. Also, a lot of the watches resemble their creators. I believe I have some instinct about products and men, which helps me in the choosing process.
What shaped you in sales and with big cats ?
By sharing a dream. Share, sell and buy. Not only it is a good feeling as a vendor to sell, but if you have a client in front of you, it means that he is here to buy and happy to do so. Therefore it's a shared pleasure. Selling is easy, but selling again to the same client is hard. You need to follow your client providing good services and loyalty so it doesn't stop to a single sale.
In nature, animals tend to reproduce what fascinates them. Unless you go on Safari, lions and tigers can- unfortunately- only be seen at the zoo. I always told my nephews that when they would be a little bigger, I'll take them on a safari, because it is really an explosion of emotion. The sight of wild animals living together and in their environment is just sublime… while sometimes the animal itself is not necessarily. The nose sniffing the car's engine or an elephant approaching us gives a lot of thrills. Fortunately we had good guides !!! Both are triggered by dreams and emotions.
What is the link between watchmaking and big cats?
The double challenge! First you have the challenge of taking a good photography. Get an image of an object is static and easy. Anyone can do it. The challenge of selling a watch or getting an image of an animal that is not expecting or posing for us is hard. It isn't because you have a good camera that you will get a good image. You need to have good settings, you need a good eye on spotting the right place at the right moment. You need to anticipate the look in the eyes or the behaviour of the animal… or the client: at the end it is the same fight!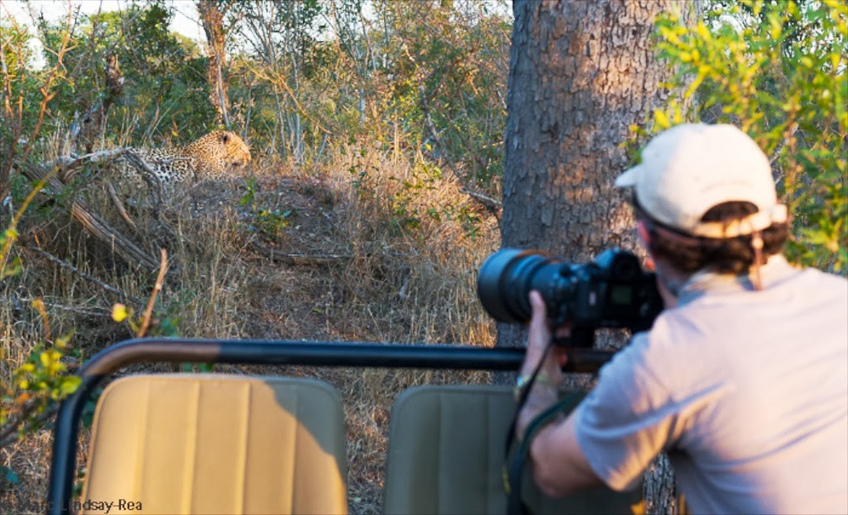 Denis Asch on a safari in Africa
You always exhibit your photographs associating them to charities…
Indeed! Nobody knows me, I go on safaris twice a year and shoot thousands of images on animals. I thought that I had to do something about it. Some may not be sensitive to the matter, but a lot are. For my first exhibition that I did in October 2013, the 22 final images were selected among 15'000 shots. A good ratio! My idea was to support an elephant orphanage. There isn't more dependant than an elephant. Since the mother cannot have babies all the time she ought to be overprotective with her baby elephant she protects from the heat by keeping it under her. Unfortunately when the mother gets killed, babies are left alone and die of sadness, solitude or end up in a lion's stomach. This is one reason why elephants move around as a family to avoid attacks. The following exhibition was in June 2014, and the upcoming one will be by the end of the year with the aim to donate all of the profits to the Save the Rhino association.
How did your passion for photography started ?
Around 13 or 14 years-old when we got home with our first girldfriends, my father wanted to immortalize the moment by taking « official » pictures of the couple. Then, I started to do it alone… taking portraits of my girlfriends. Landscapes and objects are so boring, there is no challenge whatsoever ! I was able to work on my technique and learnt by instinct and experience !
When did you discover Africa ?
It was in 2001 during the solar eclipse in South Africa, I was on a safari in Botswana with the bushmen and my sister. It was a revelation. Now, when I go to Africa, I always look for a date to come back. Never tired, never weary !
The yellow gold Rolex Safari with a chocolate dial and bezel
What is your dream ?
Many dream about having kids… but it's more about social acceptance and social consciousness. I don't have any, and don't care what people think about it. My dream is to see other felines from Siberia or Asia. Those who will soon disapear. This type of trips make me vibrate…
In between tweaking watches, swim and eat french sweets, what are your hobbies ?
Nothing unusual, I am the classic type, I like to travel and do photography. I could travel the world to see or listen to an opera. My parents took us for the first time we were six years old. My brother and sister did not see any interest in the matter. I did. I can take as many planes as I need for a safari or see an opera.
How would you describe yourself ?
An ambitious dreamer perfectionist. As I said earlier, if I managed to do the sales that I have done, it is because I knew how to share and not how to be a seller. Something that we don't learn from books is the combination of education + diplomacy. The key is to say hello in the same way, to a worker or a banker.
What made you a figure in the world of watchmaking also within the small village that is Geneva ?
I remain faithful to my beliefs and principles, my values and my knowledge. I still have clients coming back after 15 years !
Why organizing Watch'up at L'Heure Asch ?
To promote small and niche brands. Too many watchmakers have talent but too few of them are known. They are talented in what they create, but they do not have the means to communicate. The idea of Watch'Up is to provide a communication platform promoting their talent. Watch 'up at L'Heure Asch is 14 independent watchmakers, 70 timepieces and a lot of know-how!
What's your crush of the event ?
The Gatsby by Laurent Favre. A beautiful piece, well-made that we haven't seen anywhere else!
What is your latest crush ?
The carbonara and tiramisu from the Prima Pasta restaurant Rue du Conseil-Général in Plainpalais. I even got their reward card for loyal customers! It's rare that both are good at the same time ... I always do the test in every Italian restaurant in all countries of the world I go to.
What else ?
After L'Heure Asch, nowhere else. Maybe it is time for L'Heure Asch… elsewhere! ;)