It's all Voltaire's fault!
No, Voltaire did not just inspire Gavroche's song. In fact, François-Marie Arouet – aka Voltaire – the philosopher, writer and aficionado of technique also established a watch manufacture. It was in Ferney, near Geneva, that Manufacture Royale produced thousands of timepieces until its closesure. Then, suddenly, in 2010…

… an entrepreneur awoke the manufacture from its slumber. He recreated a manufacturing tool and went into producing complicated watches. Now established in Vallorbe, Switzerland, the manufacture's new owners, the Gouten family, aim to make it evolve in the circle of breathtaking watchmaking. In fact, Gérard, Alexis, David and Marc Gouten have joined forces at the helm of the brand. They are henceforth masters of its destiny.
Gérard, Alexis, David and Marc Gouten

Marc Gouten's tells the story: "My cousin Alexis used to distribute Manufacture Royale's watches.
When he learned that the then owner wanted to sell the company, we sat down as a family to assess the situation and we eventually decided that it was the right time to buy. Several factors such as its undeniable history and its two in-house movements – a tourbillon and a minute-repeater with a tourbillon – encouraged us to take the leap. Both movements were equipped with a 108-hour power reserve and a silicon balance-spring. We thus took the plunge and, since we bought the company a few months ago, we have released a third movement with a flying tourbillon.

When it comes to timepieces there is no middle-of-the-road: we either like them or not. Therefore, we agreed to design a new shape for our cases which was more classical but which had a contemporary touch too and still preserved the brand's codes. In other words, we wanted to offer an alternative to our clients. We called upon the expertise of designer Eric Giroud who completed the work quite quickly, as you can tell from the pieces equipped with the new case we're presenting here at BaselWorld".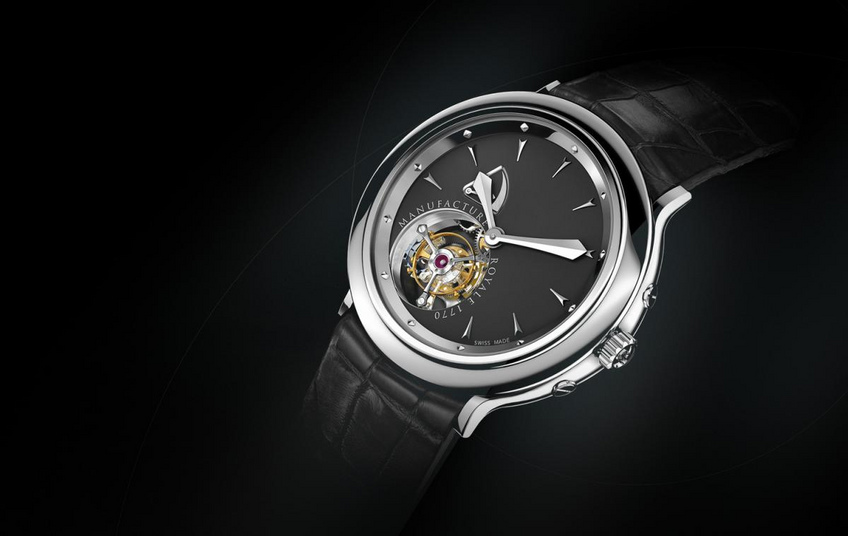 Manufacture Royale 1770 unveiled at Baselworld 2014
As far as their strategy is concerned, Marc Gouten explains that they are currently looking for independent retailers. As the brand will evolve gradually, its new owners aim to develop long-term, trust-based relationships with their partners. Gouten also highlighted that with a target production of 150 watches for the year 2014, the selection of retailers will logically need long consideration. He admits: "Indeed, this will take some time but we need to build the company slowly and clearly in order to avoid getting caught in a vortex of a little something here, a little something there, and so on. We want to create a beautiful product and we will hence give ourselves all the time we need. Furthermore, we want to figure out who our clients are".
To date, Manufacture Royale's creations are available in Hong Kong, Taiwan, Macao, Qatar, Saudi Arabia, Switzerland, France and Belgium. Marc Gouten points out that the network will eventually grow but it will be done without rushing and through long-term partnerships.
Named 1770 after the year Manufacture Royale was founded, this timepiece newly embodies the daring and excellence which define the Manufacture. Its restrained...