GPHG 2016: Interview with author Frédéric Beigbeder – 'I see watchmaking differently'
If you ask me, there's nothing wrong with asking a non-insider to present the Geneva Watchmaking Grand Prix. Beigbeder is an author and omnipresent fixture in the French audiovisual landscape, and quite a character by all accounts. And it seems he's caught the watchmaking bug...
For the fifth time, Frédéric Beigbeder (will I ever manage to get that name right first time?!) will be MC-ing at the sixteenth prize-giving ceremony at Geneva's Théâtre du Léman. He will be joined on stage, for the event scheduled to be held on the rive gauche overlooking the lake and fountain display, by Gaspard Proust, the French humourist with the immaculate introvert air.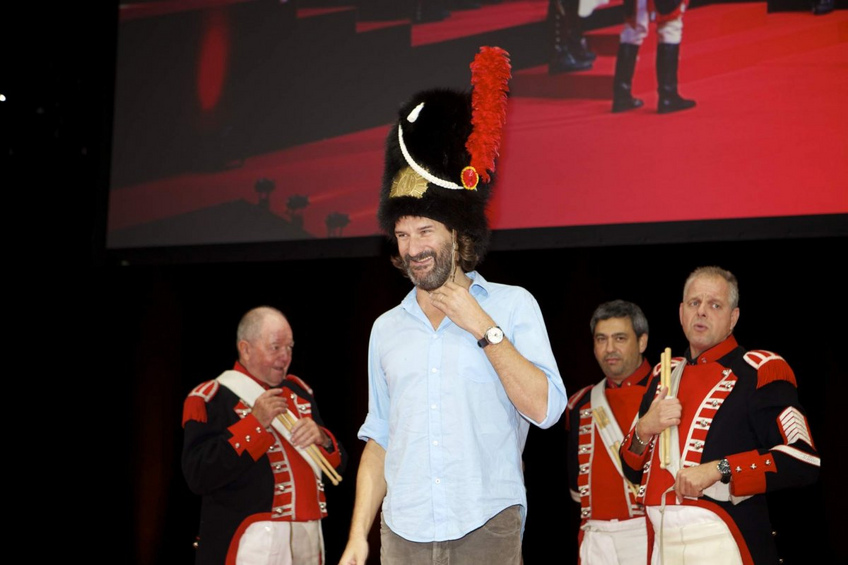 Frédéric Beigbeder - Backstage GPHG 2014
Writers, these days!
I must say, writers don't seem to have any trouble handling their image these days, donning various guises, adding the odd eclectic spin... And so it goes for this guy in Geneva, inseparable from his bow tie and dinner jacket, Beigbeder is perfectly at home bandying the microphone, as well as his own style of universal French humour. He moves easily through the very public world of watchmaking, where everyone knows and spies on everyone else, he appears as just as much at ease in current affairs programmes as when he's behind the camera directing a film based on one of his own novels. In turn literary critic, prize founder, chairman of the jury, and editor of Lui magazine, but perhaps known best of all as an 'author', boasting a bibliography that includes the prestigious Interallié and Renaudot prizes.
As to the question whether his foray into the watchmaking world will still be an annual excursion, or if he will keep in touch with the sector between GPHG dates, he confides: 'It's probably best to invite someone who's not in the milieu. Because it would look a bit weird if some of them were my friends. As it is, it's more objective.' Anything else to add? 'Asking a total ignoramus to present the Grand Prix is more interesting for the public…' 'You're not giving much away', I say. To which he replies: I'm all clued up by the specialist watchmaking press, so I make sure I know what I'm promoting, and don't say anything stupid.' The evening, he adds, is a bit like 'The Watchmaking Oscars, you've got China, then the Arab states, etc... … I try to make jokes, and not to take myself too seriously, but that's something I do take very seriously.'
Frédéric Beigbeder & Gaspard Proust
Secret perks?
Incidentally, I ask him. What about those constant references he makes about being able to wear one of the lovely timepieces he's asked to present and comment on? I'm keen to know whether his pleas are ever heard. Does he receive much attention from watchmaking brands the rest of the year? Does he get special perks, given the growing reputation of the event and its international expansion? 'It doesn't work like that at all, brands don't realise how serious I am! I still haven't been given anything …' I push him to tell more: '…except Zenith. The people at Zenith very kindly said "we're lending you a watch". And then they forgot to ask for it back. It's nice and friendly and all that, but what bothers me is that as son as they read this article they'll remember I've got it and I'll have to return it!' I venture the comment that he should be the one to know; do people actually still read these days? - He smiles.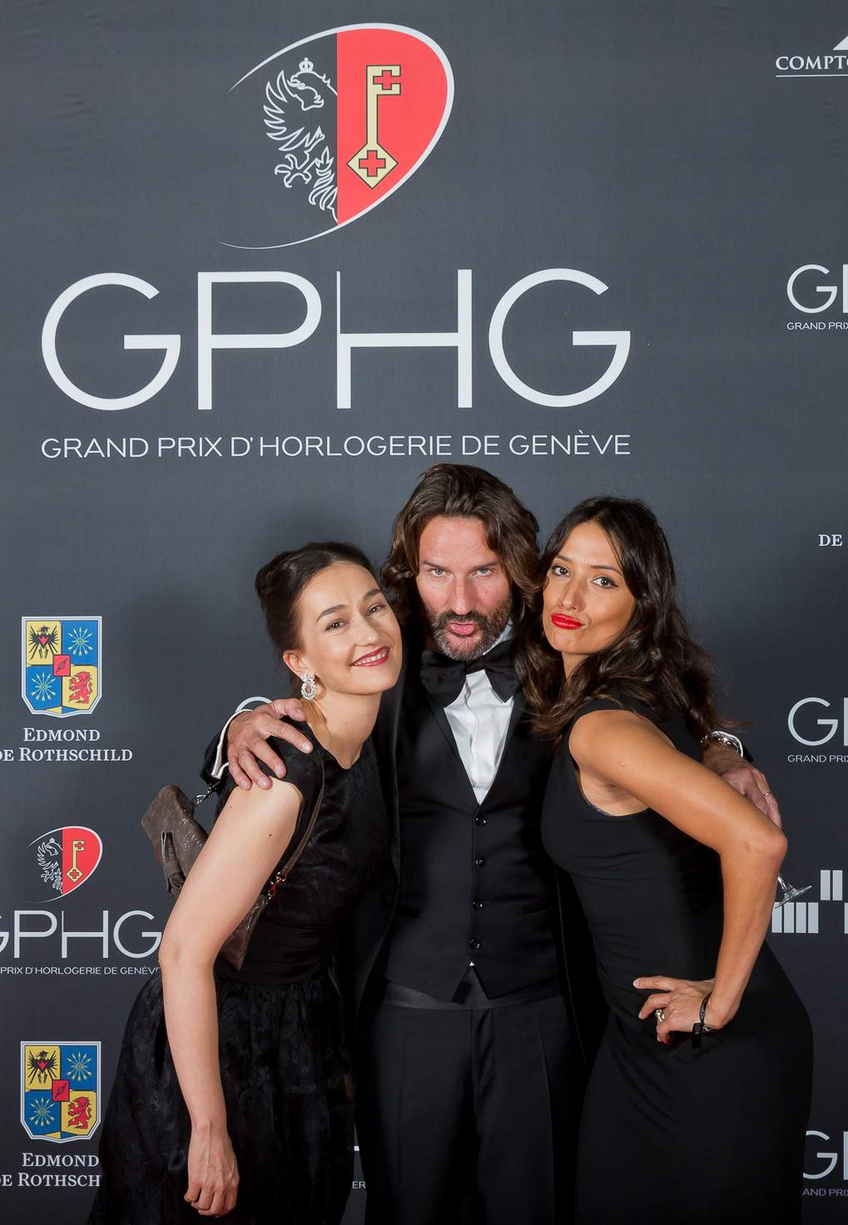 Carine Maillard (Director of the GPHG Foundation), Frédéric Beigbeder & Mélanie Winiger (Presenter)
On a more serious note he assures me, 'Its totally kosher and there's no corruption involved'. Is he particularly interested in watches otherwise? 'Well I've still got my own watch, my IWC (Ed.: International Watch Company in Schafhouse), which was a present from my wife, a very lovely timepiece. It's a Portuguese with a black dial and three counters.' Three counters? That makes it a chronograph. Suddenly aware that his remark might contradict his previous statement, he enquires as to whether IWC is in the competition. No, no worries, it's not.
That's a point. How is it that some brands are absent from the Prize that is known to give purpose to an entire sector? The answer is simple, but no so obvious to the general public. Each watch in the competition requires the submission of an application, and therefore the financing that this entails. Don't forget that the timepieces will be required to travel the world appearing in transient exhibitions, all of which will incur additional insurance and carriage costs. Over 170 watches were submitted, of which 72 were selected, that's 6 in each of the 12 categories. As far as the organiser is concerned, a Foundation chaired by the former political figure, Carlo Lamprecht, the door remains open. Absent friends are not always wrong. We look forward to the day that some of the brands who've contributed to Geneva's prestige might join, if not re-join, the adventure.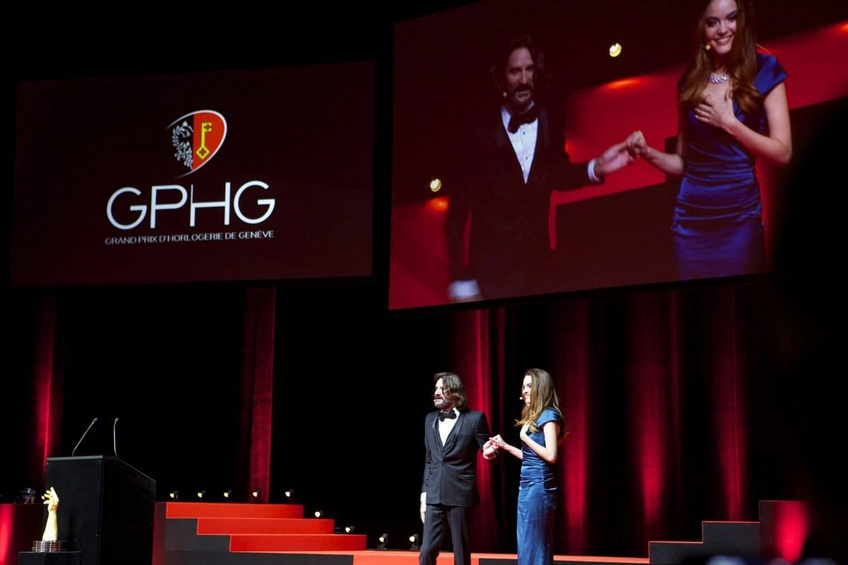 Frédéric Beigbeder & Solweig Lizlow (Presenter)
The inspiring world of watchmaking
Our author-cum-MC-for-the-evening was recruited by Vincent Gonet, Beigbeder's uncle by marriage, tasked with the evening's video production. Frédéric Beigbeder, the man who used women to get where he was (including former Miss Switzerland and fellow co-presenter, Melanie Winiger), the man who finally found his counterpart on stage in Gaspard Proust. I ask him what he thinks of Switzerland's homegrown watchmaking industry: 'I love fine workmanship and technical prowess. Like any aesthete, I admire skill! I'm not a collector, but I'm amazed by the people who choose the watchmaking profession, the ones I meet at the awards: they're passionate about what they do, they all have a history, a personal adventure to tell.' And since his involvement in the sector five years ago, he further confides: 'I see watches and watchmaking differently now. I'm becoming more interested, it's the only type of jewellery that can be worn by men. The people who carry on this profession are all a bit crazy and stressed out, as they try to find new ways of telling the time…' Suddenly, as if surprised at his own capacity for empathy, he resorts to his legendary irony: 'They sometimes make watches so crazy that it's impossible to tell the time…!'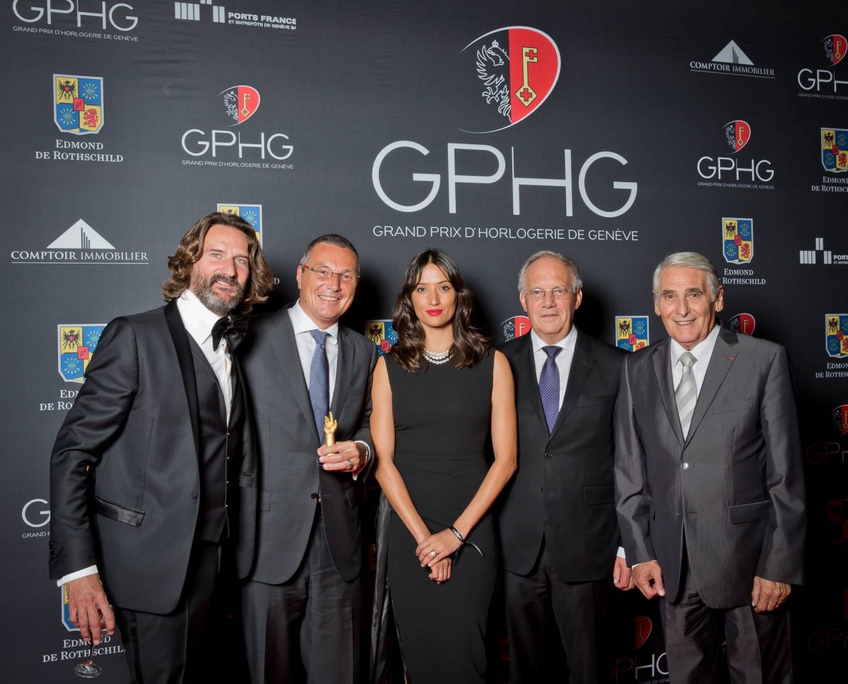 Frédéric Beigbeder, Jean-Christophe Babin (CEO of Bulgari), Mélanie Winiger (Presenter), Johann Schneider-Ammann (Federal councillor) & Carlo Lamprecht (President of the Foundation of the GPHG)
Does he one day see himself writing a book about his newly discovered area of interest? 'Why not? But you know, my books are all about the passing of time!' It's true. There's 'L'amour Dure Trois Ans' and 'Windows on the World' about the September 11 attacks, a kind of chronology spanning the period from the moment the first tower is hit and the moment the second collapses, 'time is a key theme in literature', he reminds me. 'It's not such an absurd idea in the end to invite an author to MC an evening that's all about time…'
'What's more, my speeches are always littered with authors' quotations.' But does the audience realise this? Will it really be able to spot the cultural references on the night? To be honest, I think I'll just concentrate on his witty repartee. Because after all, Swiss watchmaking is worthy of its place in the world of culture. After all, is it not the only independent culture, in other words one that is not governed by a linguistic capital, that this French-Swiss land of ours, with all its personal, geographical, economic, migratory and artisanal peculiarities, has engendered? But there I go again... waxing literary... It must be the Beigbeder effect!
GPHG 2016 on Watchonista