Davide Traxler, Corum: Bold Creativity For A New Launch
Ever since he took up his post in September 2015, Corum's new CEO has shown unrelenting enthusiasm for finding new directions for the brand. Davide Traxler loves to leave the beaten path, just as he did when he established a partnership between the Bubble and the French rap star Booba. He also listens to his markets with care when he receives positive signals for his choices.
Your presence has brought new wind it seems: lots of novelties, relaunched products that are selling well… How do you see it?
The first year was interesting. My first step was to listen to internal and external things. I wanted to find out how the markets were reacting to our products. The challenge, for me, consisted in recreating a group atmosphere and feeling, a kind of team spirit. Ultimately, for every CEO, it's the bottom line that counts. What I can tell you is that we have chalked up growth of 40%, which goes against the market trends. Our internal productivity has grown sharply. Nevertheless, even though we're quite happy with the results in this first year, we're not out of the weeds yet. There's a lot of work to do.We are projecting higher growth for the coming year.
The Golden Bridge lost its roundness, the legendary Bubble was resurrected, an emblematic Corum watch…. What made you choose this strategy?
We did a careful analysis of our portfolio and realized that 85% of the watches in it were form watches and 95% of the market is round. So we followed the market trends and accepted the plain evidence that a Golden Bridge was supposed to be round. As for the Bubble, well, the early adopting lovers of the model had been arguing for a rebirth for ten years already. Just a note: one decade after retirement, this model is still being sold on the web at the regular retail price. So we were quick to identify an opportunity and relaunched it. Today, the Bubble is practically the same as the original. It has a diameter of 47 millimeters and comes in three versions. The two first, with black or chocolate-colored steel case, are limited editions of 350 pieces each. On the other hand, the third version is part of the current collections and comes as a skeleton.
Corum Bubble Dice
The new Bubble introduced in Basel in 2016 went against market fundamentals. It was fresh, a bit self-deprecatory, andhumorous. It was a bit of boldness in an otherwise gloomy atmosphere. Are you a kind of disruptor, someone who stops things from running smoothly?
I go against the grain at times, and I do make sure I am surrounded by people who share my vision, or who are even more disruptive than I am. You need a lot of courage at this point to think and act against the trends. But we did it. I believe that inspiration must be found outside of watchmaking. Take the Bubble, for example. To launch the collection, we connected with rappers, painters, DJs, street artists, and anyone who really wanted to work on a Corum watch with us, one made particularly for the influencers who have large networks of groupies and followers. We are open and on the search for novelties, for something really different. When I think of our partnership with the French rapper Booba, I thing, yes, we really did go off the beaten track to find an entirely new approach. A few years ago, no one could have imagined such a disparate association in the world of watchmaking. We're in real life.I think it was the Austrian composer Gustav Mahler who said, you must pass on the flame, not worship the ashes.
In terms of marketing, how do you rank the digital world?
As very important. In fact, we chose a marketing director with lots of experience in the digital world.I think we have to fill out our ignorance gaps with the competence of others. I'm a bit of a philistine in this respect, which explains the need to surround myself with people who are real experts in the field. So I farmed out our digital communication, which is our main – but not sole –strategy to communicate with our clientele. To be perfectly frank, I have nevertheless noticed that some are doing cross-over the other way round. Apple took out twelve pages of advertising in the print edition of Vogue USA to communicate about its watch. I'm beginning to think that the digital world has slipped into the printed one. What's certain is that we have to use very different channels from those we employed yesterday to communicate with people who love our watches.
Without revealing secrets of Baselworld 2017, what is happening with the emblematic Admiral?
We did a great deal of work on the flags for the preceding edition. They had somewhat disappeared over time. And there again, the market sent us a really clear message: flags to diversify the watch. The king of Spain wears an Admiral; so it's worn by special people, who have always loved it. It was important to reinforce that line of watches. Now we are focusing more on working with different materials. So materials will essentially be our area of innovation at our 45th appearance in Basel.
Still at Baselworld 2017: Any clues regarding the Golden Bridge?
We are launching two automatic Golden Bridge models. One is very architectural, the other is stronger, more sportive. I think those will be the most important products launched in Basel. At the same time, though, we'll be releasing our new Billionaire, an extraordinary watch with a sapphire crystal movement. It's the ultimate high-end piece.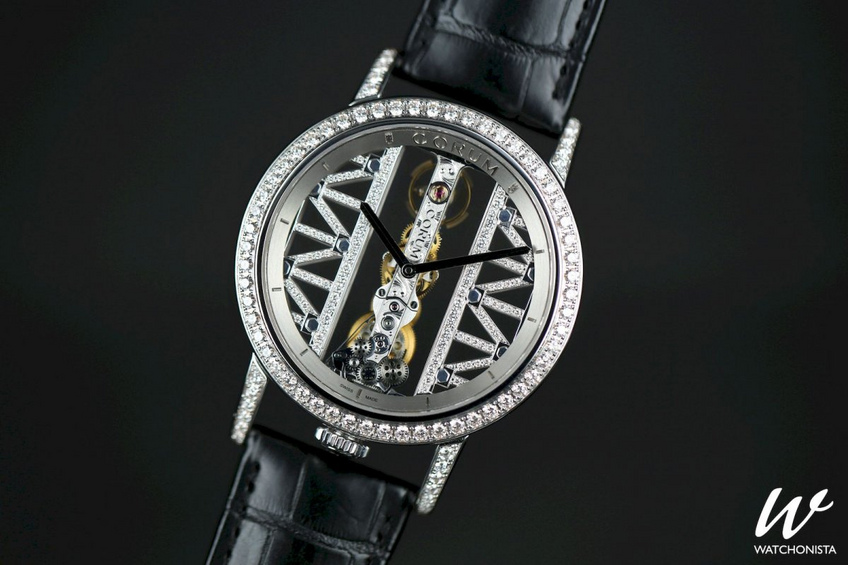 Corum Golden Bridge Round
A talking piece?
I'm especially hoping for a selling piece. It comes in a very limited edition due to demand, the price is around 500,000 Swiss francs. The new version in 2017 will be even more interesting.
By
Benjamin Teisseire
,
Contributor
Corum designs and develops iconic models, the kind that you can immediately identify. The Corum Golden Bridge is one of them and the Titanium version...
By
Marco Cattaneo
,
Journalist
Corum comes up with a round case for the Golden Bridge and increases its legacy with new versions of the iconic Bubble. The brand from La Chaux-de-Fonds has...