A conversation with Philippe Dufour: one of the most important watchmakers in the Vallée de Joux
Born in the cradle of watchmaking complications where nature's peacefulness allows for the level of focus needed to produce accurate timepieces, this authentic and kind watchmaker welcomed us at his workshop. It was a unique moment.
Translated from the original French text
How does Philippe Dufour see today's watchmaking and how it has evolved?
It has been evolving constantly for the last 15 years both in terms of volume and price, even if the product remains the same. I feel that many brands seem to be struggling to justify the price of their watches. The quality of timepieces unfortunately does not always reflect their intrinsic value. When customers buy a watch, they also buy the brand and everything it represents. Switzerland has gone too far and is now paying the price. Distribution channels are bursting and parallel markets are skyrocketing. The market needs to be stabilized. It's just like a person who's had a breakdown – if a miracle cure is found halfway through their recovery, they will get better but they will never make a full recovery. The same goes for watchmaking: it has to hit rock bottom to call everything into question. Only then will it be able to get back on track.
Too many "parasitic" processes and activities developed during the good years and brands went overboard with marketing and communication. This is why the price of watches has increased exponentially. In fact, the product only makes up for a small percentage of the price. The rest is what the cumbersome infrastructure has been attached to it. This has to be remedied. Perhaps a decrease in production volume would help. After all, less is more.
Does Swiss watchmaking still have some cards up its sleeves?
Of course, but they have to be used smartly. Watches must be designed with people in mind. Current marketing strategies rely on "starlets" and images too often. Customers are increasingly seeking traceability and authenticity. They want to know who makes their watches, where they are produced and how they were made. Brands make it just too hazy. They are playing with fire. Everyone is delighted with the new Swiss Made rule that comes into effect in 2017. But what does it really entail? It means a watch can be labelled Swiss Made if 62% of its components are made in Switzerland, which means that the movement, case and strap can be made in China and the dial and hands in Switzerland. They run a huge risk if end clients start to take a real interest in the problem.
And this does not happen just in the luxury market but everywhere. Take food – people will always pay more if they know the place of origin of their purchase and if good quality is assured. That's true Luxury! The Swiss Made label is an empty shell. It should only be granted if at least 80% of watches' elements were made in Switzerland, whatever the value. That's it. Everything else is trickery. I doubt I will be using the label for my watches, I'll just find another one.
What's your take on smartwatches and the evolution of fine watchmaking towards hybrid watches?
Smartwatches have a purpose since they are part of technological evolution. They can rightfully occupy the wrists of young people. When young people evolve socially and professionally, their experience with smartwatches will perhaps nudge them towards real timepieces. It is clear that they will occupy some of the entry-level market but I don't think they will reach the high-end market. However, I am not a fan of mixing technologies. I cannot fathom the idea of a hybrid watch with hand-made finishes. Mechanical watches have always been and will always be unique. They represent skills dating back five centuries and embody durability, timelessness and legacy. These do not match the practical, temporary and 'disposable' aspect of connected watches.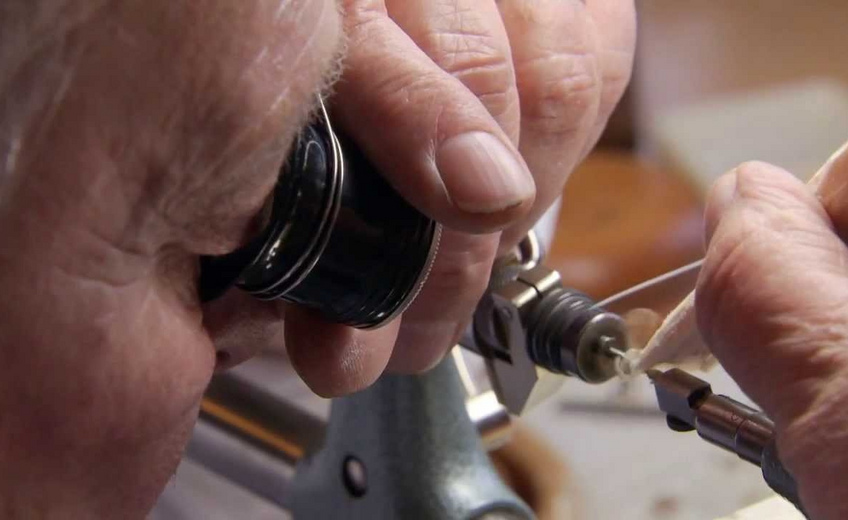 Phillipe Dufour at work
Fine watchmaking is a trendy subject of conversation nowadays. The FHH has even published a definition of the concept. What do you make of it?
I must admit I am a bit lost. I haven't been able to make heads or tails of the situation. Labels are now being used everywhere and, somewhere along the way, its actual meaning has been lost, just like the concept of organic food. The "Poinçon de Genève", the Patek and Fleurier hallmarks, the superlative chronometer, the METAS chronometer – it's too much and it confuses customers. Fine watchmaking does not necessarily mean expensive watches. The definition of the concept has been debased. I think that it is first and foremost an emotion-inducing object. Hand-made finishes always make watches different and unique. That is the real meaning of fine watchmaking – it represents the art and the emotions that it evokes. This is what I truly do. I enjoy creating my watches and when I see them stir sincere emotions and happiness in others, I tell myself that I am doing the right thing.
What are your new projects?
There aren't many, actually. I am still working on some watches of the Simplicity range and I have just added the last touches to my sixth Grande Sonnerie minute repeater that took 2,000 hours to complete by hand. Assembling a watch by hand is a time-consuming task. Nothing is done in factories here.
For example, we hand-polish the sinks of screw threads with an ebony point and a bow, as was done in the 19th century. But the finish has nothing to do with them. The screws or rubies are actually highlighted thanks to the perfect reflection obtained by the mirror polish. The same goes for the chamfering of plates and bridges. It is quite simple in fact. In 12 years, I have produced 204 Simplicity watches, and every week I still receive requests to make unique and customized versions in different colors or with different decorations. Maybe I will just produce another range. Or maybe I will rekindle my original passion: pocket watches.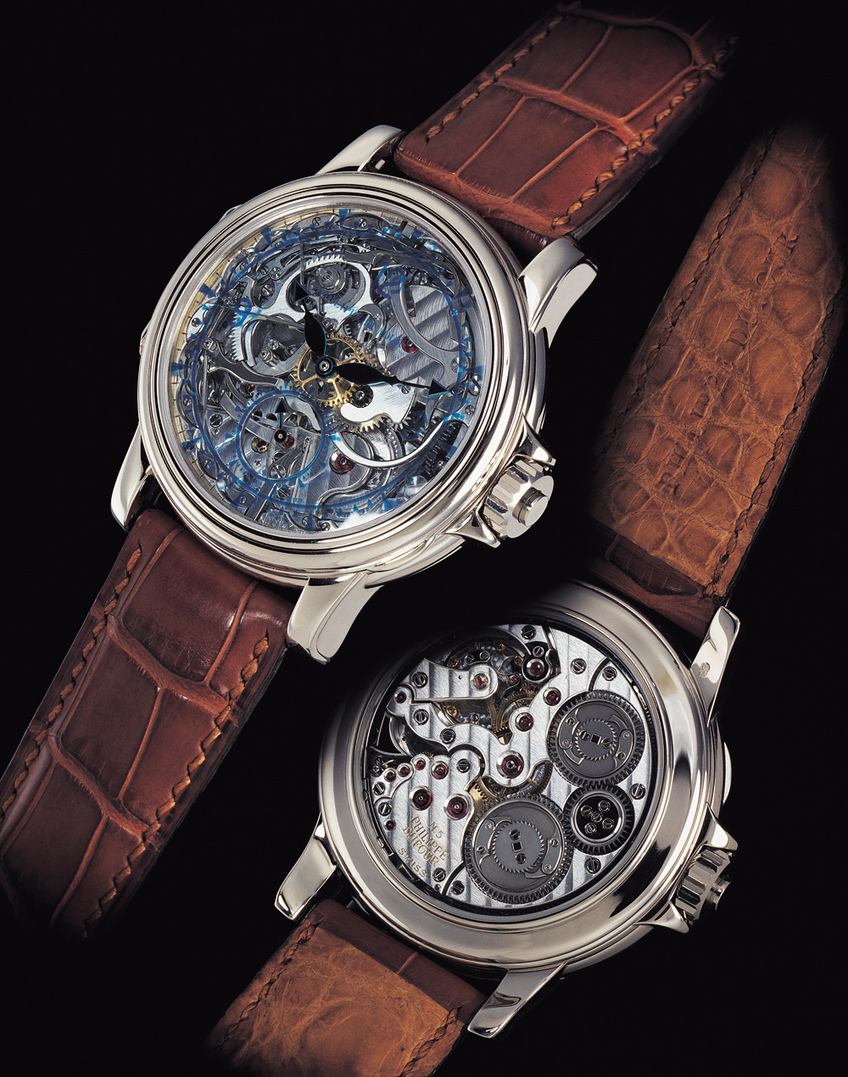 Philippe Dufour Grande Sonnerie
What about Time Aeon, the "Naissance d'une montre" (creation of a watch) project (editor's note: project initiated by Robert Greubel, Stephen Forsey, Philippe Dufour, Vianney Halter and Kari Voutilainen)?
The aim of the project is to preserve watchmaking's age-old skills. In the beginning, in 2009, other brands tagged us as eccentric since we worked with micro chisels, bows and other tools that were used in the olden days. Today, we no longer pay attention to these remarks as our first school-watch was auctioned for USD 1.4 million at Christie's in Hong Kong. Industrialization and automation will likely make these crafts disappear. It is therefore essential to preserve watchmaking art. Most leading brands do not seem to understand that we all complement each other.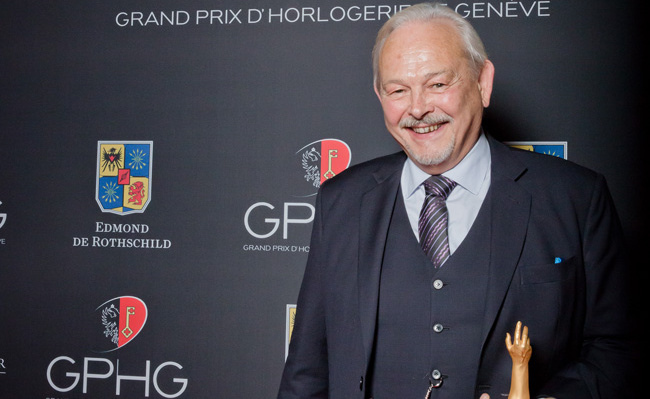 Philippe Dufour at the GPHG 2013
Fortunately, things have changed. It is a good thing that the SIHH has opened to independent brands. And it's clear that the Carré des Horlogers is the most active space of the event. Being creative while fully respecting old traditions is one of the greatest strengths of watchmaking.