The influence of trends and artistic movements in watchmaking
Before the era of watch designers, watchmakers mainly drew their inspiration from two artistic movements: Art Nouveau and Art Deco, which started in 1880 and 1920 respectively. How did watchmakers adapt to these influences?
By Dave-William Grandjean
The artistic movements developed during the 19th century aimed to break free from the codes of classical art. The will to break with historical models was expressed by replacing round pocket watches with wristwatches, either square or in other shapes.
First attempts
The very first movements appeared as a reaction to the Industrial Revolution. Take the Arts & Craft movement for example. Created in the 1860s by Briton William Morris, it rejected industrial procedures and rather called upon craft guilds to produce pieces that highlighted the value of traditional skills. At a time when social ideas were being developed, this movement gave value to small companies over big companies and further to craftsmen and workers over the bourgeoisie and social elites.
In the 19th Century watches were mainly worn by the upper classes, though produced by watchmakers who called themselves craftsmen workers. The watchmaking universe was thus split and became a spectator.
There was a certain hesitation in watch production at the time. By the end of the 19th Century, watchmakers gradually progressed towards Art Nouveau, a movement with less social implications and more focus on the decorative aspect of objects. Company logos and propaganda were testimony to the significant impact of this movement in watchmaking, something that could also be seen on the watches themselves. After the Industrial Revolution, the stylization of vegetable or organic shapes both volute and arabesque was the first sign of the trends' influence in watchmaking. An example of this could be the use on dials of Arabic numerals –whose shapes were more in line with with the aesthetics of Art Nouveau– instead of the sometimes less-readable roman numerals.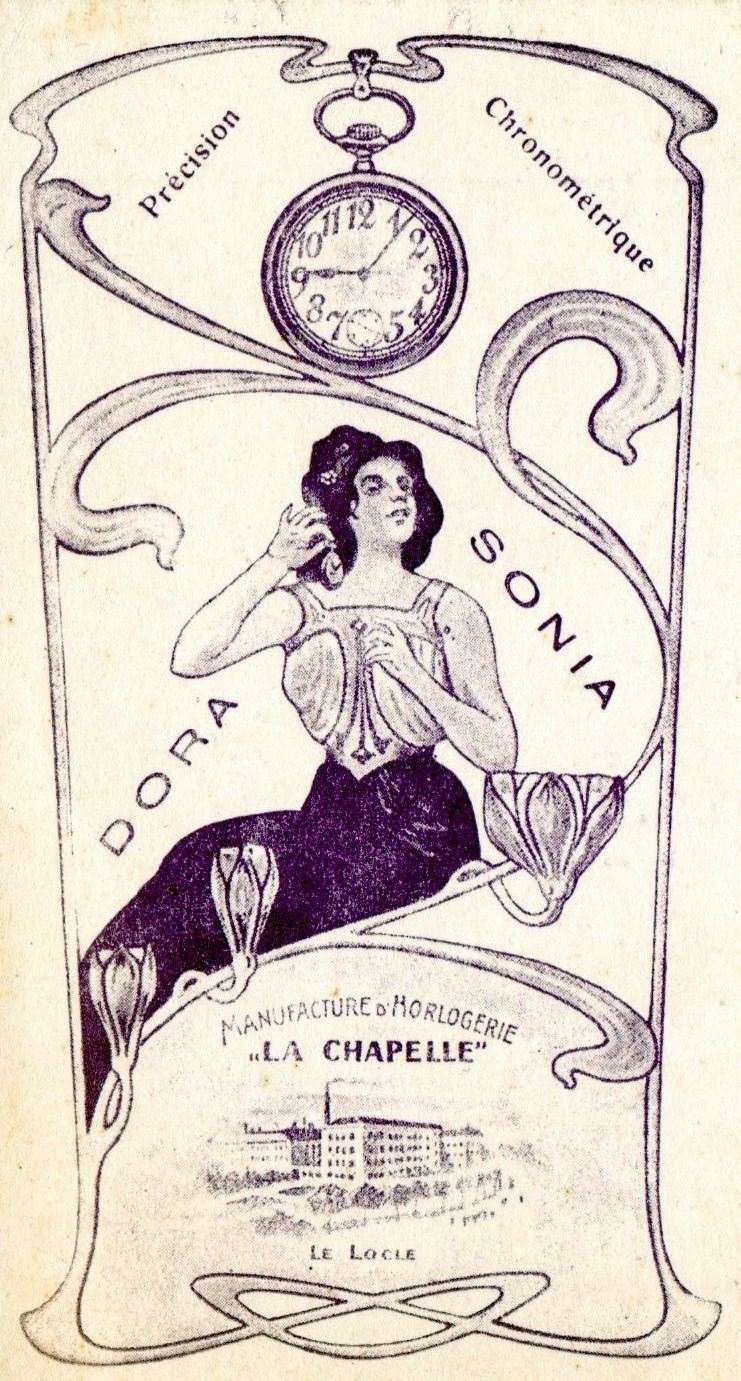 Art Nouveau advertising, Dora watches, early 20th century
Marrying watchmaking and Art Deco
These first trends were part of an experimental phase. As a matter of fact, these aesthetic tests gave priority to objects used in daily life.
At first, these artistic expressions were often found in home furniture and clothes. Gradually, they influenced all objects of our daily lives, including watches.

Simultaneously, Germanic movements such as Deutscher Werkbund, Bauhaus and De Stijl were seeking a simple, formal and universal language to give shape to objects. Here, functionality was the focus, whilst the decorative aspect took the back seat. Later, international movements with a universal language, such as the International style and Art Deco, superseded these national movements. The latter associated streamlined and functional codes and brought the decorative aspect to the forefront. In this sense, Art Deco is the heir of Art Nouveau and it spread from Paris to all the other western capitals. The ambivalence between the simplicity of shapes and the sophistication of the materials used helped watchmakers to adapt to this movement. It was obviously a very important movement, which reflected as much on the watch production at the time as on that of today.
Art Deco's particular characteristics include a pronounced taste for streamlined codes and simple geometric shapes. Dials featuring simple indexes instead of Arabic numerals illustrated the switch from Art Nouveau to Art Deco.
These simple and pure aesthetic norms were more suited to the functional demands of both watchmakers and modern society. They also made this style timeless, which explains why it is still appreciated today.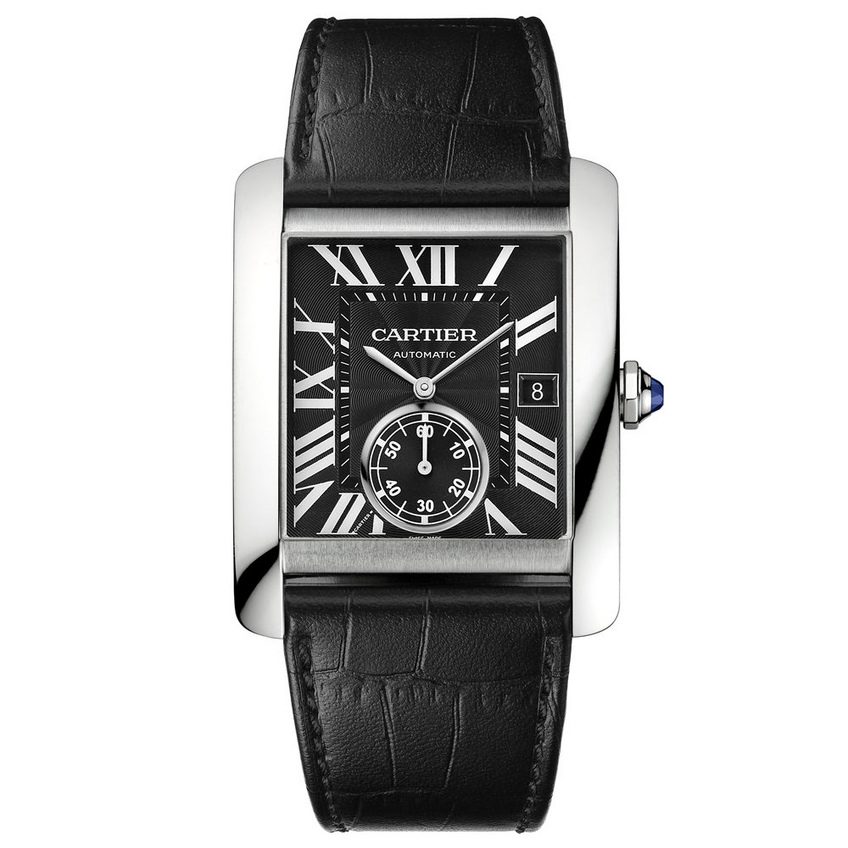 The Cartier Tank MC released in 2013, inspired by first models of last century
Pop Art for quartz watches
Post-war Pop Art was another significant movement that marked watchmaking but it cut loose from functionalism. Created from mass consuming, this movement highlighted innovation and consumerism. It influenced a production that resulted in flashy, playful, affordable, and famous watches, which corresponded to an ephemeral trend that was renewed constantly. This trend was less compatible with the configuration and philosophy of mechanical watchmaking. Early attempts of Pop Art in watchmaking were therefore rare. However, they could be seen in some of the watch production preceding the quartz crisis. (Image 4)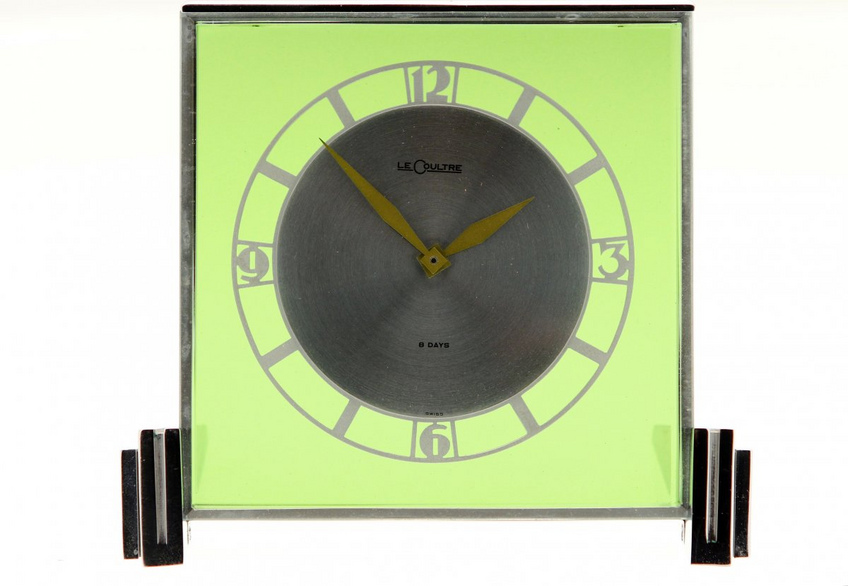 LeCoultre Pop Art, Yéyé Time 1959
Later, in the late 20th century, Pop Art belatedly appeared in watchmaking through quartz watches. These rapidly obsolete objects were a result of the "Swatch generation" and are products that are still produced and sold in bulk today.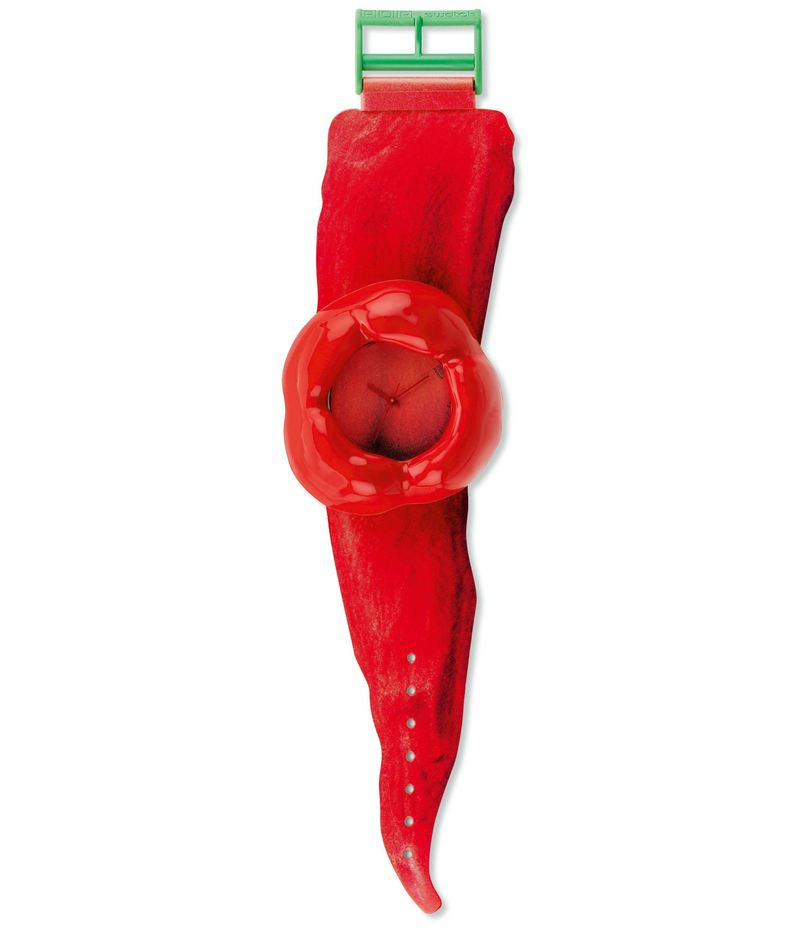 Pop Art vegetable watch by Alfred Hofkunst, Swatch, 1991

From the late 19th century, watchmakers either completely followed market trends or simply drew their inspiration from a few elements. They followed trends sparingly and were sometimes late to even integrate them compared to other industries.
In the late 20th century, the mechanical comeback would be the occasion to resume and revisit some of these movements, and even adapt others – such as the Streamline movement – which had until then never been valued by watchmakers.
Key sentences

"The will to break with historical models was expressed by replacing round pocket watches with wristwatches, either square or in other shapes."

"Art Deco is a timeless art, which is still appreciated today".
Source: "Design-Moi-Une-Montre" temporary exhibition from 29th May 2014 to 30th April 2015, Espace Horloger Vallée de Joux.
By
Dave-William Grandjean
Major artistic movements broke away from classic Art rules and gave free rein to the imagination of creators from the 1950s and onwards.
By
Dave-William Grandjean
Watches have traditionally been the expression of watchmakers' quest for aesthetics. Here is a historical overview from an architectural point of view,...