Prix Gaïa 1995 – Antoine Simonin. Entrepreneurship category
He was honored for his commitment to the creation of watchmaking training centers in Pretoria (South Africa) and in Neuchâtel where the WOSTEP (Watchmakers of Switzerland Training and Educational Program) filled a significant void by offering watchmakers from all around the world a chance to develop their watchmaking skills.
Training
Watchmaker
Selected works
Opening of a watchmaking training center in Pretoria in 1966.
Development of WOSTEP under his leadership.
Creation of the Editions Antoine Simonin
Before Gaïa
After spending the first fifteen years of his life in Belgian Congo, Antoine Simonin returned to Switzerland to start training as a watchmaker at Technicum in Bienne. After his studies, he went to work in the after sales service of Omega in England and Italy before he was appointed the manager of a general agency in Ghana. At only 23, he was in charge of the watch-jewel shop and the restoration workshop.
His exemplary career path enabled him to open a training center of the Swiss watch industry in Pretoria in 1966. His job was to see to the organization of training lessons related to watchmaking in Pretoria and to teach development lessons in the entire African area in the south of the Equator.
The 3 laureates : Ludwig Oechslin, Michel Parmigiani and Antoine Simonin
Armed with an exceptional experience after 10 years in Pretoria, Simonin returned to Switzerland to resume his position as director of WOSTEP (Watchmakers of Switzerland Training and Educational Program), an international watchmaking teaching institution. During his time as manager there, the institution grew and in 1992, WOSTEP was selected to coordinate the concept of the Worldwide Partnership with watchmaking schools. Professional development lessons for watchmaking trainers were added to the program of the specialized training center in Neuchâtel. Two years later, Simonin launched a wide training program on an international scale. The Worldwide Partnership enabled WOSTEP-certified students to be trained. Other than this, he also wrote books published in his name. His publishing house is Switzerland's only house to be entirely dedicated to watchmaking.
He wanted to decrease the price of important books covering all the aspects of the watch culture, such as François Lecoultre's "Les montres compliquées", which he reissued regularly.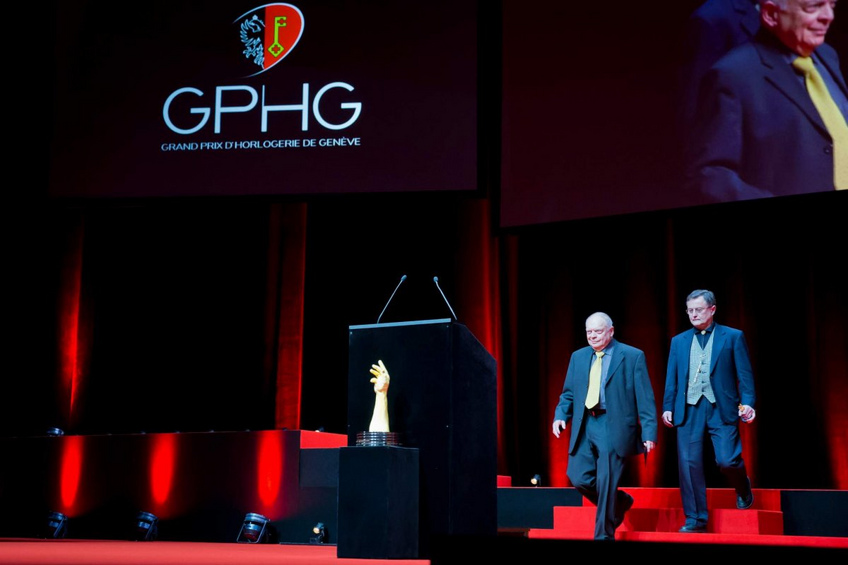 Antoine Simonin (Member of the jury) with Moritz Elsaesser at the GPHG 2013
After Gaïa
He retired and left WOSTEP in 2003. Nevertheless, he stayed in touch with the watch universe since he continued to preside the technical Commission of the Fleurier Quality Foundation as well as lead Chronométrophilia, a Swiss Association for the history of time measurement and was also a member of the MIH Commission. In addition, he continued his activities as a specialized publisher and was consultant for watchmaking brands.
He was awarded for his peculiar career path as a historian, watchmaker and scientist, particularly for the first study led about the astronomical Farnese Clock...
He was awarded for the restoration of prestigious historical pieces and for his skills as designer and assembler of pieces with highly complicated pieces for...