Prix Gaïa 1994 – Anton Bally. Entrepreneurship Category
He was recognized for the essential role he played in the technical management of ETA SA Fabriques d'Ebauches and most especially for the creation of the famous ETA 2892 caliber, which earned an excellent reputation.
Training
Qualified microtechnics ETS engineer.
Selected works
Development of calibers for mechanical and electronic watches
Design of the ETA 2892 A2 caliber
Manager of ETA Far-East and ETA SA
Before Gaïa
Before he joined the watchmaking industry, Anton Bally first wanted to acquire some solid technical training. To do so, he passed a Microtechnology Components Drafter CFC, followed by an ETS diploma in microtechnological engineering. He also undertook training at the Institute of Microtechnology at the University of Neuchâtel.
As soon as he completed his studies, he was hired by ETA SA in Granges, where he reunited with the company where he had done his apprenticeship.
First hired as designer of mechanical and electronic calibers, he was offered various positions within the manufacture as from 1976, including head of product development department and assistant to the Director-General.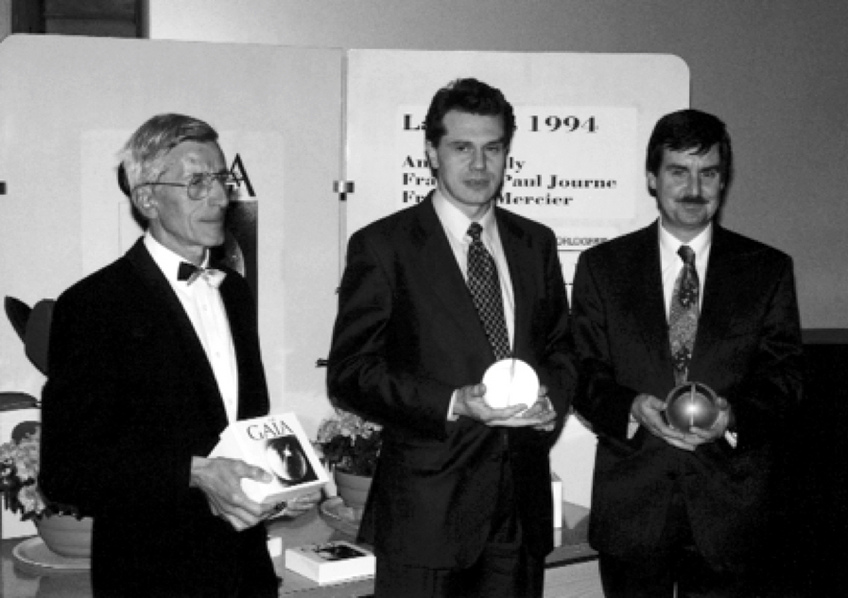 The 3 laureates : François MErcier, François-Paul Journe and Anton Bally
At a time when the watch industry was undergoing major change, Anton Bally played a significant role in the Delirium Vulgaris project that was inspired by the legendary Delirium Tremens. In fact, the latter's components were integrated at the bottom of the case, which was then used as a plate. From then on, the objective was to develop a cheap watch based on the same principle. And so, in 1982, the Swatch (contraction of 'Swiss watch') was unveiled - almost exclusively made of plastic, it was produced in mass, sold at unrivaled prices and the rest is history.
At the same time, ETA SA, led by Bally, came up with the new ETA 2892 A2 caliber, a mechanical movement equipped with a self-winding system and date indicator.
After he spent several years working in Switzerland, Bally went to Hong-Kong where he was appointed the director of ETA Far East. In 1992, he returned to Switzerland and at 47 years old, became the vice-president and, later on, president of ETA SA. He was also a member of the general management of the Société de Microélectronique et d'Horlogerie SA (SMH) group.
After Gaïa
After he won the Prix Gaïa, Bally continued his original quest by pursuing his work within the watchmaking industry.
He represented the Swatch Group in the board of directors of the Swiss Center for Electronics and Microtechnology (CSEM), at the Fondation Suisse pour la Recherche en Microtechnique (FRSM) and at the Fondation en faveur du Laboratoire de Recherches Horlogères (FLRH).
He was awarded for seventeen years of service as curator of the Watch Museum of Château des Monts (Le Locle) where his hard work resulted in a...
His work as a "mechanical artisan" was awarded as his mechanical watches were remarkable in their technical and phenomenal complications, and...