The history of fashion watches 3: Fossil
Among the companies specialized in the licensed production of watches, Fossil's turnover went from $504 million in 2000 to $3.2 billion in 2015! This is the enthralling story of an incredible success.
Fossil Is the fourth largest watch producer in the world today. Neverthekess, it is also one of the fashion brands to have a growing interest in accessories in general, and watches in particular, and in the extensive development of subcontractors in the watchmaking industry in Hong Kong and China. These two factors have encouraged more companies to start the licensed production of fashion watches.
A new American watchmaking company
Although the United States has a rich watchmaking history that goes a long way back (including companies such as Waltham, Hamilton and Bulova) Fossil had no connection whatsoever with American watchmaking skills. Rather, it is an iconic company of new fashion watch producers that was created in Dallas by the Kartsotis brothers, Tom and Kosta, in 1984 under the name "Overseas Products International ".
The company was initially only created as part of a marketing project. In 1986, the Kartsotis brothers launched Fossil watches on the American market. They were produced in Hong Kong and their identity evoked 1940s and 1950s America. They had immediate success and the company's turnover went from $2 million in 1987 to $32.5 million in 1990. This encouraged the two brothers to establish their own company. They opened its capital in 1993 and adopted a strategy based on three main axes – supply control, branching out into fashion brands and distribution verticalization.
Controlling supply
In order to master the acquisition of finished watches, Fossil took over a company in Hong Kong in 1992 and renamed it Fossil (East). It was responsible for supplying watches to the headquarters in America. Furthermore, it was also a shareholder in several companies in Hong Kong, such as Amazing Time (60%), Pulse Time Center Company (60%) and Trylink International (51%). These companies brought Fossil closer to one of the world's leading watch production centers. According to financial reports published by the group, Fossil bought pieces from 38 watchmaking companies established in Hong Kong and in China in 2000, a number which rose to 48 in 2011.
Branching out into fashion watches
In the 1990s, Fossil adopted a diversification strategy in relation to fashion, including both products and brands. For the products, it launched fashion accessories during its first decade (leather goods, sunglasses, jewelry), and a garment and shoes collection in 2000 and 2008 respectively. Said diversification increased Fossil's popularity and confirmed its integration in the fashion industry. In spite of that, however, watches accounted for most of the brand's turnover (68.1% in the 2000s).
The high percentage that watchmaking occupied paved the way for the second diversification axis Fossil adopted – watch licensed production and selling for several fashion brands. The main contracts were with Emporio Armani, DKNY and Diesel. After 2000, Fossil extended its co-operation to other companies and designers, such as Michael Kors (2004), Marc Jacobs (2004), Adidas (2005) and Karl Lagerfeld (2011). In 2012, the American group acquired Skagen Design, a small company established by a US-based Danish couple, both of them designers in 1989. In 1992, they also launched Skagen Denmark, a watchmaking brand.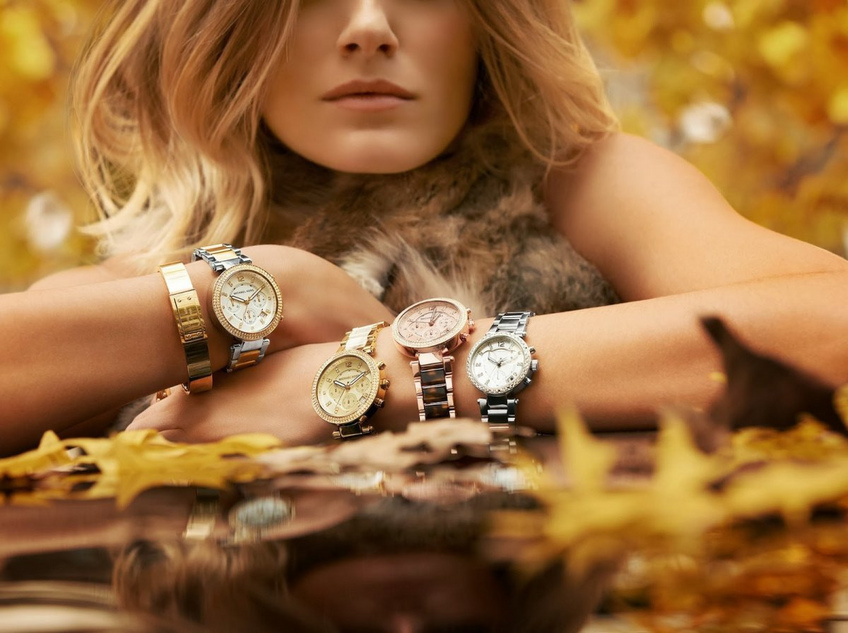 Michael Kors watches belong to Fossil Group
Together with the expansion into the world of fashion watches, the brand also adopted a strategy to enter the much more exclusive Swiss watchmaking sector in the early 21st century. In 2001, Fossil acquired Zodiac and invested in various companies that produced components and assembled watches. The objective was to acquire a Swiss brand with a rich history and tradition, and a production machine that would allow the brand to offer Swiss Made watches to its clients. Hence, in 2006, Fossil launched a Swiss Made collection for Georgio Armani that was exclusively sold in the shops of the Italian designer.
Verticalization of distribution
The third element that has helped ensure the growth of the Fossil group since the late 1990s is the increasing control of distribution. In 1998, the first year we have data available from, Fossil was still largely dependent on the American market. At the time, sales in other countries only amounted to 29% of the brand's turnover. However, they started to increase in 2000 and reached almost 50% in 2015.
Since 1999, the company's growth has relied on the development of online sales, the creation of a network of shops, and the acquisition of distributors. Single-brand Fossil stores were launched in 1995. After that, they grew exponentially – from 39 stores in 2000 to 250 in 2016. Furthermore, the American group successively took over its distributors in Taiwan (2005), Sweden (2005) and Mexico (2006). In December 2012, it acquired its third largest distributor, Bentrani Watches, which operates in Latin America.
By
Pierre-Yves Donzé
,
Historian
During the 1970s and 1980s, two industrial transformations had a major influence on the relation between fashion and watchmaking – the advent of quartz...
By
Pierre-Yves Donzé
,
Historian
Chanel, Dior, Gucci, Louis Vuitton. The leading names in the fashion world today have watch collections and are significant actors in the watchmaking industry...