A Geneva watchmaker: Jean-Jacques Badollet (1850-1908)
19th-century Genevan watchmakers have been praised for the excellence of their products and their contribution to luxury watchmaking in Geneva, and yet!
Translated from the original French text
The image of Genevan watchmakers specializing in "luxury" watchmaking contrasts with that of Jura watchmakers who started the mass production of watches. However, this rather biased perception of Swiss watchmaking was mainly a result of the lack of attention Genevan manufacturers suffered. Jean-Jacques Badollet's journey is a perfect example of this predicament.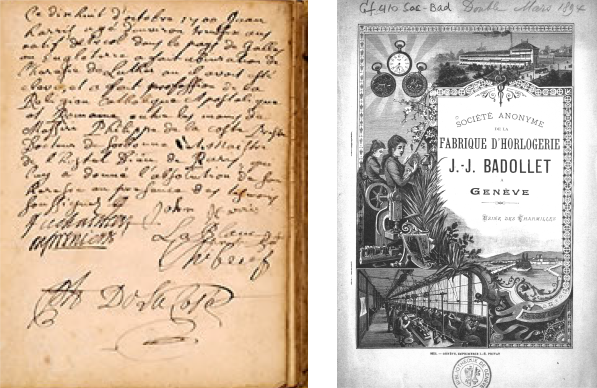 Hailing from old watchmaking families in Geneva
Born in 1850, Jean-Jacques Badollet was an ideal example of of old family watch manufacturers who successfully modernized their companies in the late 19th century to establish mechanized production.
The purpose behind this focus on the career path of one particular individual is to shed light on the activities of this man and entrepreneur, and thus prove that producing both luxury, high-end watches and machine-made low-price pieces was actually no contradiction whatsoever. In fact, Badollet's omnipresence in watchmaking discussions and debates today proves that the practice can continue on a long-term basis even today.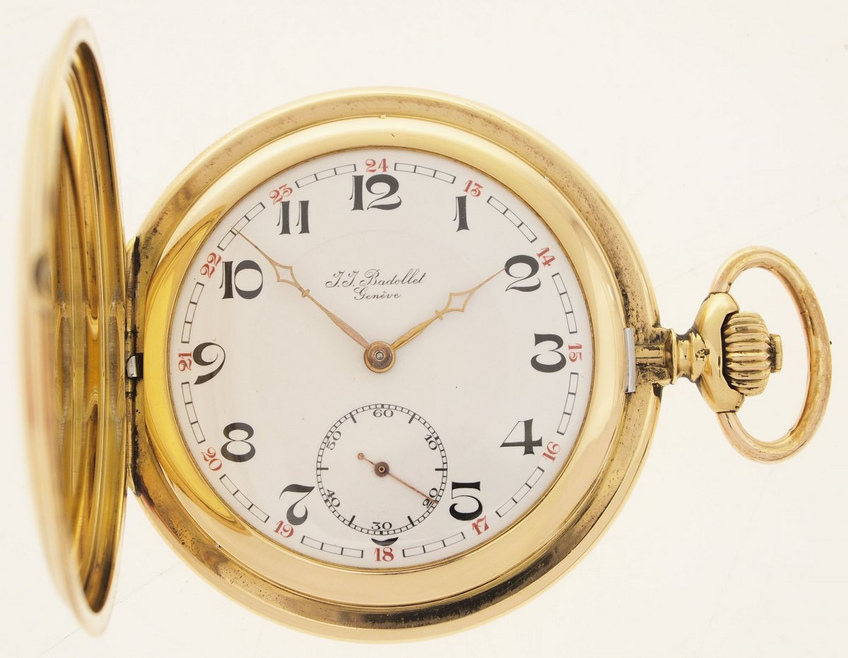 Jean-Jacques Badollet pocket watch
The Badollet family from Geneva were very active in watchmaking throughout the 17th and 18th centuries. They were the watch producers who best represented the "Manufacture" credo and continued their small production and business throughout the 19th century until Jean Jacques Badollet steered the family business in a new direction. At first, he followed a classic training path – a three-year stint at the escapement workshop of his cousin Edouard Sordet, who later on, became the director of the town's watchmaking school. After that he joined the family business – the Jean-Moïse Badollet & Cie company founded by his father in 1837. By the 1870s, the company was renowned for its high-end products and received several awards from the Geneva Observatory and the "Société des Arts", as well as in the international exhibitions in Vienna (1873) and Chicago (1893).
The brand continued its path and became the face of ultimate Swiss watchmaking(particularly Genevan) throughout the world.
An early focus on industry
However, the young Badollet did not linger on the technical side of watchmaking and quickly took an interest in production methods. He travelled to the United States on several occasions to attend world fairs in Philadelphia (1876) and Chicago (1893). When he travelled across the Atlantic, he and several of his fellow colleagues from other districts also took the opportunity to visit American watchmaking manufactures and ask about their industrialized production. When he returned from Chicago, he hosted a public conference at the Geneva watchmaking Section on the Waltham workshop and its tools. After a very detailed description of the production process in place at the manufacture's workshops, he wrote a report that was almost similar to the one Jacques David wrote in 1876, in which he explained the difficulties that lied in the direct application of the American model in Swiss watchmaking. Indeed, the latter was organized in a very different way. Nevertheless, like David, he campaigned for the mechanization of production and the standardization of calibers and case sizes on a larger national scale in order to reinforce the compatibility and competition among Swiss companies.
Ultimately, Badollet drew inspiration from the various American companies and started the mechanized production of watches in a new company that he founded in 1881, which Badollet named Léman. It was in fact a manufacture that produced watches and movements for external clients (ebauches). The official catalogue of the watchmaking and jewelry exhibition that the "Classe d'industrie de la Société des Arts" organized in 1880 wrote the following about J.M. Badollet & Cie: "the organization has undergone [...] a complete transformation with the introduction of mechanical production in its workshops for both parts and whole movements".
Mechanization: a financial abyss
However, as other companies experienced, the investments in mechanization were not initially profitable. It could be argued that this level of industrialization was simply ahead of its time. By 1891, Badollet became a limited company thanks to the investment of external capital, which made it possible to organize mass production at a new facility that was established in Charmilles. Furthermore, Badollet added machines that were imported from the United States. He proudly put them on display in a conference he gave at the "Section d'horlogerie".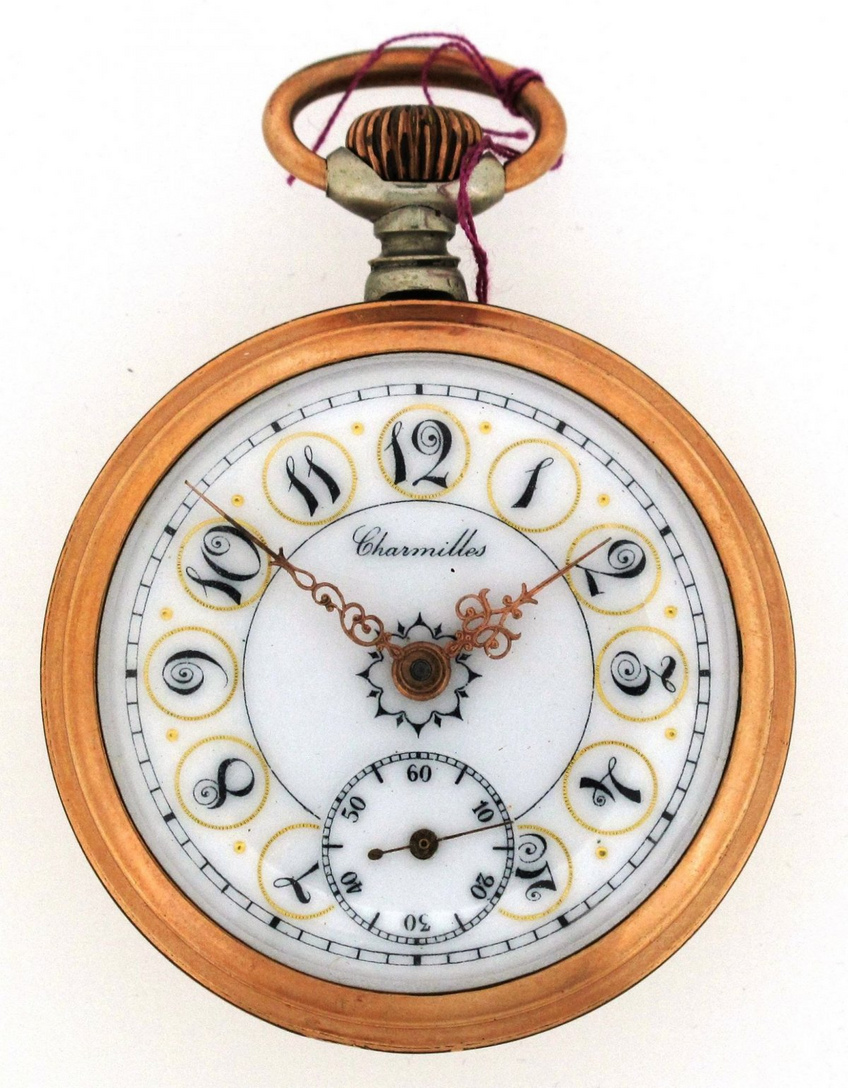 Jean-Jacques Badollet Charmilles watch
Shortly after, he launched the Charmille, a simple and affordable watch that was produced according to the American industrial model and a competitor to the American dollar watches. The watch was the result of a June 1891 patent that his partner Albert Potter, an American watchmaker filed. Even so, Badollet's company was still experiencing financial trouble. This led to the relinquishing of the Charmilles watch patents to the American company New Haven Watch that was later acquired by Ingersoll Watch Co., the leading low-price dollar watch producer.
The decline of an entrepreneur
In 1895, Badollet was acquired by its manager, Maurice Colomb, under the company name Colomb & Balmer, and was renamed Geneva Watch in 1905. Soon after the acquisition in 1901, Colomb relocated the company downtown, and abandoned mass production. Badollet gave up on watchmaking production and turned to commercial activities connected to watch production. He eventually became a representative of American equipment manufacturers. Until his death, Jacques managed the Genevan agency of Keystone Watch Case Co., a conglomerate assembling the leading American case producers whose major clients were Waltham and Elgin in the United States. This activity was in line with his dedication to producing standardized and low-price products for Swiss watchmakers.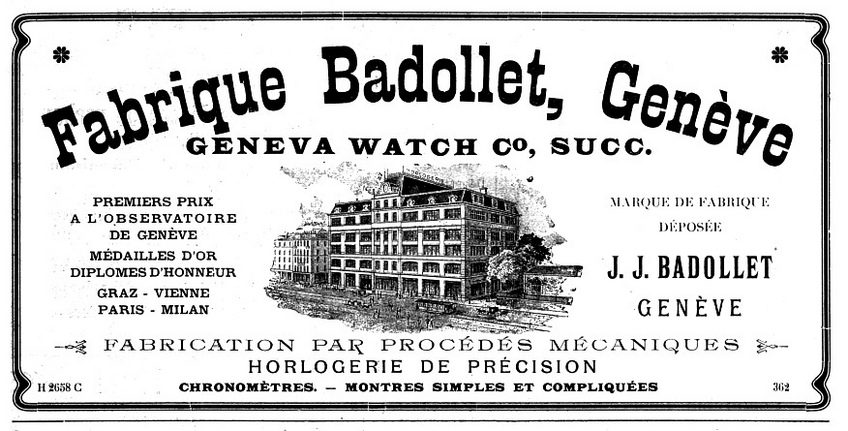 Jean-Jacques Badollet inserate in F.H. - 4 April 1907
Badollet's industrial activity can thus be classed as a failure that highlights the (mostly financial) difficulties involved in establishing mechanized productions in Swiss watchmaking.
For more information, get Pierre-Yves Donzé's book, L'invention du luxe: Histoire de l'industrie horlogère à Genève de 1815 à nos jours.
It is set to be published in 2017 by Alphil in Neuchâtel.