Hands-on with the new Bvlgari Bvlgari automatic
Many people out there might know Bulgari only for their jewelry. I can safely assume that you are familiar with their watches as well; otherwise you wouldn't be reading this here on Watchonista.
Jeweler and businessman Sotirio Bulgari opened his first shop in 1894 in Rome. When his two sons joined him a few years later, they moved to Via Condotti in Rome, which today remains their flagship store. With a clear focus on precious stones and jewels, they also included watches to their business.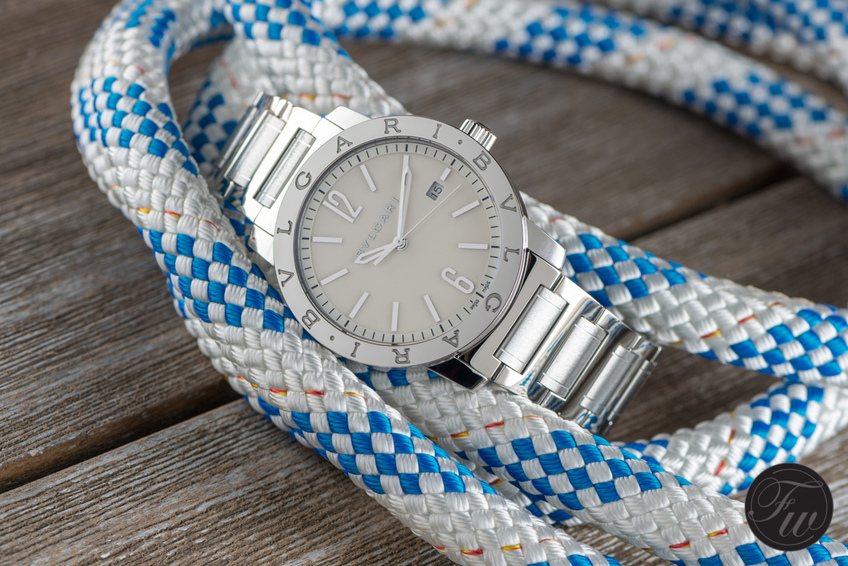 Fast forward 1977. It is the 1970s and Bulgari opened stores in New York, Geneva, Monte Carlo and Paris in order to conquer the world with their fine luxury products. A global player also needs a signature timepiece, hence the Bulgari Bulgari. This Bulgari Bulgari was – and still is – a true classic timepiece that should be considered an icon on its own.
I had the honor to get hands-on with the Bulgari Bulgari watch. In 2013, this isn't perhaps the watch that comes to mind at first as there are a lot of watch brands operating in the same price range (5000 - 10000 Euro). You either love this watch at first sight for its design, heritage and craftsmanship or you will going to appreciate it more and more overtime. Since I found myself to be in the second category, I needed some time to get acquainted with this timepiece as it is not the timepiece I would normally pick. As I am quite a low-profile guy, with a strong focus on sports watches, this Bulgari Bulgari is surely a piece of 'out of the box'-thinking for me.
A very recognizable design
The watch I had for review, the Bulgari-Bulgari reference BB41S, has a high polished round 41mm diameter case and a polished bezel. The bezel, engraved with Bulgari-Bulgari is very recognizable and immediately reminds you of these very first models from 1977. I wonder whether Bulgari would get away with this when this watch was a total new design of 2013. But that's something theoretical, as they do get away with it as it is part of the Bulgari-Bulgari design and heritage.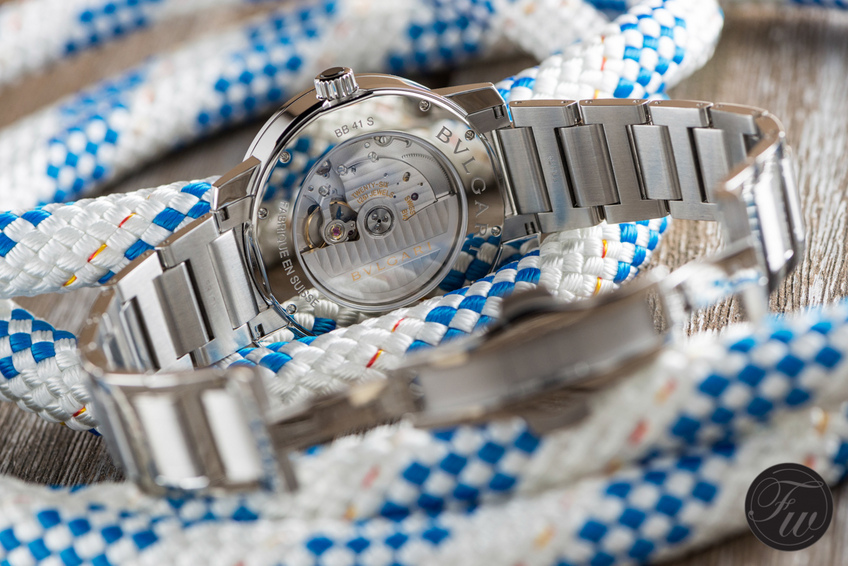 Bulgari-Bulgari's clean looking off-white dial has a pair of very nice sword hands. Something we mainly see at certain sports watches. If I remember correctly, those very first models had straight hands. Nevertheless, it looks good on the watch.
The bracelet as part of the design
Although the bracelet on this watch is definitely something that is part of the entire design, I like to mention it separately. Mainly due to the extremely nice finish that Bulgari applied to it. The inside of the bracelet has a satin finish, where-as the outside of the bracelet has a combination of highly polished H-shaped links and satin finished center links.
The folding clasp is a double folding type, which means you push the two buttons and the clasp will extend on two sides. I like these double folding clasps, as I think it enables the bracelet to go as wide open as possible. Although I have modest wrists – at least that is what I like to think – my hands are quite large so a bracelet really needs to be wide open. I like to mention here that this watch can also be bought on a leather strap.
The in-house calibre BVL191
This also brings me to the movement (caliber BVL191), as taking the watch off also enables you to have a look at the nicely finished mechanical automatic movement.
Bulgari's movement has been developed and produced in-house, at two different production facilities. Parts like the bridges, gear-train and the main plate are being produced in the Bulgari facility in La Chaux-de-Fonds. When finished, these movement parts are transported to the Bulgari Manufacture de Haute Horlogerie in Le Sentier where the final assembly takes place. The BVL191 movement features a hack for stopping the seconds when setting the time and an instant date change at 00:00.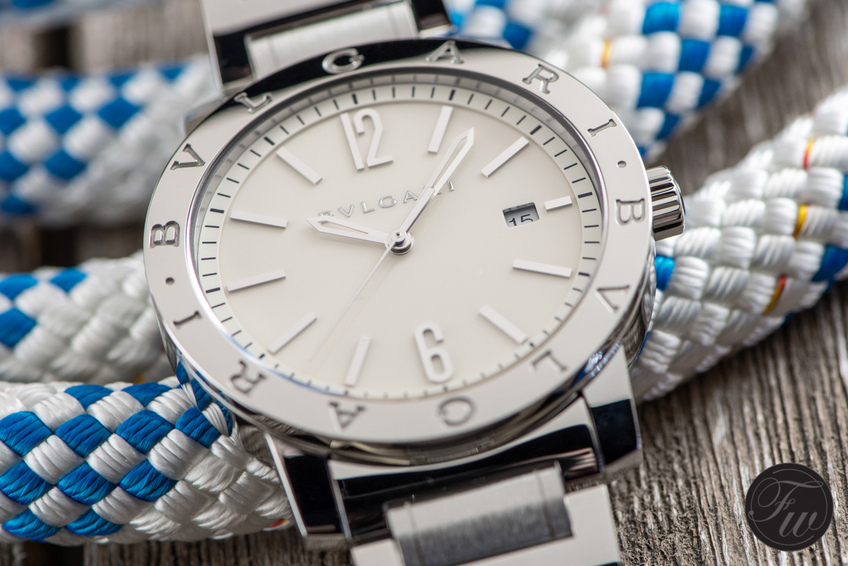 The sapphire crystal on the backside of the watch enables you to glance at the nicely finished movement. A sand-blasted main plate, snailed bridges and a côtes de Genève finish are there for your viewing pleasure. The movement has a power reserve of 42 hours, which should be enough for an automatic watch.
In all fairness, I would say that in this price range I more or less expect a movement to be developed and produced in-house. Especially when it concerns a time-only (date included) movement. Reality is that there are still a few brands around that don't, so I applaud Bulgari for doing so nevertheless.
The caseback with sapphire crystals is screwed onto the case with 8 tiny screws.
To sum things up…
This Bulgari-Bulgari surely isn't everybody's friend, nor should it be. If you like delicate timepieces with timeless design and superb finish, you really should take a closer look at this Bulgari-Bulgari. The master has designed it and this is something you will immediately notice. Everything seems to be 'fit'.
Whether you can handle a high-polished wristwatch for daily (or occasional) wear is something that strongly depends on your daily routine. For those who are often in hazardous environments for high-polished scratch magnet watches, it isn't the right choice. But I believe that every occasion needs a specific watch, so the Bulgari-Bulgari would perhaps be the perfect diner watch for you!
Pictures credits: Bert Buijsrogge from Fratellowatches