The Graff universe Part 1: a world apart
His name is synonymous with the world's most beautiful jewels. This jeweler is known for not making concessions on quality, for his choice of gems, and for his skills. Could Laurence Graff be "The King of Diamonds"?
Well, at least that is the nickname of this jeweler still driven by the same fascination he felt at a very young age when he saw a diamond for the first time. In the course of time, he has worked on the rarest specimens. In 1960, he founded the company of which today his son François Graff is the CEO. His brother Raymond manages the jewelers' workshops and his nephew Elliott has been entrusted with managing design, marketing, and production. In May 2008, Michel Pitteloud – a known watchmaking professional, now an independent consultant – was given the mission of designing and producing a collection of Graff watches which was completely in sync with the jeweler's particular style.
Michel Pitteloud is Graff watches designer
Controlling the supply
SAFDICO (The South African Diamond Corporation) is one of the most important producers of diamond in South Africa.
The Graff Group is shareholder of the firm – the local leader in diamond cutting and polishing. The firm completes the work of the renowned workshops in New York, Antwerp, and recently, Botswana. SAFDICO built a new complex for diamond refining that will employ more than 500 professionals and it reserves its best diamonds for Graff. It is thus not surprising that the jeweler has seen and worked with the rarest and most media-covered gems in the whole planet.
Here is one example of those rare gems. In 2008, Graff acquired the Promise of Lesotho, the 15th largest rough diamond ever discovered. After it was finely cut and polished by a team of experts, 26 impeccable stones ranging from 3.14 to 76.41 carats were carved out of it. It was more than enough to make a unique necklace, which became one of the most precious in the world. There are many ases like this in this jeweler's history.
Watch collections and technicality
Since 2009, the brand has produced wristwatches inspired by diamonds for the international market. Michel Pitteloud was appointed CEO of the Graff Luxury Watch branch, which includes treasure consisting of five remarkable collections: technique, sports, evenings, jewelry watches and bespoke. The technical watchmaking developments that he produced in this new adventure were enough to allow Graff to join the closed circle of manufactures.
Be it in terms of the amount of timepieces produced or of creativity, the brand's reputation is nowadays growing among collectors and aficionados of Haute Horlogerie and has already developed five in-house calibers. The first one is a self-winding caliber featuring a large date and was developed for the elegant GraffStar. The second caliber is housed in the ScubaGraff. The third one has served to equip the new ultra-thin GraffStar whereas the fourth is found in the MasterGraff Ultra Fat. The fifth is a tourbillon with a large date and two time zones and was honored at BaselWorld 2014. It had to allow this jewelry signature to finally add to its image the manufacture dimension that it largely deserves.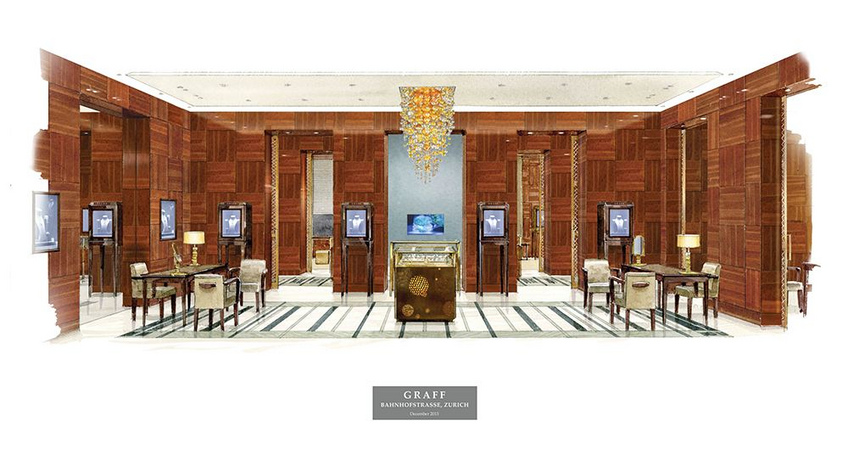 Graffs's Boutique at Bahnhofstrasse Zürich
Opening in Zurich
Graff watches – supported by a network of more than forty stores under the brand's name – were initially destined to a loyal clientele that was attracted to jewels and precious stones. They gave the brand many opportunities to convert to mechanical watchmaking arts for new consumers. Thus, in addition to the three points of sale the brand already has in Geneva and Gstaad, it will open a fourth watch sales point at Banhofstrasse in Zurich. The design of its 600 m2 will be entrusted to interior designers. Splendid and rich wall panels in black lacquer will be integrated in a striped marble surrounding inside the shop.
The shop will be lit by a large Bohemian crystal chandelier made of about a hundred perfectly cut glass drops that evoke a diamond's thousand sparks.
In the last three years, new Graff stores have been opened in London, New York, Hong Kong and Japan. They are all proof of its international expansion including those in Shanghai, San Francisco, Dubai, Hangzhou, Macao, Seoul and Abu Dhabi. Other stores will soon be opened in Europe, Asia and the Middle East.
Charity Work
Since 2008, the FACET Foundation (For Africa's Children Every Time) – sponsored by the Graff Foundation – has been investing in the education, health and well being of rejected orphans and children in Sub-Saharan Africa. Its first project consisted of building a center in Lesotho followed by the building of a further center in Botswana, which opened in 2011. A third center will soon open to support children from the region of South African vineyards. In 2014, the FACET Foundation will launch a new program of mobile centers, from which 1,200 children and adults in the area will benefit.