Girard-Perregaux, official partner of the 2016 Rallye des Caprices
Far from being on a whim, the brand's participation for the second year in a row in the first established Swiss women rally stems from a sincere wish to collaborate.
"It's about equality between men and women" – those were the brand's CEO's, Antonio Calce, words at the opening of the rally in La Chaux-de-Fonds on September 20, 2016. "Girard-Perregaux intends to work long term on projects for women". The brand gathered the twelve participating teams and their cars at its splendid "Château", which is just down the road from the Manufacture. The teams included Porsche, Dino Ferrari, Lancia Fulvia, and BMW amongst others, with all of them predating 1986. The rest of the program was continued in a relaxed ambiance with the number assignment, the distribution of roadbooks, and the ceremony of the last debriefing. To spice up competitiveness among the teams, winners of the rally were promised the sports chronograph Competizione Circuito – made in carbon, titanium and black DLC and driven by a self-winding mechanical movement – which is specially equipped with an undisputedly feminine red strap.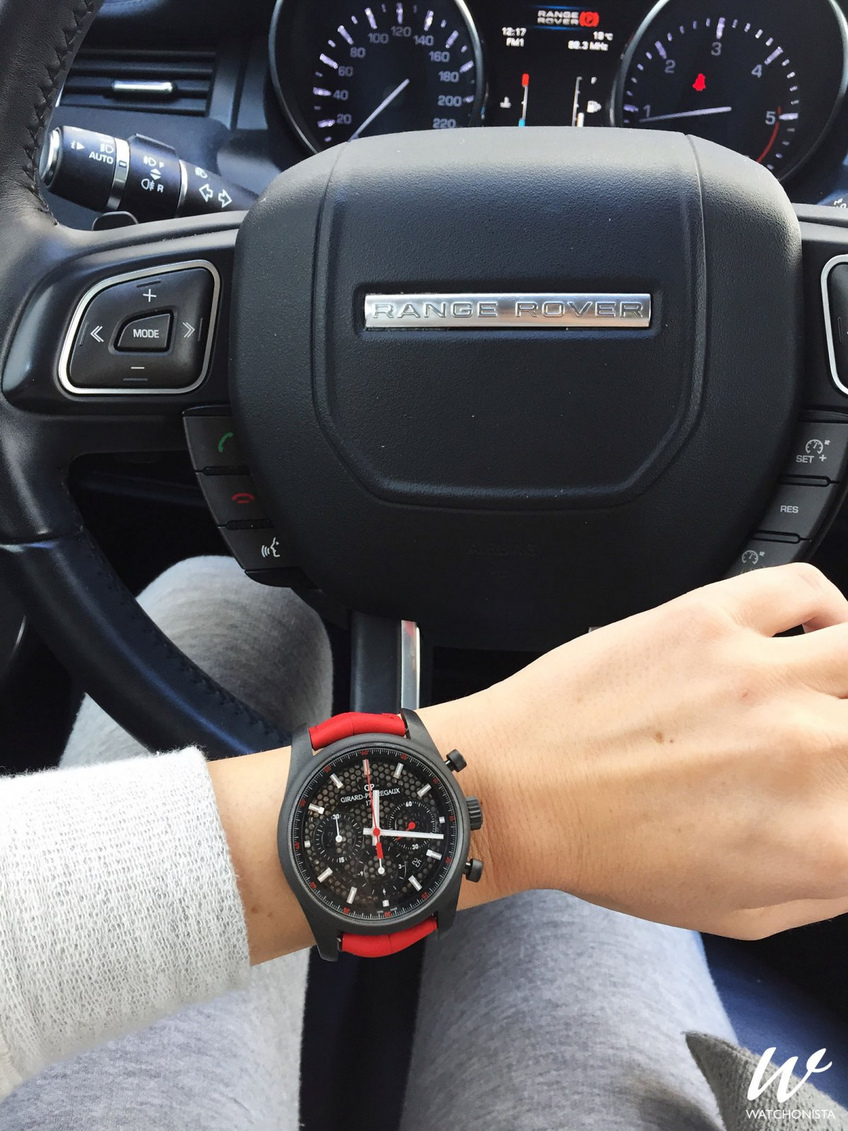 Girard-Perregaux Competizione Circuito chronograph carbon, titaniun, black DLC
Rally of beautiful and elegant cars
The organizer of the race, Nathalie Lepoultre, invoked the values of the competition and pointed out that it is not based on speed but rather friendship, fair play and elegance. The drivers criss-crossed through the small and picturesque Swiss roads and took in the stunning scenery but made sure to follow the imposed average speed. The approximately 200-km stages were rewarded by themed tours and lodgings at dream accommodations.
The travelogue as told by the winning team
Macha Vananty and Sofia Clara Secker from team number six shared the story of their journey at the wheel of the 1965 Porsche 911 2L, which was filled with funny anecdotes. In real life, they run Watch Her, a blog about women's watches.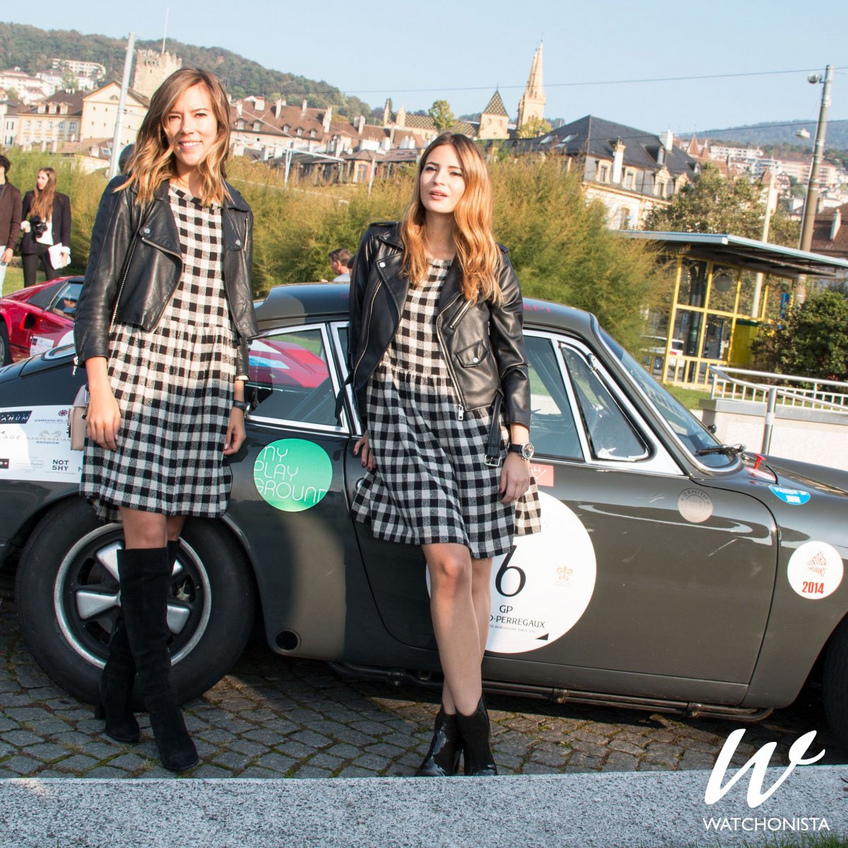 Sofia Clara Secker & Macha Vananty
1st day
"6 a.m. As the alarm went off, I felt a rush of adrenaline through my body. At 8 a.m., I reached Belmont-sur-Lausanne where I picked up my co-driver. We had to play a round of Tetris to make her luggage and photo equipment fit in the 911 – the trunk is not very practical. Maybe a WW van that could contain all our luggage would have been a better choice for this rally. We set out again towards La Chaux-de-Fonds. Traffic clogged the motorway, and I made a silent prayer for the car not to overheat while I thanked the patience of our unfortunate traffic companions and those who were (literally) at the receiving end of our not-so-green exhaust fumes and had toendure a deafening sound at each acceleration".
"At 9:45, we reached the Girard Perregaux Manufacture behind schedule. The press conference had already started. The other competitors were already there – some of them were already famous, the others would soon enough be. After that, we were given a tour of the Manufacture. Since we launched Watch-Her, visiting Manufactures has become almost more important than invitations to the Fashion Week! We couldn't wait to get on the road. The cars were exhibited in the courtyard. We took the time to spot our rivals as we admired the elegance of some of the teams. Afterwards, we sat down again for a briefing. This promised to be a one-of-a-kind adventure. We went over the rules of Regulatory rallies, we put on our driver hats nourrished from the love shown for these fine cars, and became determined to follow a dream that was subtly stolen from men".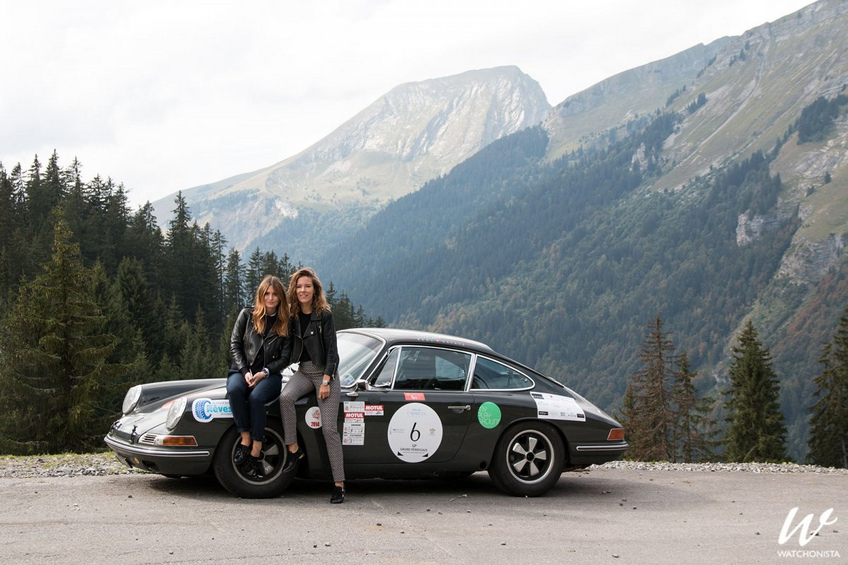 Macha Vananty & Sofia Clara Secker
"On our way to Neuchâtel – with our Porsche leading the way – I got the opportunity to test the car a bit and to drive it my way before the rally started and penalty points started to be taken from us for an early start. And yes, regularity can be a true challenge when low speed is mandatory and one is driving a racing car that does not like to be going slow and only asks to be floored. We made it to Beau Rivage without getting lost once and I was impressed at how easily my co-driver learned to use the roadbook. And that's when it hit us – maybe we would make the podium!".
2nd day
"The previous night had seen a long soiree animated by a fashion show. On the morning of the second day, we got up early and had a tasty breakfast, of which we took a few pictures to post on our blog and social networks. Afterwards, we wentback to our driver and co-driver roles and lead the Porsche out of Beau Rivage. Our first early morning went wonderfully. My dynamic co-driver, Sofia, was focused on the roadbook and followed the directions to the minute. Was there any chance for victory? I am more familiar with competitive than with regularity racing, but maybe – just maybe – we would, after all, be on the podium with a Girard Perregaux on our wrists? Well, why not? We ended the day in Lucerne and to our great surprise, we were leading!"
3rd day
"The competition was on. We had to outride the second team who were driving a 1973 Porsche 2.4 Targa, a newer, easier to drive and less capricious car. Since we were not 100% sure that our car would not break down, we could not really count on leading the elegance prize in our 1960s road-holding. The day went smoothly and our calculations, before calibrated to the minute, were now to the second! I knew that Sofia is the queen of DIY and home-made meals, but I did not know that she is also excellent at calculations. She was a master of multitasking with the roadbook in one hand and a calculator in the other. And that in spite of her motion sickness! I, on my part, was greatly enjoying being at the wheel of this vintage vehicle! A special premiere at 45 km/h, it is hard to keep from stepping on the accelerator.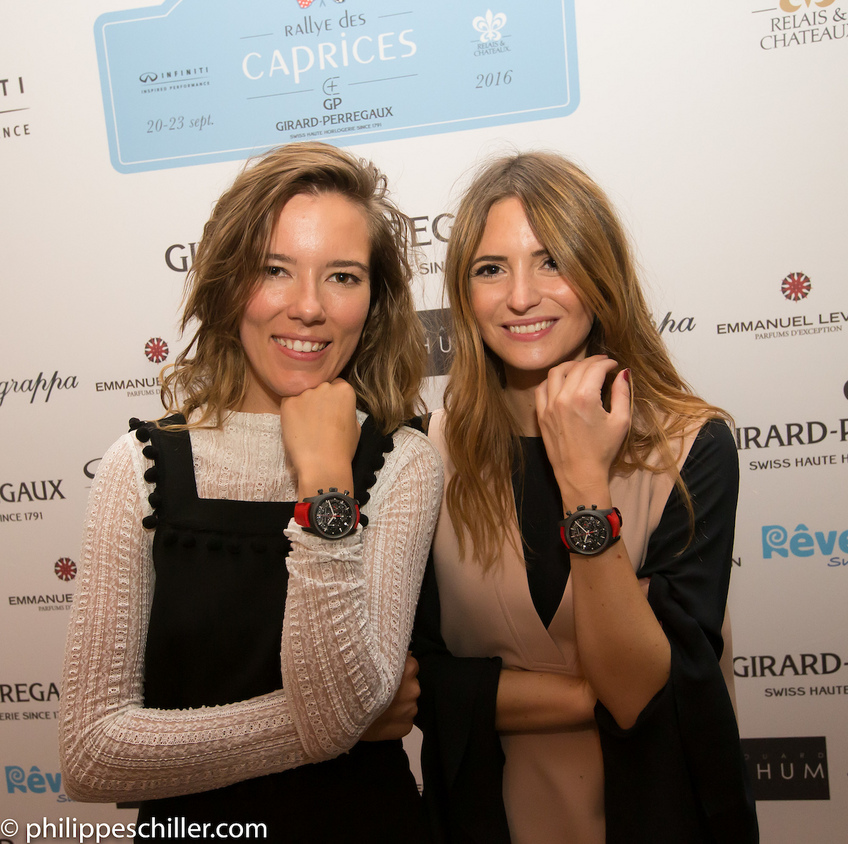 Sofia Clara Secker & Macha Vananty
Once again, Sofia guided me to the second, with short and clear instructions such as "accelerate, slow down, three seconds early, late". It was not our speed but our punctuality that was satisfying – a first for a lady driver like me! We reached Weggis, exhausted. What could have been seen as a simple drive between two women in fact hid a difficult situation: we had to shout over the noise of the engine to hear each other, we had to give all our attention to both the road and the counter at the same time and we had to bear the smell of gas that overpowered the gentle fragrance of our usual perfumes and was sending out exhaust fumes so big that they reminded us of the fogginess felt after a night out clubbing. Thankfully, all of us Caprice participants met for dinner afterwards and we all wore our designer stilettos to comfort each other and share some good times among us girls".
4th and last day
"We were still leading but everyone was starting to feel tired. Some teams had to give up due to technical problems or because a victory seemed quite impossible at this point. Those who were determined to continue got back on the road. Strapped into our bucket seats, we set out on an eventful and fast special leg at mid-morning. Yes, I say fast because unluckily we had to stop at a red light twice which, all in all, cost us 4 minutes. To make sure we stayed in pole position, we had to make up for lost time. And so, the cockpit of the 911 was now engaged in a true rally – my co-driver was completely focused and guided me through the track and told me when to swerve right or left accurately. We refused to lose our lead; Sofia held on and I floored it – we went from the mandatory average 49 km/h to over 100 km/h!
We were by now very familiar with the Col de Mosses, as the imprint of our brakes on the asphalt would attest to. We decided to have a quiet lunch in a small lodge but first we had to pave our way around the goats strolling the street; the sound of roaring engines did not seem to frighten them in the least.
We headed back to Geneva in the afternoon. We reached the Parc des Eaux Vives to find our sponsors and friends waiting for us. But we also found Girard Perregaux's refined Circuito hailing our victory. We just won the 2016 Rallye des Caprices itself, and not the elegance prize!"
We returned home with lots of memories and are already starting to feel somewhat nostalgic about those magical days where our emails, Instagram posts and tweets were forgotten for an adventure filled with great friendships and sports! It is a joint victory with the colors of Watch-Her, our watchmaking blog.
By
Rhonda Riche
,
Editor-At-Large
At last year's SIHH, Girard-Perregaux unveiled the Neo-Bridges Automatic Titanium — a watch that took its structural cues from Constant...
By
Joel Grandjean
,
Editor-in-Chief
At first glance, it looks like a simple watch with three hands, a date, a timeless and sober dial with a few vintage touches here and there… But a...