Girard-Perregaux Neo Tourbillon With Three Bridges Skeleton
At last year's SIHH, Girard-Perregaux unveiled the Neo-Bridges Automatic Titanium — a watch that took its structural cues from Constant Girard's creator Esmeralda pocket watch (which won first prize at the Paris Universal Exhibition in 1889) but married it to 21st century technology. And this year, the manufacture continues to push the concept even further.
Girard-Perregaux is coming off a good year. 2017 saw the brand's Planetarium Tri-Axial and Cat's Eye Celestial shortlisted in the Mechanical Exception and Ladies High Mech categories at Grand Prix d'Horlogerie de Genève. So, expectations for 2018 are high.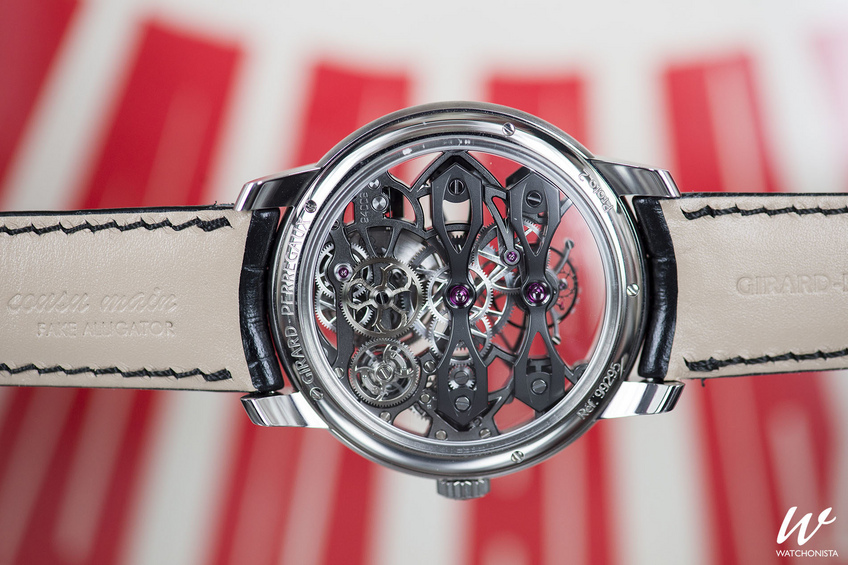 And while Girard-Perregaux didn't upend the world of Haute Horology when it unveiled a skeleton version of its Neo Tourbillon with Three Bridges at SIHH 2018, it did make a lot of collectors happy by presenting a modernist and affordable tourbillon.
The company calls it an exercise in horological architecture. Which makes sense: it fuses modern engineering with the ideas of the classic Three Bridges structure while also paying attention to contemporary aesthetics
The three bridges are emblematic of the Girard-Perregaux story. The manufacture first applied for a patent for a tourbillon with three bridges visible on the dial side in 1884. In 2014, GP revamped this signature with the introduction of the sleek and accessible Neo Tourbillon.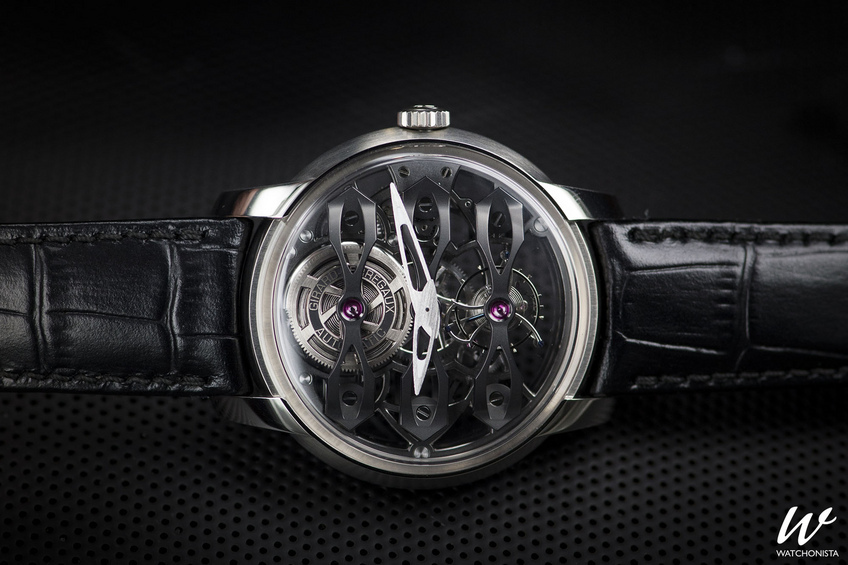 And of course, a skeletonized watch is the perfect way to show off the curves and cut outs of the new, elegantly rounded, black titanium bridges. The 9400-0011 caliber is less fussy than most skeletons in that the movement is a lesson in less is more. One of the most significant takeaways of the design is that the case has no bezel — there's a domed crystal on top and a clear case back so that the movement gets all of the attention.
One of the most pleasing aspects of the Girard-Perregaux Neo Tourbillon with Three Bridges Skeleton is its physical lightness. This is due to low eight materials such as sapphire and titanium. Reducing the inner workings to their most elemental forms also creates a visual clarity as well.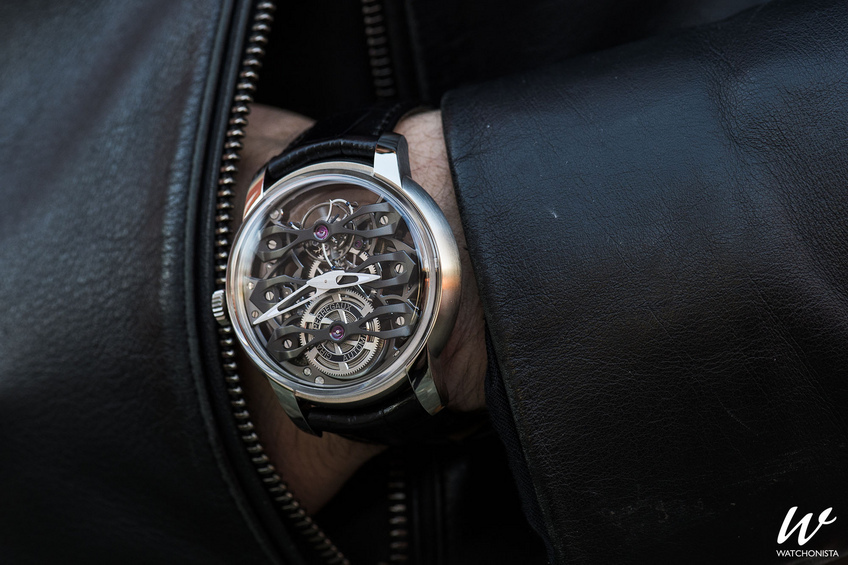 Functionally, the watch is wound by a white gold micro-rotor, set concentrically within the barrel – a unique position for this organ. The 80-part tourbillon is also made of titanium to protect operational autonomy and reduce friction. It spins on its axis once a minute, driven by a large-diameter balance wheel coupled with a hairspring with a Philllips terminal coil and a Swiss lever escapement. And fully assembled, the carriage weighs just 0.25 grams.
Pricing and availability were unavailable at press time.
By
Hyla Bauer
,
Contributor
The watch's crystal case guarantees an unobstructed view of the Neo-Tourbillon Three Bridges skeleton movement.
By
Benjamin Teisseire
,
Contributor
Established in 1791, Girard-Perregaux holds a special place in the hearts of fine watchmaking lovers. The manufacture from La Chaux-de-Fonds is regaining...