Event Recap: WIS CON 2017
We recently enjoyed a long weekend in Vegas with approximately 50 collectors of Rolex and Tudor. Highlights included the first showing of Tudor's Baselworld 2017 novelties, a great dinner, and giveaways of Tudor and Rolex watches!
You may be familiar with the term WIS, if not, it stands for "Watch Idiot Savant." Collectors have been self-applying this term for years. The concept of WISCON originated from TRF (The Rolex Forum). The forum's members have been meeting offline via GTGs (get-togethers) for years. However, these GTGs were always regional, and usually occurred sporadically throughout the year. That all changed last year, when forum member Gerardo proposed a global meeting of TRF members. The location? Las Vegas. Last year, Gerardo organized the gathering of 25 TRF members, and the event went so well that nearly all attendees vowed to return in 2017.
This year, Gerardo proposed growing the festivities into something even more. Capacity was set at 50, and once officially announced, tickets sold out in hours. In addition, retail, media, and brand sponsors/partners were brought on to enrich the experience and coverage.
I've always had a special place in my heart for TRF, as it was one of the earliest places I visited when I purchased my first Rolex (Explorer I ref 214270). The site has become a destination resource for new and established collectors of Rolex and Tudor. These days, I must steer clear of the "FOR SALE" section on TRF as there always seems to be something listed that I didn't know I needed.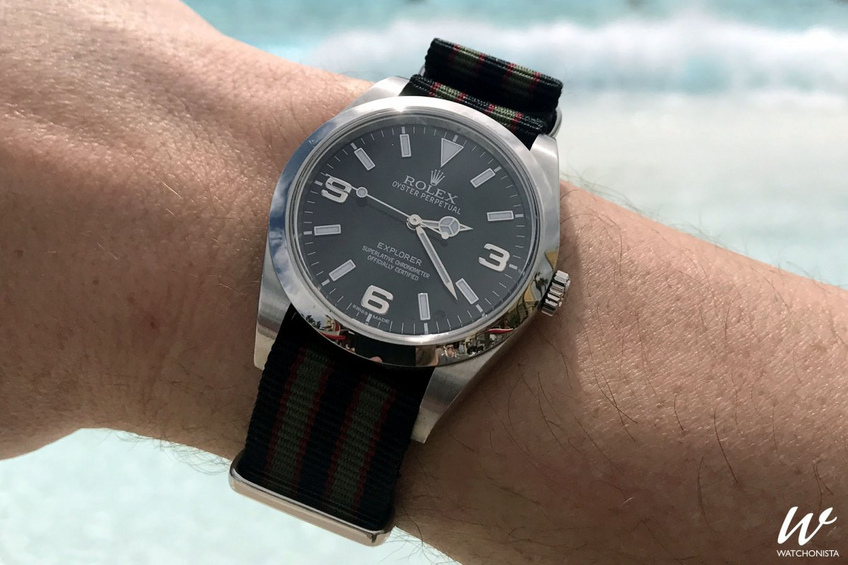 Rolex Oyster Perpetual Explorer
The event
I arrived in Las Vegas the day before the festivities began. Upon arrival to my hotel, I instantly bumped into a few familiar faces. Once I started seeing platinum Daytonas I knew I was in the right place. After settling into my room, I met up with some of the attendees at our designated WISCON bar. We chatted the night away over some delicious scotch and cigars. It's always a pleasure meeting fellow collectors and hearing about their horological journey. Every WIS I've ever met has followed a different path to assembling their collection and the subsequent tales and barn find stories will delight even casual observers. I will admit, I went to sleep the first night excited to see what the weekend would hold.
The next morning, after a tall coffee, I hit the Las Vegas strip with a few guys for a horological walking tour of Vegas. We headed straight for the Shops at Crystals in the Aria and visited Audemars Piguet, Tag Heuer, Richard Mille, and the Tourbillon boutique. Many thanks to these retailers for welcoming our raucous bunch.
Later in the day, the WISCON Day one festivities began with an event at the Wynn Rolex boutique. Nearly all the 50 confirmed collectors and enthusiasts were in attendance. Boutique director Ryan Martinez rolled out the red carpet for the group. The boutique even had some vintage Rolex pieces on display in their archive room. We ended up having a delightful champagne hour at the boutique, and got to play with a super rare platinum Day-Date with a bevy of emeralds and diamonds. The price? Approx. $400,000!
After the Rolex event, we headed to a restaurant where we had approximately 75 guests including brand, media, and retail partners. We dined on some delectable steak and fish, all while drinking wine out of Watchonista branded glasses. At the end of dinner, Texas retailer Deutsch & Deutsch gave away a Rolex Oyster Perpetual 39mm to a lucky attendee!
With the first night's festivities in the books, many of us went our separate ways to explore the various nightlife of Vegas. I ended up playing some table games with a few new WISCON friends, and even won a few bucks.
Tudor Private presentation
The second day began with a breakfast and private presentation by Tudor of their Baselworld 2017 novelties. This was the first showing of these pieces in North America. Tudor's representative walked us through the new BAYTONA (Black Bay Chronograph), the new Two-Tone Black Bay, and capped it off with the stunning 41mm Black Bay Heritage base model. Tudor's theme for Baselworld 2017 was "Born to Dare", and I must add, it was very daring of the brand to fly all the way to Vegas to host the first showing of their Baselworld novelties. Tudor's rep stayed well past the allotted time to answer every question our collectors had.
After the presentation, we headed to Venetzia Jewelers in the Palazzo hotel for a cocktail hour and hands-on with the new pieces. The general reaction to the new novelties was positive. There was some good feedback given to Tudor as everyone started to get some hands-on time with the pieces. Some attendees even placed preorders for their favorite novelties. Tudor has informed us that many of the new pieces will start arriving in stores any day now.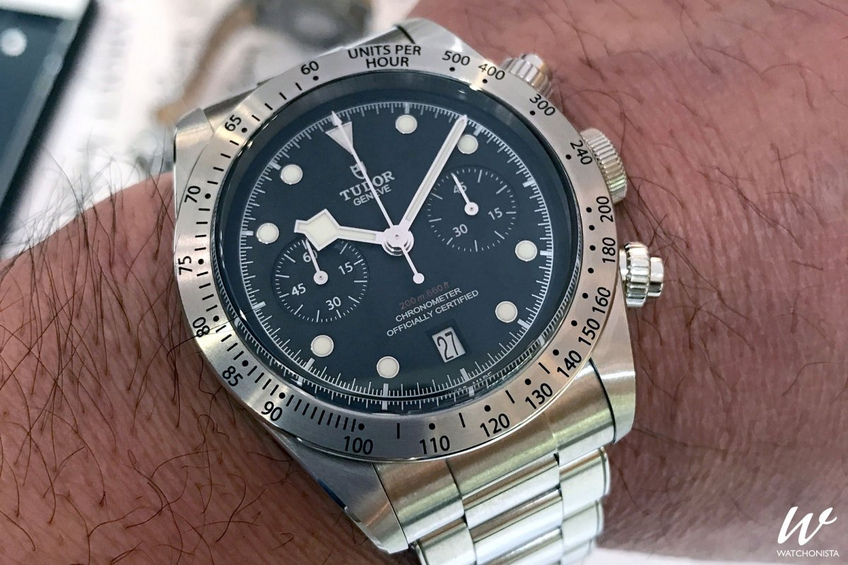 TUDOR Heritage Black Bay Chrono
The icing on the proverbial WISCON cake was when Venetzia gave away a Tudor North Flag via raffle. I wasn't eligible to enter, but the piece went to a very good home. In fact, the lucky winner didn't previously own a Tudor. After the giveaway, many of us headed into the beautiful Las Vegas sun for a few hours of exploration before the final event of WISCON.
To kick off our last night in Vegas, we all convened one last time for a wine tasting. Forum member Mark graciously offered his suite and had a few cases of vintage wine and tequila shipped in from his cellar. Watchonista/AboutLife branded wine glasses were on hand for attendees to taste some exquisite vino. Great conversation was had with friends new and old. The "Watchonista Wine Tasting" photo I posted to Instagram perfectly encapsulated the evening. Some nice glasses of wine, great watches, and huge smiles were had by all. After a big round of cheers and photo taking, we all embraced and made plans to see each other soon.
For the last evening, guests were welcome to break out on their own for shows and dinner reservations. I ended up joining a few other collectors for a fabulous meal at Carbone. At the end of the night, remaining attendees gathered at our WISCON bar to toast to a tremendous weekend.
All in all, WISCON 2017 was a tremendous success. We had over fifty people fly in from around the world, with some coming from as far as Sweden. For me, it a delight to meet so many new faces, and to catch up with some old friends that I first met on TRF. It's always a bonus when we get to play with some spectacular watches as well. Many thanks to Gerardo for his thoughtful and careful organization.
So, as I take off from Vegas, I'm reminded of a famous quote from Hunter Thompson's Fear and Loathing in Las Vegas: "There he goes. One of God's own prototypes. A high-powered mutant of some kind never even considered for mass production. Too weird to live, and too rare to die."
I think that quote pretty much sums up a WIS. Many may not understand our hobby, but it was a delight to share a weekend together with 50 people that do. Special shout out goes to the patient wives in attendance that put up with our obsessions for these little mechanical objects we strap to our wrists.
Until next time…
WatchTime NY is right around the corner and Watchonista is thrilled to join North America's predominant luxury watch event as a partner. Get ready for a...