The 2017 Passione Engadina with Jaeger-LeCoultre
At the invitation of Jaeger-LeCoultre's new Deputy CEO Geoffroy Lefebvre, Watchonista attended this year's Passione Engadina in St. Moritz. What followed was a weekend of beautiful vintage Italian cars, some harrowing driving, and seeing JLC's youth movement firsthand.
Established in 2012, the Passione Engadina has quickly established itself as one of the leading Italian auto focused Concours and Rally. The event is exclusively available to Italian cars made prior to 1980. Passione Engadina was the brainchild of Paolo Spalluto and every year Paolo has been pushing the envelope to deliver a first-class experience for attendees. This year, Jaeger-LeCoultre joined as a title sponsor and official watch sponsor.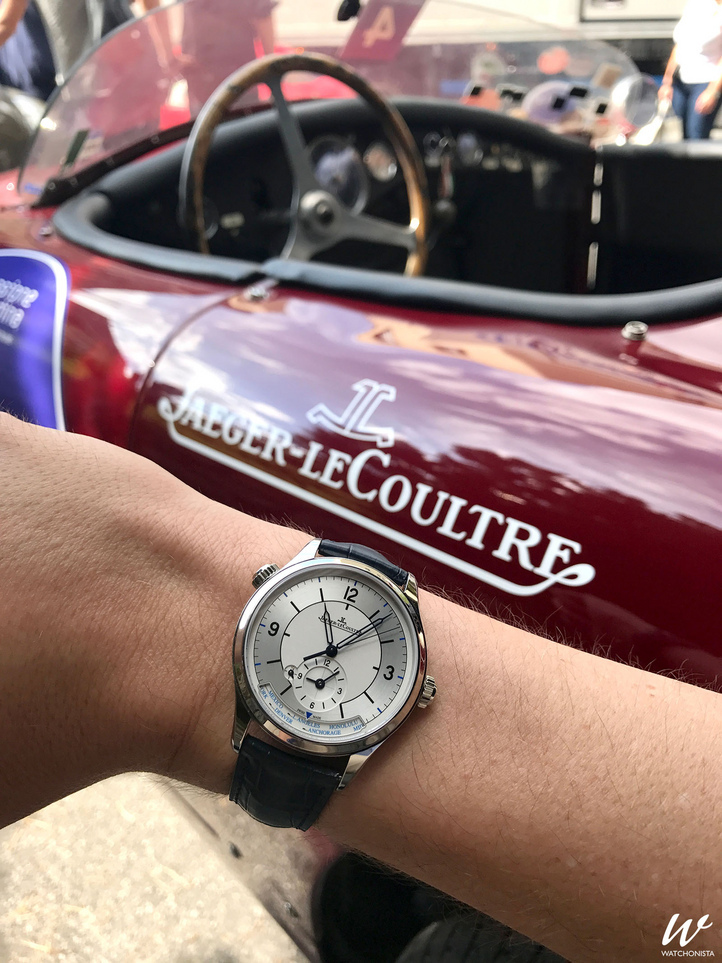 Jaeger-LeCoultre Master Control Geographic
After a four-hour drive from Lausanne, we arrived at the Suvretta House hotel in St. Moritz. Our hotel was beautifully situated at the base of Switzerland's Engadin valley. The weekend began with the driver's meeting for all participants of the upcoming Kessel Challenge Cup and Julius Baer Rallies. Watchonista was competing in a loaned 1954 Fiat Otto Vu 8V. As this was my first rally, Watchonista's Co-Founder Alexander Friedman stepped up to the plate to drive our vintage auto. Having Alex as our driver gave me some relief that we wouldn't finish dead last!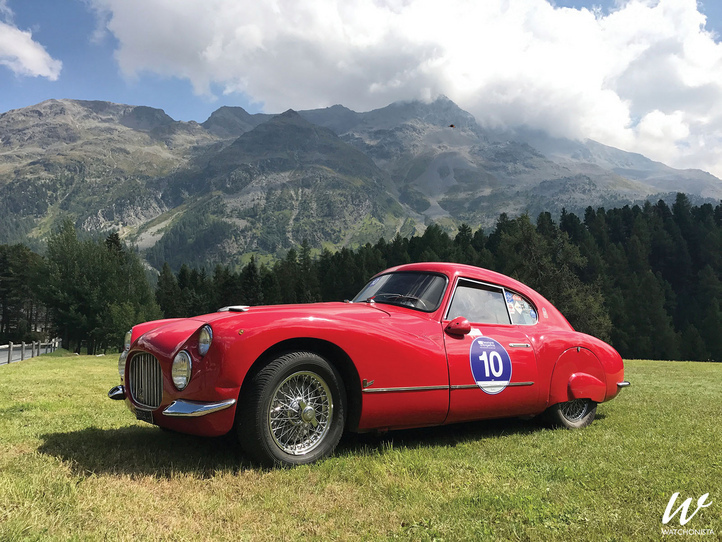 1954 Fiat Otto Vu 8V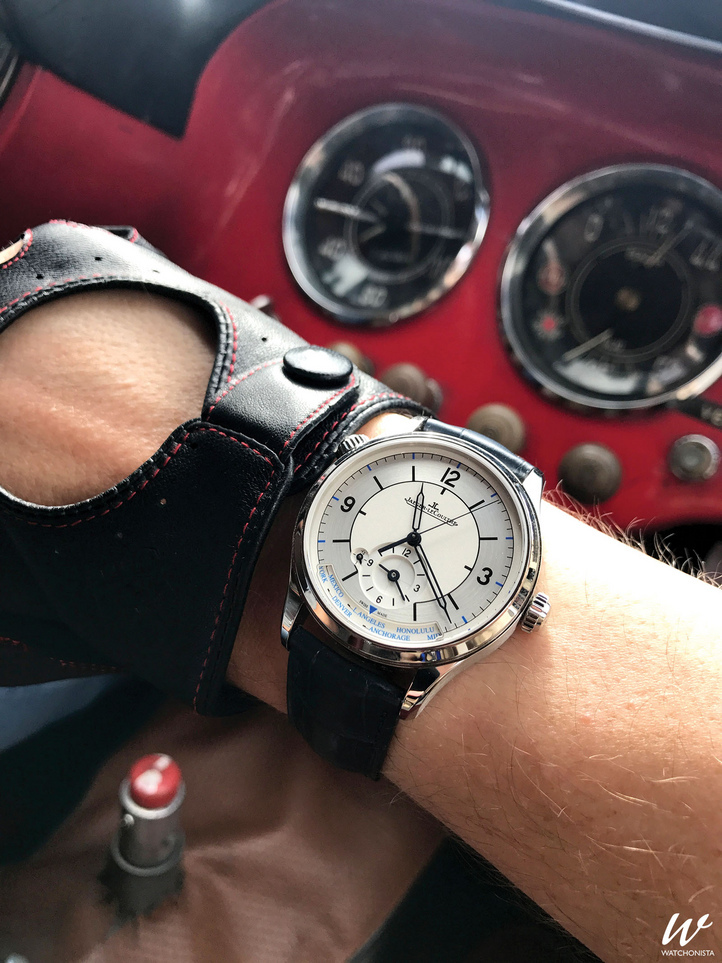 Inside the cockpit
A weekend with JLC's new Master Control Sector Dials
For the weekend, JLC gave us two samples from their new Master Control line, specially, the Sector dial variants introduced at SIHH 2017. Alex was given the Master Control Chronograph and because of my long-lasting infatuation with world timers, I was given the Master Control Geographic.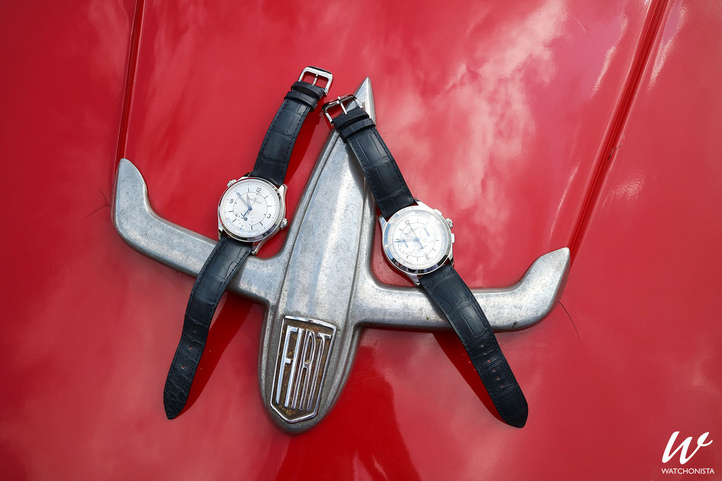 Watchonista's JLC Master Controls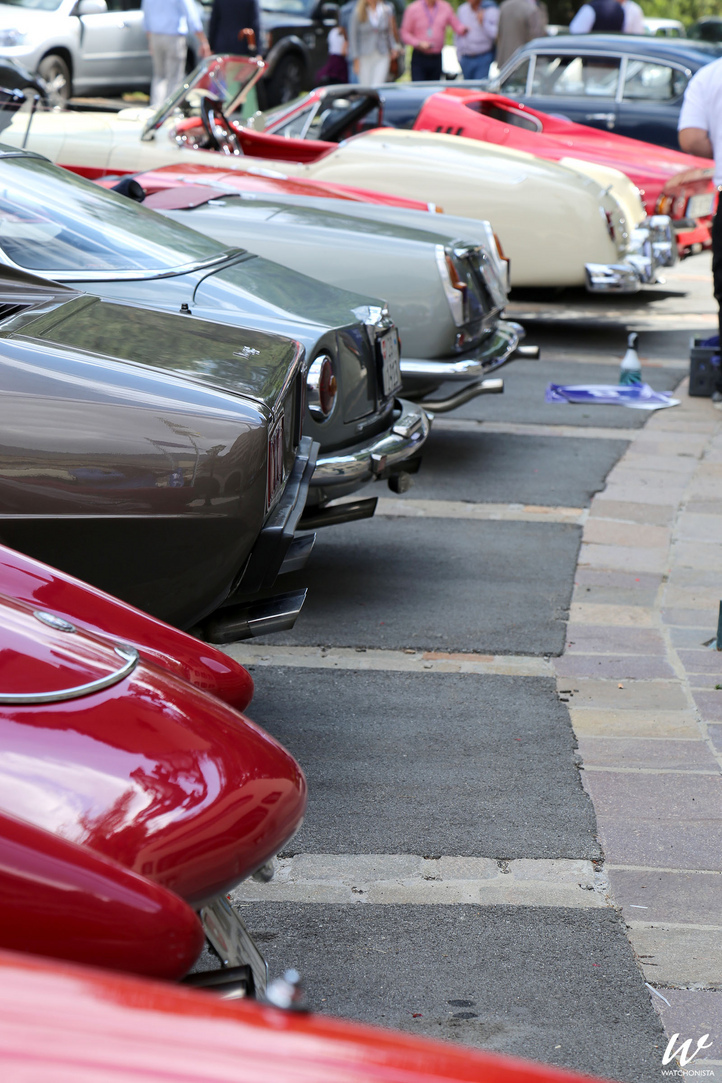 Passione Engadina Concours
After the drivers meeting and a brief introduction to our loaner Otto Vu, we sprinted to the Flablager military base in S-chanf to begin the first leg of the Kessel Challenge Cup. A timed event that had drivers making precision turns and stops between chicanes and timing sensors. Drivers were awarded points based upon the accuracy of completing each timed section. As Alex and I made it through the first sections, our skills were put to the test. Our Master Control chronograph could time by the second, but I didn't realize the level of accuracy needed to time an event where milliseconds count.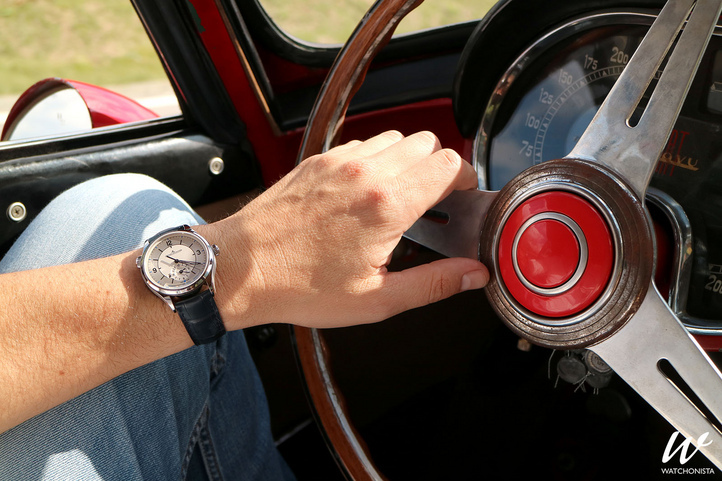 Enjoying a beautiful afternoon drive in St. Moritz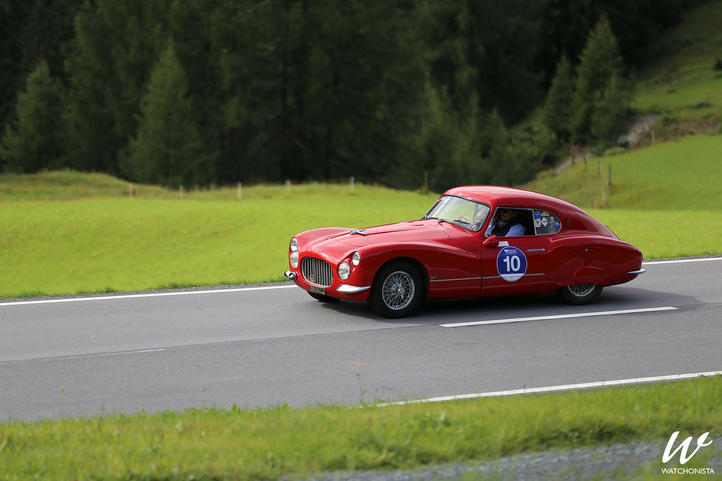 Alexander Friedman at the wheel while I plot our course
"5, 4, 3, 2, 1, ZERO!"
With each passing section, we honed our communication and countdown proficiency. Before passing the last sensor, we had it down, I shouted "5, 4, 3, 2, 1, ZERO!" over the sounds of our 2.0-liter Fiat engine.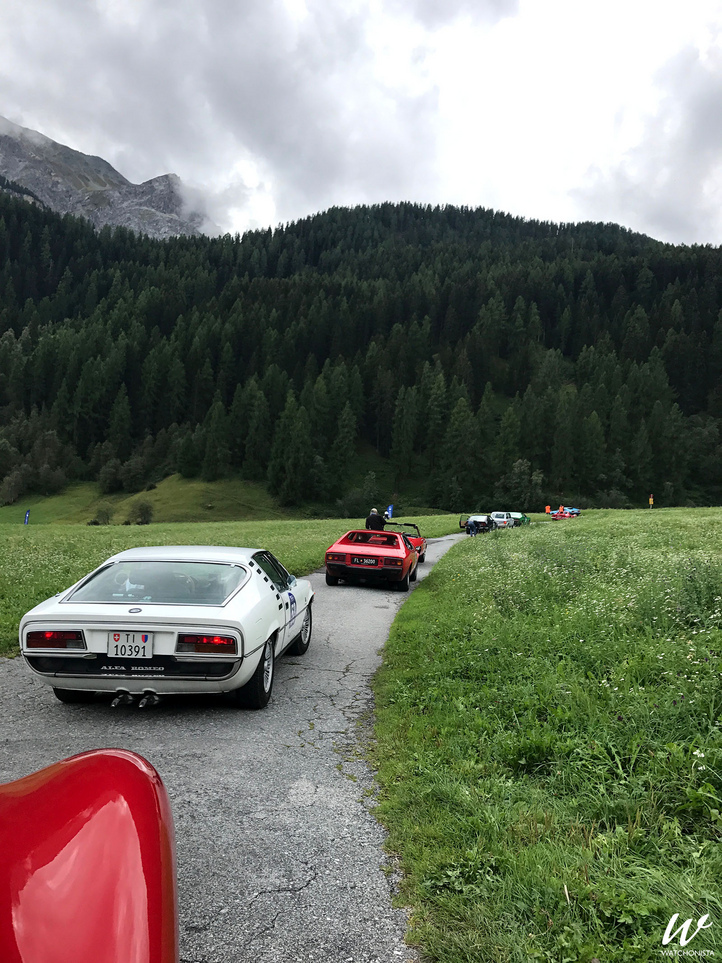 Passione Engadina Time Challenges
The Ferrari connection
The car maker Ferrari needs no introduction. Since their official founding in 1947, the eponymous Italian brand has been producing some of the world's finest sport and racing cars. In 2017, Ferrari has been taking a victory lap of sorts with global events to celebrate their 70th Anniversary. For the Passione Engadina, Ferrari in collaboration with http://www.lugano.ferraridealers.com/, presented an exhibition named "Ferrari @ Passione Engadina." The exhibition brought out hallmark pieces from Ferrari and the Kessel family's personal collection.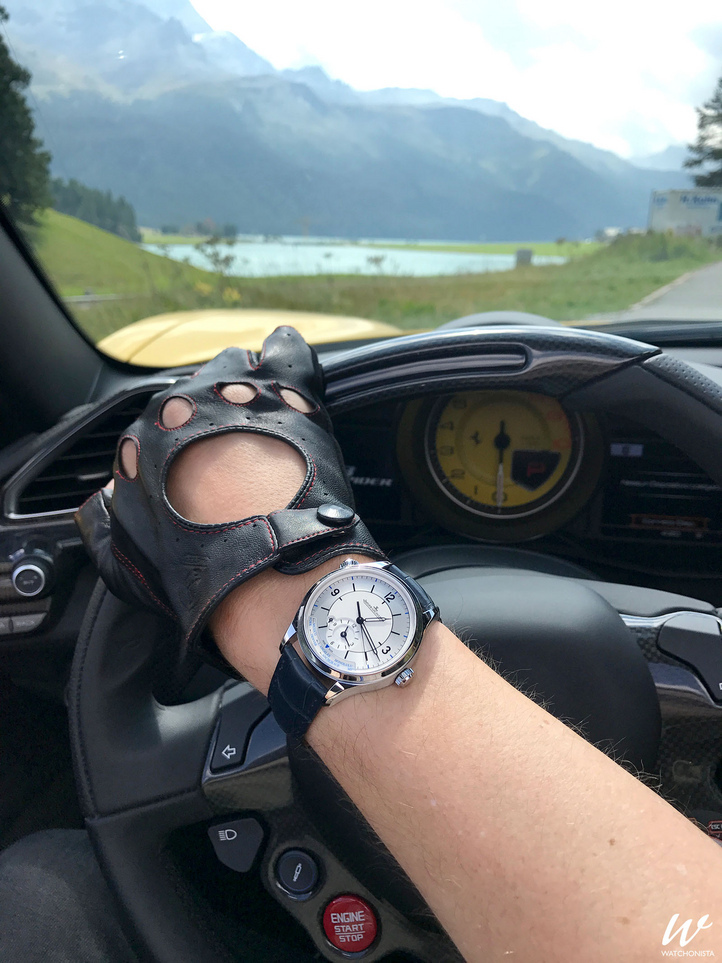 Taking a 2018 Ferrari 488 Spider for a spin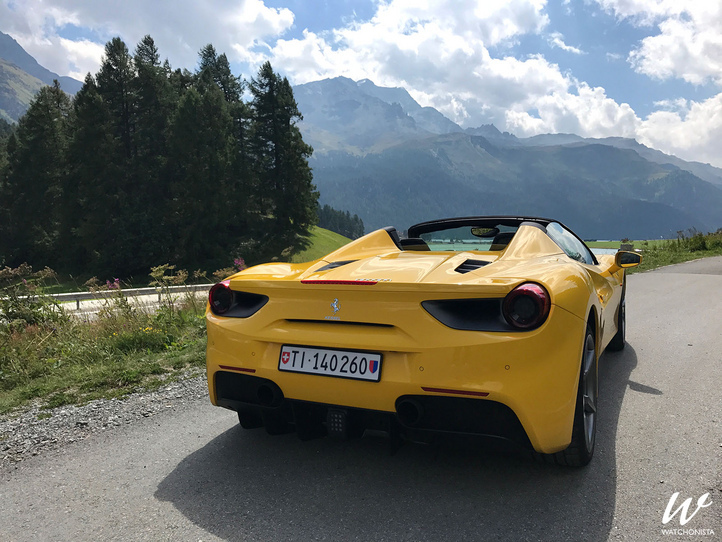 Beautiful car, beautiful view
One of my highlights of the weekend was when I was given the keys to a Ferrari 488 Spider and spent a part of the afternoon driving through the Swiss Alps.
Test driving a supercar
I couldn't pass up the opportunity to test drive a Ferrari. Let alone a 488 Spider variant courtesy of Kessel. I'm not shy to admit that this was my first time driving a Ferrari. I was blown away by the power and handling of the supercar. The 661hp V8 engine had perhaps the most beautiful purr that I've ever heard. The response of the suspension on the winding roads was impressive as well. Now I just need to find the approx. $250,000USD required to obtain this impressive beast.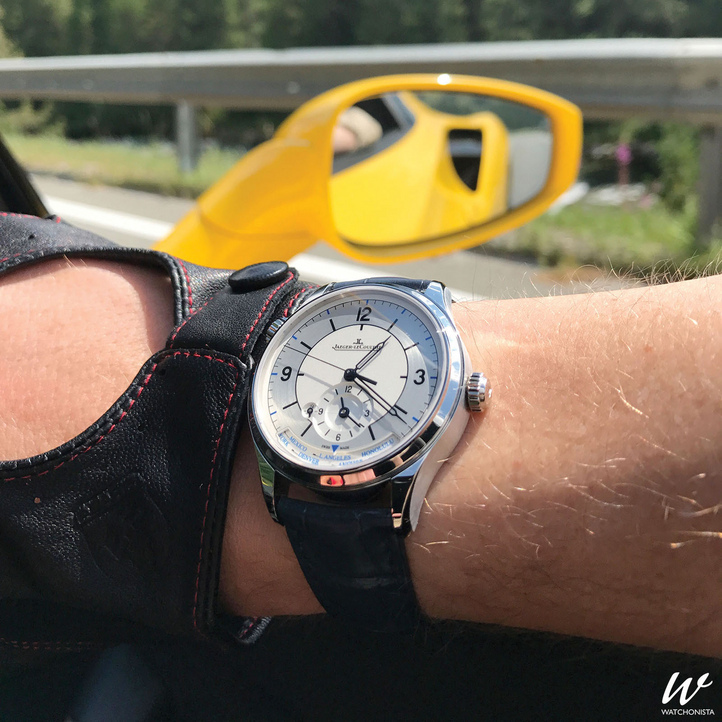 Jaeger-LeCoultre Master Control Geographic
In the evening of our first night, the organizers of Passione Engadina hosted all drivers and attendees to an evening in celebration of Ferrari. In attendance, was former F1 driver Arturo Merzario, who regaled the crowed with tales of his life and career. Most notably, Arturo was the one that pulled Niki Lauda from his burning Ferrari after the infamous crash at the 1976 German Grand Prix.
At dinner, Watchonista was seated with JLC's Geoffroy Lefebvre and Cédric Torres (Brand Manager, Switzerland). We spoke all night about the virtues of JLC, and the brand's past, present, and future aspirations. Geoffroy has an innovators mindset with a strong digital/social team that will help to elevate JLC's standing within our community. The future of JLC seems to be in very capable hands.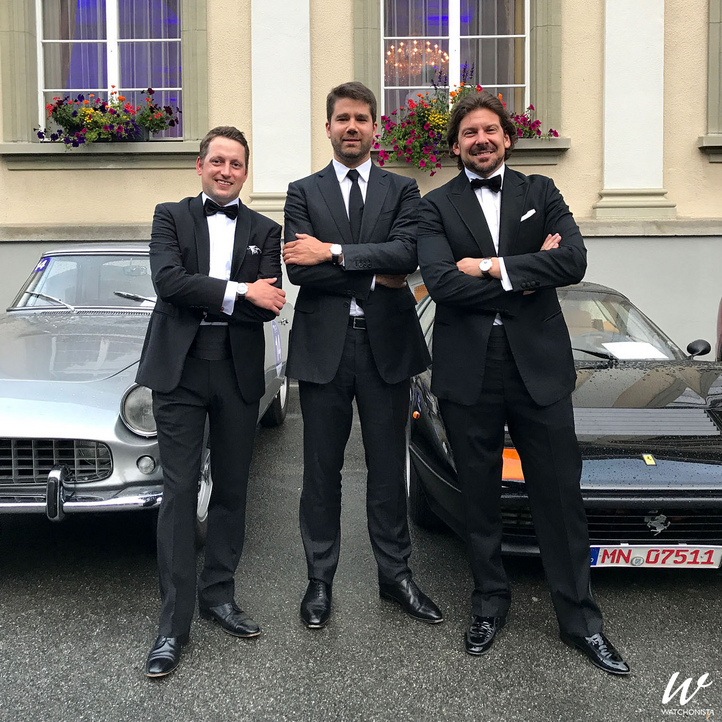 Josh Shanks, Geoffroy Lefevbre & Alexander Friedman
The interview
With the permission of JLC, we can provide you a few excerpts from our conversations with Geoffroy.
JS: Congrats on your recent appointment as interim CEO, how have things been going so far? What's your vision for the future of JLC?
GL: Jaeger-LeCoultre is an exceptional Brand and a unique Manufacture in the watchmaking landscape. The past couple of years have been difficult for the entire watchmaking industry, with brutal shifts in demand and changing customer aspirations. We have been working on great new products and stories, always inspired by our Maison's incredible history and the passion of our people for beautiful watches and astonishingly complex calibres. My mission, together with our teams both in Switzerland and in our markets, will be to continue to reveal the uniqueness of our Brand and to further lead its development facing the new challenges of the luxury world.
JS: Regarding the Passione Engadina, since this is JLC's first year as a sponsor, why did JLC decide to enter the world of vintage/collectable car Concours/Rallies?
GL: Jaeger-LeCoultre shares a common passion with car enthusiasts for the beauty and emotion of mechanical objects. For us, the story begins shortly after World War I when our prolific namesake Edmond Jaeger expanded his capabilities from watches to designing dashboard counters, on-board clocks and tachometers. Many prestigious ancient cars bear the famous "Jaeger counter". This year, we have decided to take part in Passione Engadina in order to reveal this aspect of our history. This rally gathers many of the greatest Italian classic cars manufactured prior to 1980. Imbued with elegance, style and passion, the event chimes perfectly with the values of our Maison.
JS: This weekend, we've spent some quality time with some amazing car collectors. Are you a car aficionado yourself? If so, what kind of cars attract you?
GL: This weekend was fantastic, racing with all these dream cars and meeting their passionate owners. While I have been a die-hard F1 fan since I was a child, I also love the curves and colors of Italian classics. I am impressed at the way that manufacturers like Ferrari and Lamborghini have made their models evolve to the supercars of today, incredibly modern while remaining faithful to their history. This is another aspect where our two worlds, those of high-end automobiles and watches, meet. My top pick would be a Lamborghini Miura SV. In yellow of course!
The main event, the Julius Baer Rally
Now to the main event, the Julius Baer Rally. An all-day affair, taking place throughout the Swiss Alps and Italy. A seven hour, 200+ kilometer rally is a demanding test for even a modern car, but on this occasion, we were racing alongside 70+ year old Italian sports cars.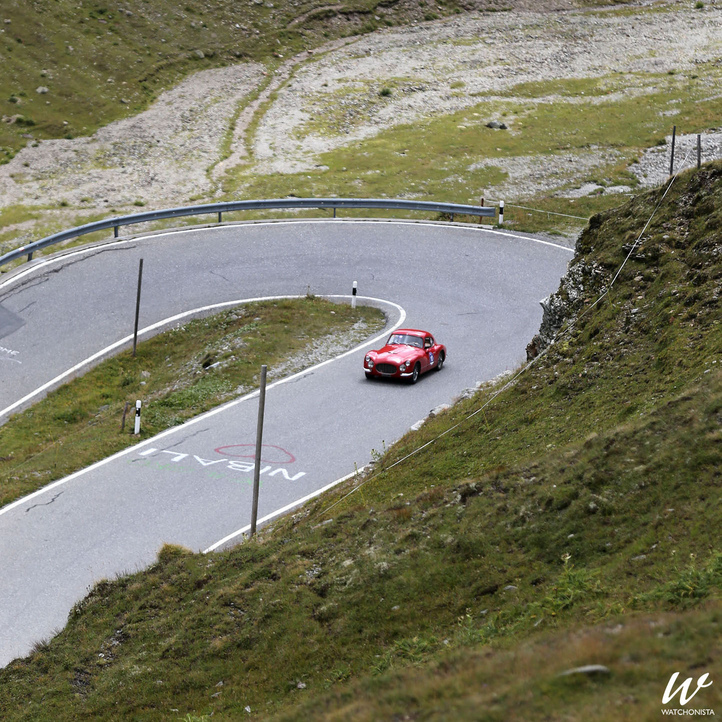 The calm before the storm
Alex and I packed our car and departed the hotel shortly after dawn. We had enough provisions to last us until our scheduled lunch/pit stop in Bormio, Italy. As co-pilot, I was given the task of navigating our journey. A rally isn't your typical road trip, you're not given geographical coordinates to set your GPS to. Instead, you're given a 100+ page "road book" that encompasses the rally's various waypoints and navigational targets. Think of it as an atlas without a visual map, if that makes any sense. Most notably, our road book's course was plotted by Umberto Ferrari.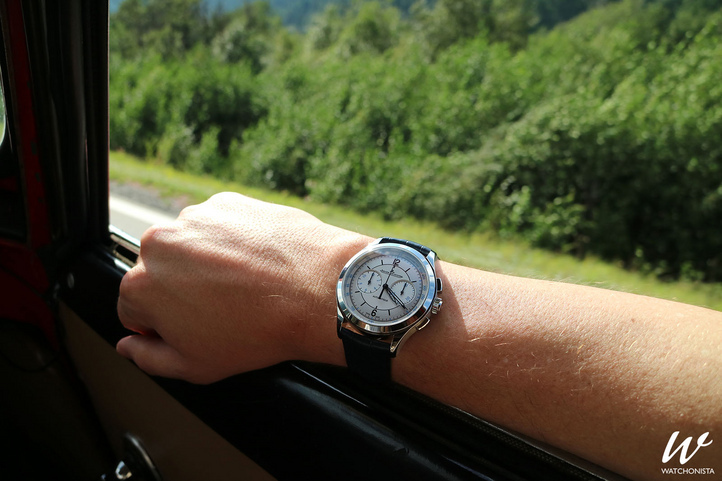 Jaeger-LeCoultre Master Control Chronograph
We didn't have a radio, so we ended up bringing along a wireless Bose speaker. We blasted Steppenwolf's "Born To Be Wild" at the starting line, much to the amusement of JLC's team. From the very start, our vintage Fiat was showing its age. The various twists, turns, and elevation changes in the Swiss alps were taking a toll and causing our dashboard instruments to go crazy.
There go the brakes!
After an hour of uncertain speeds (no speedo) and some hairy turns, we were starting to get to the swing of things. However, when Alex was executing a blind right turn, our Fiat's brakes went completely out! We found ourselves facing a downward left handed turn with no brakes, no emergency brake, and just seconds to spare. After Alex declared "I can't stop! I have no brakes" we quickly found ourselves careening towards a certainly expensive crash.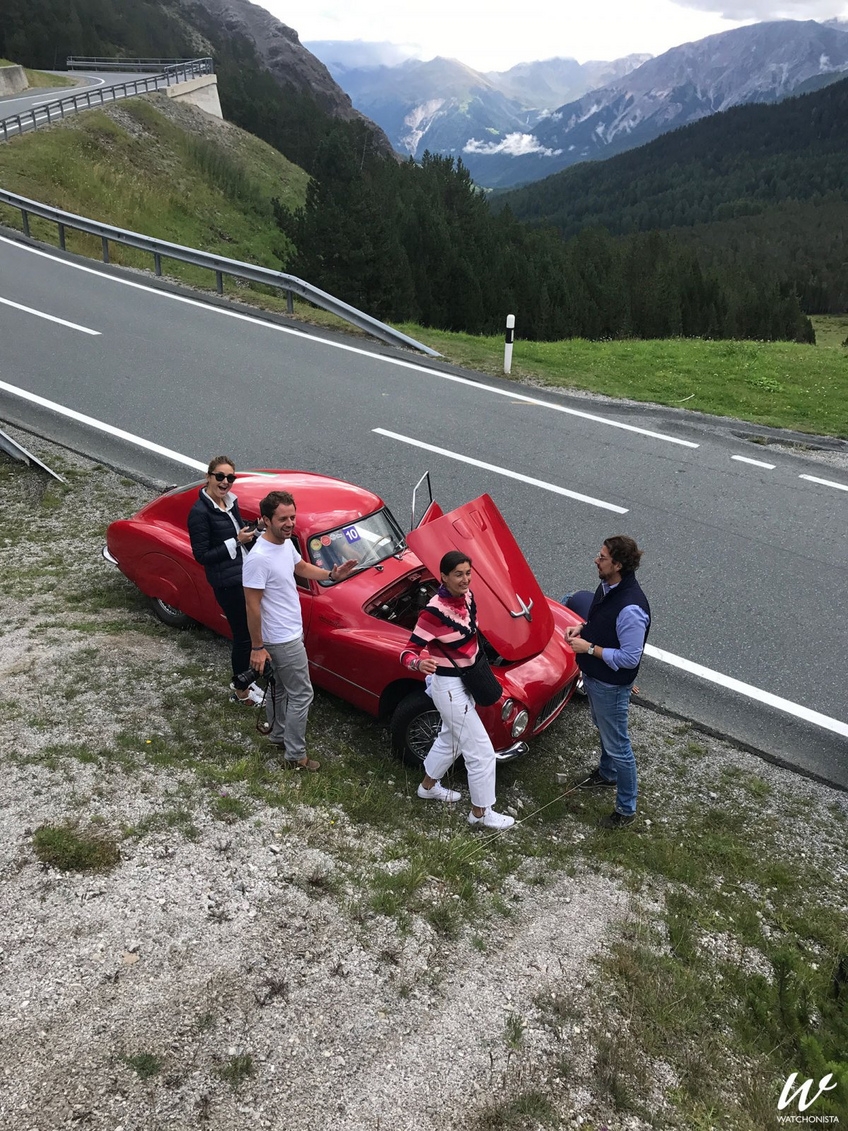 All hands on deck after our brake faillure
At the last second, Alex downshifted to the lowest gear and slowed our speed. We then found a 10-foot-wide opening to a hill between guardrails. Alex quickly turned the wheel to the right and the car glided up a small hill. As the car came to a halt and after a short descent back down the hill, Alex popped the transmission into 1st gear causing us to stop.
We exited our brakeless Fiat and checked for damages. Remarkably, neither Alex or myself were injured, and the car didn't obtain a scratch other than some clods of dirt and grass in the wheel basins. It was an incredible feat of luck that we survived this ordeal. I should note, our car troubles during this race were not due to poor maintenance or upkeep of the vintage Otto Vu. The car simply wasn't made for this kind of trek. The Otto Vu's original purpose was the Mille Miglia, a mostly flat 1000-mile race that occurred from 1927 – 57 in Northern Italy. Because of Fiat's successes at the Mille Miglia, Otto Vu's are highly sought after by collectors.
Upon further inspection with a mechanic, we discovered that the brakes had simply overheated due to the rigorous rally course and repeated downhill braking. Within an hour, the mechanic performed a roadside brake job and we were back in action! As we climbed the Stelvio Pass, the Fiat's engine could barely muster the strength to continue the uphill journey to 2758 meters. Our engine ended up overheating twice, and we found ourselves again at the side of the road hoping for a miracle.
After an eventful morning journey, we arrived at the first checkpoint, a small town called Bormio. We had finished Phase I of the rally an hour behind the rest of the drivers. A lunch and beer was in order to calm our nerves.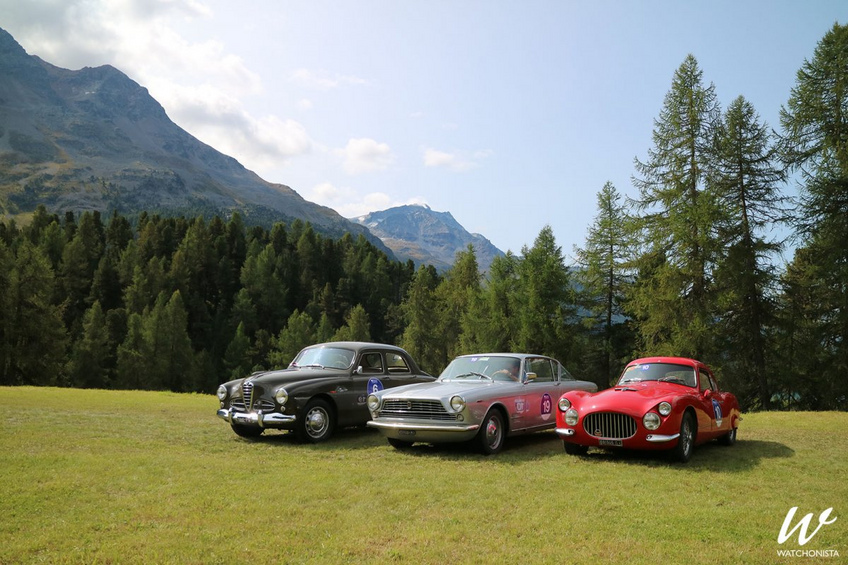 A selection of the beautiful cars JLC provides for journalists
Phase II, Smooth sailing with a side of hail
After lunch, we departed for Phase II of the rally. We drove through some very beautiful landscapes and spent most of our time admiring the more capable Ferrari's and Alfa Romeos passing us.
Within an hour of leaving Bormio we were faced with another challenge. Hail! Of all things that could happen, hail was the last thing on our mind. With no shelter in sight, we endured the brief storm and navigated our way through the Bernina Pass. After the storm concluded, we pulled the car to the side of the road and found ourselves staring at one of the most beautiful glacial lakes called Lago Bianco. This day really did have it all!
After a brief hail storm, it was business as usual
Jaeger-LeCoultre Master Control Geographic
"We've had a lot of ups and downs today, more specifically, we had no power going up, and no brakes going down"
After a final timing challenge, we drove back to the center of St. Moritz where we were greeted by gathered spectators and festival organizers. We still had no idea what position we had finished the race in, but were given a microphone and asked to say a few words. In Italian, Alex told the crowd of our memorable day.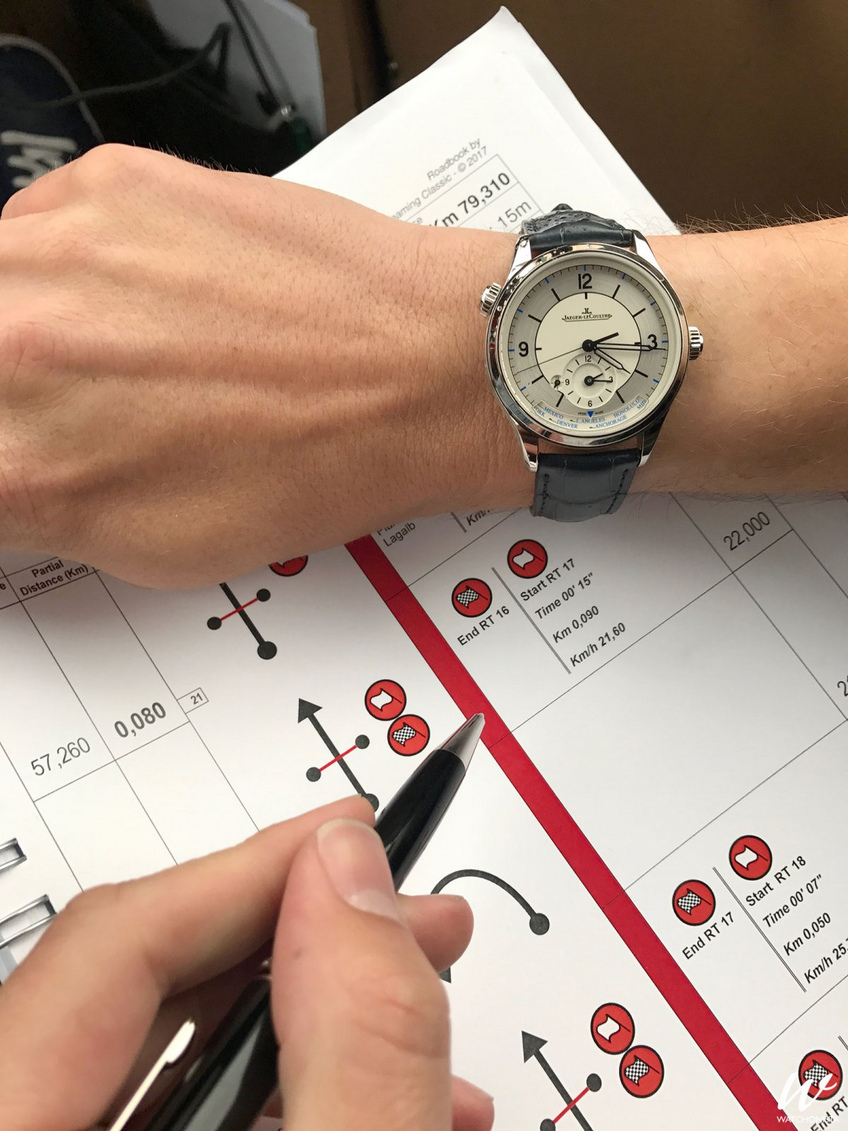 Plotting our course in the road book
After exchange pleasantries, we were on our way back to the hotel, I remarked to Alex "We've had a lot of ups and downs today, more specifically, we had no power going up, and no brakes going down"
Throughout the day, our JLC Master Controls performed flawlessly. We timed a few of the challenges with the chronograph and found the action to be smooth and precise. Even through various bumps, humidity, and altitude changes the watches didn't skip a beat. With the entire line priced at under $10,000, it's a good buy for this level of finishing, complication, and design aesthetic.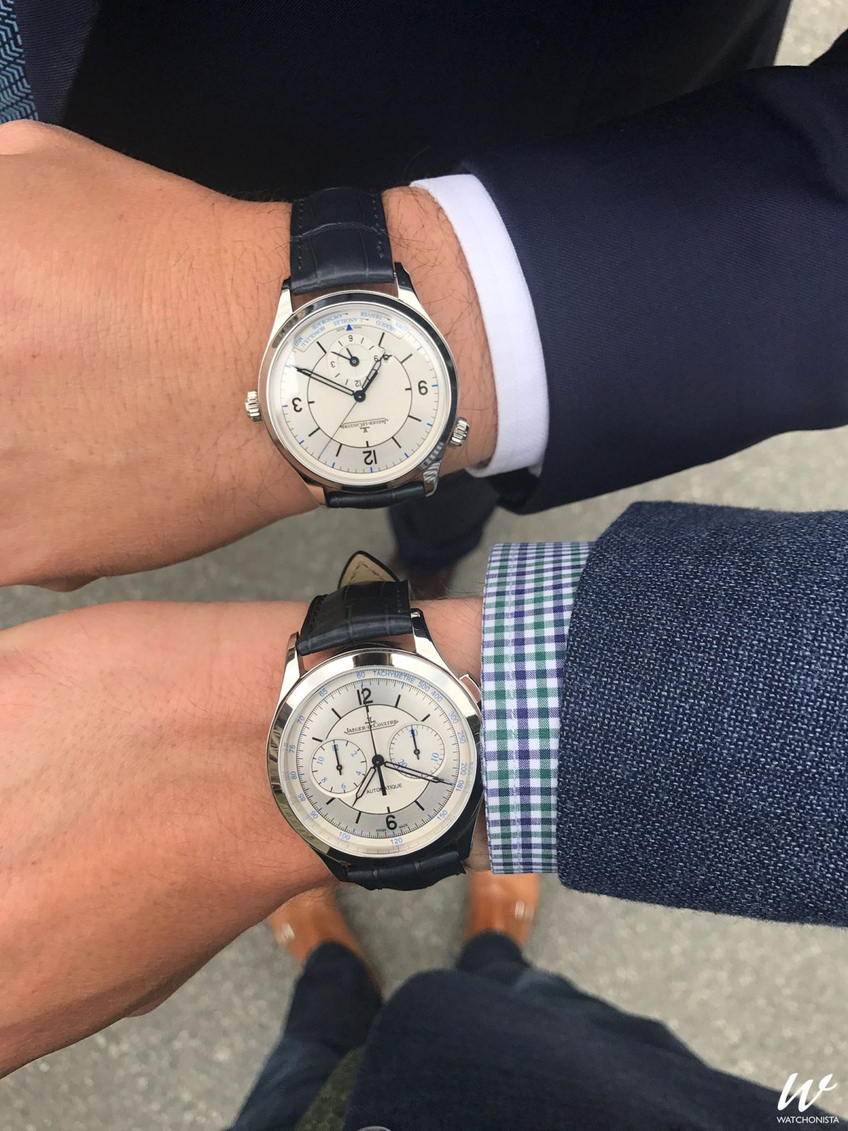 Jaeger-LeCoultre Master Control Geographic & Jaeger-LeCoultre Master Control Chronograph
46th out of 69
The weekend's activities were rounded out by a Gala Dinner at the Kulm Hotel. At the hotel, we found out the results of the rally and timing challenges. While we finished top 10 in our class, we finished 49th overall, out of 69 total participants. I'm definitely going to need to practice my co-piloting skills before the next rally. After dinner, we danced the night away with the JLC team and other assembled journalists. This was truly a weekend to remember.
In closing, we'd like to thank to Ronnie Kessel for providing some incredible Ferrari's from his collection. Special regards to Paolo Spalluto and the entire Passione Engadina team. Lastly, huge thanks to Geoffroy Lefebvre and the entire Jaeger-LeCoultre team for hosting Watchonista for a once-in-a-lifetime weekend.
Some exception vintage Ferrari's at the Passione Engadina
By
Rhonda Riche
,
Editor-At-Large
Will the Master Grande Tradition Gyrotourbillon Westminster Perpétuel strike the right notes with collectors?
By
Joël A. Grandjean
,
Contributor
Alpine mechanics in St Moritz: Watchonista, Maserati, and Bulgari cross the Engadine. Follow our journey!
By
Josh Shanks
,
Contributor
A deeper dive into the JLC Polaris, Miami style!