The New Millennium Daytona: A Pure Watchmaking Product
Episode 6 - In the year 2000, the Daytona chronograph entered a new millennium having undergone a major modification. From that year forth, the chronograph featured a new-generation automatic chronograph movement, entirely designed and manufactured by Rolex: calibre 4130.
This unique model relied upon a number of innovative, patented technical solutions. As well as being robust and reliable, it also offered precision and easy maintainability at the Rolex workshops. The top technical features included a vertical clutch coupling mechanism on calibre 4130 to engage the chronograph function. This technical choice meant that the chronograph's seconds' hand could be stopped and started with utmost precision, without jumping, whenever it was released by pressing the push-piece; the chronograph could operate for extended periods with no negative impact to the watch's accuracy. Furthermore, with calibre 4130, Rolex engineers had managed to reduce by 60% the number of parts required for the chronograph mechanism.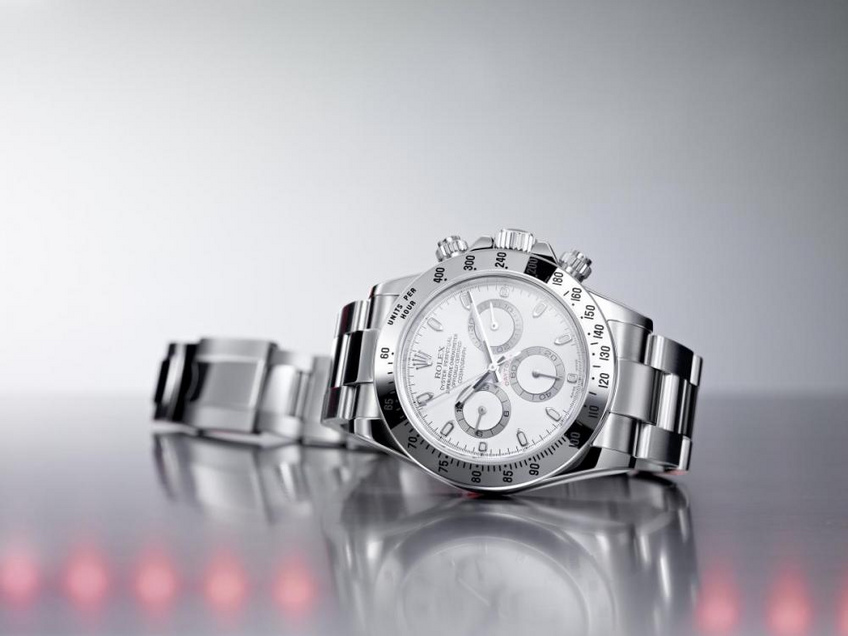 The Rolex Daytona entered the new millennium with the calibre 4130
They simplified the minute and hours counter system by integrating them into a single module carefully placed on only one side of the movement with an off-centre clutch. This patented solution made it possible, for example, to reduce the number of exocentric adjustments required for adjusting the chronograph from five to just one. The resultant gain in internal space helped to substantially increase the movement's autonomy from 50 or so hours to 72. The automatic winding mechanism was equipped with a system of new-generation reversers enabling it to be wound in both directions. The oscillator with over-sized balance spring was also fitted with a micrometric adjustment system based on Microstella screws, maintained by a double balance bridge, fixed on either side to offer greater resistance to shocks and vibrations. The Parachrom balance spring, developed, patented and manufactured entirely by Rolex in an alloy of niobium and zirconium, is also integrated. The chronograph adjustment system, finally, has remarkable features making it possible to improve the precision of the movement tenfold by radically increasing its sensitivity to shocks and knocks.
Did you know?
The new calibre 4130 is the first at Rolex to have the name of the model engraved on the oscillating weight: the name Daytona is engraved in red letters in a semi-circle to reflect the one on the dial.
Furthermore, experts noted that the new calibre 4130 had a different dial compared to previous models.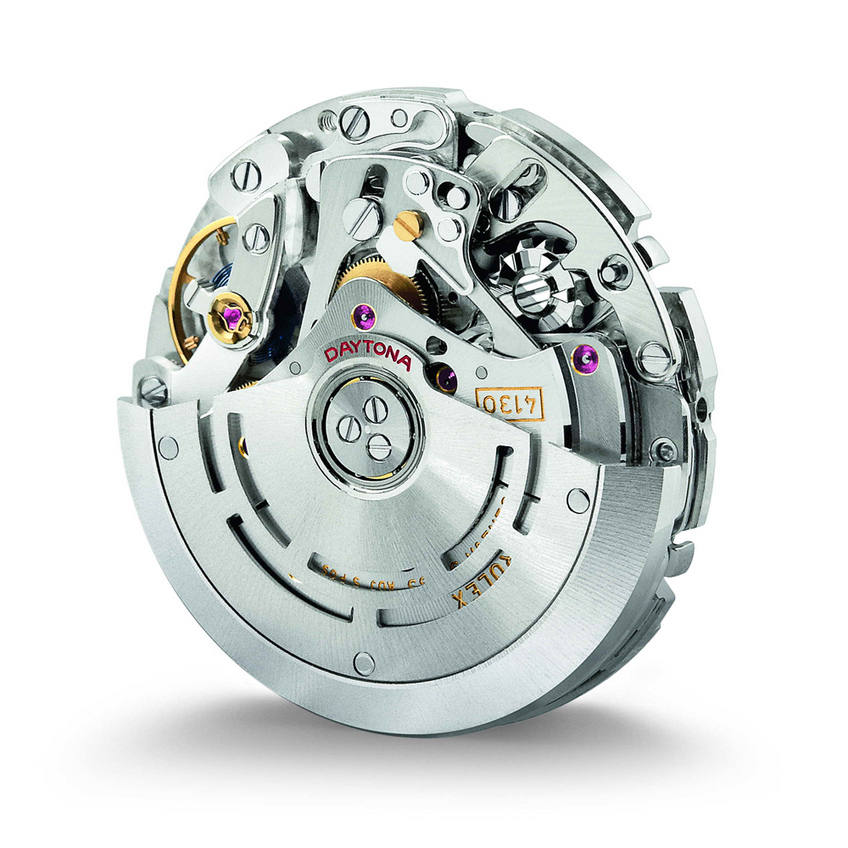 The Rolex Calibre 4130 © C.Roulet
The small seconds, usually found at 9 o'clock, was moved to 6 o'clock. Also the horizontal minutes and hours counters were slightly raised above the centre of the dial in an aesthetic effort to improve the visual harmony of the dial and underline the painstaking care over detail typical of Rolex watches.