Laureato 2016 by Girard-Perregaux: back to fundamentals
To celebrate its 225th anniversary, the brand has introduced a new Laureato which is true to its origins. As Baselworld 2016 gets closer, the piece brings us back to recent history when high-end watchmaking was just opening to steel.
Much has been written about the vintage trend in watchmaking. The vintage era goes to the 1920s, when pocket watches were succeeded by wristwatches, and up to the 1960's.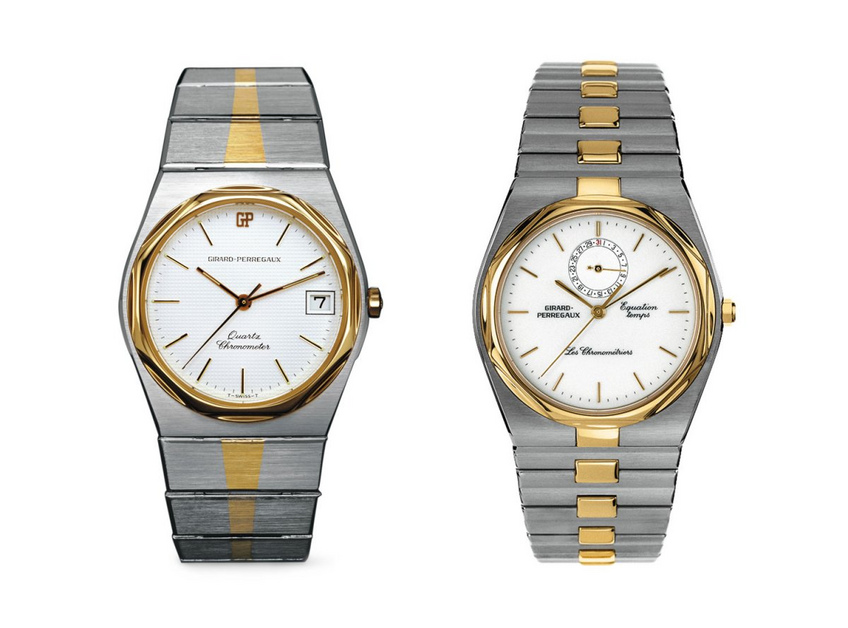 Girard-Perregaux Laureato 1975 & 1984
1975: steel was in the air
All of a sudden, in what looked like the beginning of a new trend, watchmakers started to look to the past for inspiration and to create modern watches that already enjoyed the icon status. During this "post vintage" period, Girard-Perregaux created an uncommon design that, when launched around 1975, amounted to a departure from established codes. Firstly, it was in steel, a material that, back then, was used for everything but high-end watches. Secondly, it featured an octagonal-shaped bezel with decidedly sporty touches, encircled by a round middle and a metal strap that alternated polished and matt for the first time. Thirdly, its quartz caliber provided the reference with more precision with its oscillating frequency of 32,768 Hz, a chronometric value that is still valid nowadays.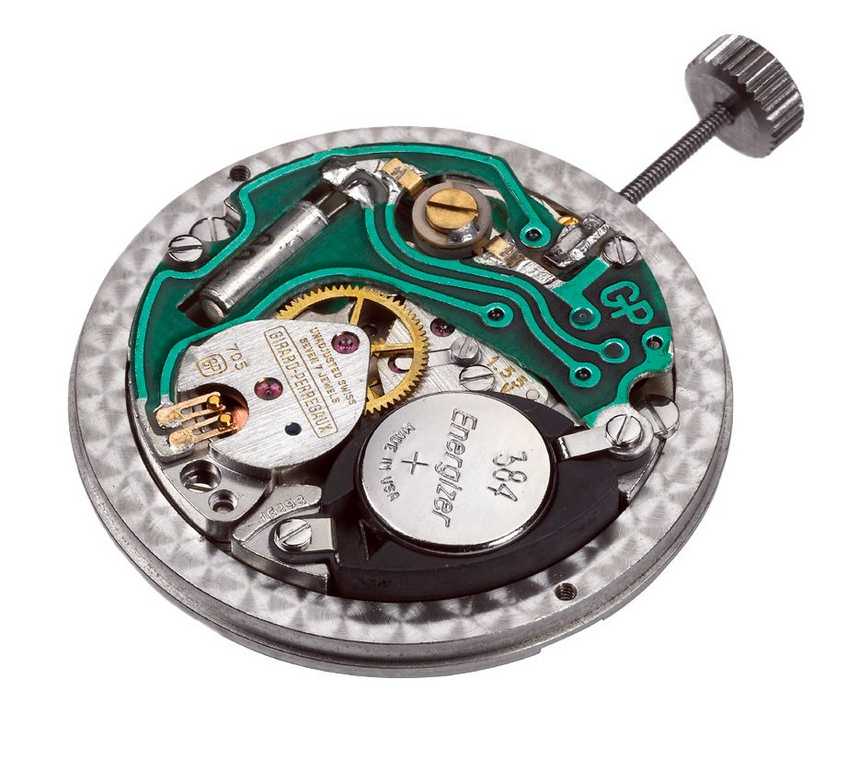 Girard-Perregaux Laureato quartz movement, 1975
Whilst it could be said that steel "had been in the air" for a while, and although it had always been favored by watchmakers, it was only at the time of the release of Girard-Perregaux's design that it made its breakthrough in high-end watchmaking. However, ascertaining who started the trend would prove quite difficult for historians. Indeed, Audemars Piguet introduced the Royal Oak in 1972, while Patek Philippe released the Nautilus in 1976. Add to the list the lesser known Mariner by Concord or Ebel's star model "Wave" (1977) and take into account the amount of time it takes to make a watch, and you shall see where the difficulty lies to determine who started it. Still, these creations were a hit and maintained a strange bond between them despite their geographical distance. It seems that they went from Geneva to La Chaux-de-Fonds while passing through the Vallée de Joux.
Signature threading band
The Laureato was not produced in steel only. It was also designed to be produced in solid gold or in a two-colored version, which was probably the most striking one. The other two versions also sported the sort of threading band that went through the strap's center, link after link, and which played on its polished shine in contrast with a brushed matt or brushed yellow gold in contrast with grey steel. It was one of the most recognizable identity features of the first combinations and they were all produced by Grandjean & Cie, a watch case factory in La Chaux-de-Fonds.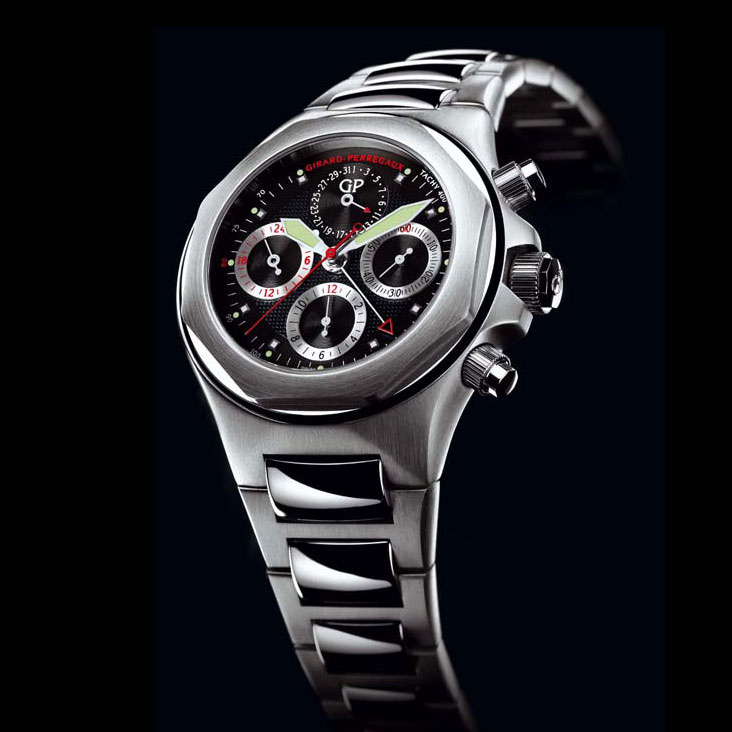 Girard-Perregaux Laureato, 1995
Aesthetic variations
In the years to follow, the model was produced in more versions in accordance with different eras. 1984 was key as it initiated the first evolution that saw the use of the Equation movements equipped with astronomical indications. Then, as from 1995, the watch's original design was slightly modified. The bezel was thicker, the shape of the threading band formed an "H" thanks to its domed polished links, and the familiar octagonal shape housed the extra-thin self-winding GP 3100 caliber. In 1998, the piece entered the high-complications world with a tourbillon on three gold bridges, Girard-Perregaux's most famous and distinctive feature.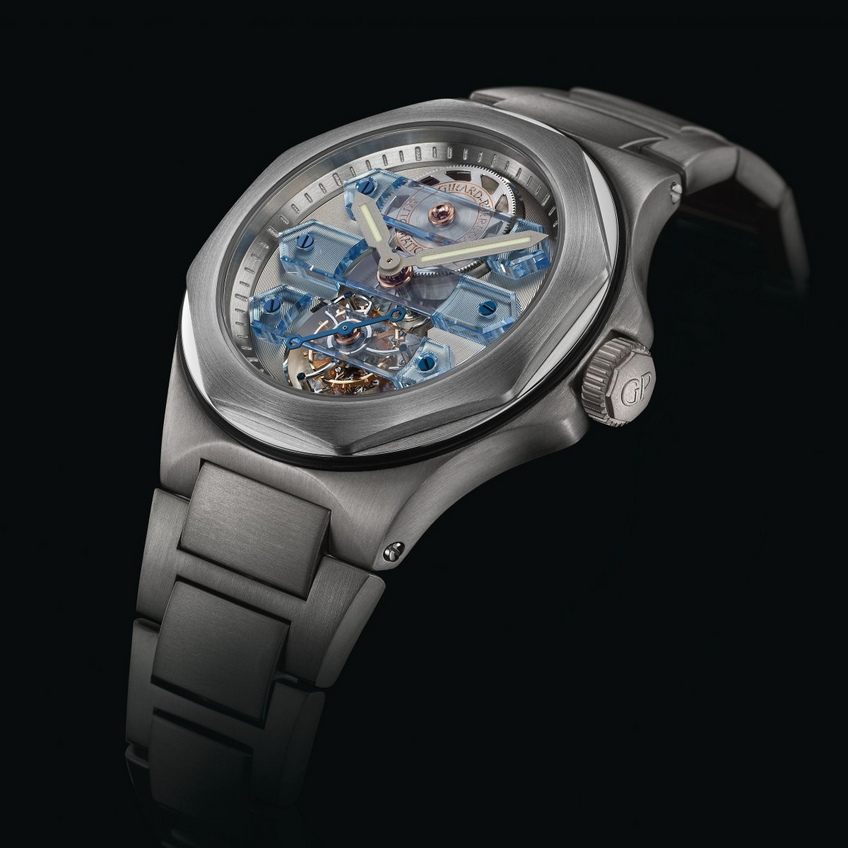 Girard-Perregaux Laureato Three Bridges, 1998
The EVO3 evolution in 2003 transformed the famous piece into a mechanical self-winding chronograph of over 40 mm. The mechanical caliber chosen to complete this third metamorphosis was the Girard-Perregaux GP033C0-A0VAA. It featured 52 rubies, a 46-hour power reserve and a display kinetics that contrasted with that of a normal chronograph. Its 44-mm LAUREATO EVO3 case, equipped with a hexagonal bezel, had a satiny finish and perfectly fit the interior of the middle's circle from where it drew the attention. The winding crown and the screwed pushers were harmoniously blended in its identifiable aesthetics and highlighted the collection's sporty aspect.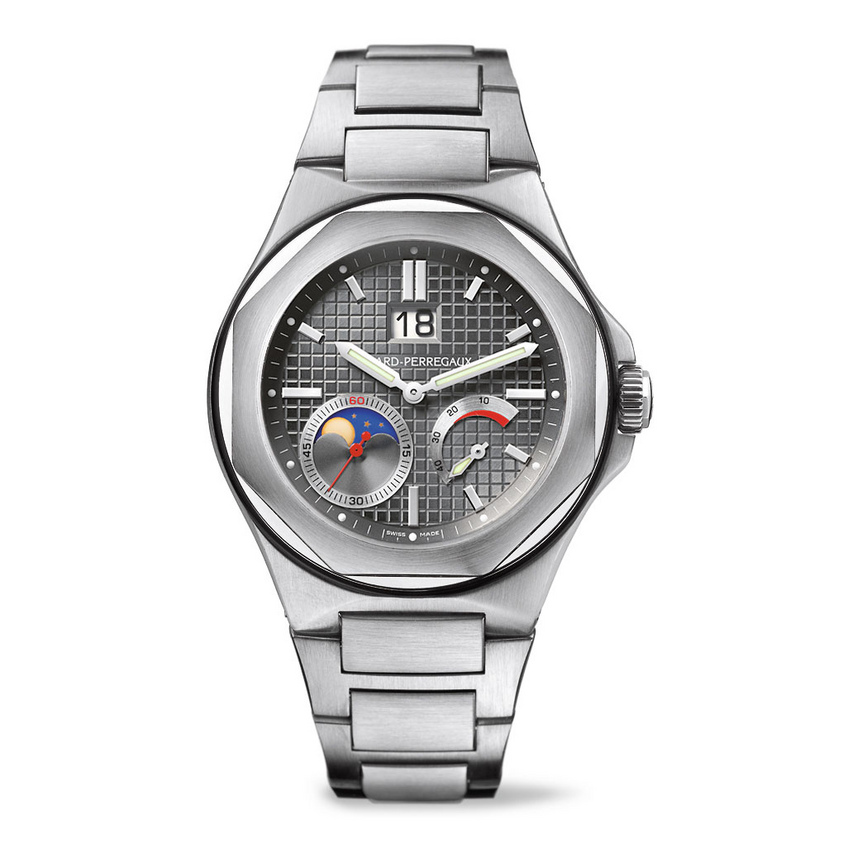 Girard-Perregaux Laureato Evo3, 2003
The future of its origins
It is only now, in 2016, for the 225th anniversary of Girard-Perregaux that the Laureato has returned to its original design. The 41-mm version is an acknowledgement of the iconic character of this model and the collections that have sprung from it throughout the years. The 225 steel pieces that will be produced sport three hands and a date aperture, a mechanical caliber made from 218 components, a 46-hour power reserve and neat finishes. They are also water resistant to 30 meters. To top it off, the much-appreciated GP Museum may reopen in 2016 and there is no doubt that the Laureato will be exhibited there. Looking forward to it!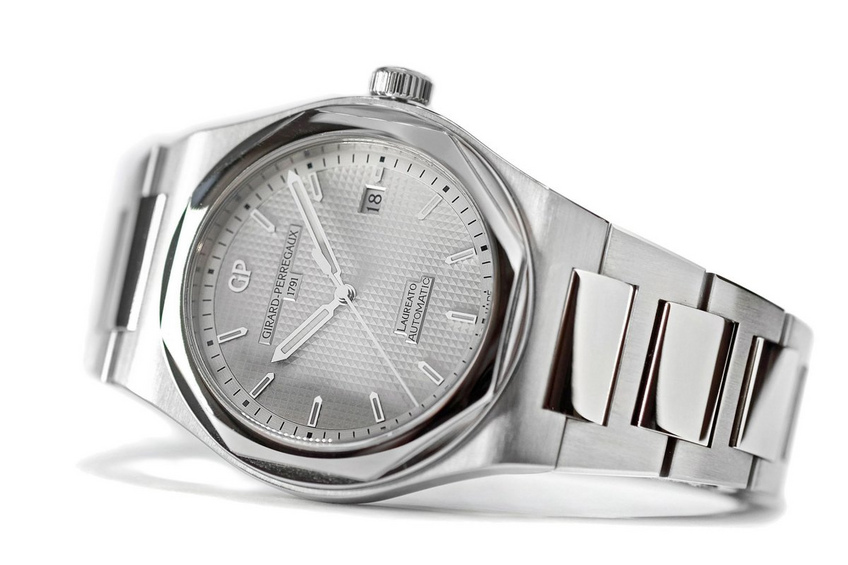 Girard-Perregaux Laureato 2016 (ref. number 81000-11-131-11a)
By
Rhonda Riche
,
Editor-At-Large
At last year's SIHH, Girard-Perregaux unveiled the Neo-Bridges Automatic Titanium — a watch that took its structural cues from Constant...