Deep in Space with Vianney Halter
Passionate of marine chronometers, known for his admitted tastes for science-fiction, Vianney Halter invites the Watchonista team to the first shooting of his Type Deep Space Tourbillon. Unlikely ingredients, fantastic cocktail.
Before any excursion into space, some ground exercises are required: when worn, even under the heaviest of earthly attractions, this titanium timekeeper turns out to be of air lightness. Perfectly realized, its anti-reflection sapphire glass dome, devoid of reflections and undesired asperities, astonishes by its regularity. The spectacle that it conveys is altogether simple and essential.
So evident that it seems surprising that no one thought about it before: a tri-axial tourbillon occupying the center of the scene, like suspended in space, whereby the mechanical rotations sweep the time space by inventing rarely identical positions, thanks to their panned desynchronization. Only one hundred pieces will be will be manufactured – within a time frame not indicated by the watchmaker – none numbered but dedicated to either one or the other of the characters or authors of science-fiction which crowd the very real imaginary of Vianney Halter. Halters which are all equal in front of the borders of reality.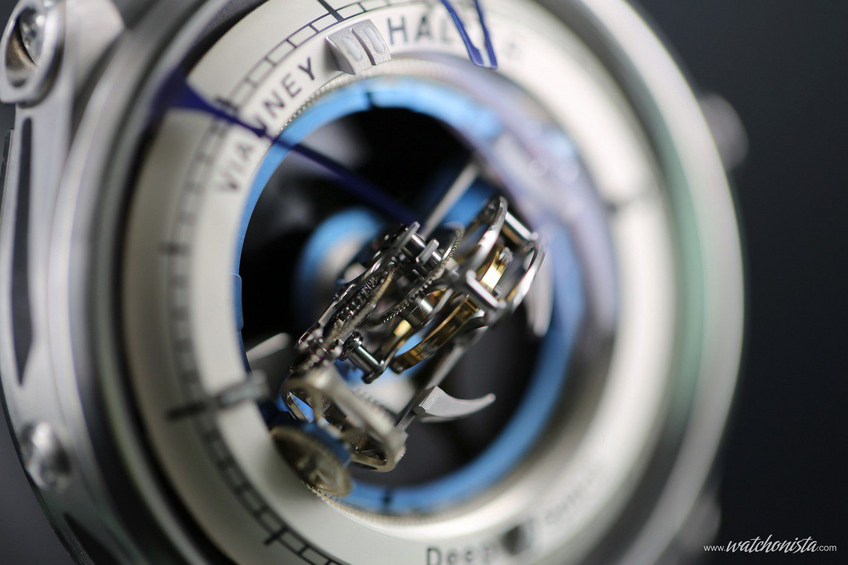 Does being space-sick exist?
Due to a certain amount of hours passed in observing the terra Incognita, the configuration of these unexplored zones of space must bear a resemblance to those who lived at sea, the marines of the old days. Is it possible that a hallucinogenic phenomenon comes suddenly to dazzle the eyes of the modern adventurers? These creatures who feast on the thirst of knowledge have bartered the oceanic element for an infinite sprinkle of billions of stars and innumerable vaults. This latest Vianney Halter timekeeper, major component in the Halter Tempus collection, seems to have been designed for candidates to space travels.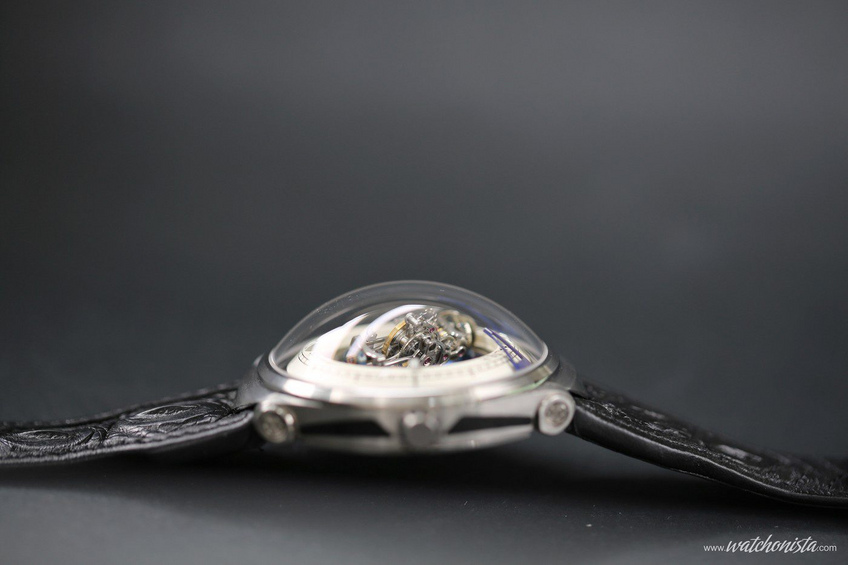 Or for those who, in a future whose proximity cannot be evaluated, will bring back those impressions of déjà vu, these memories of tomorrow in their stratospheric shoulder bags.
The frame of the tourbillon – which contains the balance, the pallet and the escapement wheel – turns in only 40 seconds. The famous mechanism is installed inside an ultra-light structure which itself turns in 6 minutes around a second axis which is perpendicular to the tourbillon frame. The ensemble is in suspension in a barrel, which, following the 3rd axis, makes its rotations in 30 minutes. In the end, this tourbillon, subject to these different rhythms of rotation, moves under weightless conditions in an ever-changing ballet, creating second after second gracious and unheard of figures.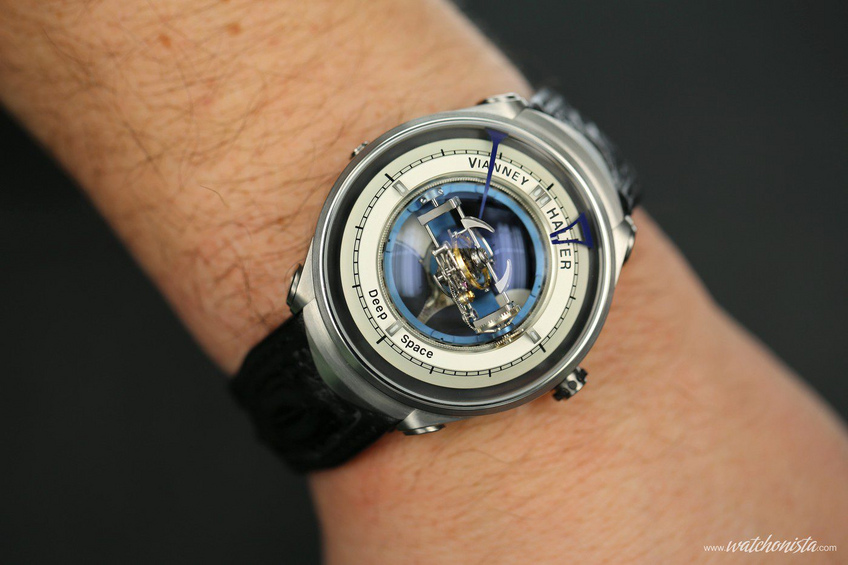 Temporal connection, planet Earth
Vianney Halter, the crazy watchmaker, father fifteen years ago of the Antiqua perpetual calendar, then of the Opus 3 and finally of the Satellarium, remains inspired by the chronometrical tools which wrote the most beautiful pages of the history of national marines, symbol of reference precision always linked to the port of registry. He firmly believes in it: his Deep Space Tourbillon will be included in all the travels… of the future. On the outskirts of strangeness, on the threshold of new worlds and improbable civilizations, it will officiate as a reminder injection.
At the time when the immeasurable distance will ban any communication with Houston, it will officiate as a temporal root reminding its wearer of their origin. From planet Earth, if you please. A strange planet where former days' important watchmakers are still celebrated, such as Abraham Louis Breguet, this genius creator of the tourbillon.
Exclusive Deep Space Tourbillon video made by Watchonista:

Vianney Halter official homepage
Technical specifications:
Type
: Axe Triple Central Tourbillon watch
Total weight: 90 grams
Dimensions of the titanium case: 46 mm diameter – 10 mm thickness
Home-made manual-winding caliber: VH 113, 21'600 alternations per hour
Tourbillon frame revolution time: 40 seconds
Number of jewels: 41
Special hands of curved form, peripheral.
Power reserve of 55 hours
Deployment buckle wristlet in titanium. Hand sewn, goat leather special strap with crocodile leather inserts.
By
Joel Grandjean
,
Editor in Chief
With his retro-futuristic creations, Vianney Halter can be considered the vanguard of a new era in watch design and display.