In conversation with Tissot CEO François Thiébaud
Tissot keeps its traditional identity while also taking on a highly innovative one under the direction of CEO François Thiébaud. Tissot is a leading brand in Swiss watchmaking and endeavors to keep the momentum going.
"Tradition and innovation at the service of customers". Tissot is an impressive brand. Not only is it the number one brand in the production of traditional watches with 4 million units per year, but it also explores the different fields of chronometry. It also managed to outdo brands that produce tourbillon watches as well as other sophisticated escapement systems. Indeed, Tissot has taken the pot with watches equipped with the escapement module that Nivarox created for the Swatch System 51.
François Thiébaud explains the Tissot spirit: "A watchmaking brand needs to have a philosophy. Ours is simple: we create, assemble, introduce, communicate and advertise our watches. However, in order to do this we must stick to strict guidelines. Thus, we constantly reinforce and update our timepieces both in terms of materials used and chronometry.
Besides, we put a lot of work into the field of constantly evolving innovation".
Has this always been so?
You know, Tissot has done extraordinary things in its years of existence. To name only one, in 1976 we produced the first plastic watch, six years before Swatch did. And remember that this was also at the time when watchmaking was enduring a serious crisis. We were the first brand to use the Swiss flag when our country was submerged by the flow of Japanese-made watches. We were proud to perpetuate Switzerland's relationship with watchmaking. From there, we established what I call the "Tissot religion": a brand at the service of a group, of course, but also and very importantly at the service of consumers.
What does that actually mean?
When we create a timepiece, we try to put ourselves in our customers' shoes and imagine what they would like to discover in terms of materials and shape. And since quality started taken on a new dimension in watchmaking, we followed suit but did not increase our price. For example, the Powermatic still costs CHF 700 but it is now also available in 316N steel, titanium and sapphire glass.
We thus have to adapt the brand and take the price into consideration. Indeed, it is important to make profit if we want to continue to exist but our main purpose is to serve consumers at our best while keeping business going. Incidentally, I am convinced that Swiss watchmaking does not have a choice but to produce the highest quality. Swiss brands are at the top of the watchmaking pyramid and this has to stay like that. It is indispensable to remain one of the best. Those who have not grasped this yet will suffer the consequences.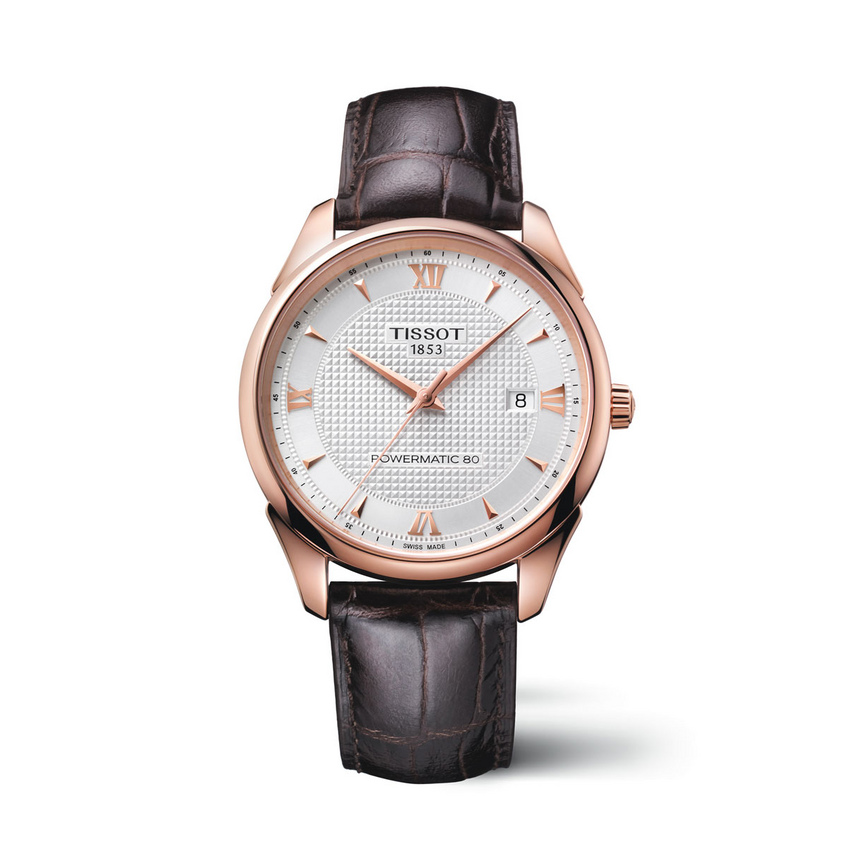 Tissot Vintage Gold Gent a novelty presented at Baselworld 2015
Does being one of the best entail, say, producing an award-winning chronometer?
We have managed to create a chronometer because we belong to the group that allows us to perform in a certain way and that ultimately benefits consumers. And then of course, there is the fact that we are passionate about what we do. Besides, we always strive to excel. And what better way to do this than to relate everything to us and to constantly question our work? This partly explains the important part that mechanical watches have played in our collection for a few years now. Today, people understand timepieces better. Buyers enquire more and are now even "questioning" quality.
And when they decide to buy a watch, it is not only because they like it and the price suits them but also because they trust the timepiece. And trust is much more important than money. In the end, if we do not want to destabilize clients, we need to follow through with our original message and not alter it.
Should we, then, conclude that you are slowly but surely raising standards?
Absolutely.
By
Eric Othenin-Girard
,
Specialised journalist
Tissot reveals its new pieces before the spotlights shine on them and the advertising begins. The three pieces consist of a historical watch, a sports watch...
By
Eric Othenin-Girard
,
Specialised journalist
One of the perks of being an almost-bicentenary brand is that it can dig into its archives to find the pieces that embody its creativity and skills. This is...