Christophe Claret - the emperor's new clothes
The Le Locle-based watchmaker places Marcus Aurelius's gold bust at the center of the dial of his Aventicum and pays tribute to the former capital of Roman Helvetia.
Roman emperor Marcus Aurelius's bust is only three millimeters wide but manages to help draw all the attention to the center of the Aventicum. Christophe Claret designed the watch as a tribute to Avenches, a small town in the Swiss plateau. Once the capital of Roman Helvetia, it will celebrate its 2000th anniversary in May.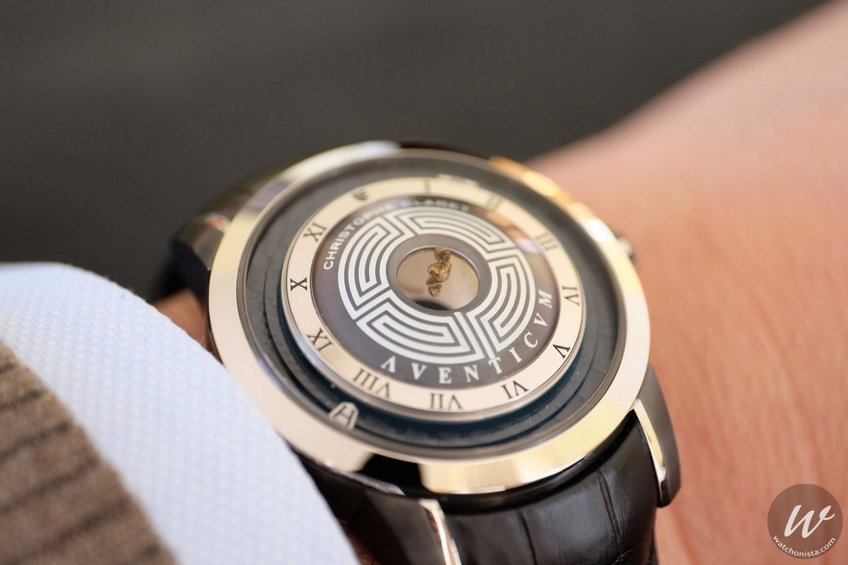 Christophe Claret Aventicum on the wrist
An optical game called mirascope
The bust is magnified by the use of two bowl-shaped mirrors that surround it and mirror its image. It looks like a hologram and appears to float in this small optical device called a mirascope. This riveting feature is a faithful replica of a solid gold bust that was discovered, almost by accident, in 1939 in Avenches whilst a pipe was being cleaned.
This is not the only surprise that the Aventicum has in store for us: the hands also indicate the time in an unexpected way.
As they could not start from the center of the dial due to the mirascope, Claret replaced them with two round-shaped discs made of carbon microfiber whose rims are visible along the bezel. On the back, the oscillating mass displays five Roman carts going at full speed. The winner is indicated when the mass stops and finds itself situated under the capital letter A for Marcus Aurelius. The Aventicum has been produced in a limited edition of 68 pieces in pink gold with 38 in white gold. Prices range from CHF 49,000 to CHF 53,000. These are quite low prices for a brand that sells some of its pieces for almost half a million.
This year, the brand has released a reinterpreted version of one of its best sellers, the X-TREM 1, released in 2012. This version is completely in blue: from its alligator strap to its slate blue, it features PVD-treated titanium and a white gold case. The new series will consist of only eight pieces going for CHF 268,000 each. The hour and minute display illustrate the brand's extraordinary inventiveness. Here, there is no hand or plate but two metal spheres that move within two sapphire tubes on both sides of the box, and which are driven by an invisible magnet that guides a cable that reminds us of cable-cars.
Unexpected sources of inspiration
Claret is skilled at drawing inspiration from the whole world and applying it to watchmaking. He analyzes the mechanism that moves the legs of a Barbie horse and adapts popular toys from the 20th century for the Aventicum mirascope. He was even inspired by a mechanical digger that ended up defining the strap of the Dual Tow (why, he does not just make watches, he also renews his castle).
For independent watchmakers, innovation is the key to success. "Many collectors are willing to follow us on truly innovative products," said Claret. He jokingly compared himself to an explorer who, with machete in hand, clears unexplored areas of the jungle. "From time to time, you turn around to see if anyone is following you. If there is no one, it makes you think that you may have taken the wrong path as the jungle is already inexorably closing behind you!" He explored a few areas and found complications for women promising. "It's a niche market, it is extremely small, but as there is no one..." The fact that his Margot won the Grand Prix d'Horlogerie de Genève in the category of "Haute mécanique pour dames" (high mechanics for women) seems to prove him right. On the dial, the petals of a daisy disappear randomly, displaying one of the messages of a continually renewed game: "a little", "madly," and sometimes even "not at all"!
20% growth in 2014
Claret's novelties are appearing at a somewhat prolific rate: 11 products in five years of existence with three new watches in 2015 (Aventicum, the blue version of the X-TREM 1 and a minute-repeater expected in Basel). "We had to build a cohesive collection quickly but it would now be reasonable to slow down a bit and go back to producing one model per year", explained Claret. His Le Locle-based manufacture certainly won't run out of work. Its activity is divided in roughly equal shares between the production of the 120 pieces of his brand and the creation of highly complicated movements for other brands. Its turnover increased 20% in 2014, and he has the same goal for 2015 despite a soaring Swiss franc.
By
Vincent Daveau
,
Contributor
We often remember a new watchmaking piece by the design and originality of its complication. With this fact in mind, Christophe Claret has launched the Maestro...