Better to innovate than to protect!
Nick Hayek could not have made it clearer when he announced that the Swatch Group is collaborating with the Federal Institute of Metrology: Swiss watchmaking strengthens its position in the wake of the new magnetism standards.
Ever since it came into being, watchmaking has been tying to overcome the negative effects of magnetism. Magnetic fields have an adverse effect on the good functioning of mechanical watches and can even cause substantial malfunction. Yet, despite the considerable progress made in watch production, the problem still exists and customers continue to report the abnormal functioning of their watches. However, part of the problem was solved a century ago. In 1915, Vacheron Constantin developed the first anti-magnetic pocket watch which was then followed by Tissot's wristwatch version in 1929. These watches created a buzz at the time as their movement had been installed in a case made of anti-magnetic materials, and they were sort of confined to a Faraday cage that offered them partial (though sufficient for the time) isolation.
Reinforcing the isolation
However, things are different today, as magnetic fields have grown stronger and more pervasive. For instance, a woman's handbag with a magnetic closure that contains a mobile phone and car remote starter can diffuse some 3,500 to 4,000 gauss of magnetism. With the development of tablets and all other types of electromagnetic devices that are found in houses and vehicles, the aligned magnetic fields reach almost 15,000 gauss. Gauss, named after the German mathematician who discovered it, is the CGS "electromagnetic" unit of three-dimensional magnetic induction. In Europe, the Earth's magnetic field measures 0.5 gauss, a small metallic (ferrite) magnet has a field of 200-400 gauss, and a big electro-magnet diffuses more than 15,000 gauss.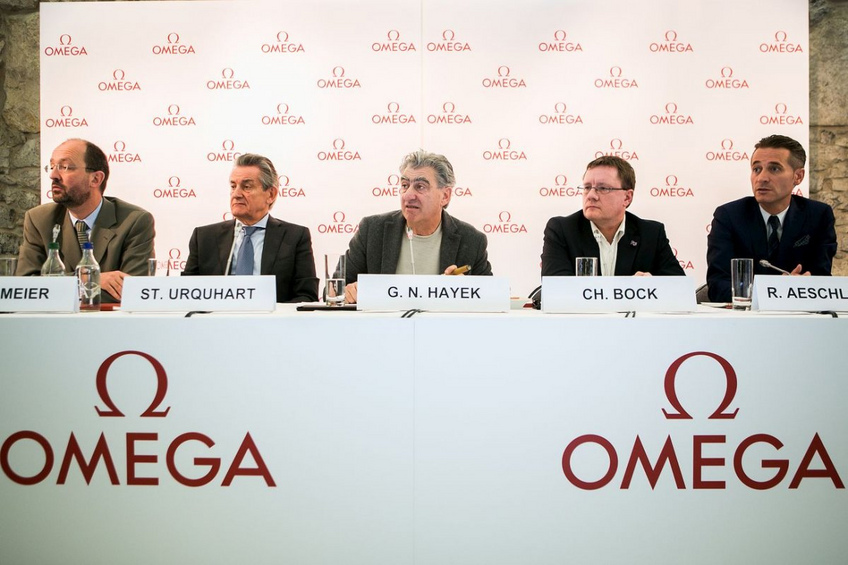 Swatch Group CEO Nick Hayek was joined by Dr Christian Bock, the Director of METAS, Stephen Urquhart, President of OMEGA and OMEGA Vice Presidents Raynald Aeschlimann and Andreas Hobmeier.
Omega has found the solution
Two years ago, Omega announced the release of a self-winding mechanical watch equipped with the famous co-axial escapement that is resistant to a magnetic field of over 15,000 gauss.
The watch bears no resemblance to what we used to understand to be an antimagnetic watch as the whole movement, and not just the case, was antimagnetic. The movement was produced with a top secret and totally antimagnetic alloy and this major discovery was used to equip practically all of Omega's collection. Of course, all this did not happen in one day. Throughout the years, all of the Bienne-based brand's mechanical watches were equipped with the Master co-axial system. Said system, implemented with the antimagnetic movement, substantially improved the chronometry and functioning of mechanical watches, even in a highly magnetic environment.
New standards are born
A very thin line separated the production of watches resistant to magnetic fields of over 15,000 gauss from the new verified standards. The Swatch Group's CEO, Nicolas Hayek, elaborated on this at a press conference. Hayek highlighted that Omega offered long-term solutions that need to be followed up. He also made it clear that the development of new standards was an important innovation for the Swiss watchmaking industry as a whole.
"We have always been aware of our responsibilities, and even if some think that Swiss Made is useless, we want to give all national brands the opportunity for their products to conform to standards. People need to understand that we do not only wage wars in boutiques and marketing but that instead innovation remains our main concern. We must not delude ourselves; the Japanese, Chinese and Indian watch industries are watching us closely but they aren't just sitting around and admiring us. We thus have to innovate or to die trying ".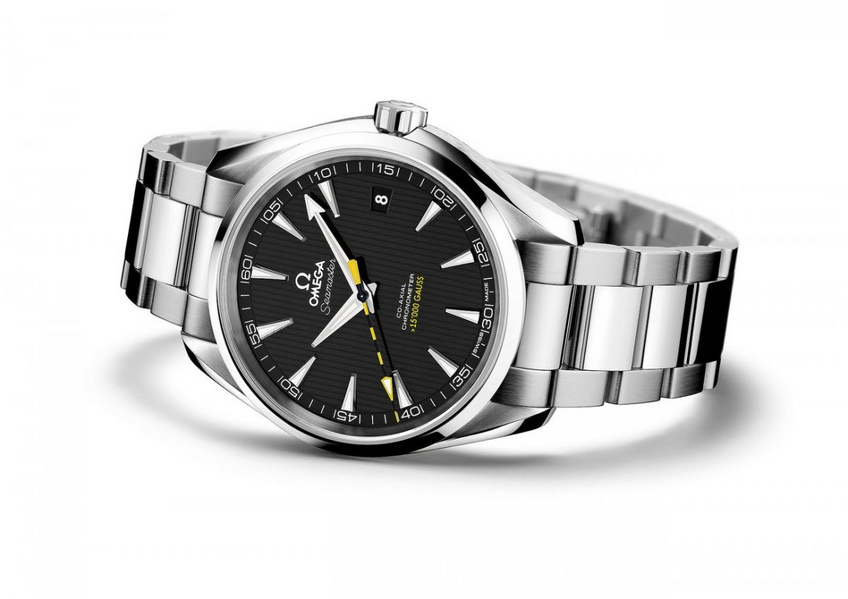 Omega Seamaster Aqua Terra was first true anti-magnetic watch presented in 2013
Collaborating with an official institute
Nick Hayek explained that watchmaking has a deep connection with Switzerland which has been enhanced by the official institutes of the Confederation. It was thus only natural that the Group turned to METAS, the Federal Institute of Metrology – Switzerland's most prestigious official institute. This brought about the new certification, which goes even further than that of the COSC (Contrôle Officiel Suisse des Chronomètres). The institute will certify each movement and watch whose precision only varies between 0 and +5 seconds per day, before and after exposure to magnetic fields of over 15,000 gauss. This matches the resistance level of Omega's Master Co-axial pieces, which were introduced as the most resistant on the market.
A METAS antenna at Omega in Bienne
Once the new building is completed, during 2015, METAS will move to it and install its measuring instruments in an open space for visitors at Omega in Bienne. "This does not impair our neutrality or independence in any way", ensured Martin Bock, director of the institute. That's not all; with every watch Omega will supply a booklet with guidelines for the buyer. A full account of each watch's test results will be available to buyers on the METAS website by keying in the codes from their booklet. The director of METAS further highlighted that they have not signed an exclusive contract with Omega and that this certification is thus open to all, including industrial sectors other than watchmaking.
By
Vincent Daveau
,
Contributor
The Speedmaster by Omega, linked to spatial and Moon conquest, is one of the most famous chronographs in contemporary watchmaking history. The Mark II...
OMEGA has always been a pioneer in the perplexing area of anti-magnetic watchmaking. Most recently, it is the Seamaster Aqua Terra that has been at the...