Baselworld 2015, isn't just about watches and jewelry after all
Seven days, 2589 images, blackened eyes and a sore throat later, the 2015 Baselworld edition has come to an end in an immeasurable fatigue, but such wonderful memories and discoveries that this past weekend has allowed us to recover from.
Fabergé for the technique, Jacob & Co. for the price and Hublot for the diamond setting were without argument the talking pieces of the fair.
The poetic Fabergé peacock complication conceived and imagined by the talented Jean-Marc Wiederrecht was once suggested by watch expert and journalist Louis Nardin who, traveling the world two years ago, discovered a Japanese fan… He later suggested to Wiederrecht that it would be amazing to develop something around the peacock feather movement in a watch. The come-back of Fabergé was the perfect excuse for the genius from Agenhor to conceive a piece that would not only seduce women for the aesthetics and snowfall setting of the colored dial but also men for the technical prowess and price. Among the few things to remember if not the piece itself, are the feathers falling down one at a time indicating the minutes retrogrades. The hours- easy to figure out- since the only number that isn't upside down is the right one. Poetic and playful what else?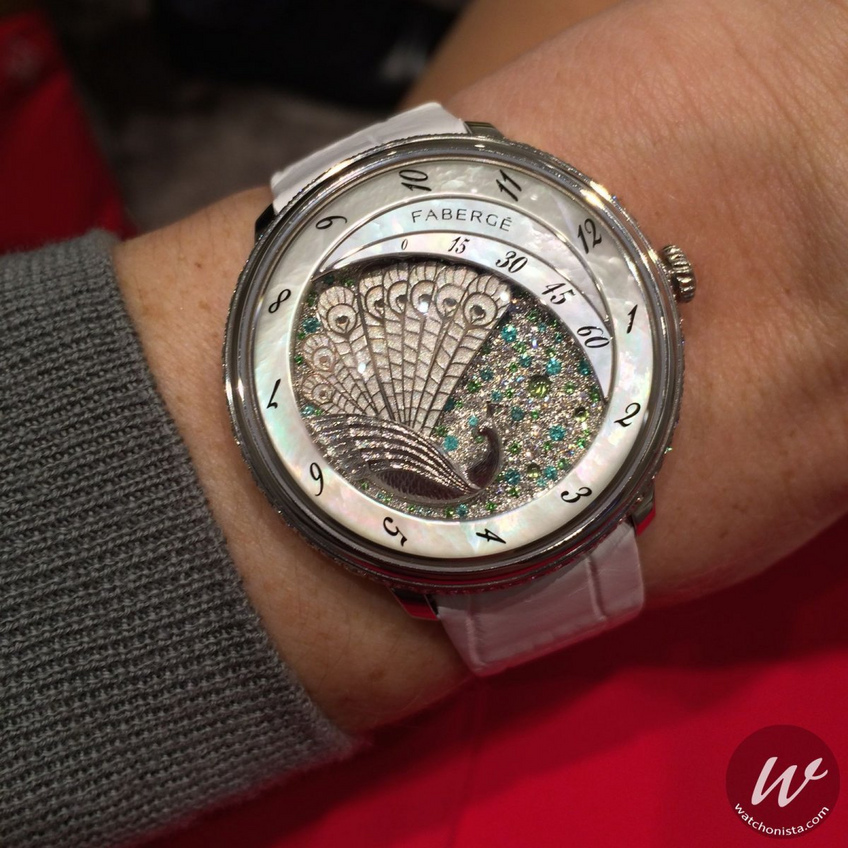 Fabergé Lady Compliquée Peacock
Jacob Arabo, long called Jacob the Jeweler because of his passion for diamonds but also the capacity he has to find extraordinary diamonds: in color, in size and even in price. Nevertheless, Jacob & Co. presented during Basel their $18 million unique piece with over 20 diamonds of 3 carats each on the bezel (we won't even mention what's on the bracelet). Yet, this piece – almost sold to a long-time friend and fan of the brand- was made for a man that even a women who would want to wear it couldn't unless she wears it on her arm or ankle!
However and as ever, women haven't been neglected. The new mystery timepiece made of diamonds and sapphire only with a dial that isn't quite a proper one is light and airy, no matter how many diamonds. Due to the sapphire front and back see through case, the center dial made like a pistil of diamonds shows two small arrows indicating the hours and the minutes. As simple as that.
Hublot Big Bang Unico Haute Joaillerie
For the 10th Anniversary of the world success Big Bang Hublot, a ten million limited edition of 10 pieces fully paved worth $1 million each with a few color details differentiating one piece from another. It's bling, it's heavy and it's expensive but the variety of diamond sets made of snowfall, baguette or brilliants in reversed and invisible settings on each and every part of the watch is a true work of art and a savoir-faire realized by Pierre Salanitro. Chapeau!
After millions and diamonds, Hublot pushed it further inviting the singer Sebastian Bach and guitar player Tommy Thayer from the rock band Kiss in addition to the drum player of Gun'n'Roses. The live and acoustic private concert ended with voiceless CEO Ricardo Guadaloupe shouting in the microphone "I'm here motherfucker."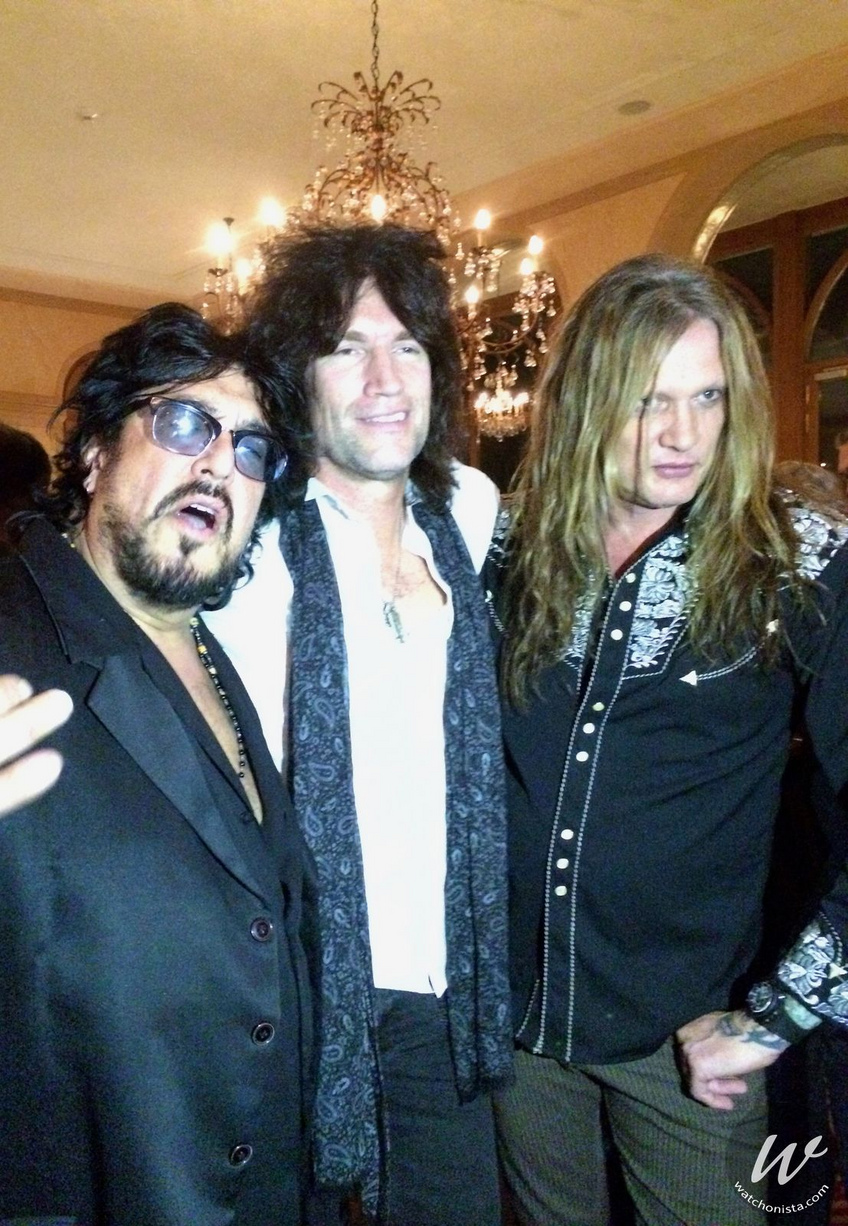 Teddy Andreadis, Tommy Thayer, Sebastian Bach at Hublot All Black Night
We all were til the end of the hour and already dreaming of next year!
By
Vincent Daveau
,
Contributor
Time harbors some secrets that only women know how to decrypt. Fabergé's decision to display time with great originality is offering women who enjoy...