Antoine Preziuso, the Italian charm of a Swiss watchmaker
He is fiercely independent and proud of his family. The Genevan watchmaker presents his creations and talks story at the edge of Geneva's horological week.
"Stop saying power reserve! " Antonio Preziuso insists with a smile and a soft Latin attitude that makes him so convincing. "Say energy indicator! " Because that is what he wants to measure, actually: the exchange of energy between the wearer and his or her watch, and the more or less Olympic form the timepiece comes in. On his Power model, which he presented at the SIWP show at the beginning of 2015, the indicator takes up almost half the dial, and it is expressed in percentages, between a maximum that says "fine," and a minimum that says "down. "You see, it's exactly like us," he points out with voluble gestures. "Sometimes we feel fine, and sometimes down. "There's no doubt that with this fellow, the watch is alive and has its moods.
Family affair
Another particularity of this model is the AFP label that appears on the crown and acts as a reminder that Antoine Preziuso works first and foremost with his family. His wife May manages the business, his daughter Laura is a jeweler designer whose gifts have produced some unexpected pieces that blend jewelry and horological complications. In this particular case, it's his son Florian – the "F" in AFP – a watchmaker designer who was heavily involved in the development of the new model. In another display case at the SIWP, a ladies' watch draws the eye. The watch has no dial, it's the sides of the case and the movement itself that set the tone. The bridges and mainplate are set with 1,500 diamonds, all the way to the rear of the caliber that gazes through a sapphire crystal. With its titanium tourbillon, it is the proud little sister of one of the brand's emblematic models, the Stardust.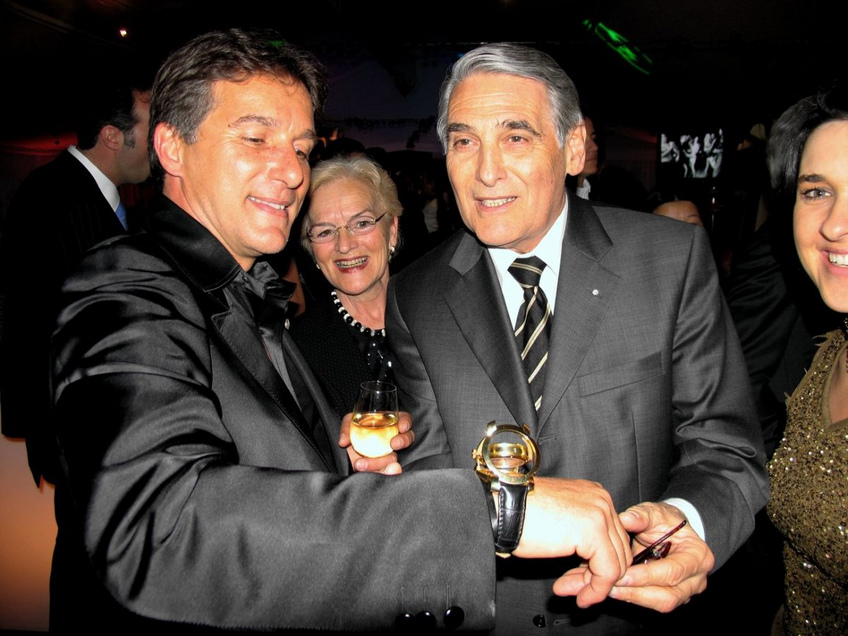 Antoine Preziuso with Carlo Lamprecht
Antoine Preziuso likes complications, and originality: how many watchmakers have used the dial to compute the number of days remaining before the next full moon? He also likes materials, even the unexpected ones. He was the first person to use a meteorite, and he did it like everything else, with great passion and verve. Rather than invoke the magic of space in vaguely pompous marketing palaver, he would welcome visitors and give them a rock. He wouldn't say anything, he just watched their bewilderment at the weight of the thing. Space is denser than one might think!
Years later, he is still imbued with the same energy. Now it's February 2015, and he is already speaking of the piece he'll be presenting in Basel, which is protected by three patents. He shows it to us in passing on the screen of his iPhone, like a child who can barely wait to share a surprise with friends and family.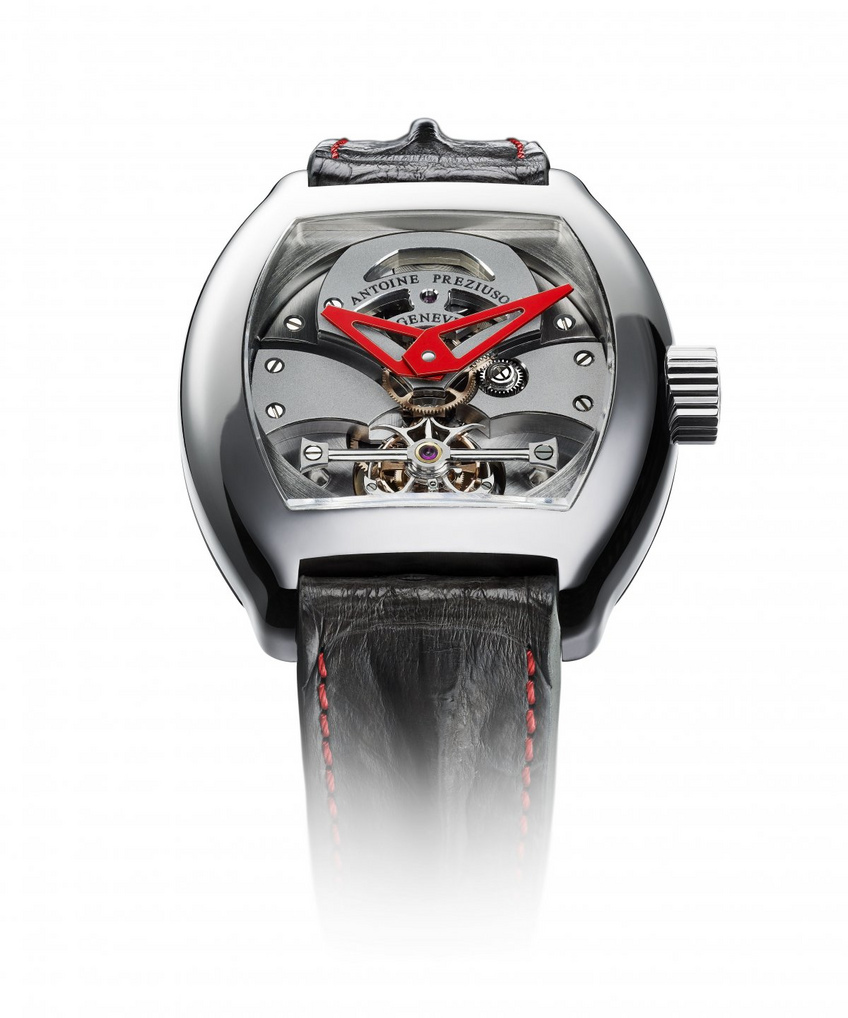 Antoine Preziuso Grand Tourbillon Sport
No crocodiles in Geneva
He owes his name to Italian roots, and his love of family and his enthusiasm as well. But he has built up his values on his native soil, Geneva. He studied at Geneva's watchmaker school, before cutting his teeth at Patek Philippe. He soon decided to be independent. His watches are manufactured in their entirety at this end of the lake, at his own place or with trusted partners. "My pieces are 99% from Geneva," he insists. And what about the last percentage point?". It's the crocodile for the strap, I haven't found any in the lake! "
Since 1981, Antoine Preziuso has been steering his ship alone. His company offers unique pieces, or ones manufactured in small series. His annual output barely crossed the 50 mark. Then came a radical change of course in the early aughts, when his brand started churning out up to 900 units a year. They were sold in part in the different boutiques he had opened, and some were even offered together with a motorcycle: you either love mechanics, or you don't. "Since then, we have steered through crises, stock exchange crashes and the like, and we have always found a solution. "Commenting on recent news about the exchange rates, Antoine Preziuso does confess that the "rise in the franc's value is not good news, but the independents will always make it somehow. "He says it as if it were self-evident, the smile is sincere, he is not trying to convince anyone, he is convinced.
By
Joel Grandjean
,
Editor-in-Chief
After going through a security check, visitors will have to find their way through gaming tables and slot machines to reach the spot where eleven independent...
By
Eric Othenin-Girard
,
Specialised journalist
When Antoine Preziuso started in watchmaking the future seemed bright for Swiss watches were very renowned. Then, out of the blue, everything fell apart....