Rolex Daytona Lesson One: An Historical Auction
Last Sunday the "Rolex Daytona Lesson One" auction organized by Aurel Bacs and Christie's, presented only the best and most mythical Daytona wristwatches ever produced.
This unique sale, created by Aurel Bacs with the support of Pucci Papaleo, Rolex expert, to celebrate the 50th anniversary of Rolex Daytona, has been extremely successful: all pieces were sold by lot and by value.
Surpassing all expectations, the 50 exceptional timepieces of the world's most celebrated chronograph wristwatch reached CHF 12 million (CHF12,032,850 /$13,248,167 / €9,866,937) in 2 hours at Christie's Geneva. It means an average of CHF 100,000 per minute !!
Zoom on the rare dial of the Rolex Daytona 6263/6239
The top lot of the evening was an extremely rare stainless steel chronograph wristwatch, reference 6263/6239, Paul Newman model, manufactured in 1969, which sold for CHF 989,000 ($1,088,889). The mention "Oyster", stamped in the third line after the word "Cosmograph" is a very rare feature which explains why this Rolex Ref. 6263 was so desirable.
"With four hundred people in the saleroom and plenty more queuing outside, I rarely experienced a similar rock concert atmosphere from the rostrum" commented Aurel Bacs, "Rolex Daytona 'Lesson One' will be remembered as an historical event".
The auction ended with a standing ovation for "Magic Aurel" as it was his last performance for Christie's in Geneva.
Rolex Daytona "Lesson One" auction results
Lot 1: The 6239 S/S Underline Double-Swiss with Chocolate Registers Ref. 6239
Price realized: CHF269,000 ($296,250)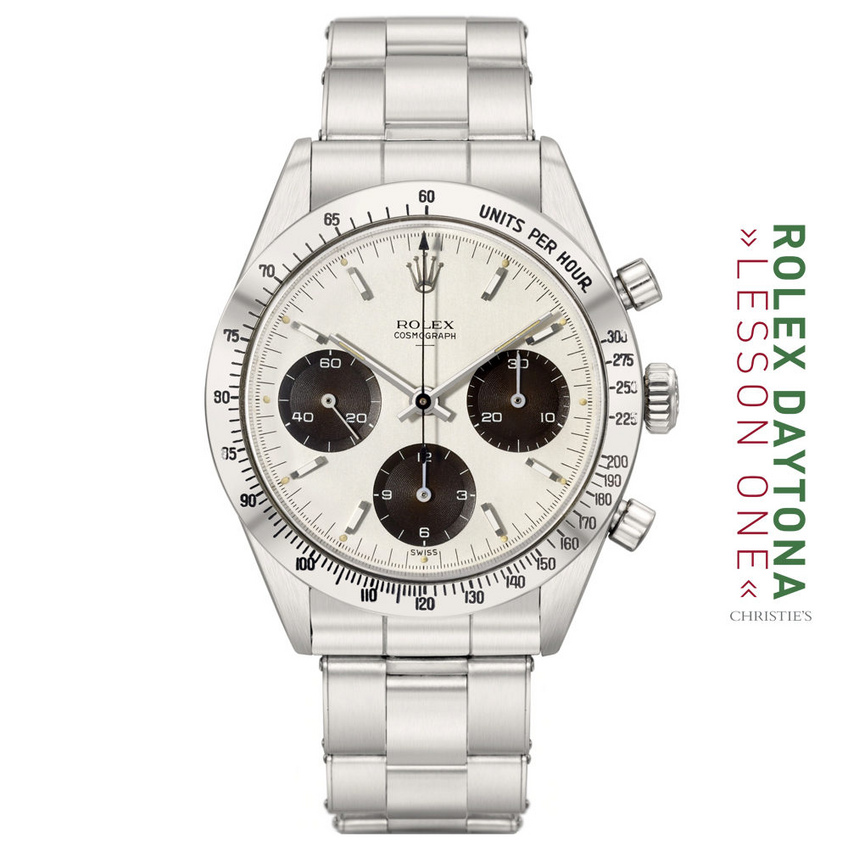 Lot 2: The 6239 S/S 'First Daytona Nero with Floating Logo' Ref. 6239
Price realized: CHF81,250 ($89,481)

Lot 3: The 6240 S/S 'Oyster Cosmograph' with Chocolate Dial Ref. 6240
Price realized: CHF197,000 ($216,956)

Lot 4: The 6239 S/S 'Jumbo-Logo Soleil' with Chocolate Registers Ref. 6239
Price realized: CHF137,000 ($150,878)

Lot 5: The 6239 S/S 'Paul Newman Nero' With Three Colours Ref. 6239
Price realized: CHF185,000 ($203,741)

Lot 6: The 6241 S/S 'Paul Newman Bianco' with Three Colours Ref. 6241
Price realized: CHF197,000 ($216,956)

Lot 7: The 6239 S/S 'Doctor Love' Ref. 6239
Price realized: CHF761,000 ($838,090)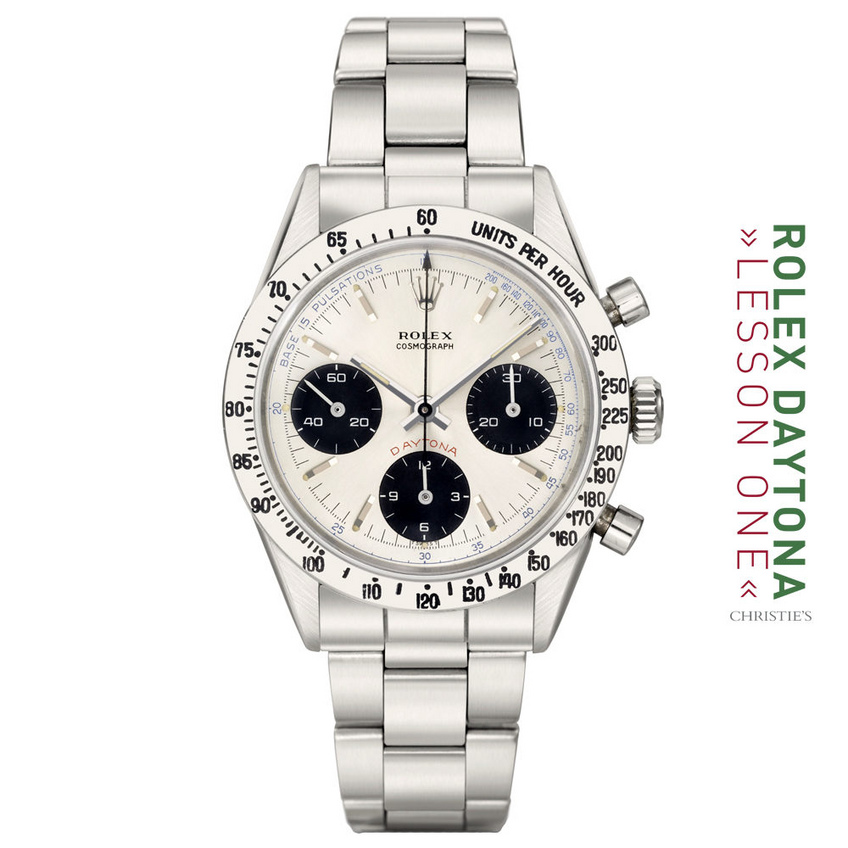 Lot 8: The 6239 18K 'Paul Newman Nero' Ref. 6239
Price realized: CHF497,000 ($547,346)

Lot 9: The 6239 S/S Walt Cunningham 'Paul Newman Nero' with Three Colours aka 'The Lost Moon' Ref. 6239
Price realized: CHF245,000 ($269,819)

Lot 10: The 6241 S/S 'Ricciardi Paul Newman Nero' with Three Colours Ref. 6241
Price realized: CHF209,000 ($230,172)

Lot 11: The 6241 S/S 'Ricciardi Paul Newman Nero' with Three Colours Ref. 6241
Price realized: CHF377,000 ($415,190)

Lot 12: The 6241 14K 'Paul Newman Nero' aka 'The John Player Special' Ref. 6241
Price realized: CHF389,000 ($428,406)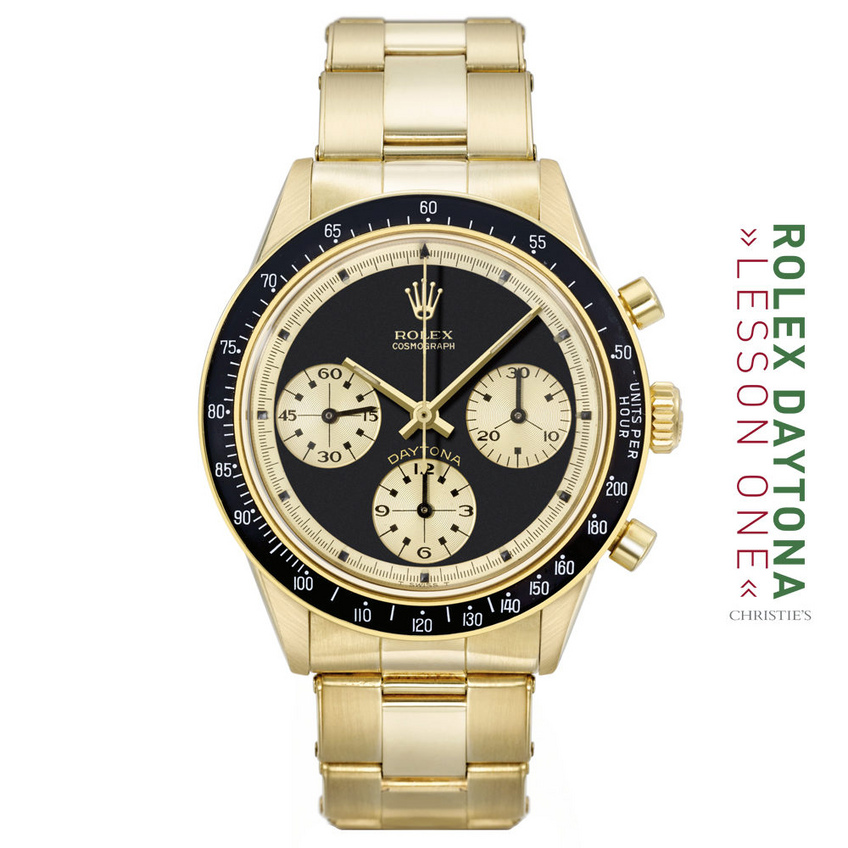 Lot 13: The 6262 18K 'Daytona Nero with Cherry Logo' Ref. 6262
Price realized: CHF341,000 ($375,543)

Lot 14: The 6262 S/S 'Saucer Paul Newman Nero' with Three Colours aka 'The Musketeer' aka 'The Flying Saucer' Ref. 6262
Price realized: CHF395,000 ($435,014)

Lot 15: The 6262 S/S 'FAP Military Paul Newman Bianco' with Two Colours Ref. 6262
Price realized: CHF299,000 ($329,289)

Lot 16: The 6262 S/S 'Bobby Unser Daytona Nero' aka 'The Star Of Indianapolis' Ref. 6262
Price realized: CHF149,000 ($164,094)

Lot 17: The 6262 S/S 'Paul Newman Bianco' with Two Colours and Brownish Track Ref. 6262
Price realized: CHF209,000 ($230,172)

Lot 18: The 6264 14K 'Tiffany & Co. Champagne Daytona' Ref. 6264
Price realized: CHF329,000 ($362,328)

Lot 19: The 6263 S/S 'Terra Di Siena Oyster Cosmograph' Ref. 6263
Price realized: CHF281,000 ($309,465)

Lot 20: The 6263 S/S 'Panda Oyster Cosmograph Paul Newman' with Brownish Track Ref. 6263
Price realized: CHF449,000 ($494,484)

Lot 21: The 6263 S/S 'Jean-Paul Belmondo Oyster Cosmograph' aka 'L'Animal' Ref. 6263
Price realized: CHF203,000 ($223,564)
Lot 22: The 6265 S/S 'Cappuccino Oyster Cosmograph' Ref. 6265
Price realized: CHF161,000 ($177,309)

Lot 23: The 6263 S/S 'Alpina Cosmograph Alpina Paul Newman' aka 'Oyster Sotto' Ref. 6263
Price realized: CHF989,000 ($1,089,186)

Lot 24: The 6263 S/S 'Dark Chocolate Oyster Cosmograph' Ref. 6263
Price realized: CHF161,000 ($177,309)

Lot 25: The 6263 S/S 'FAP Military Oyster Cosmograph' Ref. 6263
Price realized: CHF100,000 ($110,130)

Lot 26: The 6263 S/S 'Arabian Night' Ref. 6263
Price realized: CHF785,000 ($864,521)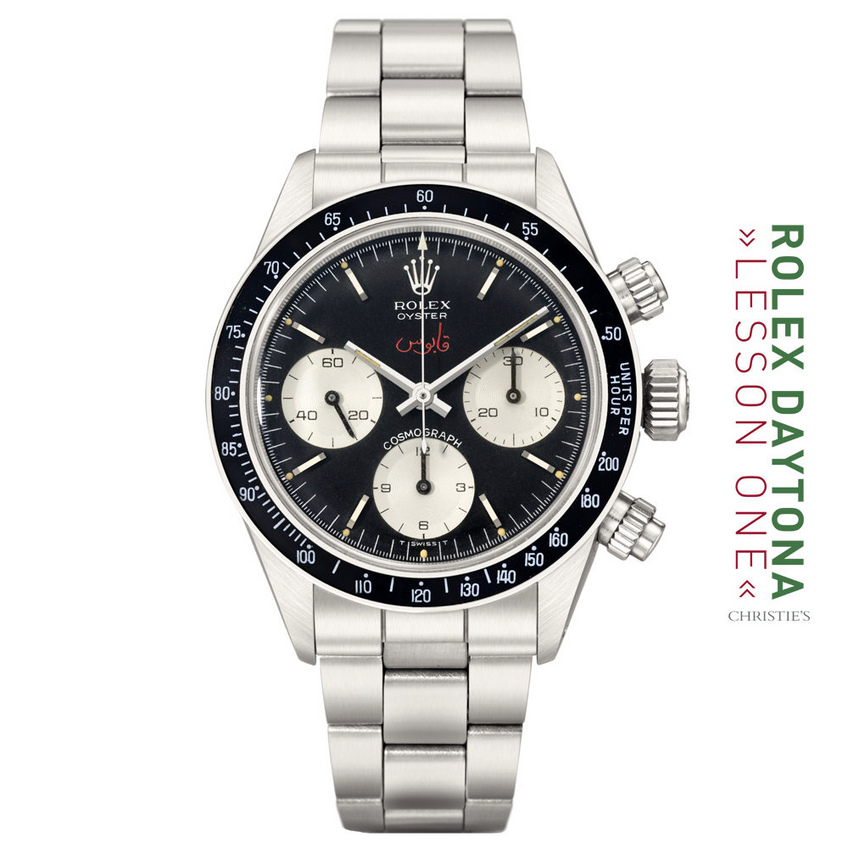 Lot 27: The 6263 S/S 'Desert Eagle' Ref. 6263
Price realized: CHF197,000 ($216,956)

Lot 28: The 6265 14K 'Tiffany & Co. Champagne Oyster Cosmograph' Ref. 6265
Price realized: CHF185,000 ($203,741)

Lot 29: The 6263 18K 'Champagne Oyster Cosmograph' with Brownish Registers aka 'The Krug' Ref. 6263
Price realized: CHF149,000 ($164,094)

Lot 30: Reference 6265 18k 'Nero Oyster Cosmograph'

Price realized: CHF161,000 ($177,309)


Lot 31: The 6265 18K "Champagne Oyster Cosmograph
Price realized: CHF158,600 ($174,666)

Lot 32: The 6263 S/S 'Silver Oyster Cosmograph with Cherry Logo' aka 'Castor'
Price realized: CHF161,000 ($177,309)

Lot 33: The 6263 S/S 'Nero Oyster Cosmograph with Cherry Logo' aka 'Pollux'
Price realized: CHF161,000 ($177,309)

Lot 34: The 6269 18K 'Diamond Bezel Pavé Oyster Cosmograph' aka 'The Jack of Diamonds'
Price realized: CHF461,000 ($507,700)

Lot 35: The 6269 18K 'Diamond Bezel Champagne Oyster Cosmograph' aka 'The Diamond Halo'

Price realized: CHF425,000 ($468,053)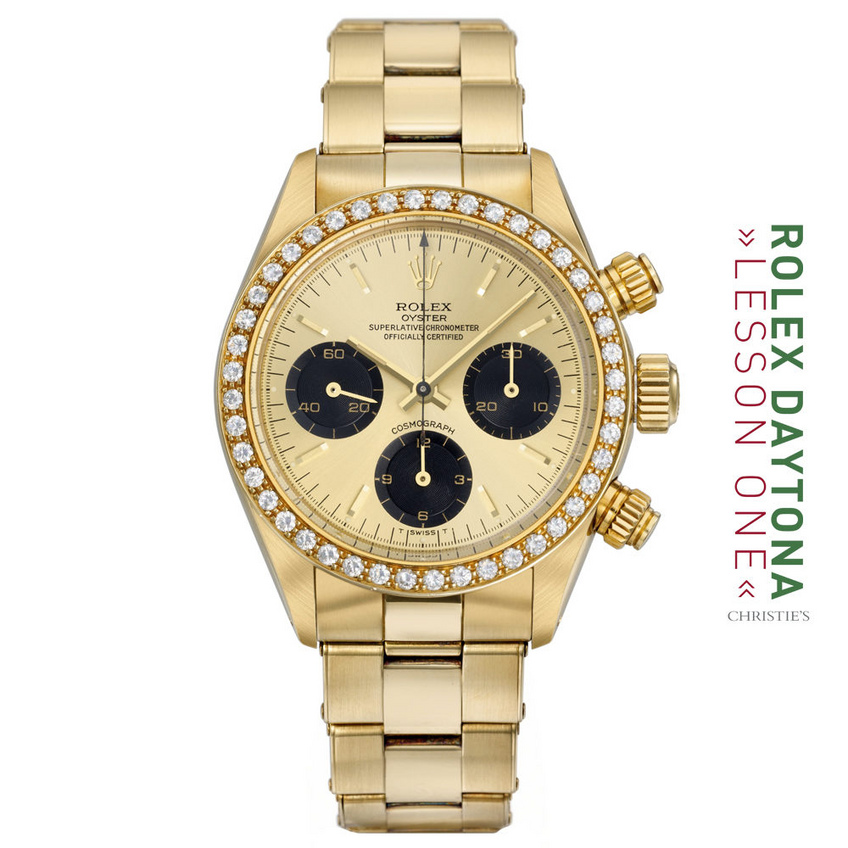 Lot 36: The 16520 S/S 'Floating Logo Nero Oyster Perpetual Cosmograph' aka 'The Flawless R'
Price realized: CHF56,250 ($61,948)

Lot 37: The 16528 18K 'Diamond Jelly Lacquer Oyster Perpetual Cosmograph'

Price realized: CHF93,750 ($103,247)

Lot 38: The 16520 S/S 'Janusz Kurbiel Bianco 4-Liner Oyster Perpetual Calendar' aka 'The Polar Bear'

Price realized: CHF56,250 ($61,948)

Lot 39: The 16523 S/G '4-Liner Jelly Lacquer Oyster Perpetual Cosmograph'

Price realized: CHF50,000 ($55,065)

Lot 40: The 16528 18K 'The Big Blue'

Price realized: CHF257,000 ($283,034)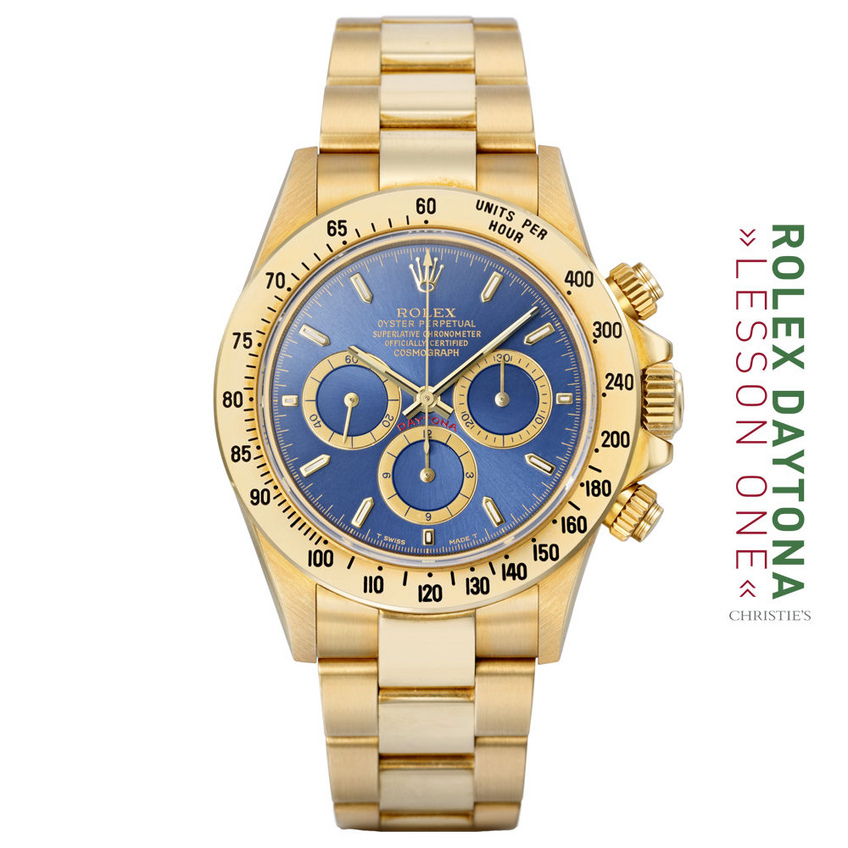 Lot 41: The 16520 S/S '5-Liner Nero Oyster Perpetual Cosmograph' with Tobacco Registers

Price realized: CHF62,500 ($68,831)

Lot 42: The 16589 18K WG 'Baguette-Set Oyster Perpetual Cosmograph' aka 'The Glitter-Road'

Price realized: CHF87,500 ($96,364)

Lot 43: The 116520 S/S 'Nero Oyster Perpetual Cosmograph' aka 'The Winner'

Price realized: CHF87,500 ($96,364)

Lot 44: The 116519 18K WG 'Misprint Beach Oyster Perpetual Cosmograph' aka 'The Calypso'

Price realized: CHF125,000 ($137,663)

Lot 45: The 116528 18K 'Eric Clapton 5-liner Nero Oyster Perpetual Cosmograph' aka 'The Slowhand'

Price realized: CHF100,000 ($110,130)

Lot 46: The 116598SACO 18K 'Yellow Sapphire Oyster Perpetual Cosmograph' aka 'The Leopard'

Price realized: CHF75,000 ($82,598)

Lot 47: The 116520 S/S 'Omani Bianco 5-Liner Oyster Perpetual Cosmograph' aka 'The White Khanjar'
Price realized: CHF100,000 ($110,130)

Lot 48: The 116520 S/S 'Omani Nero 5-Liner Oyster Perpetual Cosmograph' aka 'The Black Khanjar'

Price realized: CHF106,250 ($117,013)

Lot 49: The 116599RBOW 18K WG 'Multicoloured Sapphire Oyster Perpetual Cosmograph' aka 'The White Rainbow'

Price realized: CHF125,000 ($137,663)

Lot 50: The 116506 P 'Brown Bezel / Ice Blue Dial Oyster Perpetual Cosmograph' aka 'The Nine-Fifty Tribute'

Price realized: CHF197,000 ($216,956)