Junod, French-speaking Switzerland's oldest jewelry store
At the time when rich European tourists came to Switzerland for a little R&R in the famous Swiss thermal baths or other Palaces, they also made a stop at the indispensable Junod.
Members of European royal families and jet-setters have visited the shop while on vacation. Founded in 1867, Junod is today located in the heart of Lausanne and is one of those places where generation after generation of elegant people fond of beautiful things stopped by looking for either timepieces or jewelry. They sometimes wanted them for themselves, or to celebrate a symbolic event, or simply to please someone else. Indeed, it often happens that a beautiful wristwatch or a discreet and refined ring become family heirlooms. And Junod is not only well known in Switzerland but it has acquired international fame.

Junod in 1926 - 8, Place St. Francois, Lausanne
A.Junod & Fils: some background
In 1867, young watchmaker Ami Junod opened a small workshop in the "Observatory" in Sainte-Croix. He rapidly became a renowned and esteemed master watchmaker and was thus entrusted the task of setting all the clocks in the village.
Every day, the Neuchâtel Observatory would send him the exact time via telegraphs. In 1889, he left his native village for Lausanne. At the time, the town was going through unprecedented blossoming. Thanks to the opening of Simplon in 1906, Lausanne became a very important touristic center. You can just imagine how full of life the lounges of Beau-Rivage Palace, located along the lake, were.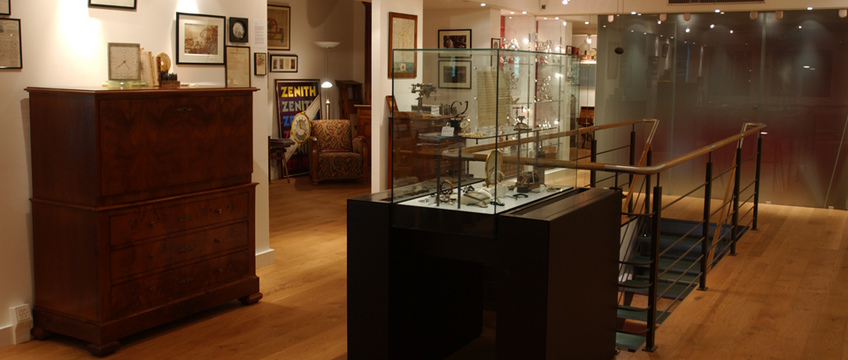 The upstairs Junod's watches museum
Ami opened his workshop in Pépinet. Afterwards, he opened A. Junod et fils – a watchmaking, jewelry and silversmithing store on No. 7, Rue Centrale, near Le Flon. Right before the start of World War I, the Junods moved to their current shop on No 8, in Saint-François. A few years later, another prestigious Lausanne-based jewelry shop, A l'Emeraude, moved to the same location.
In the 1930s, there were three watchmakers working in Junod watchmaking workshop. Fernand, one of Ami's sons, was a specialist in "chevalière" rings and engraved over 3,000 throughout his life. He became famous even outside of Switzerland and made coat-of-arms, ex-libris and paintings for many noble European families.
In the early 1960s, Junod became one of the first flagship stores for Omega. Its black marble façade and its very modern layout did not go unnoticed and thus generations of Lausanne inhabitants bought their Speedmaster there. Since 1981, Lionel Goei, Pierre Junod's son-in-law who entered the business in 1962, has been in charge of the jewelry shop. In 1986, after graduating in business and gemology, Pierre Junod's grandson, Nicolas Goei, joined his father in the business.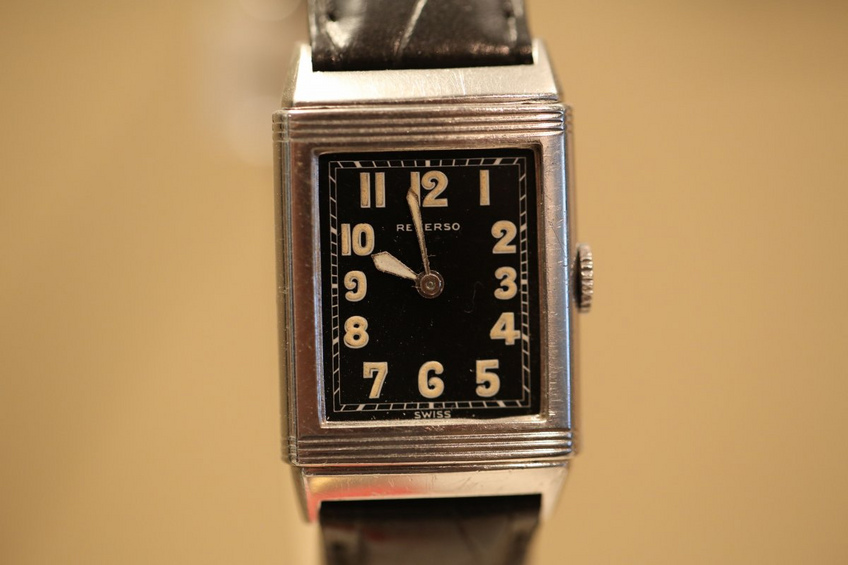 One of the first Reverso ever made
A museum upstairs
In 2005, Junod inaugurated its museum on second floor of the store. In a wonderful setting, visitors can admire a very large collection of Omega watches and a beautiful selection of watches that marked watchmaking history: from the Royal Oak to the first Ebel Wave. Amongst the treasures the Junod family has preserved for over 150 years, we find the very first Reverso. There are also old watchmaking tools, the Junod family's archives and some Junod watches from the 1960s. Standing there, we can picture the family ancestors gathered around the carefully preserved furniture and workbenches. But the museum does not only exhibit watches. Visitors can also check the heraldic archives of more than 1,000 families in the region as well as a rich collection of ex-libris. People who are interested in genealogy will very much appreciate it.
A rare collector piece reappeared amongst Rolex and Patek Philippe pieces at Phillips' auction bid. An embodiment of watchmaking history, the piece was...