Urwerk EMC, an intelligent high-end watch
An innovation in mechanical watches, Urwerk's most recent timepiece enables the user to contribute to the good functioning of the watch instead of being a spectator. Here are some more details.
"A spirit of curiosity is the very nature of Urwerk," say Urwerk's founders Felix Baumgartner and Martin Frei. The new EMC is evidence of Urwerk's continuous search for challenges and adventure.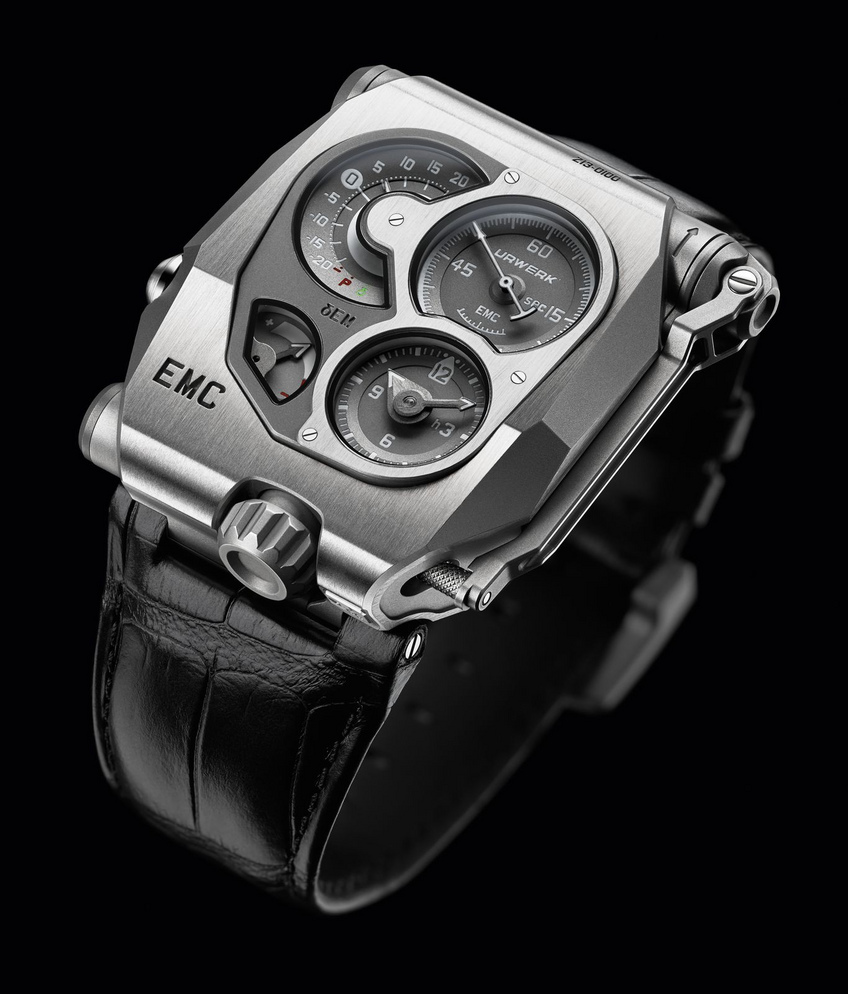 Urwerk watches presents the EMC: first intelligent high-end mechanical watch
A daring but successful challenge: the intelligent mechanical watch
With their unconventional shapes and their watchmaking complications, which are always on the cutting edge of micro-mechanical art, Urwerk were the forerunners of "UFO watches". For more than a decade now they have been kindling enthusiastic curiosity in the exclusive sphere of important and affluent collectors.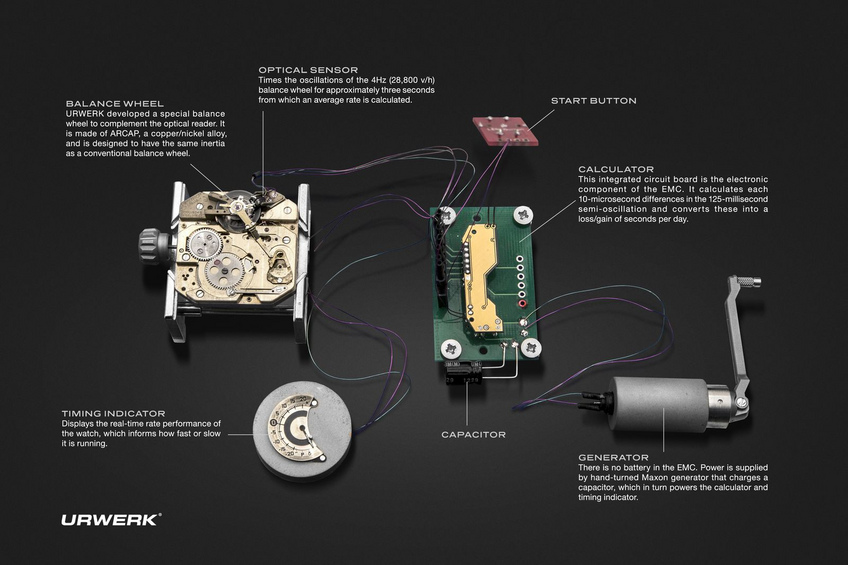 Urwerk EMC timing rate monitoring unit
The Urwerk EMC made its debut at BaselWorld last April and it constitutes Urwerk's ultimate challenge. The concept itself had been taking shape both in Baumgartner's mind and on his desk for the past six years. He and Urwerk co-founder Martin Frei finally turned the concept into reality. The idea behind this clever creation has three objectives. First, it must show the influence of exterior factors (activity, temperature, pressure) on the balance spring mechanism. Second, it aims to correct their respective impacts at the source. And, finally, it must allow – and hence foster – interaction between the watch and its owner. The ultimate goal was to have a mechanism that was more accurate than a quartz watch. On top of it, the movement integrates a miniature optical Witschi to monitor the rate of the watch.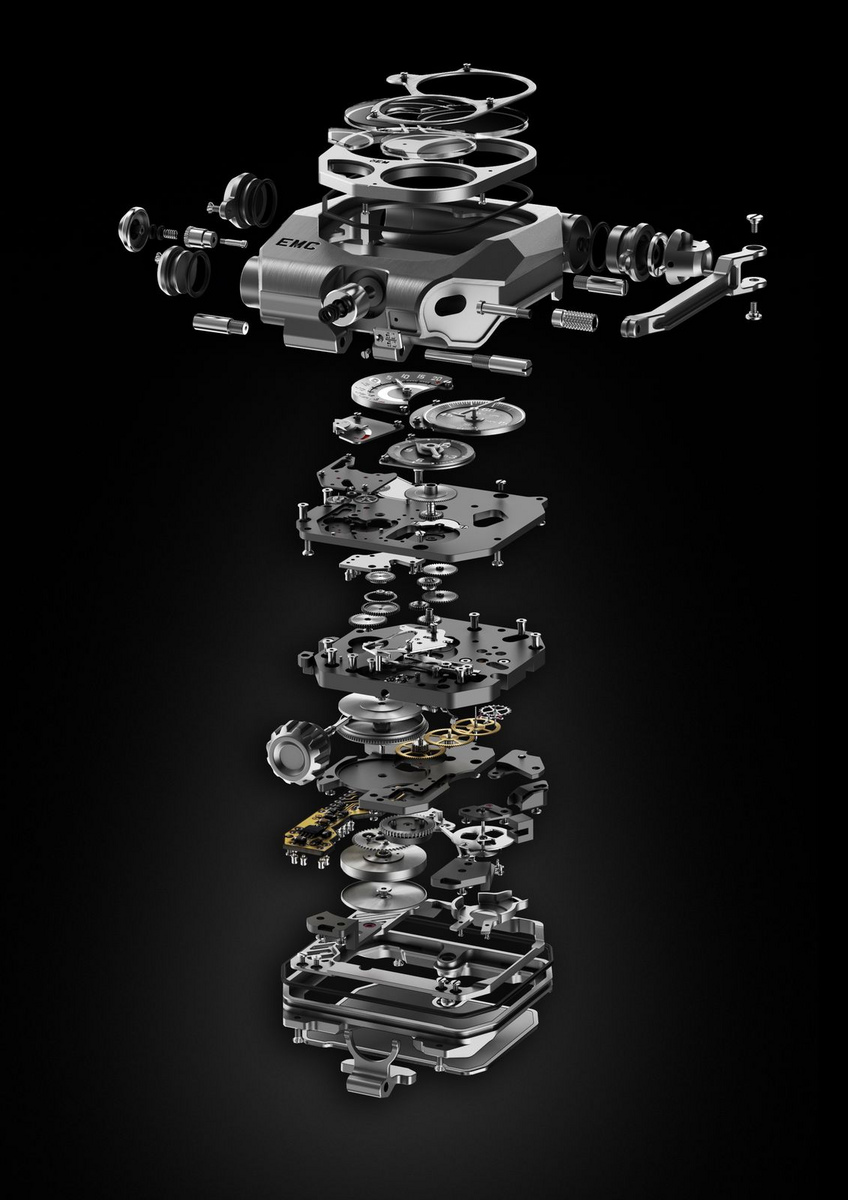 Urwerk EMC exploded components
Modern and surprising tech specs
The Urwerk EMC has more than one string to its bow. A dazzling and revolutionary movement, visible through a sapphire glass at the back of the watch, and some striking technical features. The mechanism that enables the owner to regulate the watch him- or herself was designed, developed and manufactured in-house. It was calibrated in Geneva and meets the highest quality standards. Its chronometric performance was tested in five positions for thirty days and according to the strictest requirements for precision timepieces.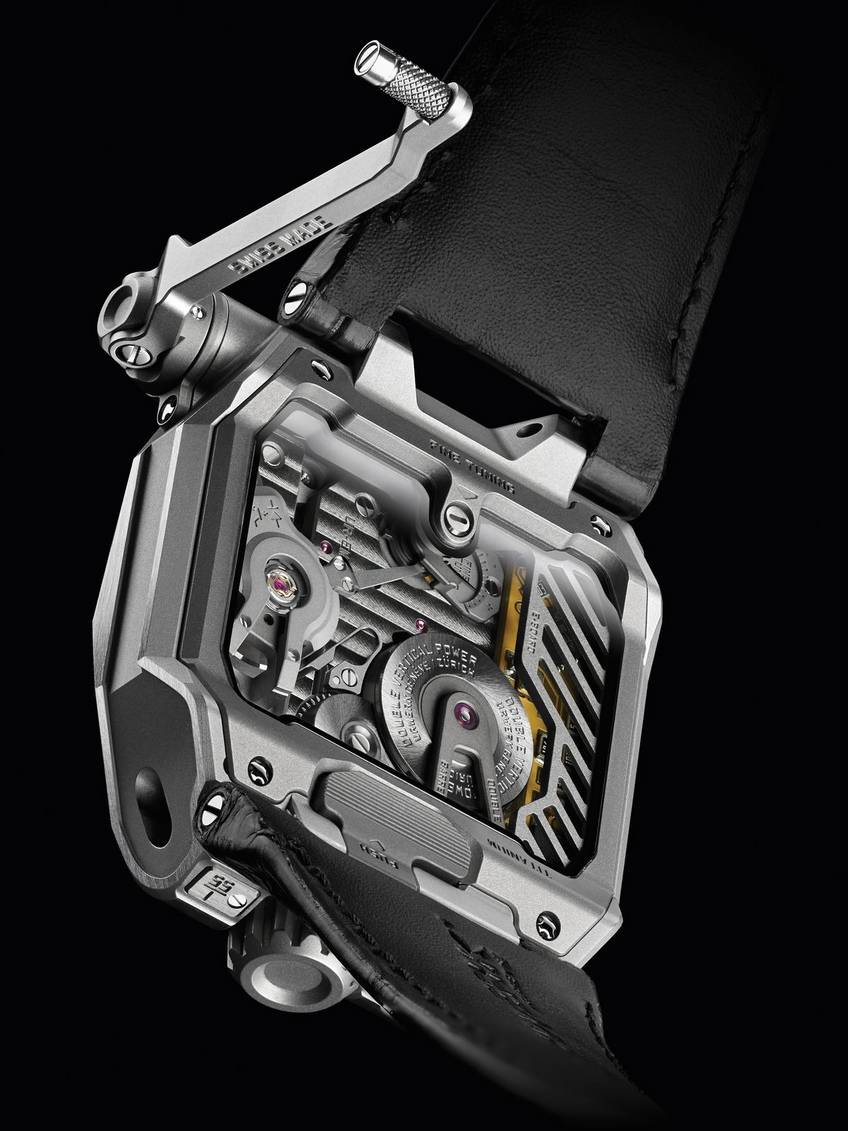 The Urwek EMC's manual-winding generator
The watch's inherent qualities are indeed proven. By allowing the user to regulate the watch, the Urwerk EMC marks the beginning of a new era: that of the self-testing, mechanical watch. Its regulation no longer depends on the experienced touch of the watchmaker, but on the observation of the owner, who can now plunge into the watch's movement, which have become a reflection of his or her own movements and changes of rhythm. It's an essentially interactive watch, which reacts to, and is regulated by, humans. As for design, it is a unique piece of jewellery. See for yourself in the pictures below.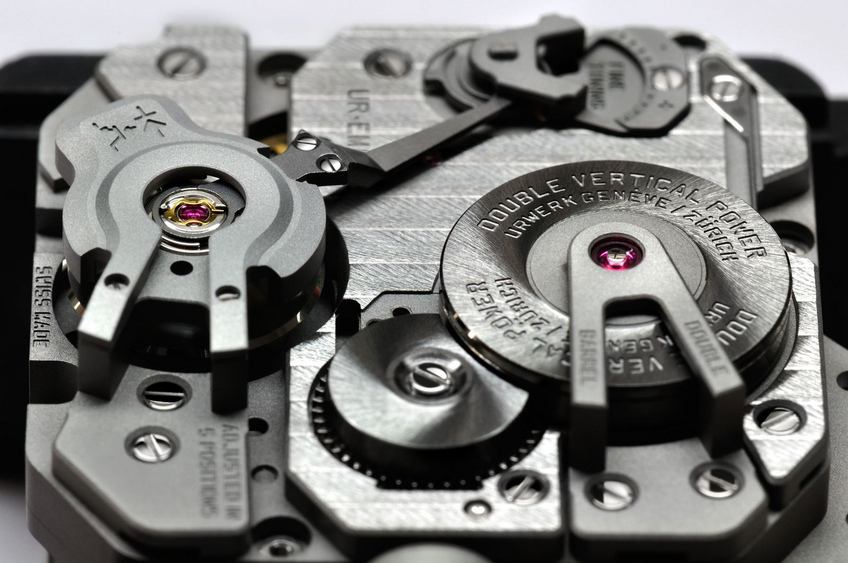 The UR-EMC Calibre conceived, developed and manufactured by Urwerk