TAG Heuer Aquaracer 300 M: an elegant dive watch
This may sound surprising but I am still moved when I see a simple watch that is aesthetically well-balanced and comfortable to wear. It is like a song that one can listen to over and over rather than a hit.
An album is composed of several songs of which one, and sometimes two, are a hit. If we were to add up the delight that the other songs provide individually, we would probably find that they generate more emotions than the one or two hits. Most evergreen and timeless songs are often found in those other songs and the same applies to watch catalogues. Some references initially go unnoticed only to triumph later on and add some serious intensity and character to talking pieces.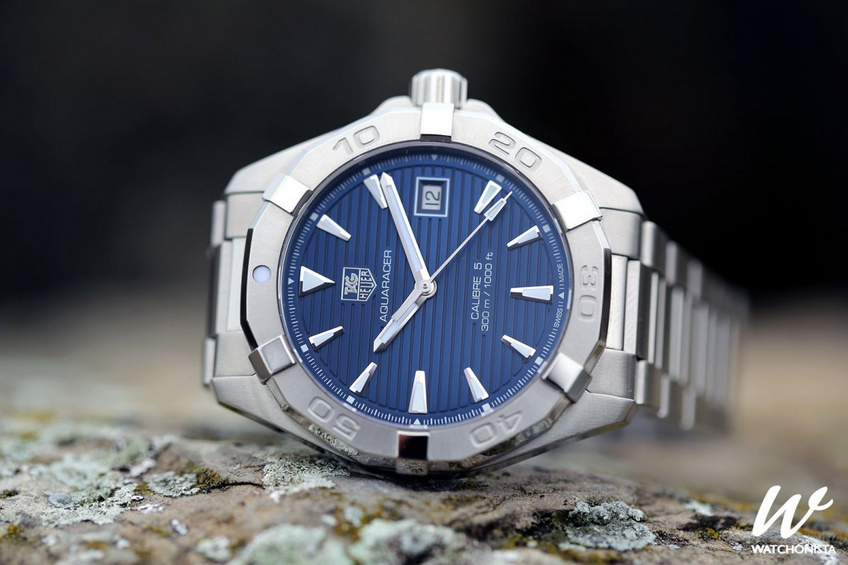 TAG Heuer Aquaracer 300M Calibre 5 Automatic
Tête-à-tête with water resistance
When I saw the Aquaracer 300M Caliber number 5 by TAG Heuer, with its shiny polished steel combined with brushed bits on the case and strap, I felt like I was listening to one of those timeless songs that a sensitive person would find relaxing, first as background music and later on on a stereo with a hi-fi headset.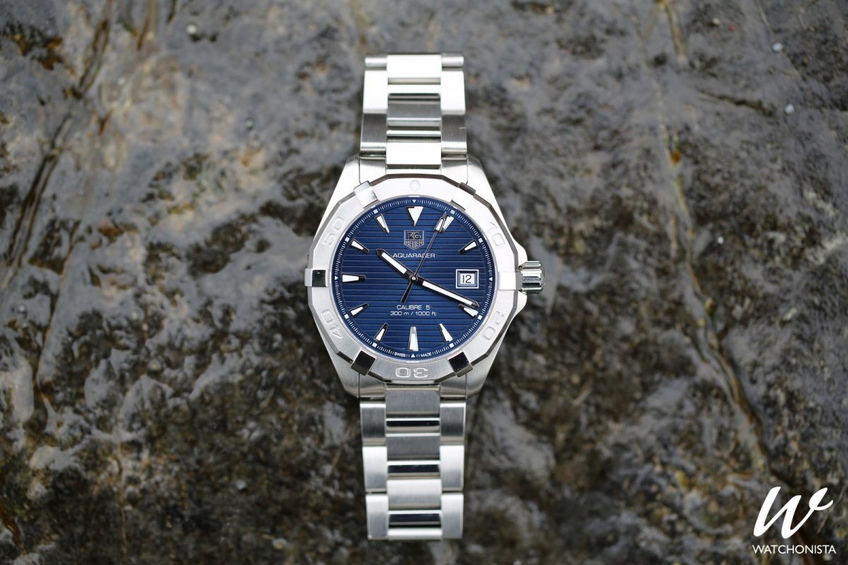 TAG Heuer Aquaracer 300M Calibre 5 Automatic
Since there is a plethora of models that have given steel its noble status back within the market in 2016, I appreciated this discrete and sincere tête-à-tête. I would never have guessed that it features a turning bezel. And it's almost by chance that I found myself playing with it over and over again. Giving in to the temptation of setting the date in the aperture at 3 o'clock on the sea-blue dial with horizontal stripes made me realize that the screwed crown is definitely the best choice for a model which is water resistant to 30 atmospheres (i.e. 300m; roughly 1,000 feet).
Legendary depths
The piece sports one of those engraved casebacks that sets the record straight and which furthermore feels to be the obvious choice for a self-winding model (as we know it is if the graduated pace of the seconds hand is anything to go by). Further, the caseback acts as the mechanical balance between the elegant parties it evokes and the sporty nature that the piece claims starting with its very name.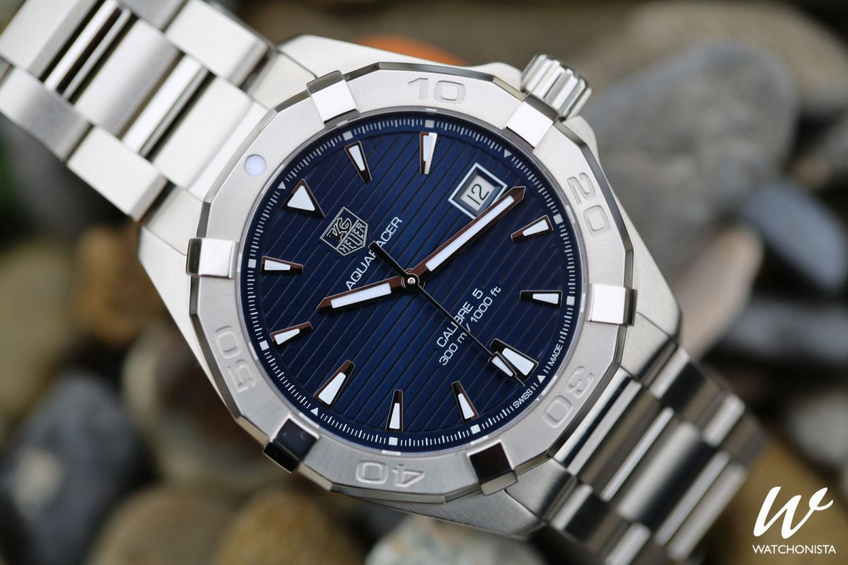 TAG Heuer Aquaracer 300M Calibre 5 Automatic
A deeper knowledge of TAG Heuer will make the appropriateness of the caseback even more obvious. Indeed, the brand has had a very intimate relation with water for quite a long time now. In 1895, it filed a patent for one of the first water-resistant cases for pocket watches. Then in 1950, it introduced the Mareograph Seafarer, an international exclusivity at the time; a chronograph equipped with directions for regattas and a tide indicator.
Ceramic variations
There is today a strong bond between water and the brand, which has a very strong communication strategy. While the Caliber 5 is certainly one of the range's most simple watches thanks to its all-steel look, the harmony of its shapes and the rhythm of its design have been revisited. Black or navy blue ceramic has been added to the faceted bezel. Some versions of this range come with an elegant leather strap. The 41 or 43-mm watch features DLC-coated all-black finishes.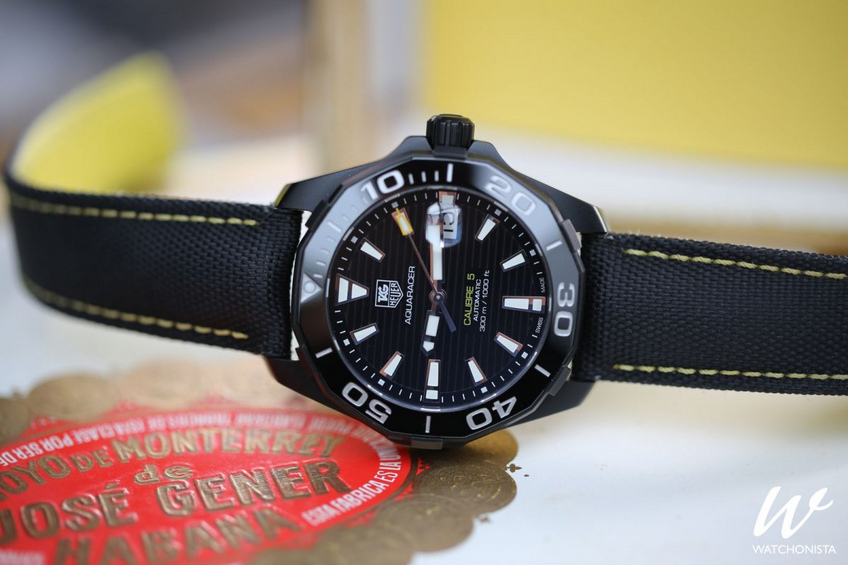 TAG Heuer Aquaracer 300M Calibre 5 Black version
On some versions, the engraving on the screwed back is accompanied by the coat of arms of the many sports adventures the watch is part of, and in other versions it sports a generic drawing of a diver's helmet. And so, this simple piece, epitome of watchmaking fundamentals, has become the official watch of the World Surf League for its Big Wave Tour, which just goes to show that it is pretty comfortable both at sea and underwater.
More information on the TAG Heuer website
By
Benjamin Teisseire
,
Contributor
TAG Heuer has a long history of diver's watch dating back to the famous Heuer 2000 series in 1982. In 2016 they introduced a number of re-interpretations...