The Longines Heritage 1973. There is no need to push!
A few months ago, a large supermarket in north London was closed after several police cars and ambulances attended a shopping bonanza which had evidently got out of control
The large UK-based retailer, Tesco, had promoted a tempting array of goods, offered at incredibly low prices. The short-term discounting regime was part of a 'Black Friday' promotion, widely employed in the US, but a relatively new concept in British retailing. A melee ensued after bargain-hunting shoppers lost perspective of what was acceptable behaviour. The coverage on national news channels showed seemingly ordinary British citizens aggressively grabbing wide screen televisions with blatant disregard for the safety of their fellow shoppers. It was a depressing spectacle and one which made one question the values systemic of today's consumerist society.
About value
I understand the concept of purchasing a product which delivers value. Indeed, like many consumers, I am constantly seeking products which deliver no-compromise quality while still representing exceptional value for money.
'Value' is a term which should not be confused with 'cheapness'. A product may be expensive but still considered value for money. The notion of value is that a product or service is priced at such a level that, compared to its competition, it appears to offer a high percentage of intrinsic worth relative to its asking price. Moreover, value is also a function of the utility derived from said product / service. For example, I have purchased an expensive pair of shoes which have delivered incredible value for money because I've found them so comfortable and practical that I have repeatedly worn them. Conversely, I have purchased a cheap pair of shoes, which I have worn only once, evidently lacking value despite the low asking price.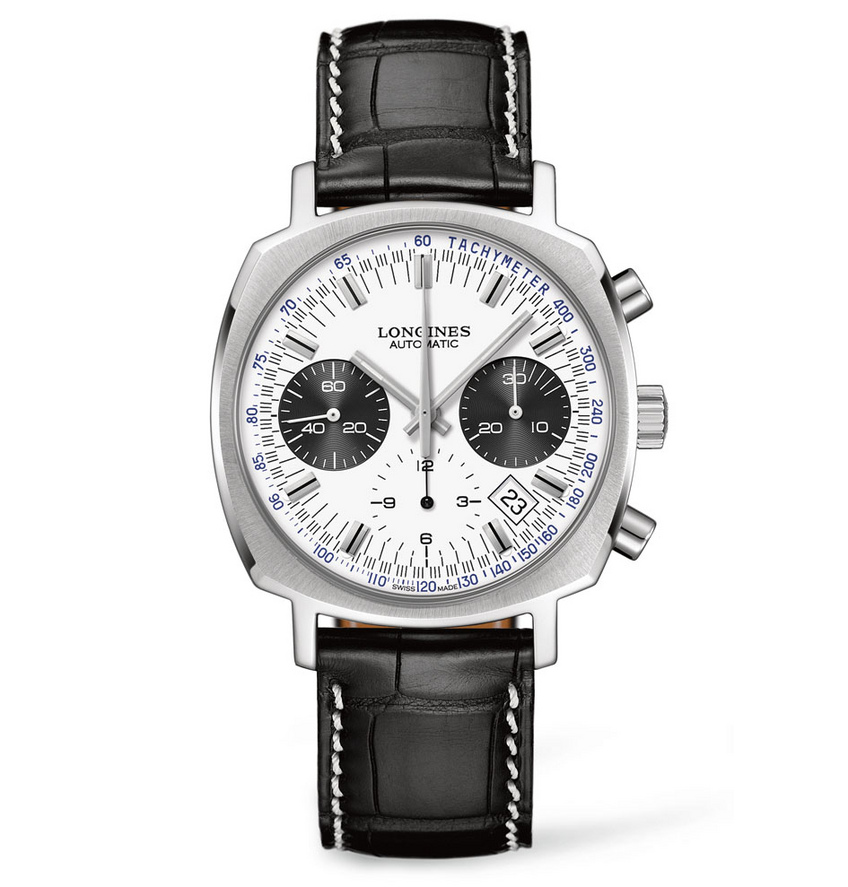 Longines Heritage 1973 Reference L2.791.4.72.0
Wearing the Longines Heritage 1973
While the world of high-end watches, especially prestigious Swiss timepieces, is about no-compromise creation and harnessing the know-how passed from one generation to the next, value still remains of critical importance. Recently, I had a few enjoyable days wearing the Longines Heritage 1973. The model, a column-wheel chronograph, delivered in a square-shaped steel case, is available in my native UK for a remarkably keen price of £2040 (RRP as at 3.5.2015). The question I have to ask myself is, irrespective of its low asking price, does this watch represent value for money?
The dial
The silver coloured dial actually appears white most of the time, conferring a clean and pure aesthetic.
Initially, I wrongly assumed the watch featured a bi-compax layout, sporting a highly desirable panda dial and granting a welcome symmetry to proceedings. However, close examination reveals a 12-hour chronograph register is positioned at 6 o'clock, employing a black hand and markers against a silvery coloured canvas.
While a third black coloured subdial may have proved more legible, I feel the stunning styling of this Longines watch justifies the approach taken. Moreover, readers can be rest assured that I found the 12-hour chronograph register remained simple to read and interpret, vindicating the decision by the designers at Longines.
The silvered polished hour and minute hands are rectangular in form and feature Super-LumiNova® which provides excellent ease of read-off, irrespective of whether it is day or night.
Longines has masterfully imbued this watch with an impressive specification with many features normally only found on more expensive timepieces. For example, the applied hour markers exude an air of quality with their rectangular, polished forms augmenting ease of interpretation. Moreover, the judicious use of Super-LumiNova® once again aids visibility in restricted light.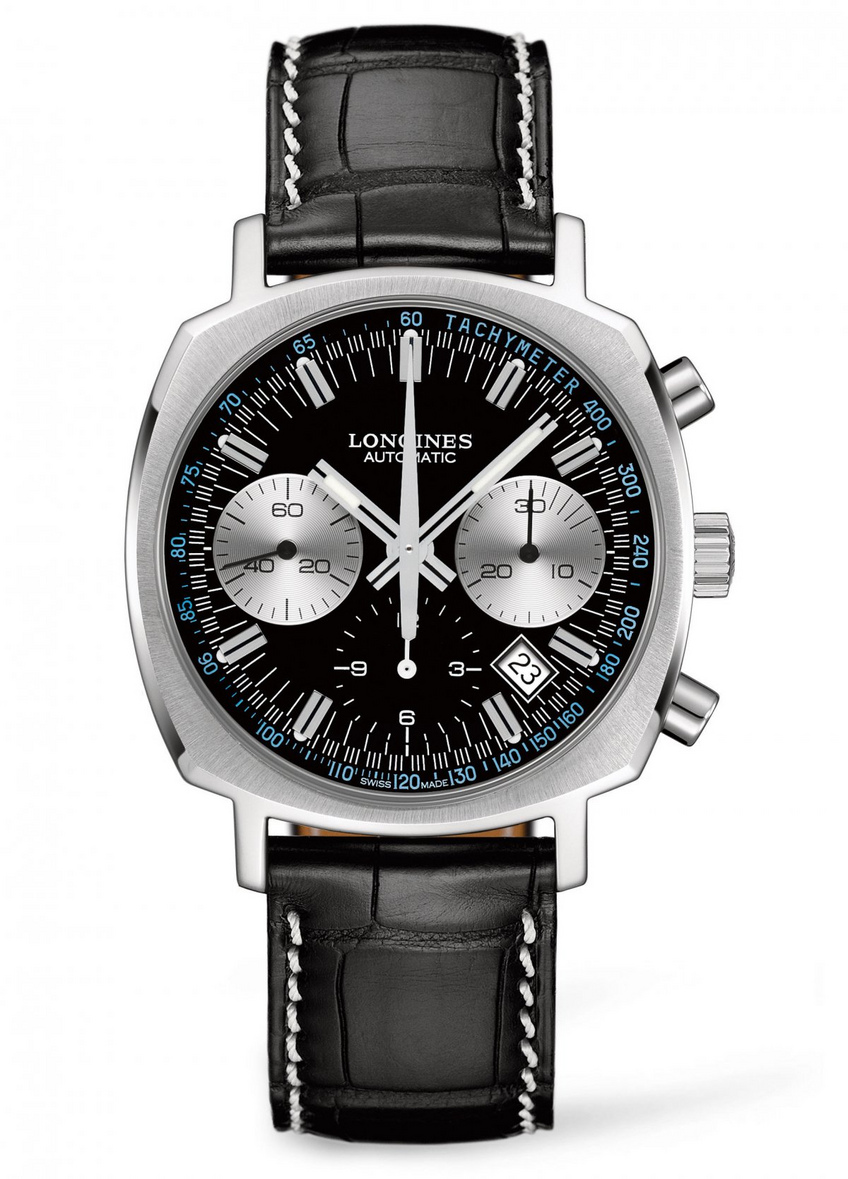 Longines Heritage 1973 Reference L2.791.4.52.0
A date display is positioned between 4 and 5 o'clock, employing black text on a white date disc. The prevailing date is succinctly and crisply imparted and because this is an integrated chronograph movement, the date does not sit too low within the case. This can be a failing of some modular chronographs, but the close proximity of the date display to the dial surface on the Heritage 1973 proffers superb ease of read-off.
A tachymeter scale encircles the periphery of the dial. This function helps the wearer determine the speed of an object over a predetermined distance, proving ideal for athletes, racing drivers and those of a competitive disposition.
The only minor criticism I would make of the dial is that the circlet of markings positioned between the hour markers and the tachymeter scale, showing ¼ second integers, does seem to unnecessarily clutter the extremities of the dial area. Their inclusion is logical for a chronograph, but I think they would have looked neater if positioned between the hour markings. Nevertheless, I should point out that this is a minor grumble and would in no way dissuade me from personally choosing this watch.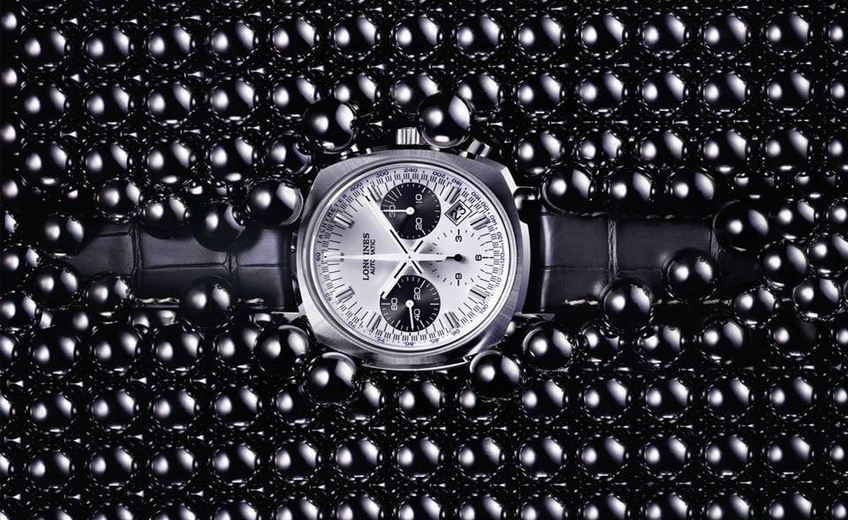 The case
The 40mm case diameter, whilst large when compared with vintage timepieces, does not subscribe to the "ice hockey puck" dimensions of some popular watches sold in recent years. The watch appears a tad larger than the specification sheet suggests, probably as a result of the square profile and faceted angles of the case. The perfect proportions of the Heritage 1973 should ensure longterm eye appeal.
The watch sat comfortably on the wrist and felt at one with my arm. At no stage did the timepiece cause any unsightly red marks or impede the free movement of my left hand or wrist. There is much virtue within the case of this watch, courtesy of the impressive self-winding movement beating within. It is for this reason that I applaud Longines for equipping the Heritage 1973 with an exhibition caseback that freely discloses the alluring mechanical movement.
This watch is supplied with a black alligator strap, equipped with a stainless steel pin buckle. The quality of the strap did not feel quite as luxurious as other aspects of the specification.
Furthermore, I felt that the shiny pin buckle lacked the hewn from granite solidity of the stunning case. Would-be buyers may wish to upgrade the strap after acquisition and likewise Longines may wish to consider equipping this watch with a better quality pin buckle in the future.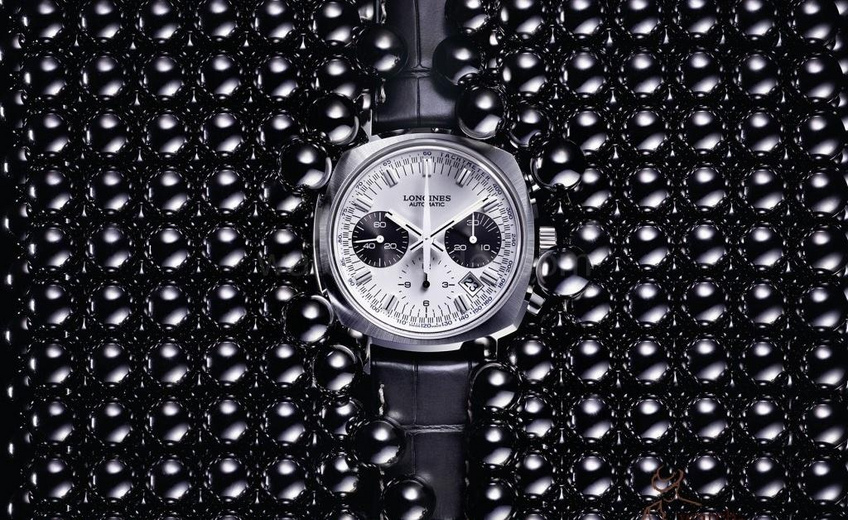 The movement
The calibre L688 is self-winding and comes with an impressive specification, including an oscillating mass adorned with Côtes de Genève motif and sumptuous perlage decorating the bridges beneath. However, the most notable aspect of this movement is the sight of the blue column-wheel, typical of watches normally costing substantially more. The benefits of a fully integrated movement become obvious within moments of pressing the pushpieces for the first time.
Firstly, pressing the pushpiece at 2 o'clock delivers a sublimely smooth action and rewards the wearer with a high degree of tactile delight. Few cam-actuated chronographs could ever match this exquisite interaction between the watch and its wearer. Secondly, when actuating the chronograph, unlike some modular movements, there is a distinct absence of stutter as the central chronograph seconds hand commences its circular path of trajectory.
These details may sound minor, but to the discerning buyer they represent the raison d'etre for paying a price premium over cam-actuated chronographs. In this instance, Longines has torn up the rule book though, delivering this majestical magnificence, typical of a fully-integrated chronograph at an incredibly accessible price.
Closing remarks
A few years ago, I fell for the abundant charms of another fully integrated Longines chronograph, offered at an amazing price and featuring a comely pure, chaste dial. The watch combined gorgeous looks, an impressive specification and, most notably, incredible value for money.
The Longines Heritage 1973 continues this impressive approach to watchmaking, again delivering exceptional value for money. Longines, a subsidiary of Swatch Group, perfectly demonstrates its production prowess with this model and clearly capitalises on the incredible economies of scale the parent company is able to provide.
With impressive pricing and exceptional value for money, there is no need to push your fellow shoppers to secure a bargain. The Longines Heritage 1973 doesn't require discounting or sales gimmicks, it can be found at an authorised stockist near you, offered at an affordable price.
Made with the support of Longines
By
Benjamin Teisseire
,
Contributor
Longines has a long history and is reviving it through a dedicated series of vintage inspired designs. The latest is their Longines Heritage Military COSD....