High up in the sky with Carl F. Bucherer Patravi TravelTec FourX Limited Edition
Is there any way you can get a permanent connection with the notion of time if your life is spent flying above Lucerne, Saint Lucia in the Caribbean and New York? In fact, yes, there is only one, and that is a timepiece that keeps you in touch with reality.
Suddenly, the call of the sea takes the shape of a tourist office proposing a trip to a lucky few members of the press. I check the time on my Carl F. Bucherer Patravi TravelTec FourX Limited Edition and I tell myself that time flies and we only live once and one thing leads to the other. I find myself hurrying to get ready for the trip in anticipation of the adventure and everything else that lies ahead.
Pearl of the Caribbean, the paradise island of Saint-Lucia
A kind invitation that was very difficult to turn down, especially as Wi-Fi was included in the trip's description. I could verify that as soon as we got there, several networks were available to allow us to keep in touch with the rest of the world in this remote island between the Caribbean Sea and the Atlantic Ocean.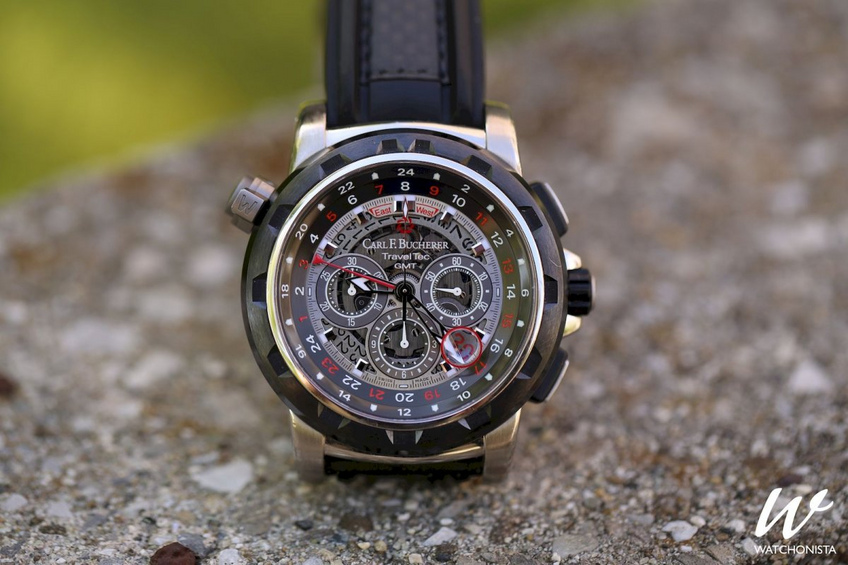 Carl F. Bucherer Patravi Traveltec FourX Limited Edition
With the help of Isabelle Coornaert, manager of the Paris tourist office, I was flown directly to the island with its beaches, mountains, several rivers and active and dormant volcanoes, which make for one of the world's most splendid views. Indeed, just like the chipped halo of a very big crater, two picturesque peaks stand out from the oceanic abysses and are so beautiful that neighboring and rival islands shamelessly use them in their own descriptions to boast of their views.
Vestiges of Qualibou, a volcanic chain also known as "Soufrière", the pyramidal peaks in the south of the island are like two volcanic needles in the middle of the supernatural reflections of the ocean. Almost divine, they are the most beautiful view in the Caribbean, and not undeservedly they were listed in Unesco's World Heritage sites in 2004. Three languages cohabitate in St Lucia – English, French and Creole as well as different ways of life and plenty of sometimes-muddy and sometimes-clear or hot and volcanic freshwater, mountains and vast greenery. It's heaven on earth only 20 minutes away from the coasts of Martinique and two and half hours from Miami.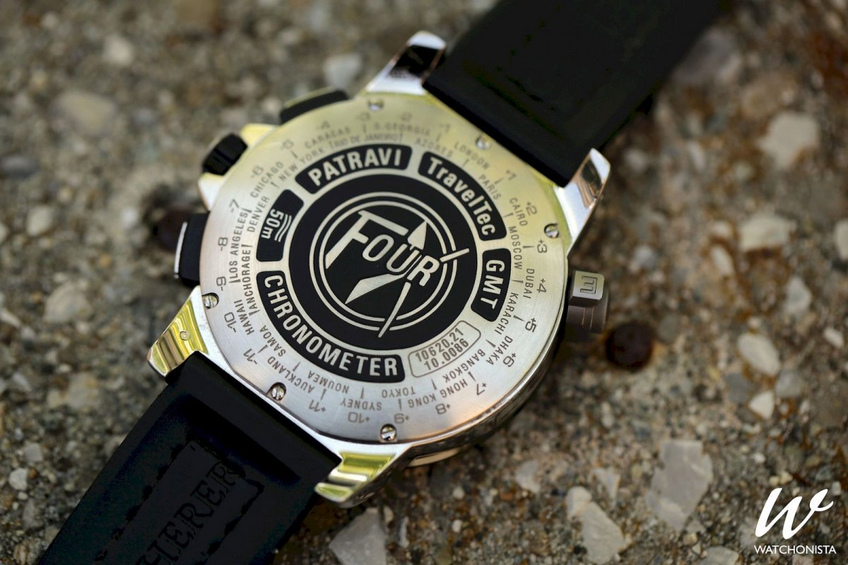 Carl F. Bucherer Patravi Traveltec FourX Limited Edition
People get married or renew their wedding vows there, and it has even become a trend in worldwide showbiz. The place makes anyone who visits hope and dream, or just want to settle there. Who would have thought that a few days long hands-on test could end up like this, transforming the initial initiative into an unforgettable world trip?
Multiple hours and a travel diary
Luckily, the watch involved in the adventure proved to be a main element in the scenario – three time zones, four materials, 18K pink gold, titanium, ceramic, and a new watchback. This very technical model could not be better. Who would have thought that my first meeting with this Patravi TravelTec FourX Limited Edition that Carl F. Bucherer lent me would take up so many lines in my travel diary? Here's to blessed moments, memorable hours and eternal minutes.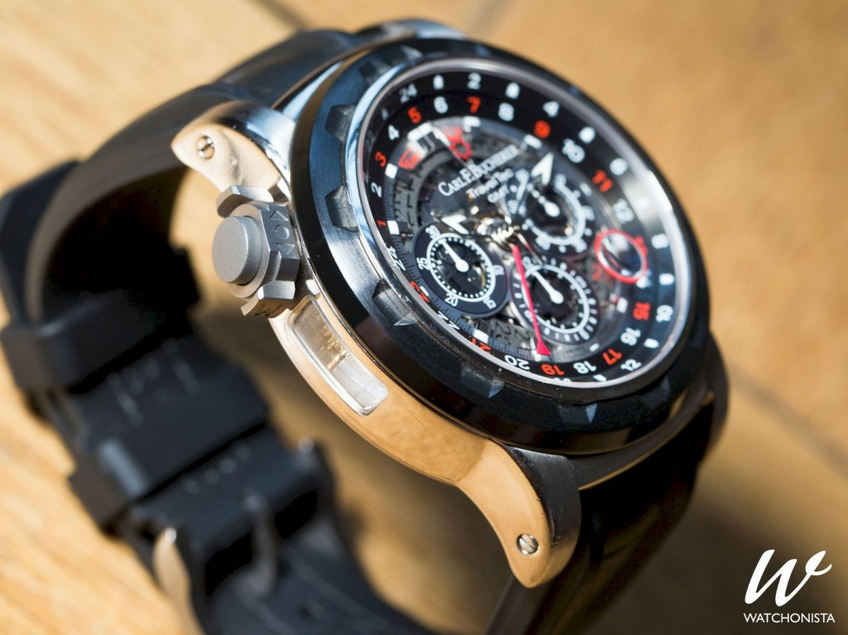 Carl F. Bucherer Patravi Traveltec FourX Limited Edition
The brand was created in 1888 on one of the banks of the Quatre-Cantons lake, in Lucerne. Its history is that of a modest family business that has become an international flagship maison of German-speaking Swiss watchmaking; a monument of independence, rigor, reliability and timeless aesthetics since it is mainly controlled by functional need.
On the occasion of the brand's 125th anniversary in 2013, the Patravi TravelTec FourX was introduced in a limited edition, together with three other models –the Manero MoonPhase, the Manero Tourbillon and the Alacria RoyalRose. In the same year, the international exhibition of 200 watches that have marked the brand's history was added to the jubilee book entitled "Célébration de 125 ans d'histoire suisse du temps" (Celebration of the 125 years of Swiss time history).
Light and transparency, functional nobility
I couldn't take my eyes off of it even when I was in the twin-engined aircraft with nine places and propellers that flew over a fascinating and evocative cloud between Point-à-Pitre and Castries. The piece is somber and black, just like the cockpit where a number of complex counters have been placed, surrounded by a light reflecting off the glass surface of the cabin. The large 46.6-mm case is transparent on the sides and gives a view on the complexity of the geartrains of its self-winding CFB 1901.1 mechanical caliber. And what an impressive caliber it is: it features chronograph functions to measure time lapses, a simultaneous display of three time zones (that are easily set by a single patented push button), the date, hours, minutes and small seconds.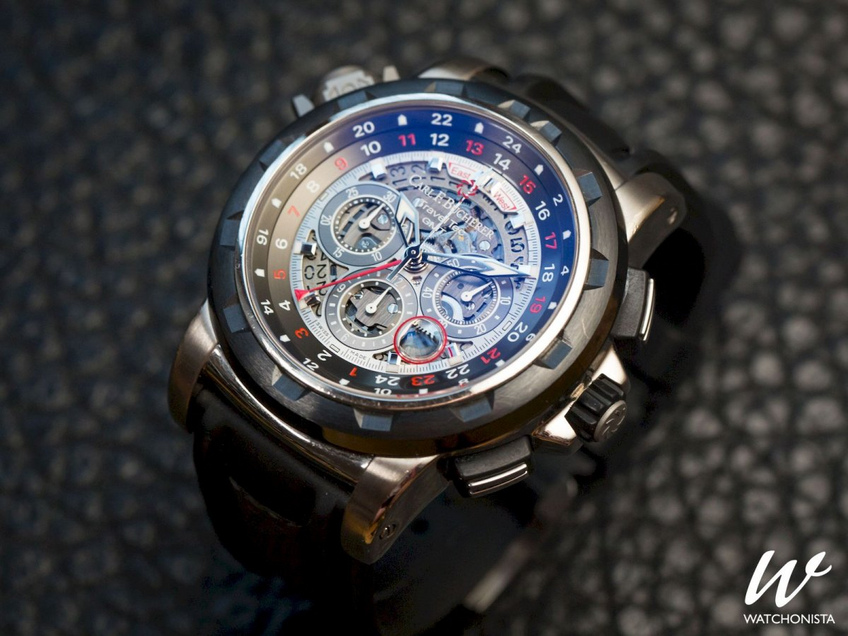 Carl F. Bucherer Patravi Traveltec FourX Limited Edition
On the dial, reliefs and side-by-side sub-dials that sometimes overlap are displayed. There's New York, where one of my partners is located; Pully in Lucerne and Geneva, where urgent business, unexpected events, imponderables and family voices transpire. The dial also features Castries, capital city of Saint Lucia. Three different hours inseparable from a monobloc life that indulges in a dream-like semi-vacation. You could get used to the crazy little things there - the "Bois d'Orange" fragrance, driving on the left, Chez Marie, a small beach bar that sells flavored rum, the fishing harbor, and the Soufrière church. You could also get accostumed to the ultimate, three-dimensional luxury of the Ladera Resort, a private complex perched on a steep mountain side with wide spaces that overlook the ethereal beauty of the two peaks, without bay windows or a fourth wall. The sunrises and sunsets seen from there are very striking. Warm and moderate temperature for life, how tempting. You are treated to warm sand and nourishing lagoons, as well as the fruit of life, the omnipresent and all-rounder coconut – its milk is a beverage, its sap is used to make the skin shine, its flesh is given to children to eat, and its wood and bark are recycled into building materials or utensils.
Titanium to the rescue: saving lightness
Even though I am quite fond of pink gold, the version I was lent was introduced in titanium in 2016 – material known for its lightness and shock-resistance.
Carl F. Bucherer Patravi Traveltec FourX Limited Edition
It even makes a better contrast against my white skin. What could have been seen as a black PVD-coated galvanic treatment is in fact a ceramic coating. Quite the rebellious material, it nevertheless thins when heated and has the air of a lava stone.
The decor was set to make me relax and indulge in some well-deserved laziness. Yet, I felt duty call even though my watch's 42-hour power reserve was practically begging me to forget everything just for a weekend. Alas, this watch is at ease and on time for swimming – it is water resistant to 30 meters – and elegant suppers accompanied by sentimental languidness. It bodes well for a brand whose always good-quality products fall in the hands of an expert public: globetrotters dressed for business or in vacation clothes, or modern adventurers at work or in elegant clothes.