Exclusive: the Jaquet Droz dial, a mosaic of organic material
The PHM Mosaic Elephant, presented for the first time at Baselworld 2015, was made using a unique process: broken up quail eggs laid out on the dial to form a miniature mosaic. Talent plus ideas…
New materials are constantly shuttling back and forth between the sector where they were developed and watchmaking. And among them, somewhere between chemistry and physics, some organic materials occasionally rise to prominence. It's definitely a long list and compiling an anthology would probably be a good idea.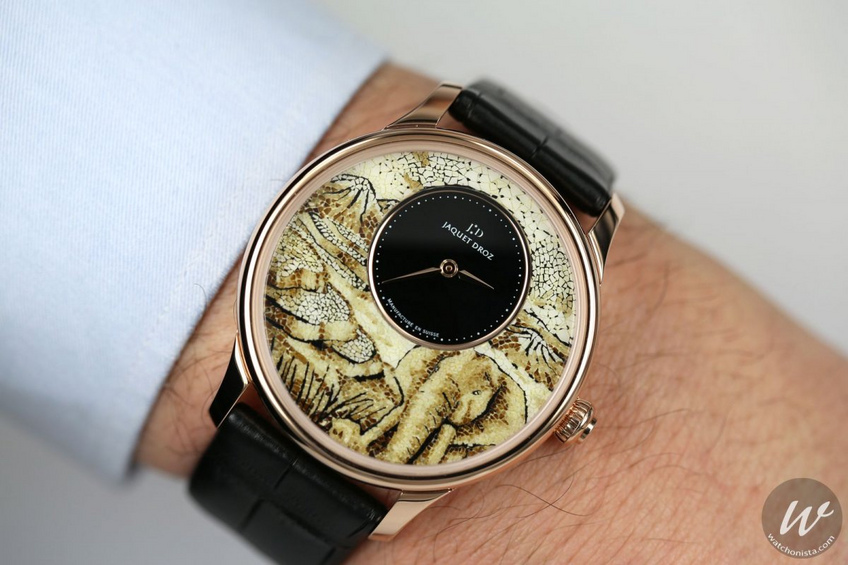 Jaquet Droz Petite Heure Minute Mosaïc Elephant on the wrist
Shattered quails eggs
But before we get down to that, here is a material that has never been seen before: quails' eggs in the world of the micromechanical horological arts, which are increasingly rubbing elbows with outstanding artistic talents. In the end, there is no better brand than Jaquet Droz to face the challenge. From a poetic standpoint, it has the specific know-how cultivated in honor of Pierre Jaquet-Droz (1721-1790), one of the greatest makers of automatons ever. In fact, the brand from la-Chaux-de-Fonds has always been a master in the mechanical animation of birds.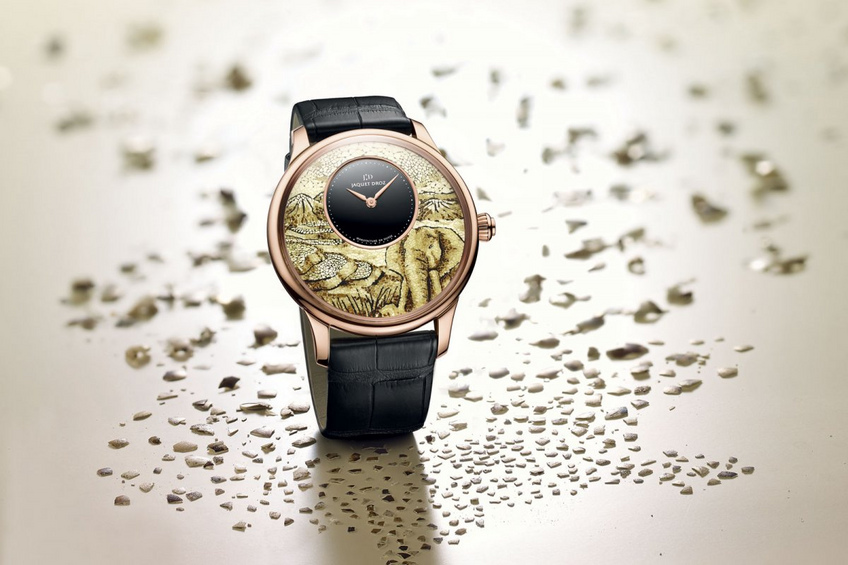 Jaquet Droz Petite Heure Minute Mosaïc Elephant
Unusual and innovative at the same time, the creation by an in-house employee, indeed, a great artist, is a feat in itself. This new creation, called Petite Heure Minute Mosaïc Elephantcould be seen at the brand's Baselworld 2015 booth by anyone with enough indiscreet and tenacious curiosity. You just had to walk up to the booth armed with a watchmaker's loupe to become aware of the extraordinary prowess that went into the timepiece. At first glance, it looks like a beautiful object produced using some special galvanic treatment giving a matt and grainy look, , an effect whose fine texture might suggest rhodium plating. And there is good reason.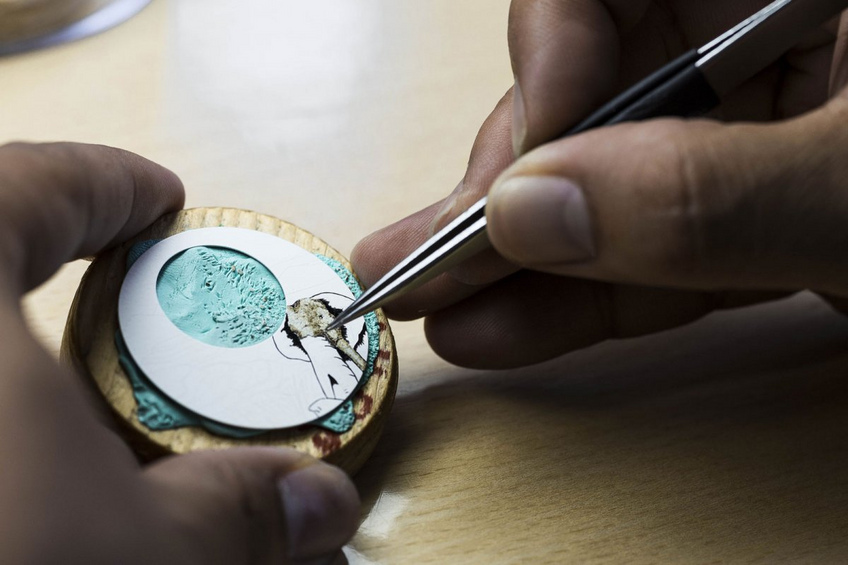 Working on the Jaquet Droz Petite Heure Minute Mosaïc Elephant dial
The jeweler of graininess
Indeed, each fragment has been delicately placed by hand. The must have lasted at least 200 hours and includes almost certainly – this is not written anywhere – a complete revision by an ophthalmologists once all the work has been done. Breaking eggs is all fine and well. But quails' eggs essentially come in different hues: There is the white that is so typical of the shell, and also a whole range of greys and blacks that differentiate it from eggs from other bird types. So the project began with a careful selection by color, little distinct piles each containing identical hues, but not necessarily of the same size. There are fragments with a certain profile that were patiently set aside in order to be used at a propitious moment in some artistic composition. Once that operation was done, all it took was the craftsman's artistic sense to kick in. It started with an idea of a motif, a decorative element, a sketching out of the contours and the forms… The way a painter might do on his final canvas, except here the amount of patience and the restricted space available for expression are hardly comparable and suggest a method that is quite difficult.. The diameter of the case is 43 millimeters, but the dial's does not pass the 37-millimeter mark.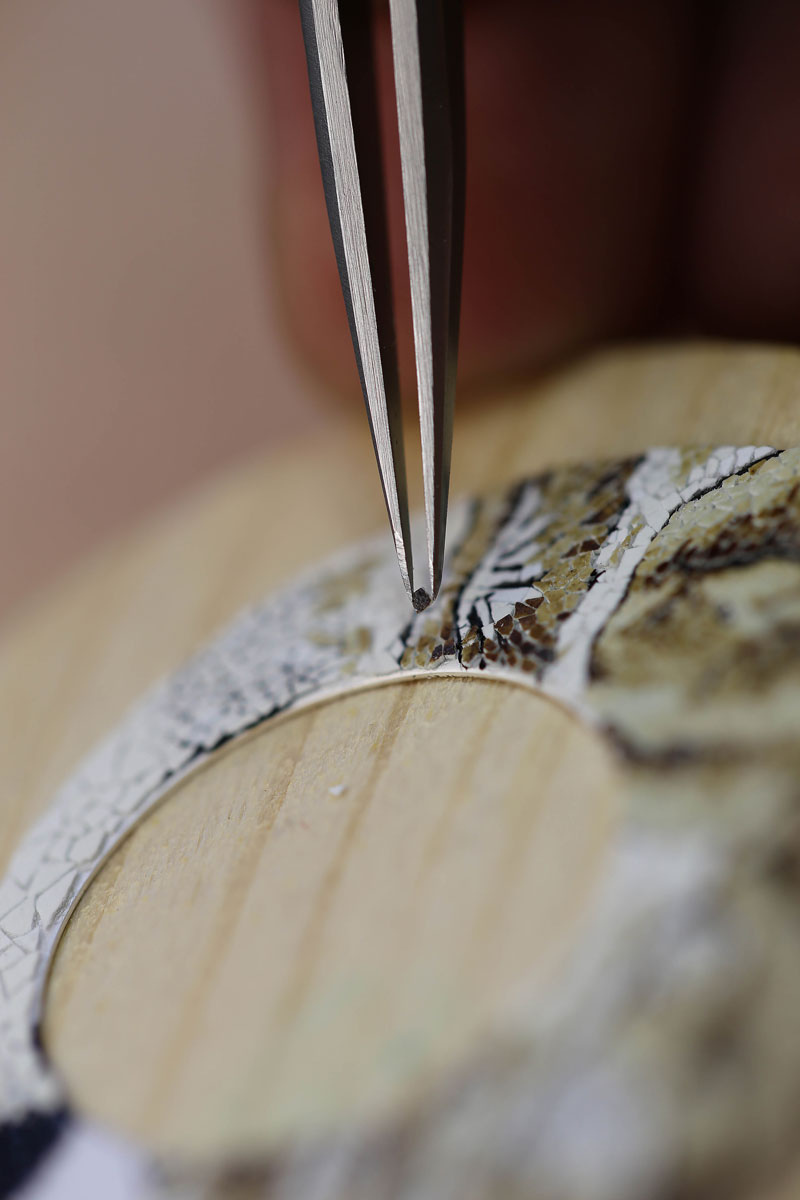 Jaquet Droz Petite Heure Minute Mosaïc Elephant close up
An original method
Actually, it all began when a member of the Atelier d'Art at Jaquet Droz went on a trip to Vietnam. While there, he came across a technique that consisted in using duck eggshell scraps to create large mosaics. Back at his watchmaking workstation, in the Crêts de Locle building next to La-Chaux-de-Fonds, he set about inventing a new artistic medium. Quail eggs were used rather than those of hens due to their greater range of hues. They came from a quail-breeding parent of a colleague. The fellow then set about developing his own approach, first checking quality and then cleaning the shells, breaking them, and sorting the different pieces. The result: three piles, three hues of grey, with another pile reserved for the fragments kept for use in places that require a certain profile. Each fragment then gets a drop of glue in a spot that needs to be chosen very carefully owing to the curve of the pieces. So the artist sets about his work choosing a point of departure from which the drawing then gains ground bit by bit. Gradually an elephant appears, a symbol, in Asia, of hope and intelligence, strength and longevity. It is delicate work, careful, long and fastidious. The artist is not allowed to make a single mistake, because the material cannot be erased, nor can he retrace any of the steps. Once the job is finished, he covers the drawing with a protective lacquer coating, which harmonizes the plane surface while adding an effect of depth and thickness.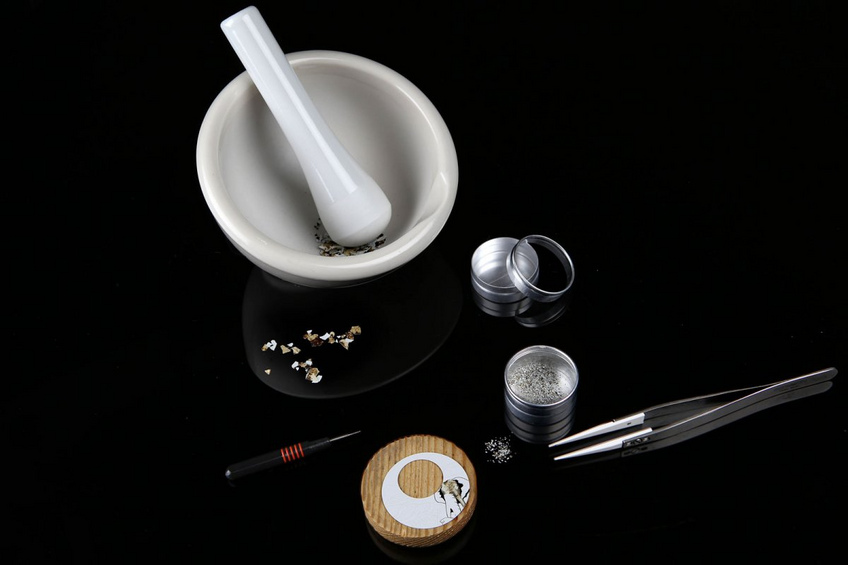 The tools required by the marquetry craftsman
An exceptional caliber and outstanding materials had to be selected for this stunning work of incalculable value and with a unique connection to the world of animals. The masterpiece is now harbored in an eighteen-karat pink gold case from the Petite Heure Minute collection. It covers the model's other great asset, a mechanical one, the 2663, a Jaquet Droz automatic caliber with an excellent pedigree , whose oscillating mass features the entire image of an elephant in a rice paddy on a background of mountains. Is it a man's watch? Or a woman's watch? That's irrelevant, because it's a timepiece that is fully in sync with the company's highly identifiable style, thanks to the recurring figure eight that appears on the dial. Without the support of the brand, which gave us exclusive access, this timepiece might have remained in the shadow cast by its brethren that bask in the spotlight, like the highly publicized Charming Bird.
In our contemporary world, music is everywhere, every time, brightens up and glorifies our everyday life. From the startups of the Silicon Valley up to the...