Concord's new Mariner Gent Cobalt Blue Dial
Is it a memento or a premonition? When I was entrusted this stunning blue timepiece for a test in the middle of summer, I found myself thinking: "Oh, you again!"
But were we meeting again? The watch did look familiar to me and indeed the aesthetic range to which this Mariner Gent belongs reminds me of the 1980s, the time when I had summer jobs at factories that made watch cases in La Chaux-de-Fonds.
Blue, waves and winds
The watch is formal, classic and breathtakingly timeless. As soon as my eyes landed on it, it triggered a deeply etched memory that evoked a warm post-studies nostalgia. I don't really recall whether the pieces from back then had 41-mm cases, which today corresponds to an inevitable return to normal sizes. In any case, even though it sports some unchangeable standard features, it is a new and definitely contemporary watch.
And obviously, what with its name and the fact that it was launched during the summer of 2015, it is of course water resistant to 50 meters or 5 atm. Its Super Luminova coating brightens the rhodium-plated indexes, making them thus quite useful for diving. The Majorelle blue of its dial evokes deep seas and the distinct atmosphere of the surrounding Marinas. The color is the result of an intense galvanic treatment. The watch's back is engraved with a wind rose that enhances its signature marine waves. The fine brushed polish of its bezel and strap alternately reflect sunlight and salt droplets. Let's not forget that stainless steel is especially useful against the effects of salt and UV rays on your personal objects in the summer. This piece can hence be worn as well in the water as for both more mundane and high society soirees.
Criminal detuning
There is just a little snag: the date affixed at 3 o'clock is so perfectly set that it might almost threaten the relaxation that comes with true vacations. My first reflex was to detune it and thus thwart any idea of returning to work.
And I did it without any shame because at this point, I remembered the famous slogan invented by Concord, yet another buried memory of my general horological knowledge. Back then, the brand dared to display the famous "Be Late" slogan on its posters and advertisements which showed a new born baby held by its father who did not seem to care much about any other schedule. Such a slogan caused a ripple in a sector obsessed with precision and indeed the campaign was so daring and disruptive that it must still fascinate the leaders of today's trends.
Concord: a complete legacy
And since I made this trip down memory lane, let me just remind us of Concord's incredible wealth. The Swiss brand was founded in Bienne in 1908, where its headquarters were relocated to in 2013. In 1909, it opened its first subsidiary company in America where it even attracted the attention of President Truman. Since 1979, it has been part of the North America Watch Corporation.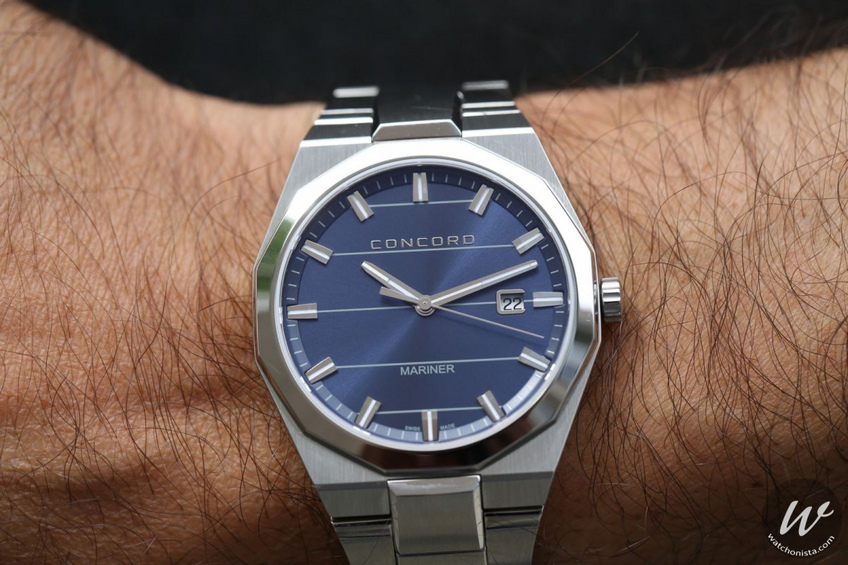 Concord Mariner Cobalt Blue on the wrist
Founded by Gerry Grindberg, a Cuban exile to whom Piaget had entrusted its distribution in the United States, the North America Watch Corporation acquired Concord and soon bought and developed Movado, another Swiss watchmaking flagship brand. The latter was afterwards renamed the MGI Luxury Group and then became the Movado Group Inc, one of the watchmaking groups the global market today has to take into consideration. As of today, the group own over ten brands, one of which is Ebel. Its stock exchange listing did not make a dent in the family dimension as Efraim and Alex Grinberg (from the third generation) are still at its head today. Guardians of an exceptional entrepreneurial history, they will never forget that Concord is at the inception of their family adventure.