Bulgari Diagono Scuba 2016: blue abyss
This summer, Bulgari has transcended the concept of time by combining the passion to live life to its fullest with vast marine spaces. A delightful surprise for aesthetes who also enjoy the waves.
This summer I wore Bulgari's Diagono Scuba in Capri for a series of special photo shoots. In 2015, in Porto Cervo (Sardinia), a member of the same family initiated me into the world of underwater adventures and festive outings.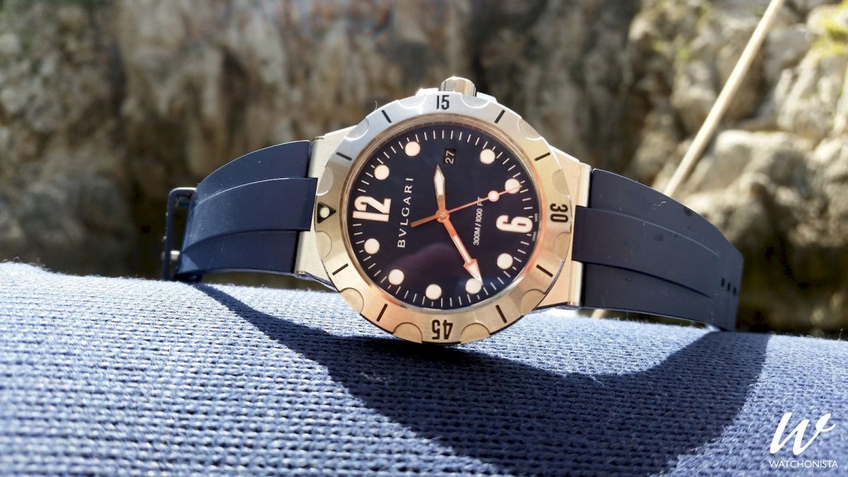 Bulgari Diagono Scuba Blue Dial and rubber bracelet
Refinement, style and elegance in deep blue
There are two kinds of diving watches. On the one hand, the very conventional and standardized that are all about functional assets, as their bulky shape prove.. These are first and foremost diving watches and they have a very specific appeal – the reassuring feeling of safety for fans of this sport. On the other hand, however, we find elegant and classy pieces with the undeniably appealing look of an icon, and which are also fitting for all occasions.

Yet, beneath the appealing looks and the undeniably accurate aesthetic sophistication, there is a true measuring instrument. To top it off, the one at hand comes with a number of patents that certify its water resistance to up to 300 meters. It's a rigorous diving watch of rare refinement that can also yield sports performance.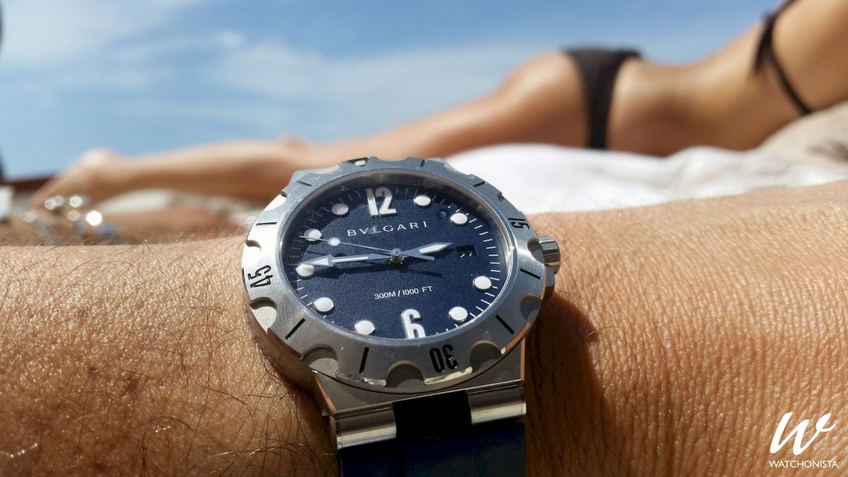 Bulgari Diagono Scuba Blue Dial and rubber bracelet
For aficionados, 1994 was a key year in the history of Bulgari. Indeed, it marked the launch of the Diagono Scuba, a watch specifically dedicated to underwater performance and a nautical version of the sports model that had already made a place for itself in the minds and hearts of its fans. Then in 2015, this digest of Italian elegance and technicality was introduced in four new versions that feature the brand's art of seduction, which is the result of over 20 years between Roman columns and age-old archways. The four new versions feature a 41-mm case and thus blend perfectly both in the deep marine abyss and in worldly festivities.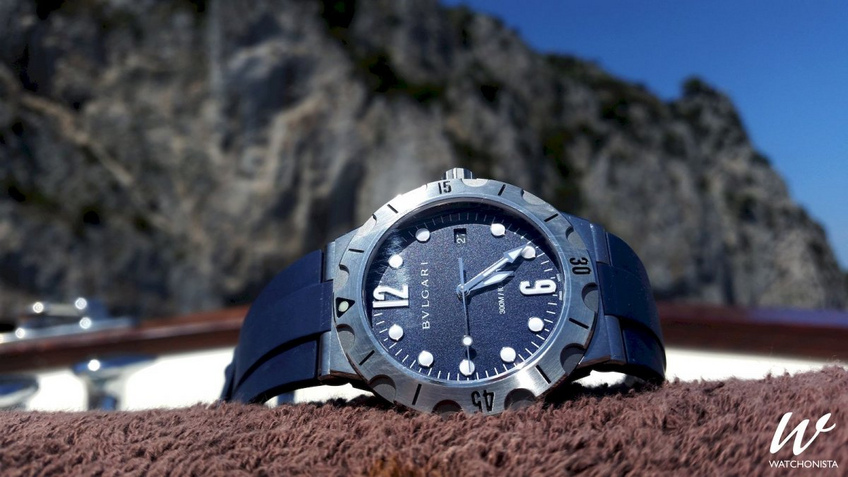 Bulgari Diagono Scuba Blue Dial and rubber bracelet
My absolute favorite is the blue rubber strap of this 2016 steel version, which matches both the deep blue dial and the depths of the ocean over the steel strap also available for this Diagono Scuba. Oh well, you know it as well as I do, everyone has its own likings and tastes.
Assumed duality, both aestheticly and technical
This 2016 ocean blue version of Bulgari's Diagono Scuba surprised many by the fact that it works perfectly in both clear and slightly murky waters – the latter being the ones usually chosen by the adventurous and fun-loving. Without missing a beat, the piece functions just as well during hunts for sea urchins and in the search for beneficial freshness.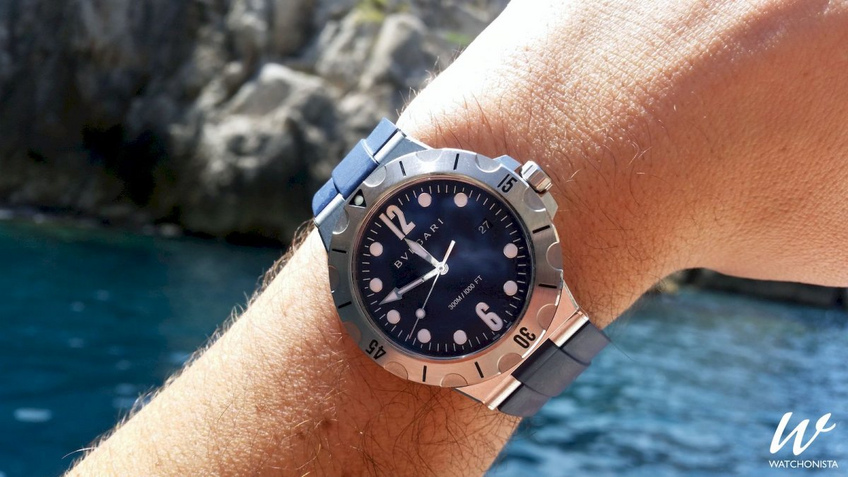 Bulgari Diagono Scuba Blue Dial and Rubber bracelet
Incidentally, this polyvalent watch becomes essential in this type of setup. Imagine going around Capri in a Gozzo, one of those small engine-driven boats that are so common there. Now picture stopping from time to time to dive into the invigorating water. Feel the foam and the seaspray on your skin as you enjoy the breathtaking view from the boat on the impressive Faraglioni, the huge natural arches brought to ocean level by centuries of erosion. After that experience, nothing better to recover forces than an aperitif at Tiberio bar in la Piazetta, the temple of life where locals and tourists blend in. These open-sky rendez-vous see the hot days slowly turn into moist nights, which allow for elegant and resolutely stylish outfits to be worn.
In such contexts, the Bulgari Diagono Scuba becomes much more than just time-measuring object with the help of the 28,800 vibrations per hour of the in-house BVL self-winding caliber. In fact, it has an existential connection to the ticking of time;a time that can also be stopped, thanks to the subtle stop-second system that is activated when the crown is wound.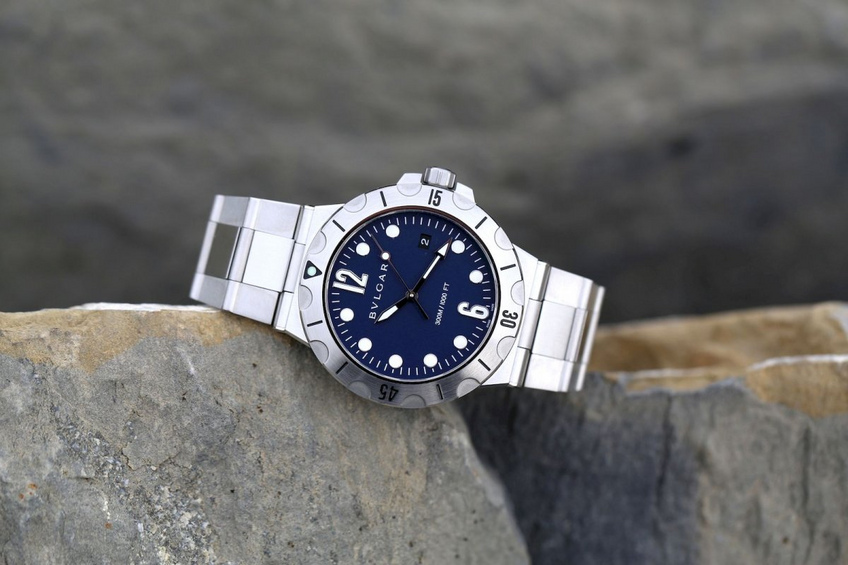 Bulgari Diagono Scuba Blue Dial and steel bracelet
On top of its appealing looks and the fact that it is a convenient piece for summer nonchalance, the piece is equipped with a mechanism that allows it to stop at any given time to save energy and avoid over-using its pinions. In short, it is perfect for well-deserved rests. It is also perfect in the sense that its instantaneous date change tells you what day it is when you have to get back to real life.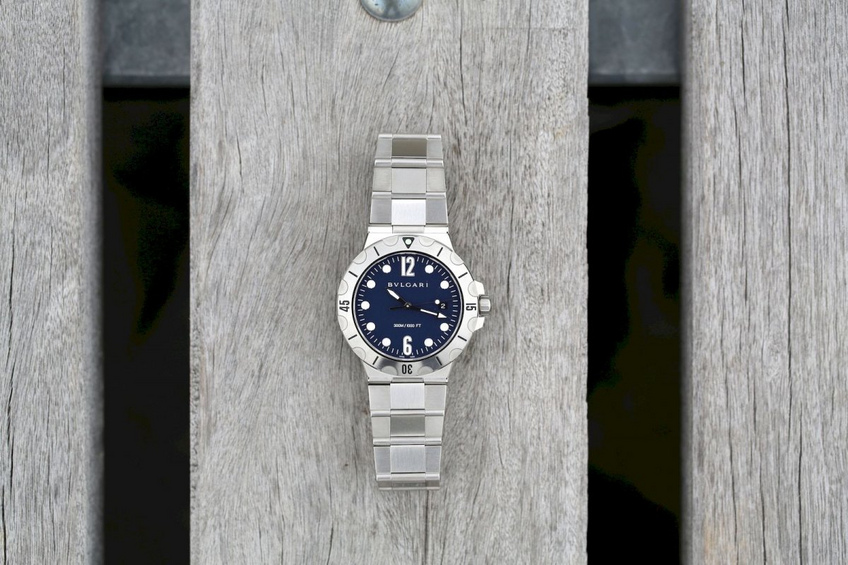 Bulgari Diagono Scuba Blue Dial and steel bracelet
To conclude, I very much enjoyed sharing these moments in Capri with this discreet, refined as well as loyal and functional companion. I have once again been seduced by a watch from Bulgari's Diagono Scuba diving range. If we were to compare it to the gold model that I tested in Sardinia in 2015, the 2016 steel version is dedicated to the deep abyss of oceans all over the world and has a resolutely younger look. Moreover, this piece contributes to the range in that it takes it even further in its expression of sport-chic pieces.