Armin Strom Tourbillon Water: the blue legitimacy of a Manufacture
Armin Strom's tourbillon exposes its inner mechanics with a wise combination of open work and hollowing. Enough to pique collectors' curiosity. Here are some of its special and distinct features.
When the brand announced its intention to enter the highly selective circle of watchmaking manufactures that design, set and produce their own tourbillons, sceptics huffed: "Yet another tourbillon". But the brand's tourbillon is entirely produced in-house and not just bought from one of the rare tourbillon manufacturers to be then tinkered with here and there. And not only that, but it also makes several tourbillons in one go instead of producing only one for the buzz and for the sake of its beauty. This clearly defines the brand's status. Armin Strom has discreetly made its way to the first rank of this exclusive circle amongst famous and prestigious names.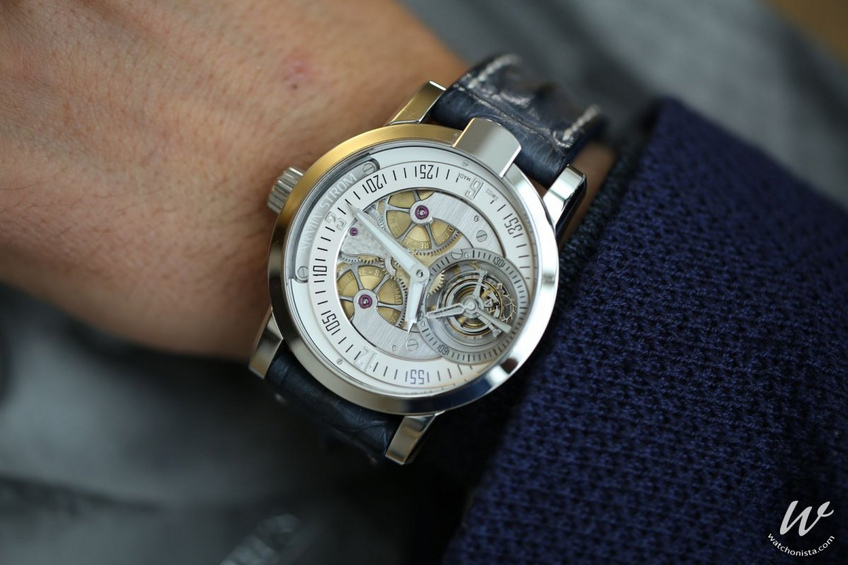 Armin Strom Tourbillon Gravity Water
The ATC11 tourbillon caliber
The purpose was not to create a simple tourbillon. Let's not forget that the Manufacture is led by two men, one of whom is none other than Claude Greisler, watch designer and former repairer of antique watches.
Hence, the tourbillon had to have some additional technical features. Another reason behind this decision was that the matrix from which base calibers were produced was designed to potentially house complications, including high-end complications.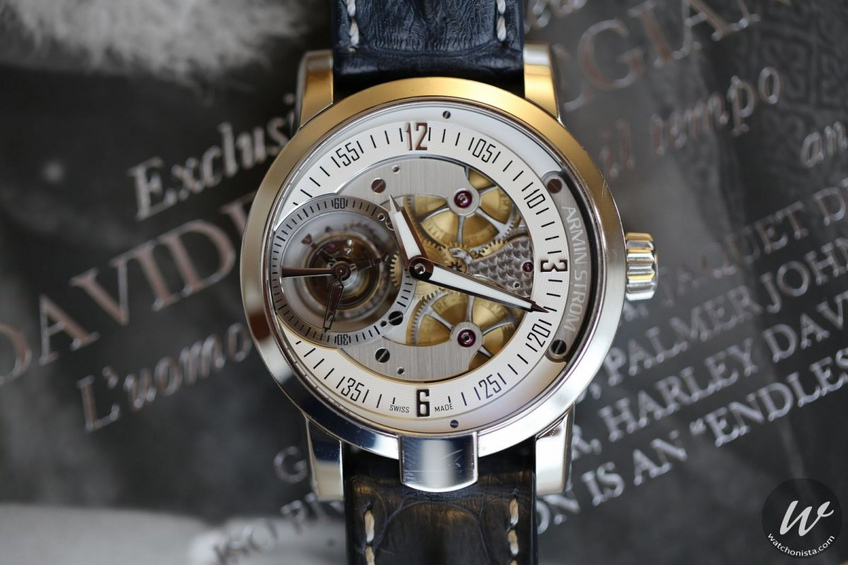 Armin Strom Tourbillon Gravity Water
Equipped with 184 components, the ATC11 stands out thanks to its 18K white gold lever and to its assembling, where both the balance and the seconds pinion have been fitted on the same axis. As usual, the whole mechanics has been off-centered to the middle's interior, thus providing interesting and different aesthetics. Hence, experts will immediately appreciate that this is indeed an in-house caliber and not just some mechanical movement bought from subcontractors.
Like all other calibers in the range, it features a 10-day power reserve and a double barrel whose movements can be seen when the piece is wound. It has a frequency of 18,000 vibrations per hour, a reliable balance, which is neither fragile nor slow and a white annular dial with affixed appliques. Its titanium case is water resistant to 50 meters (5 atm).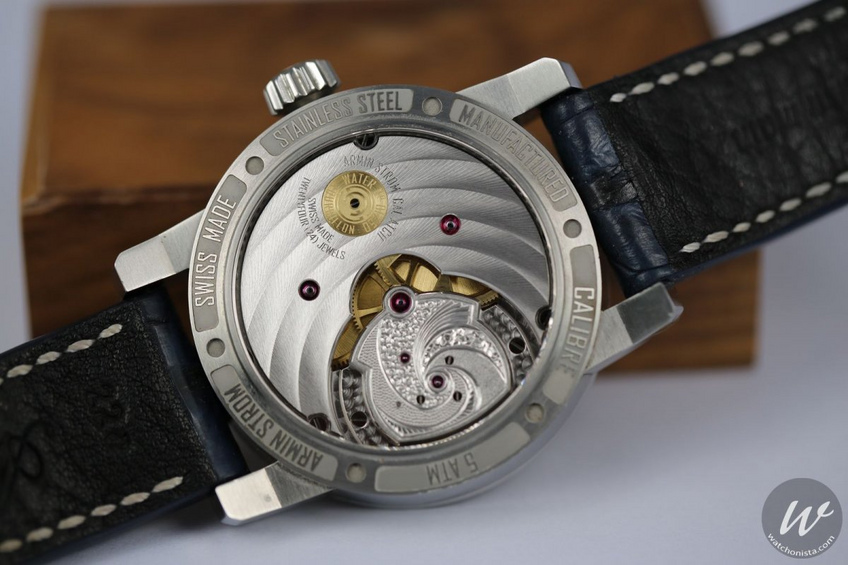 Armin Strom Tourbillon Gravity Water
The genuine leather strap is available in a horn back version (relief of alligators' skin) and is offered in the colors Armin Strom choses in accordance with the four elements for most of its collections: white or grey for air, blue for water, red for fire and black for earth. While I could have chosen the additional rubber strap that is delivered with each watch for a test, I immediately opted for the blue one because its aquatic freshness worked very well in the sweltering heat of summer. The test was originally supposed to last a week but I ended up carrying it out over several weeks.
Independence in the genes
With or without tourbillons, Armin Strom stays true to its philosophy and hence keeps upgrading the performance of its machinery and constantly pushing the boundaries of in-house skills. The brand has set its objectives to fit a long-term strategic vision: to manufacture its own mechanical calibers and to stop buying movements from subcontractors in due course. Hence, it makes sense that it chose that path for the creation of tourbillons, especially as the complication invented by Abraham-Louis Breguet is the very quintessence of watchmaking skills and has fascinated every self-respecting watchmaker for over 200 years.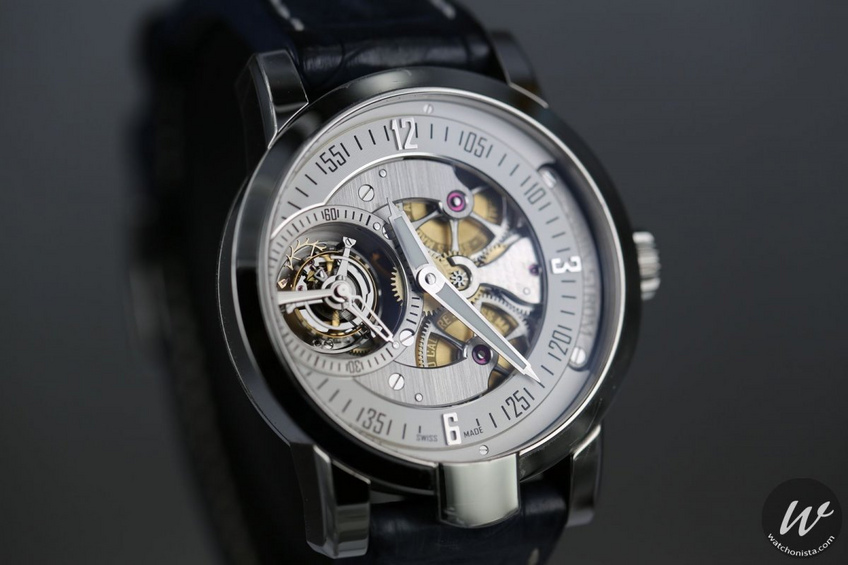 Armin Strom Tourbillon Gravity Water
The tourbillon has developed into a brand of its own and has some implacable and avid followers. It is affixed on the dials of several brands it co-brands with – after all who doesn't have their own tourbillon nowadays? Thus it, first of all, helps its co-branders showcase their micromechanical skills and secondly, it allows them to sell watches at high prices.
And why shouldn't a brand like Armin Strom, which always invests in its self-sustained future, not win over more new fans by creating in-house tourbillons inscribed in true manufacturing legitimacy than by following trends?
By
Marco Cattaneo
,
Journalist
With the Tourbillon Skeleton Earth, the Bienne-based brand gives proof of elegant watchmaking skills. It is an amazing piece that can easily be worn every day.