De Grisogono, it's time for going smart with Samsung
Baselworld 2016: the Geneva-based Maison founded by Fawaz Gruosi surprised everyone by presenting its "most glamorous smartwatch", the limited edition Samsung Gear S2 by de Grisogono.
Journalists, managers, buyers – everyone was wondering which would have been the next brand to launch into the connected watch arena. Very few, probably, were thinking of a jeweler-watchmaker brand, and anyone about de Grisogono.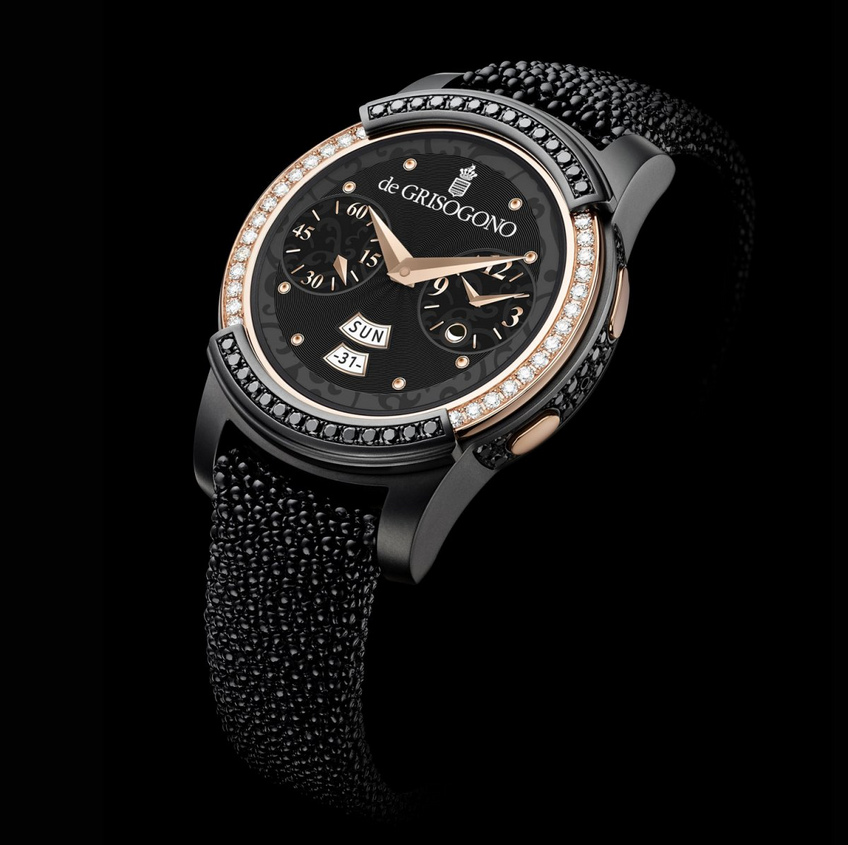 Samsung Gear S2 by de Grisogono
Far beyond cobranding
The two brands decided to partner since, being both leaders in their respective domains, they complement each other in terms of expertise, avant-garde thinking, and quality. They insist on the fact that their collaboration goes far beyond cobranding. If Samsung provided its Gear S2 technology, de Grisogono brought to the table its design and craftsmanship expertise. Apart from its electronic module, the product, created in collaboration with the South-Korean tech giant, is manufactured and assembled in the Swiss brand workshops.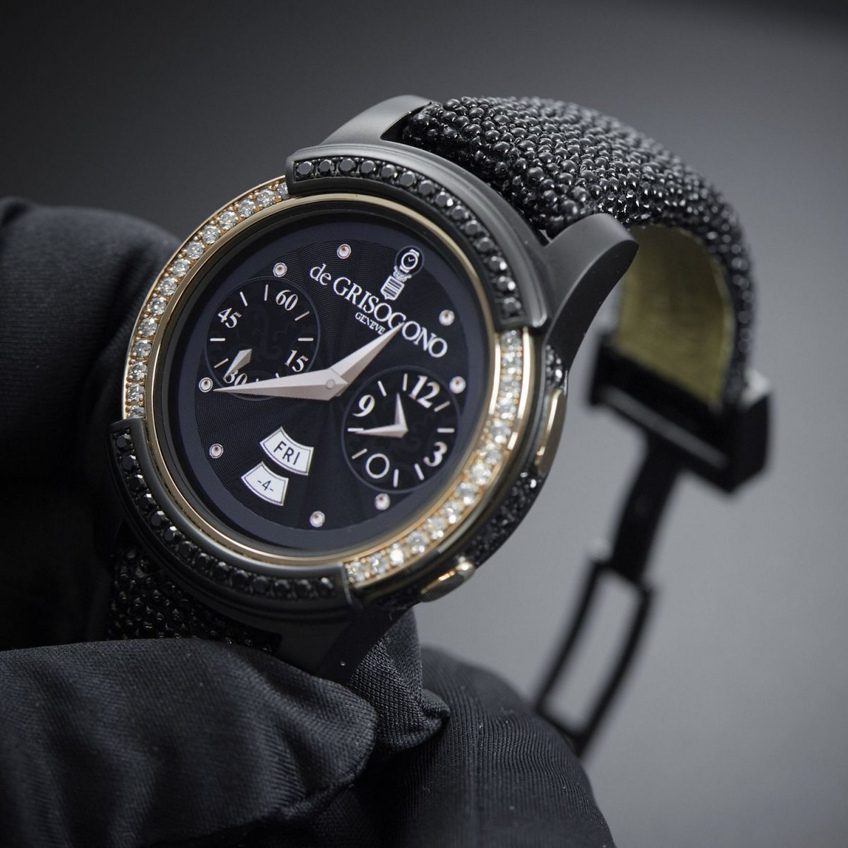 Samsung Gear 2 by de Grisogono
Curiously, the most unconventional watch in the de Grisogono collection marks the very first appearance of the conventional round shape in the brand's horological universe.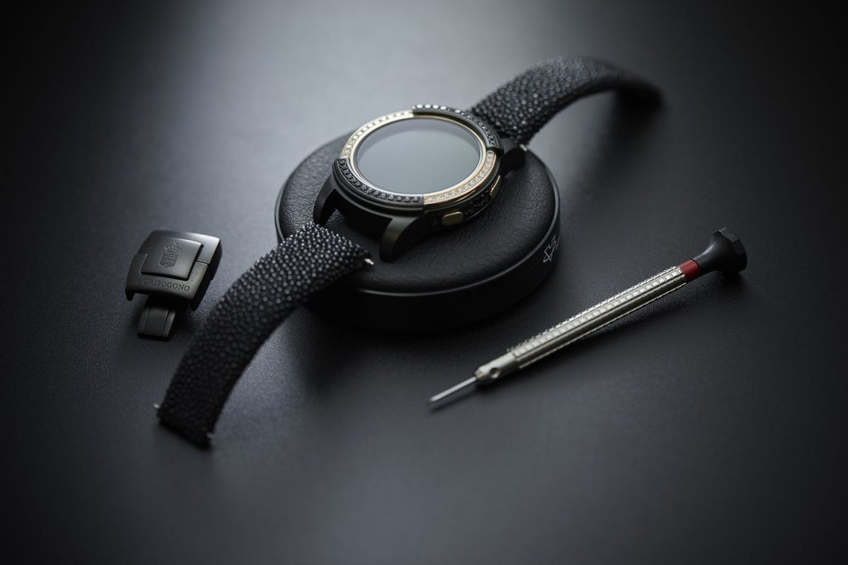 Samsung Gear 2 by de Grisogono
Intuitive usage and 127 diamonds
The 41 x 45 x 13 mm DLC coated steel case case features a bezel set 71 black diamonds (28 on the top bezel and 43 on the sides) and with 56 white diamonds on the turning bezel. This rotation allows the user to access the Android-compatible apps, the same as the original Samsung Gear S2, in an intuitive way. When not using a "smart" function, the user can choose among four different and very realistic "regular" watch dials designed by De Grisogono especially for this model. The dials, in black or white, include different formats to select, such as time, moonphase, power reserve and so on. Another De Grisogono signature touch is the black galuchat strap.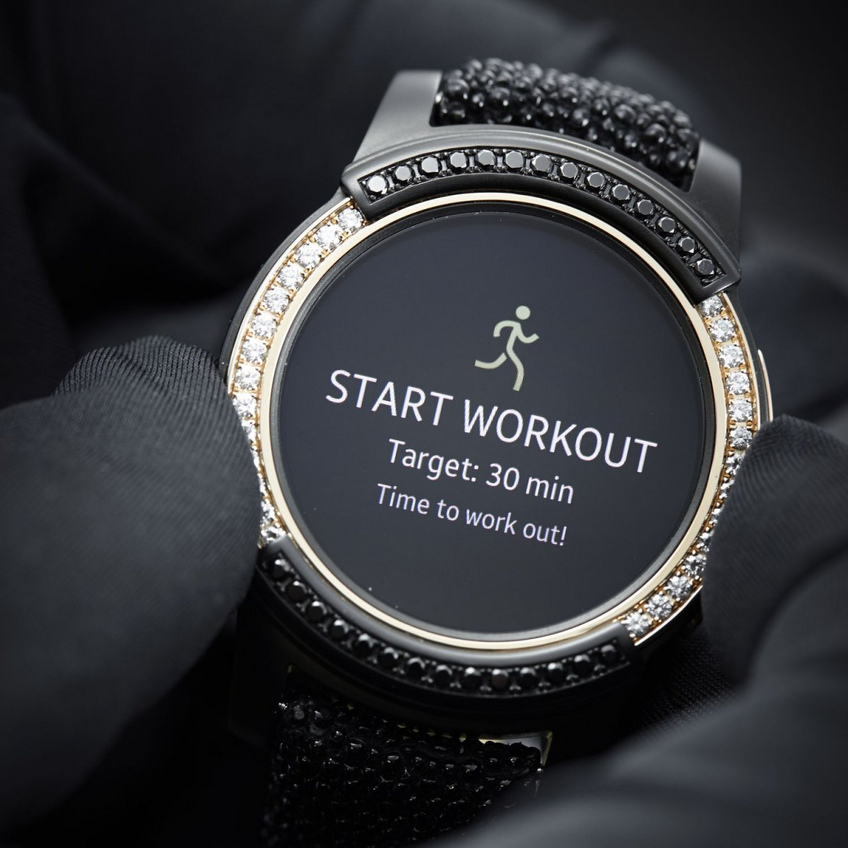 Samsung Gear 2 by de Grisogono
«De Grisogono has always been associated with daring products and a visionary approach to high jewellery and watches», says Fawaz Gruosi. «The Samsung Gear S2 by de Grisogono clearly embodies all of our boldness in watch design and our jewellery savoir-faire, while maintaining all of Samsung's technological capabilities and intuitive usage.»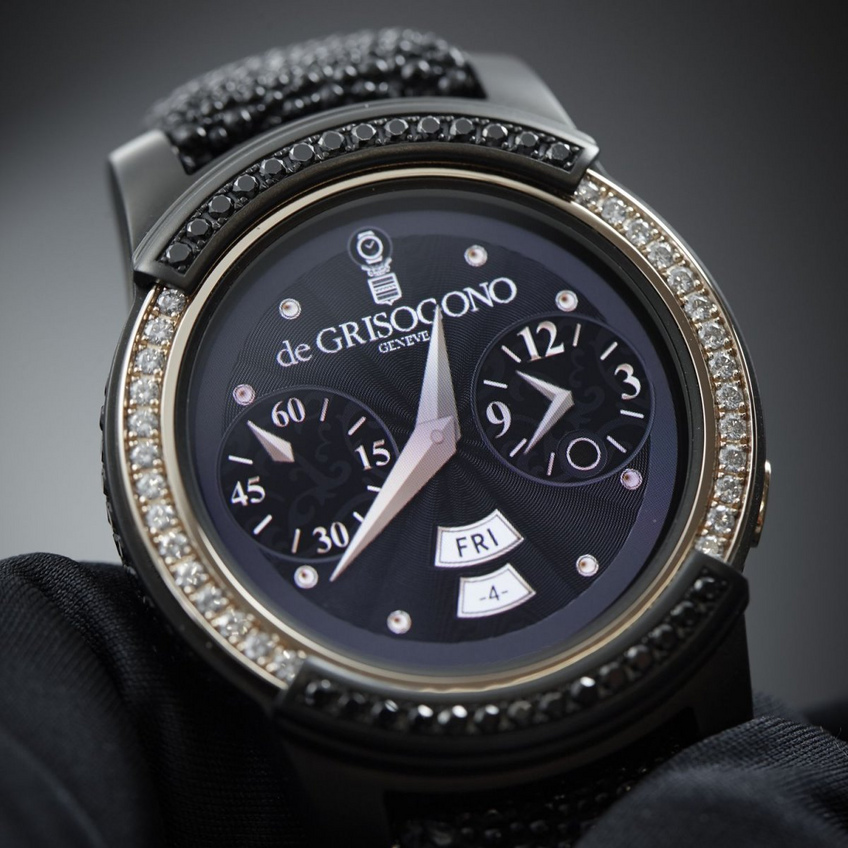 Samsung Gear 2 by de Grisogono
For the joy of all the "connected" jewellery-watchmaking female fans, the Samsung Gear S2 by de Grisogono will be available from this summer in a selection of de Grisogono boutiques and it will retail at 14,900 Swiss francs.
By
Benjamin Teisseire
,
Contributor
Founded by Fawaz Gruosi in 1993, the brand is well-known for its exuberant creations and has been producing unique timepieces since 2000. We are going to focus...