The rebirth of Pequignet's Calibre Royal
Emile Pequignet is back at the manufacture he founded 41 years ago. A new chapter, above all its last chance, is opened for the Calibre Royal.
The man is back in the house. He, Emile Pequignet, founder of the eponym brand, made his great return to his own manufacture after ten long years outside of the business.
Act I : From accordion to bankruptcy
Ten long years during which he played accordion, his own personal passion. Emile Pequignet even released a bunch of records of the most typical songs from his native Jura mountains. However, even if he had sold his brand to Didier Leibundgut, he always had an eye on the Morteau based manufacture he created 41 years ago. Maybe because things did not go as he would have wanted.
In fact, Leinbundgut's 10 years were harsh to Emile Pequignet. With a triomphant welcome from the watch industry, Leibundgut was seen as the Deus ex Machina, the man able to relaunch Pequignet – if not to save the French watch industry ! He had been one of thinking heads of Zenith during the Primero years. A man of trust.
His first years were dedicated to give Pequignet a new industrial tool, along with a new team of R&D and watchmakers. Together, they had worked on a new caliber, 100% in-house made. Name : the Calibre Royal. This process took a couple of years. But, above all, absorbed the complete available cash of the company, which quickly ran out of money. Early 2012, Pequignet officialy went bankrupt. For the first time.
Therefore, Leinbundgut had no other options than launching the Calibre Royal. Still, it had not been completely finalised. However, Leibundgut decided to took his chance and installed it in all the Manufacture collections of the brand, hoping that it would work properly.
Act II : 150% of service
Unfortunately, this was the bet that Leibundgut should not have taken. Actually, he already took several risks the previous years : relaunch a watch company in France without a proper network of partners, made big investments in people and machines with the main help of banks, stop the development of the product line which was a cash machines for the brand (the Moorea line), and, last but not least, open a lawsuit against Emile Pequignet, the historic founder from which he bought the brand.
When the Calibre Royal hit the ground of retailers, it was a complete mess. Many, if not most, pieces reached the unbelievable score of 150% of return for servicing. Which means that, in most cases, Pequignet timepieces equipped with the Calibre Royal had to go back to the manufacture between one and two times in the following weeks after their purchase. In less than 10 months, Pequignet went bankrupt. For the second time.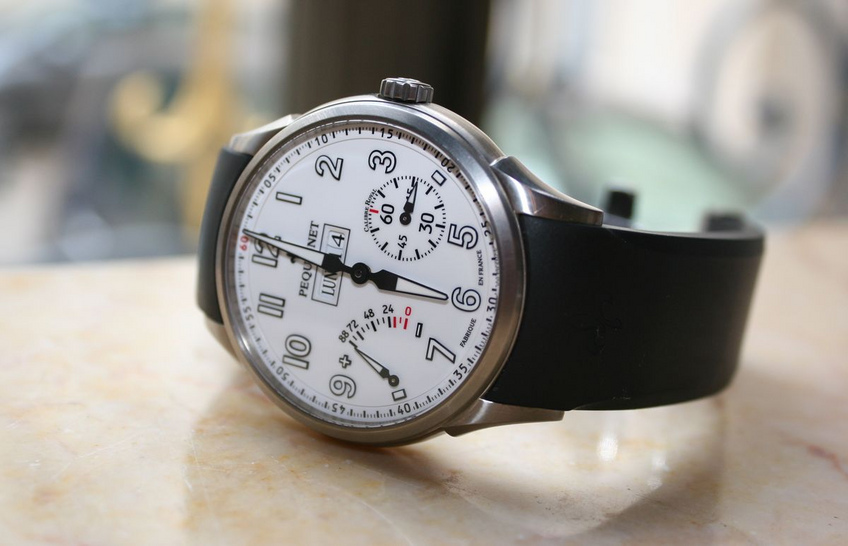 The Royale Titane, a 2013 brand new model by Pequignet
The Commercial court had a long list of potential buyers. However, they were all interested in the Calibre Royal, not in the company itself. Translation : buy the R&D, the Calibre Royal, spend a few more euros to finalize and prooftest it, lay-off the employees and use the caliber in their own name and property. All, but one.
Act III : The man of the last chance
When Laurent Katz went to the court with his two partners, he had a different approach : keep Pequignet up and running and finalize the Calibre Royal with his own personal budget. Katz was one of the key men of Lacie, a huge hard drive supplier in the tech industry, where he had proven his brand management capabilities.
Several hundreds of thousand euros were injected in the manufacture. The Calibre Royal was finalized. Suppliers were paid. New product lines were launched. The old Moorea line was reloaded, with a target of 20'000 units in 2014, enough to bring fresh air to the old dying Pequignet.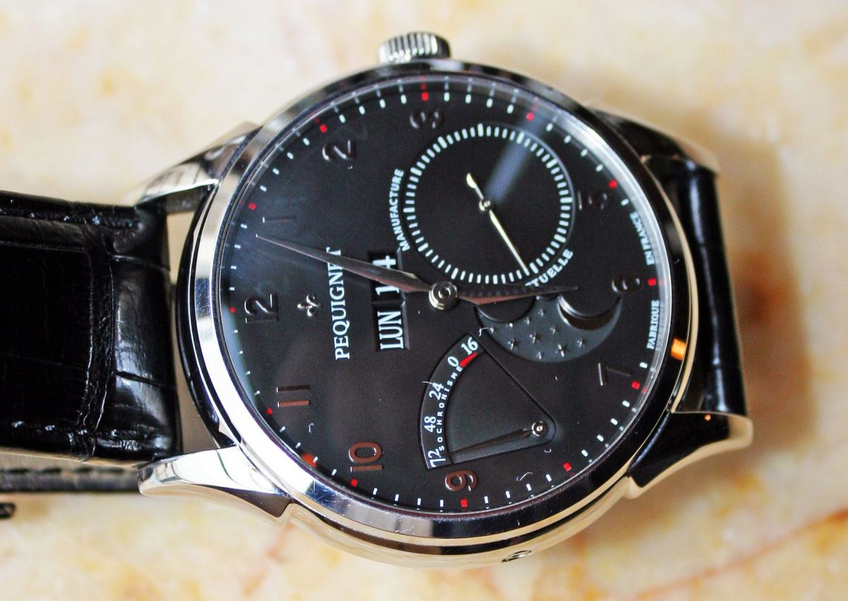 Pequignet Rue Royale, black edition
One of the very first call Katz made was to Emile Pequignet. We were in October 2012. As if he was closing the a 10-years bracket, Katz invited the old man, now 73, to step again in his Morteau-based manufacture. « It's been 10 painful years to see my own name treated like this », said Emile Pequignet. « Almost all the people I hired in the last four decades are gone now ».
Epilogue : promises to keep
Laurent Katz wants the Calibre Royal to keep its promises. « We have ran two full months of tests both in house and with a retailer (Chronopassion, note from the editor) », says Katz. « They went very well. The Calibre Royal is ready for a relaunch ».
Katz knows that retailers won't let him a third chance. They made a bet with Leibundgut, they lost it. They make a second bet with Katz, a man who happens to be a wise CEO but still, in the watch industry, a complete stranger.
The Calibre Royal is expected to hit a 2'000 units sale objective in 2014. A brand new complication will be unveiled in Baselworld. Katz has resigned from all his former operational roles in Lacie to be completely dedicated to Pequignet. The brand doesn't have the means to target any market but France, for now – a Japanese sub is still running, though, but without any business objectives assigned.
And what about Emile Pequignet, the founder ? « I won't have any operational role », he says. « I'm just back for a couple of months to celebrate the 40th anniversary of my brand ». Now in peace, happy to see that his name is out of mud, he's ready to open the fifth decade of the Pequignet odyssey.