Prix Gaïa 2014 – Kari Voutilainen. Craftsmanship category
From WOSTEP to Parmigiani, and now in Môtiers (Neuchâtel) where he works, the Finnish watch artist has always been widely appreciated. Three words sum up his watchmaking: independence, true calling and modesty, like all great watchmakers have.
Kari Voutilainen won the Gaia Award in the "Craftmanship & Creations" category this year. Each year, the eponymous brand produces around fifty watches for a public of seasoned aficionados. Entirely assembled by hand, the watches are either unique pieces or produced in strictly limited editions. They have their own individual personality because each one has specific features and functions. Other than producing its own watches, the brand also lends its services to other brands, particularly Jürgensen and "Les Maîtres du Temps", on request.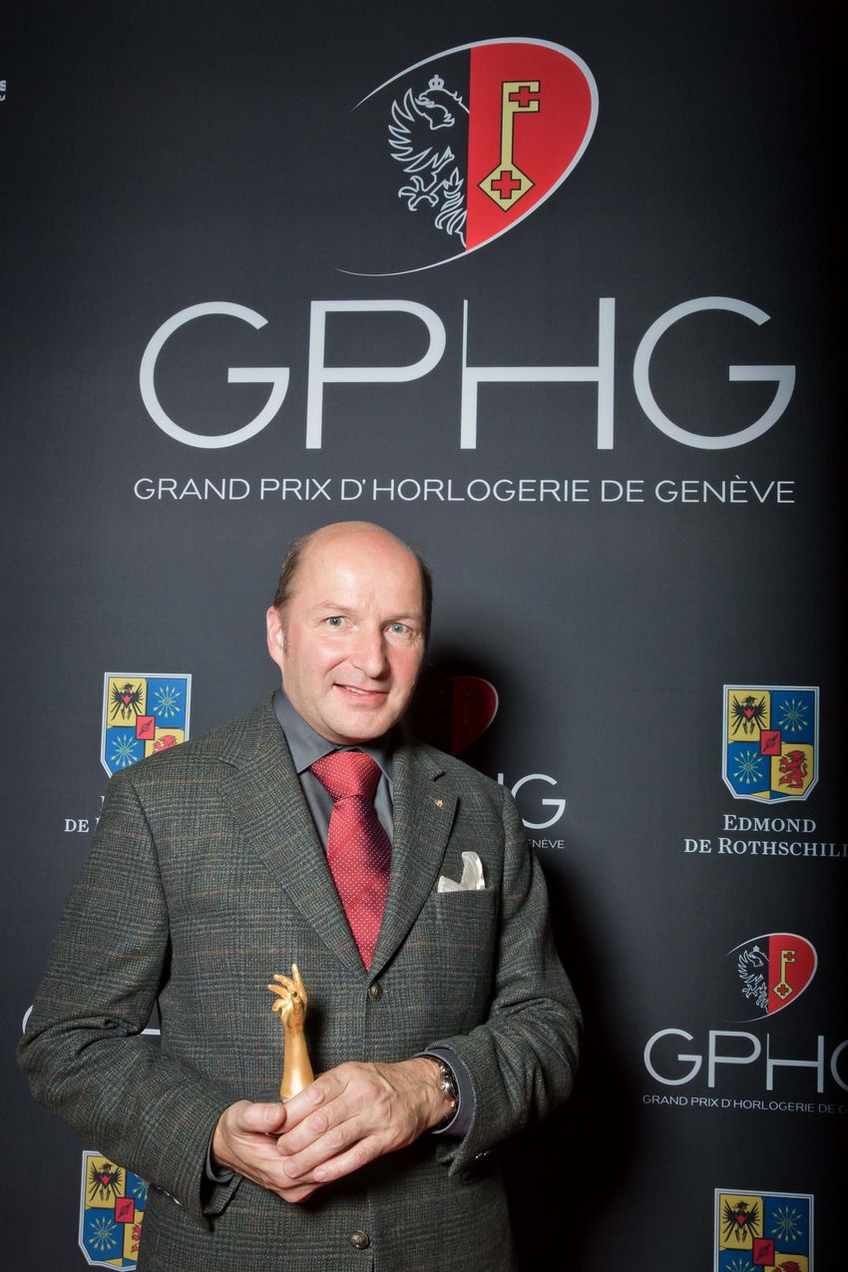 Kari Voutilainen with his prize for the Men's Watch of 2013
Kari Voutilainen was born in Rovaniemi, Finland in 1962 and developed a passion for watchmaking early on. He followed a watchmaking course and afterwards graduated from the Tapiola Watchmaking School in Finland.
He went to Switzerland for the first time in 1989 to round up his studies with the WOSTEP course in complicated watchmaking. WOSTEP is the perfect training school for degree-holding watchmakers who wish to specialize in restoring complicated, exceptional and rare watches.
He was soon identified and recruited by "Parmigiani Mesure et Art du Temps" and for the following ten years he restored the world's rarest watches and also created unique and original timepieces. After that, he decided that he wanted to pass on his knowledge and experience. He thus joined WOSTEP for three years and headed the department of complicated watches. He was also responsible for the comprehensive training of beginners and added several new courses to a syllabus that he had developed himself.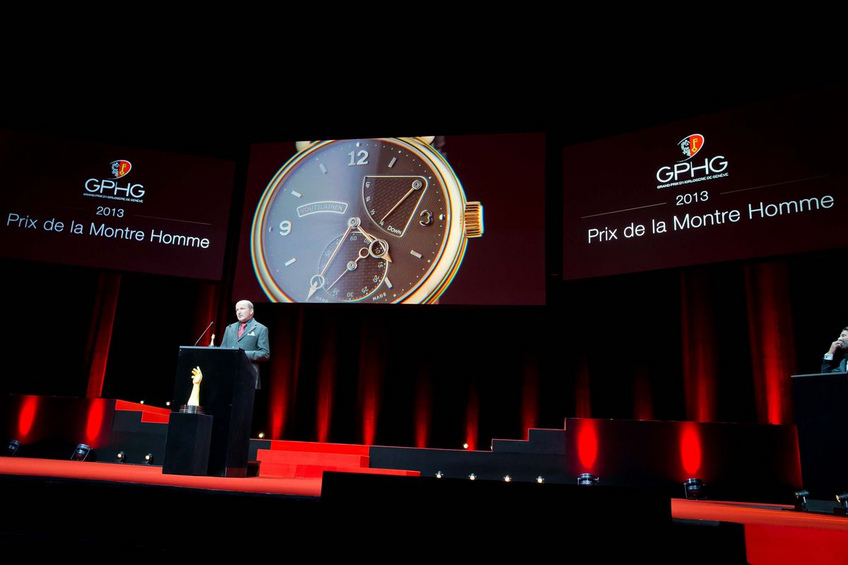 Kari Voutilainen at the GPHG 2013
Over the last fifteen years, in parallel to his professional obligations, Kari Voutilainen devoted his nights to the quest for perfection in innovation and unique watch mechanisms. He uses these very mechanisms in his elegant watches.
The production of his original pieces entails an instinctive quest for perfection and he enhances them with his now vast experience and precise knowledge of the rarest and most complicated watches. These are the pre-requisites for innovative watch creation. An independent watchmaker to the bone, he designs and executes his projects himself, and creates their every technical and aesthetic elements. He also does not overlook the slightest detail just like painters or sculptors do. His aim is to make classical timepieces with a solid technical design that will be passed on to future generations, like a legacy.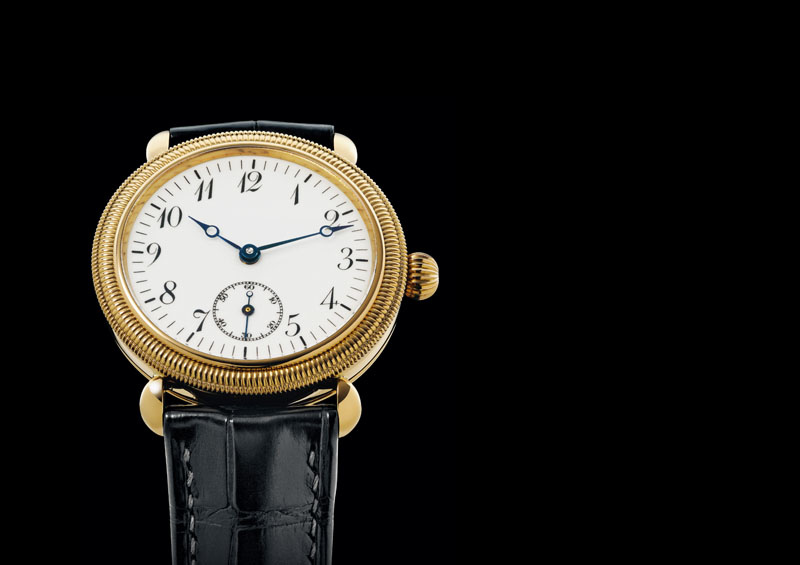 Voutilainen Turning Bezel Minute Repeater
Kari Voutilainen's workshop specializes in chronographs, minute-repeaters and tourbillons, all of which are precision and complicated pieces. He has also worked on old movement-blanks such as the Turning Bezel minute-repeater, which is a unique piece based on a LeCoultre movement-blank.
Kari Voutilainen: "Classical timepieces with a solid technical design that will be passed on to future generations".
V-8R watch
The watch features an in-house caliber. Instead of the unique traditional plate of the lever escapement, the Voutilainen watch is driven by two escapement wheels, which give a direct impulse to the balance.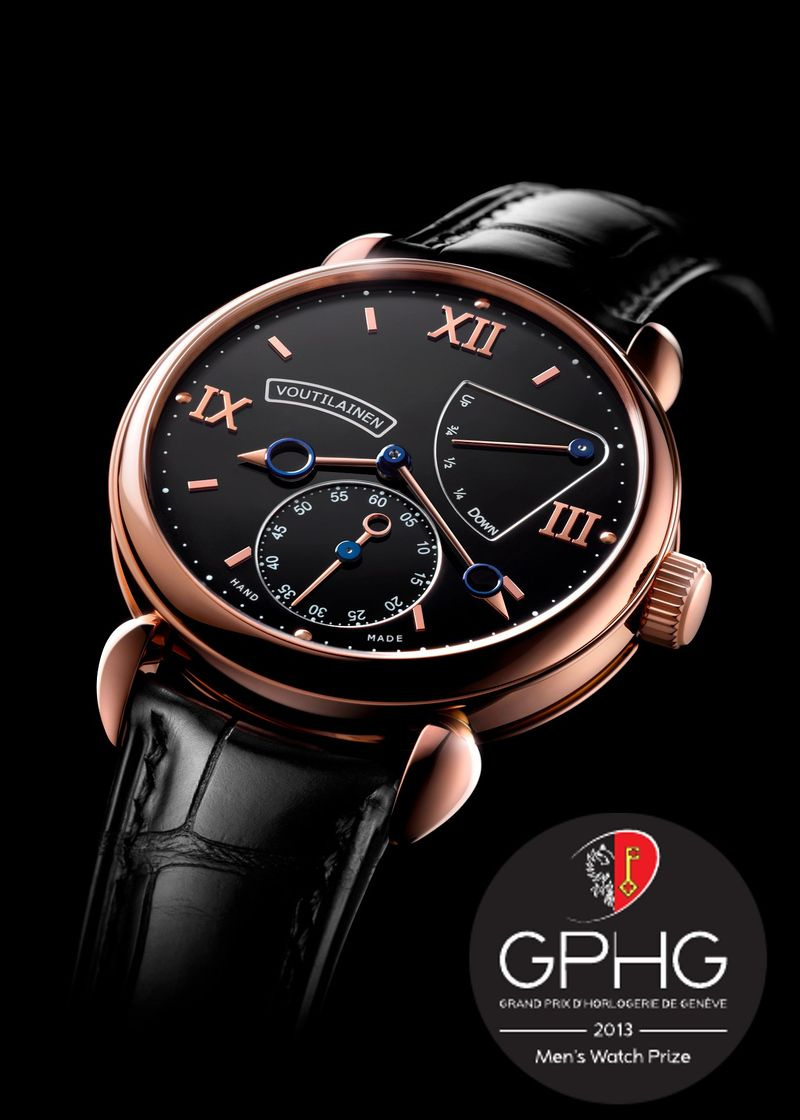 Voutilainen V-8R Men's watch Prize at GPHG 2013
Vingt-8 watch
Its movement was entirely designed, produced, finished and assembled in the Voutilainen workshop. The design and the philosophy of the movement combine a respect for longevity and precision with classical watchmaking tradition. Thanks to the movement's quite large in-house balance, the watch can be efficiently regulated. Furthermore, the watch is equipped with a unique system consisting of a balance and a balance-spring, which features an exterior Grossmann-like curve. This is the first watch with two escapement wheels for this type of configuration. This escapement is highly efficient and does not consume as much energy as other traditional lever escapements. As such, it is beneficial as it offers longevity and stability in the watch's day-to-day use. The whole finish is hand-made.
Biography
In 2002, Kari Voutilainen established his independent workshop in Môtiers, as a craftsman of the art of watchmaking. Before that, from 1990 to 1999, he restored rare pieces and produced new original ones at "Parmigiani Mesure et Art du Temps". Then from 1999 to 2002, he taught at WOSTEP. His courses covered turning, complicated watches and comprehensive training for beginners. In 2005, he made his debut at BaselWorld in collaboration with the AHCI ("Académie Horlogère des Créateurs Indépendants), which he joined in 2006. In 2013, he was awarded the "Grand Prix d'Horlogerie de Genève" for his V-8R watch.
2014 Gaïa Awards
The Gaia Awards ceremony was created in tribute to Maurice Ditisheim, one of the sponsors of the "Musée International d'Hologerie" (MIH) and Chairman of the Board of Directors of the Central Office for Precious Metals Control (CPMC). It comprises three categories of prizes: "Artisanat et Création" (Crafts and Creation), "Histoire et Recherche" (History and Research) and "Esprit d'Enterprise" (Spirit of Enterprise). The 20th award ceremony will be held at 6.30 p.m. on Thursday, September 18, 2014 in the Hans Erbi room at the MIH in La Chaux-de-Fonds.
By
Audrey Humbert
,
Contributor
Exclusive interview with Kari Voutilainen, who shares with us his optimism in face of todays' pessimistic state of affairs.
4 laureates in 3 categories is the jury's verdict. This international distinction rewards for twenty-three years careers in the field of watchmaking. The...
By
Joel Grandjean
,
Editor-in-Chief
You will find a piece of him and Neuchâtel, where he teaches, on the end of your mobile phone. Pierre Thomann works on the measurement of time and is...