Pierre Koukjian has quit deLaCour and created HEDERA
Pierre Koukjian, the maverick designer who co-founded deLaCour and lent the brand his personal slogan 'Since Tomorrow' for over ten years, has launched a new brand: "HEDERA, Beyond Function". Here are some details.
His expert designs and innovating ideas inspired the creation of deLaCour. The luxury brand still has the imprints of his creative sway marked by its urban influences and a touch of street culture. An artist at heart, Koukjian starts now a new adventure with HEDERA. The brand will soon surprise the markets with its creations equipped with the Athanor movement, an in-house mechanical caliber that is already open to several developments.
Multiple skills
He is the free electron of excellent watchmaking and, whilst he is an entrepreneur, his attire tells a different story. He dresses like an artist: he loathes ties and smart attires, he often sports stubble and, as every figure in improbable showbiz, he has the look of a wealthy adventurer.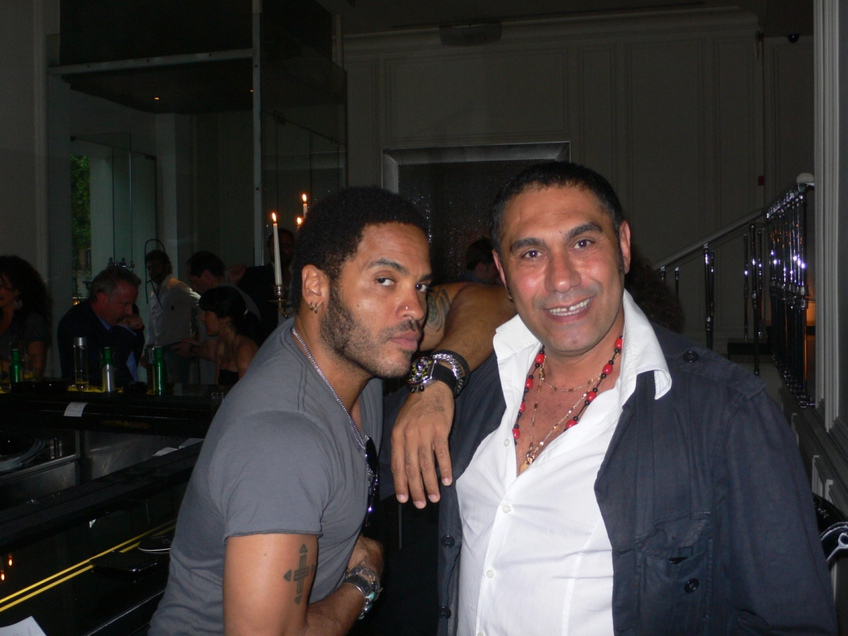 Lenny Kravitz with Pierre Koukjian
Armed with pencils and brushes, the somewhat anarchist artist proudly paints big-sized canvases that he promotes on his personal website. His work is even exhibited by some art galleries around the world. But of course, the creativity boost this gives him benefits mostly his watchmaking.
While there is still some way to go before he becomes a renowned painter, he is becoming increasingly famous in watchmaking. So much so, other brands that secretly admire his skills have sought his collaboration in several occasions. Now it is HEDERA, the company he created after his (negotiated) resignation from deLaCour that benefits from his undivided attention. The atypical individual who has attained an unexpected success is also a man who mostly works from the heart.
1. I is for: irreplaceable and Iconic
Is it true that no one is irreplaceable? Well, we will have to wait and see, but it is indeed difficult to imagine deLaCour surviving the resignation of its main co-founder. He has, after all, influenced the brand to a large extent. Just as Franck Muller reinvented the tonneau shape to make it his own, designer Pierre Koukjian modernized watchmaking duality, a concept from 20th-century watchmaking history.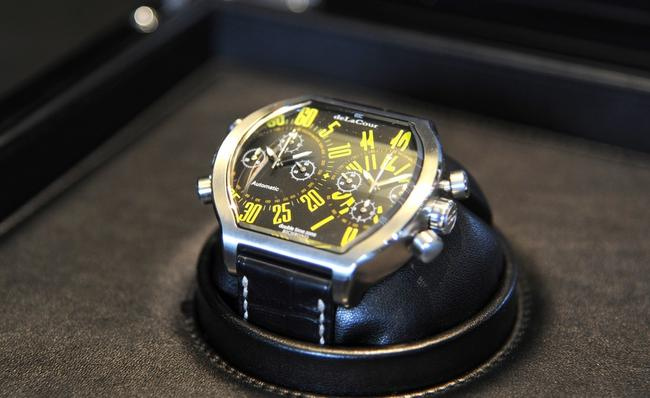 The deLaCour Bichrono S1 offered to the Musée d'Horlogerie de Genève
More specifically, duality consists in housing two movements in one case. In 2004, deLaCour made its debut with the Bichrono model equipped with two chronograph mechanical calibers. The technical specificity was awarded the second prize at the "Grand Prix d'Horlogerie de Genève" and has been used in various occasions to offer either aesthetics or complications. Koukjianwas the first ever to design a case that was larger on the sides, at 9 o'clock and 3 o'clock. The timepiece was in synch with one of watchmaking's main trends from the early third millennium (i.e. very large watches) and has been representative a whole era since then. In 2014, the model became an icon when it entered the "Musée d'Horlogerie de Genève".
2. Cursed author: an expensive slogan
During a watch fair in Basel, a particular businessman paid a visit to deLaCour. Indeed, it was not timepieces that he wanted to acquire but the brand's slogan 'Since Tomorrow'. And he was willing to pay good money for it. Obviously, the slogan can be used in many fields other than watchmaking, as it is also in itself representative of an era. Indeed, going against the "foundation date" trend in vogue at the time the young brand was created was a very audacious move. At a time when everyone was trying to prove that they had been there longer than their competitors, deLaCour chose to showcase its youth. Koukjian claimed thusly his complete detachment from the past, without of course a hint of embarrassment. Needless to say, then, 'Since Tomorrow' belongs to him. It is indeed more the slogan of a man than that of a brand.
3. Insolent: stars who buy, ambassadors who pay
One day in a restaurant someone tapped him on the shoulder: "You are wearing the same watch as me!" – the person exclaimed. It was famous singer Lenny Kravitz. There was instant chemistry between them and they exchanged phone numbers. The watch designer thus entered the universe of celebrities. Since then, some actors of the showbiz world have become his clients.
If these special clients allow for their names to be revealed and announced, then they obtain a discount. Thus, Catherine Deneuve became the lucky owner of a City Lady after an after party at the Java Club in Geneva, which she attended during a short trip to promote an exhibition of local paintings. The late Claude Nobs who was known for having procured juicy partnerships for his festival and archives, did not hesitate to show off his Bichrono. How did he get it? Was it his personal taste or was he seeking a special watchmaking collectible?
4. The marketer of crowds and pitches
Another celebrity from the international football scene, which lacked significant watchmaking sponsorships, showed interest in the brand. Cameroonian player Samuel Eto'o was charmed by a Bichrono while passing by a deLaCour store in Madrid. He ordered a customized version with diamonds and in his country's colors. Without even realizing it, the African player became the ambassador of Koukjian's inspiration in the universe of football and overpaid stars. Incidentally, this proves that there are other subjects that players talk about in the changing room, other than matters of the heart and meaningless materialism. In the center of the showroom in Geneva, a secret book lists the players who discreetly sport their customized model, unlike Cristiano Ronaldo who shows it off in the media.
But did we say discreetly? Well, it may well be that the juicy contracts that link them to their agents or clubs don't allow them to do otherwise. And before anyone made a move, Koukjian signed a contract with manager José Mourinho.
5. Bad boy? Officially denied
The New York Times published a piece of news that went unnoticed on this side of the Atlantic. Yet, it drew an unequivocal reaction from Koukjian. When a major figure of the Mexican criminal underworld was arrested, the search of his splendid house revealed – with graphic pictures as proof – the presence of a diamond-set Bichrono amongst Rolex watches, solid gold guns, a room full of bundles of cash or exotic pets. The designer went ballistic. His fierce denial forced the major newspaper to publish a right of reply that took up a quarter of a page and in which the designer categorically refused to be connected to the bad image reflected in the article.
This shut up some rival brands that tried to use the news to tag him with dishonorable behavior based on the bad-boy look he sometimes adopts. At the same time, he also made it clear that using a cannabis leaf or a skull and crossbones on some diamond-set dials was only a reference to urban symbols.
6. Cultural agitator
An artist, painter and designer, the creator of HEDERA sometimes delves into the suburban culture just to sharpen his inspiration. On one such occasion, he was charmed with Nash, an Ivorian rapper whose mentors were none other than Mokobe and Diams. Passing through Geneva for the Eurockéennes, the largest rock festival in Europe, the young artist received a timepiece from the City Lady collection from Koukjian himself. A big star in her country, she is followed both by the international diaspora and the international universe of linguists. Indeed, she represents nouchi, a new language that appeared in the suburbs of Abidjan. Academics believe that it is the birth of a slang African Creole with touches of vernacular, humor and changes of meaning.
While young people in her country see her as the spokesperson of a linguistic-musical culture and while she features in the Ivorian press and TV news, Koukjian plays the explorer. Urban vibrations, intact emotions.
7. Pioneer of adopted trends
Whether it was wood, asphalt, tobacco leaf or leather dials, Koukjian has often been a trendsetter and a pioneer of exclusive materials. He has used unusual and disruptive materials for middle cases, such as carbon, iridium, ruby, jade or agate. To give but an example we'll mention his astroceramic case. In terms of watch complications, his propensity to double things made him one of the first watchmakers to dare work with the double chronograph and the double tourbillon. He is also the only one to have ever tried to make a double minute repeater based on a single ultra-complicated caliber. It chimed two different hours and consequently also featured double time zones. Koukjian's moon phases are not round but rather like alpine reliefs. At a time when all brands proudly claim to have created the moon, a meticulous and chronological reading through press releases prompted us to set the record straight.
It seemed fair to give credit to this Caesar of inventive at least for what we know he should be credited for, as some of his methods will always remain unknown to the public. A trend detector, pioneer and visionary, Koukjian has not said his last word yet and his strokes of creativity shall still generate further media attention. Especially when the innovating particularities of his next caliber, ATHANNOR, are released on his website.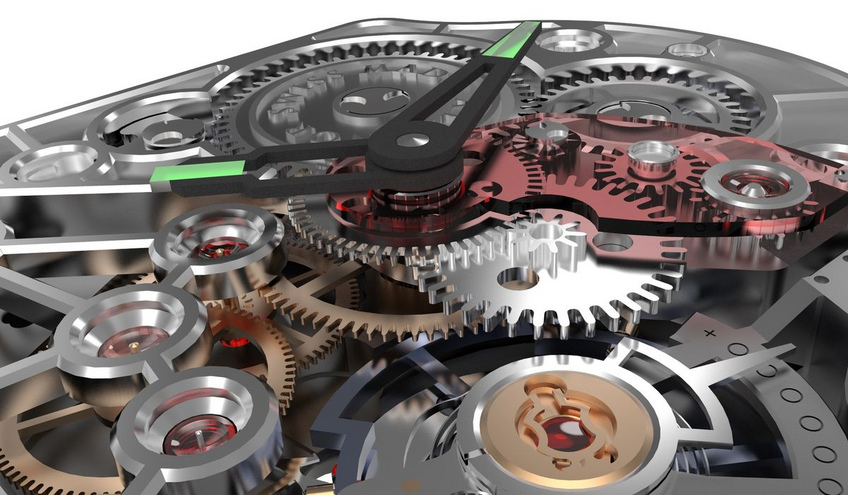 3D image of the calibre Athanor designed for the new brand Hedera
By
Joel Grandjean
,
Editor-in-Chief
The urban designer Pierre Koukjian sees everything in double. Since none of his clients want his Bichrono model, he presents it independently. The deLaCour...