The pendulum precision of Erwin Sattler
Those who love time must love pendulum clocks. They are big, loud, and extremely precise. And in the right hands, they can truly change the atmosphere of one's living quarters.
Part of the charm of owning a mechanical wristwatch is undoubtedly the ticking and a view of the balance spring pumping away like a tiny heart, a symbol of life itself. But when it comes to really savoring the passage of time, nothing beats the pendulum clock. From the church tower to the table clock, passing by the «grandfather» clock hanging or standing prominently somewhere in the home, these behemoths of the timekeeping industry tell us in acoustic and visual terms that time is passing, second by inexorable second. Their slow ticking and clanging gongs are often comforting to the beholder, or spooky, but never banal. The swing of the pendulum and the unraveling weights are an oft-used metaphor as powerful as Chronos devouring his children. Think Edgar Allen Poe's «The Pit and the Pendulum.»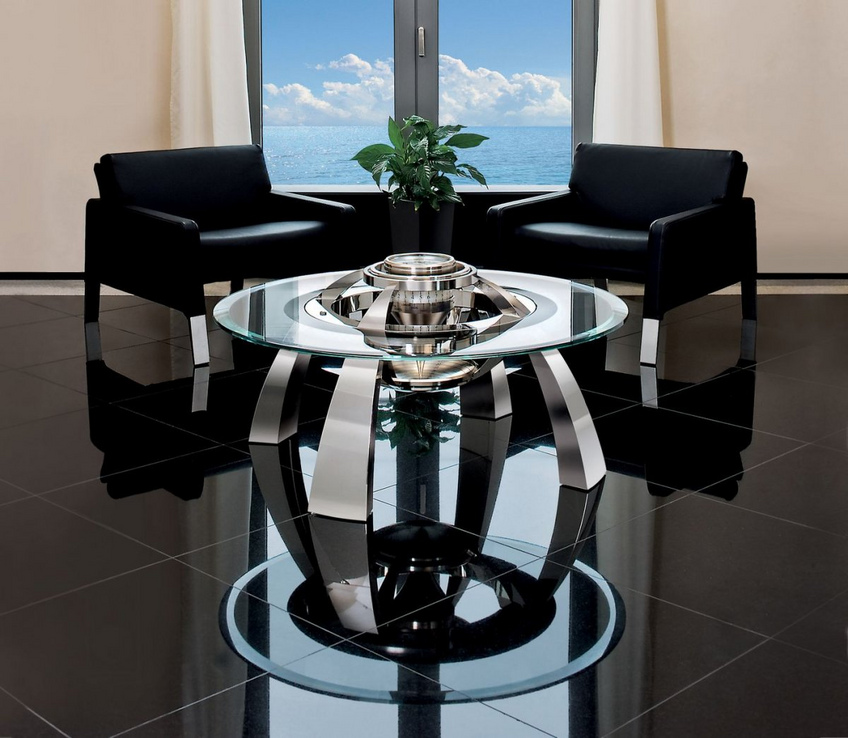 Erwin Sattler Atlantis Orbis table
Still ticking
Large clocks may be past their heyday with the average consumer, but there still is a market for them. Just ask Richard Müller, owner and CEO of the clockmakers Erwin Sattler in Gräfelfing near Munich, Germany. A twelve-meter pendulum clock on the front of the building says it all. Inside, 35 full-time employees manufacture at least 90 percent of the parts for a wide range of top-of-the-line pendulum clocks, nautical clocks, table clocks and even a few watches that they also assemble. «Switzerland is known for wristwatches, but Germany is still known for its clocks», says Müller with pride in his voice. «In the past twenty years we have manufactured over 2000 clocks, and we now have a store in Shanghai and one in Beijing.»
Seeing is believing
Pendulum clock movements are a delight to watch because the workings can be observed quite easily with the naked eye. The gearwheels, bridges, cocks, or chain and fusée mechanisms are large, there is ample amounts of space between them to see them meshing, turning, driving the hands. The expert will immediately notice the use of an in-house Graham deadbeat movement.
Attention to detail is particularly necessary, like the gold-plated parts, or the hand-made blued-steel, vaulted hands. A characteristic of the Sattler clockfaces, too, is the regulator. The hours are indicated on a subdial to avoid cluttering and covering up of the second hand, which is of primary importance for adjusting the rate.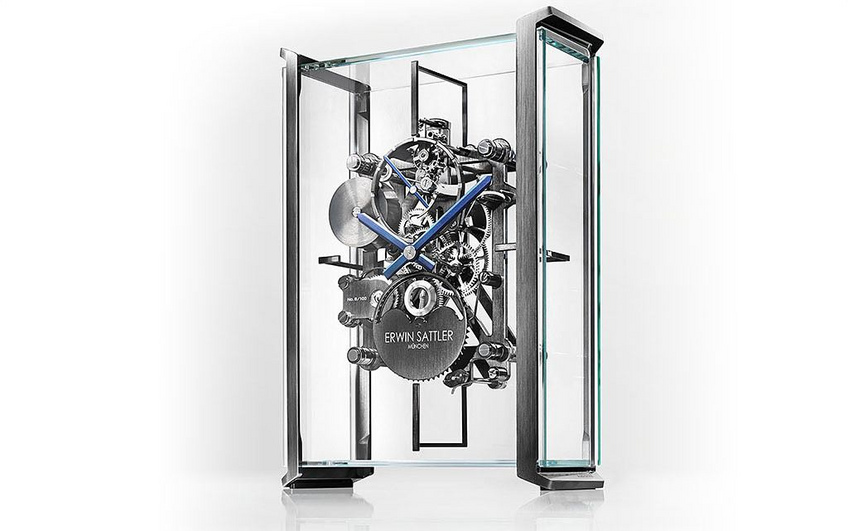 Erwin Sattler Table Clock by Audi Design
The size of these movements does not mean they are inaccurate, Müller repeats often. «We have the world's most precise clocks, deviations of one to three seconds per month, which is even better than quartz.»
Achieving that level of precision however, is a major challenge. First, a special mechanism prevents the clock from stopping while it is being wound. Second, it is vital to control the length of the pendulum in spite of atmospheric changes. To do this, the weight is attached to a steel section, which is separated from the rest of the pendulum's arm, which, in turn, is made of Invar, a highly stable alloy of steel with 36 percent nickel. When the lower section expands with higher temperatures, it gets blocked by the upper section.
The other challenge is atmospheric pressure. As it rises, air becomes heavier and can slow down. Sattler has created a contraption that hangs on the pendulum: a spring and scale with aneroid capsules that press downward or retract depending on barometric pressure. This changes the length of the pendulum slightly thereby increasing or slowing its oscillating rate.
Sattler clocks have esthetic power as well. Each model will dominate the room in its own way. Either by sheer size or by a design that inevitably attracts the eye (see boxes). The cases of the large clocks are of wood with thirteen coats of gleaming boat lacquer. But there are also many options for customization. One client, Müller notes, is a Ferrari fan, so his clocks inevitably come in bright red. If you are going to watch and hear time pass, you might as well feel you are doing so on your own terms.
The masterful Erwin Sattler Troja
Erwin Sattler's flagship clock is the longcase Troja. It stands at 2.18 meters and comes with different complications, just like a wristwatch. It has a power reserve of thirty days. The Lunaris model has a moon phase that only needs adjustment once every 125 years. The Opus Temporis, even taller, at 2.22 meters, features a three-dimensional moon phase with diamonds for stars, has a separate striking mechanism, hence two weights.
The base of these clocks houses a safe for valuables, from where the name Troja, a reference to the Trojan horse. Tucked into the rear are two extendable panels containing eight individually programmable watch winders each. These can be programmed using a USB connection.
A thumbnail of the Erwin Sattler company
Erwin Sattler was founded in 1958 by clockmaker Erwin Sattler. Richard Müller and Sattler's daughter, Stephanie Sattler-Rick, came on board in 1984 and took over the company in 2002. Their strategy was to achieve manufacturing independence by purchasing top-drawer machinery.
Today, Erwin Sattler produces a wide range of clocks, like the very contemporary-looking Columna temporis or the UFO-like Atlantis orbis (as a standalone or on a table), which is at home in a living room or easily as a yacht on the high seas – it can keep time precisely even at a 30° list. Instruments, yes, but kinetic artworks as well. They also manufacture nautical instruments either separately or in combination with sea-going clocks.
The brand collaborated with the Austrian watchmakers Habring2 to produce a few wristwatches as well, the after the eponymous clocks.
They come in two sizes, a 44-millimeter automatic and a 38-millimeter manually-wound version. The aficionados can therefore take their Sattler clock while going about their daily or nightly business.
Another specialty are the high-tech watch winders of the Rotaris family. They are integrated into highest-tech display cases for the collector, featuring secret opening mechanisms and 18-millimeter safety glass.