Patek Philippe GrandMaster Chime the masterpiece of the 175th anniversary
By the time you read this, Patek Philippe will have unveiled the contents if its 175th anniversary collection to a few hundred closest friends at a swish dinner in Geneva - a collection which has been kept so secret that, to our knowledge, not a single detail about it has been leaked beyond the walls of the manufacture.
Apart, that is, from the description of the star piece which was provided to Watchonista on the strict understanding that we didn't release any information in advance of October 14. So, if you happen to be checking out the site shortly after 00.01am (and assuming no one has broken the embargo) you're among the first to know full details about the remarkable GrandMaster Chime - a timepiece which Patek carefully describes as being 'the most complicated wristwatch of the eminent family-owned watchmaking companies'.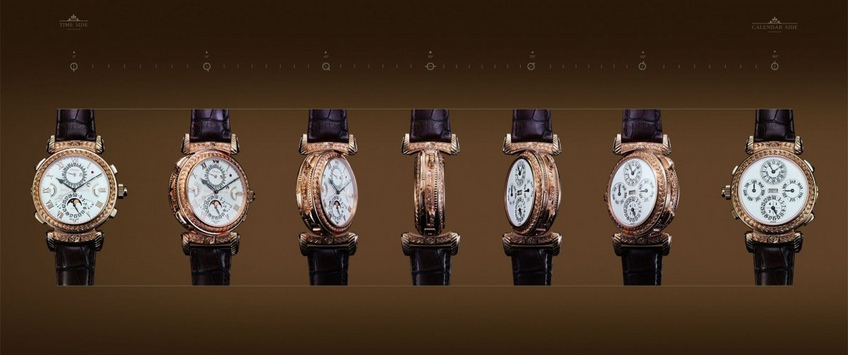 Patek Philippe GrandMaster Chime 5175R time and calendar sides
In other words, it's not the most complicated wrist watch ever made - that's still Franck Muller's 36-function Aeternitas Mega 4, followed by Jaeger-LeCoultre's Duometre Grande Sonnerie that boasts 26. So we can assume that Patek doesn't consider Franck Muller to be 'eminent,' and that Jaeger-LeCoultre is eminent but doesn't count because it belongs to Richemont.
In any event, the GrandMaster Chime is undeniably impressive. Comprising 1,580 separate components - 1,366 for the movement and an equally remarkable 214 for the 47mm case - the Grandmaster Chime boasts 20 complications, four more than the 'Tour de L'Ile' made by Vacheron Constantin (also eminent but not family owned) to mark its 250th anniversary in 2005.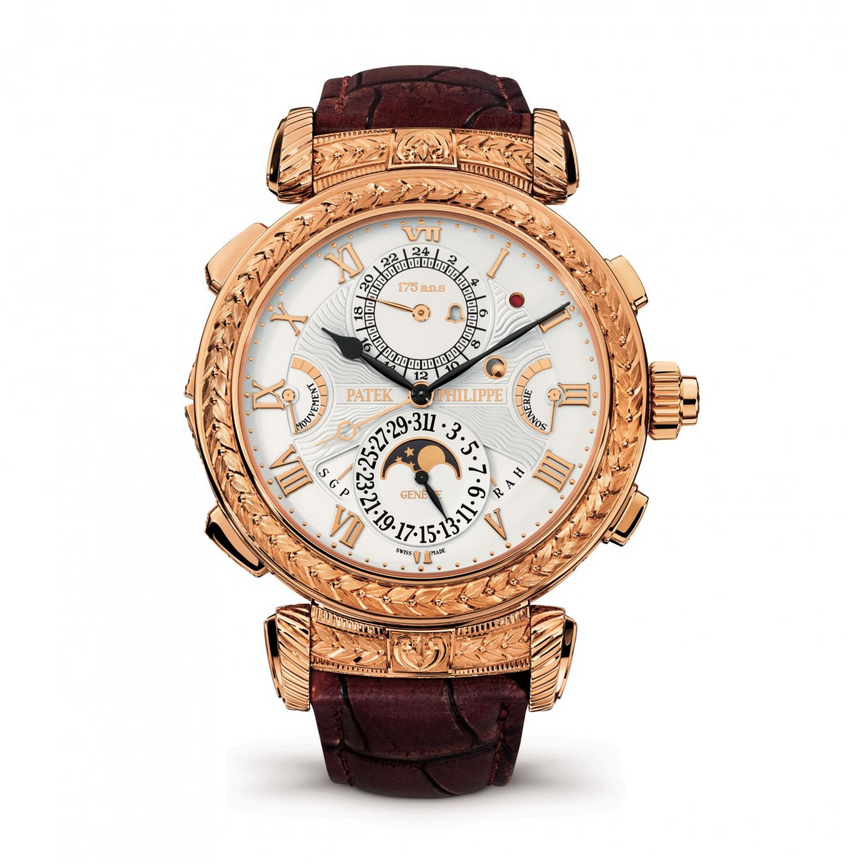 The Patek Philippe GrandMaster Chime 5175R time side
Among the features of the double-faced Grandmaster Chime are grande and petite sonnerie chimes; a minute repeater; an instantaneous perpetual calendar with a four-digit display that changes on the stroke of midnight; a second time zone; an acoustic repeater and, for the first time on a wrist watch, a repeater that sounds the date on demand.
In addition to its functions, the watch is also noteworthy for its series of patented 'isolator' mechanisms that reduce the danger of such a complicated mechanism being damaged if it is set or adjusted at inappropriate times - notably, close to midnight when the calendar display is about to change.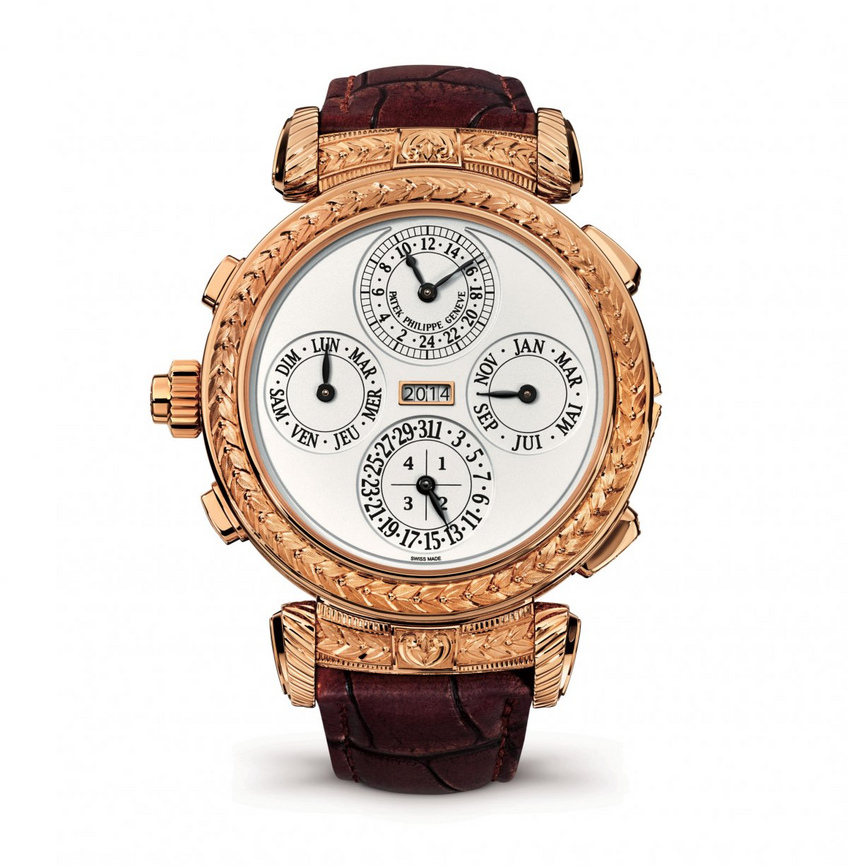 The Patek Philippe GrandMaster Chime 5175R calendar side
The case of the watch, meanwhile, is almost as impressive as the movement because the back and front are shaped identically so that it is equally comfortable to wear with either of the two dials on display. Made from rose gold, the case is elaborately hand engraved with an intricate leaf design - and discreetly inscribed with symbols designed to remind the wearer how to operate the various functions.
An edition of seven examples of the GrandMaster Chime will be made, six of which will be sold to long standing collectors, with the seventh being reserved for display in the Patek museum.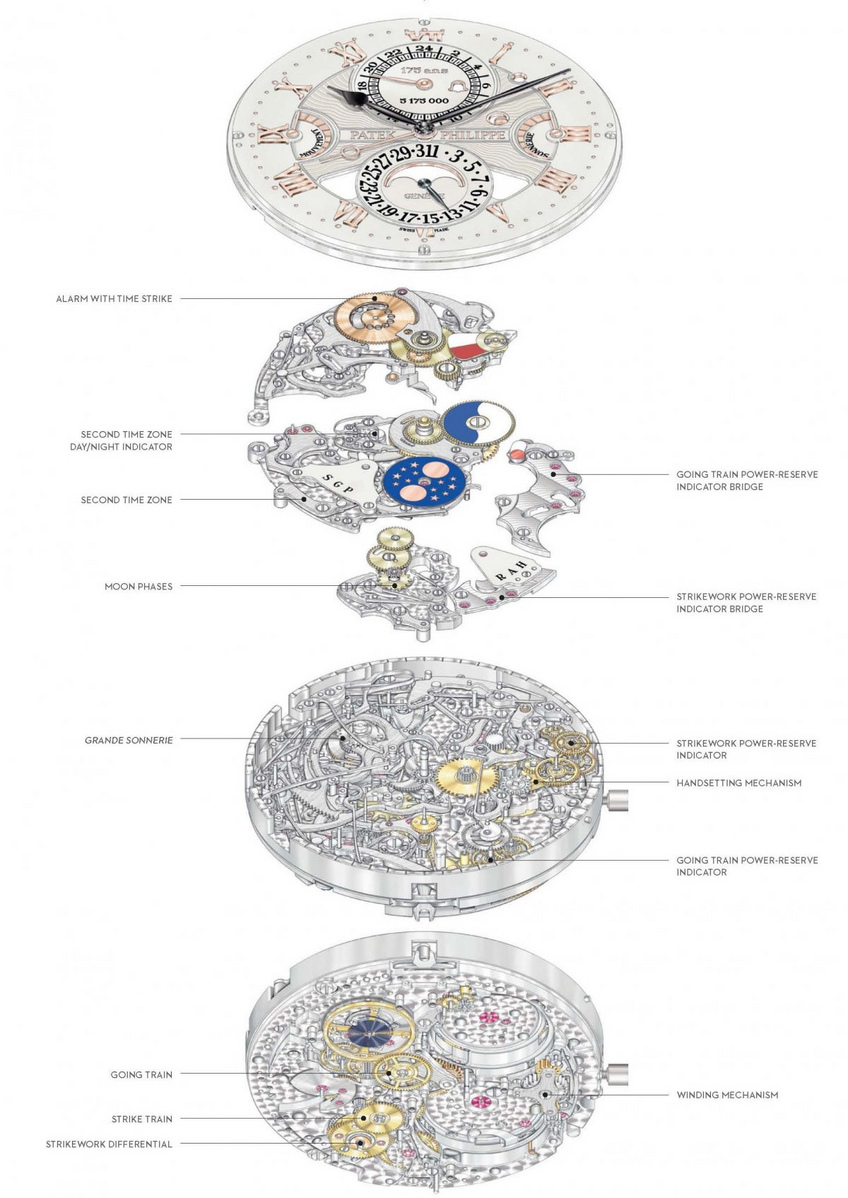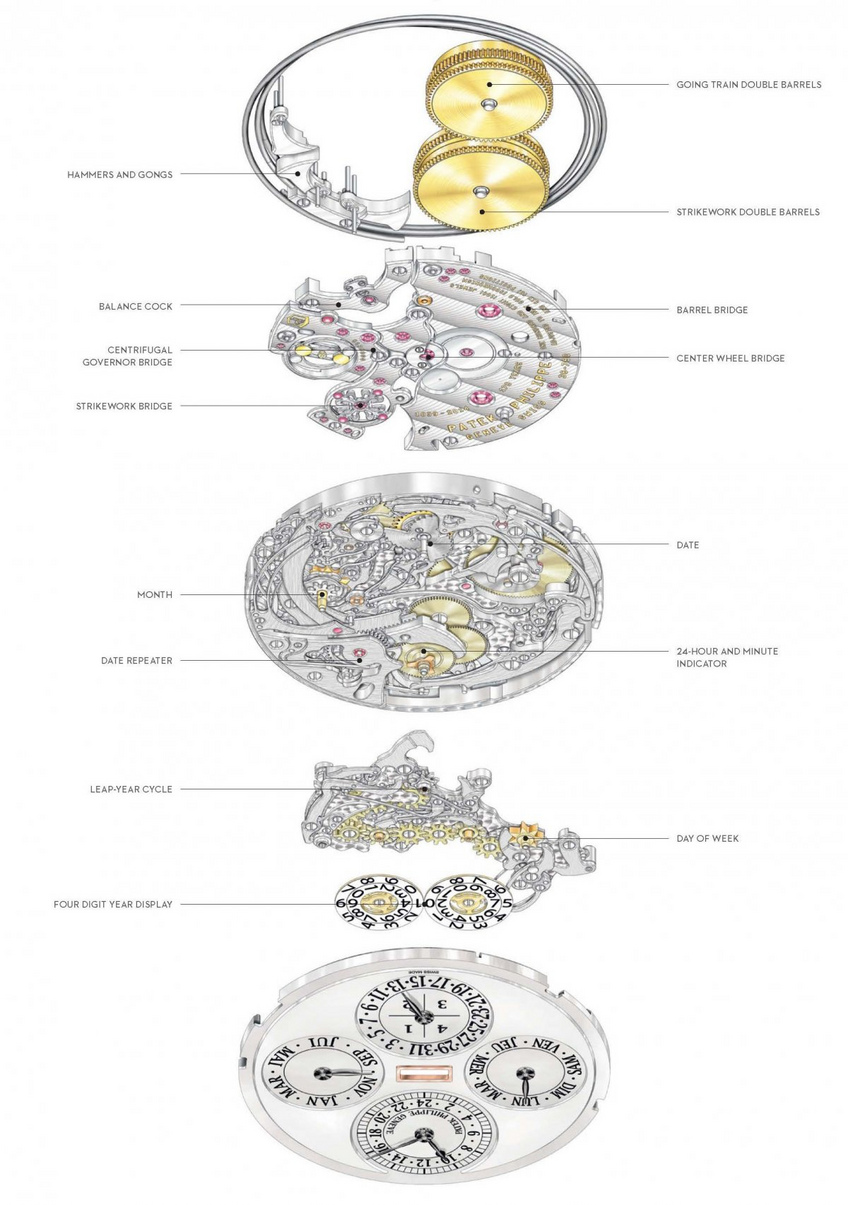 The Patek Philippe GrandMaster Chime 5175R éclaté
Each watch will be delivered in a special chest made from Macassar ebony inlaid with 17 other woods, decorated with gold inlays and containing a gold medal engraved with images depicting milestone's in Patek Philippe's history.
We have not been told how much each of the six VIP customers will pay to own a GrandMaster Chime - but it seems unlikely that they will get much change out of $2 million.
Watch this space for full details of the other pieces in the 175th anniversary collection.
By
Vincent Daveau
,
Contributor
Patek Philippe's history is often synonymous with great human adventures. The launch of the Calatrava reminds aficionados of the brand's constant...
By
Vincent Daveau
,
Contributor
Vincent Daveau, journalist and watchmaker, gives us a second reading on this anniversary timepiece, the introduction of which was previously described in...
By
Vincent Daveau
,
Contributor
Passionately complex. This year, Patek Philippe celebrates its 175th anniversary.