Zenith and Mark Hawwa, stylish and generous easy riders
Zenith, the Swiss watchmaking brand, has partnered with Mark Hawwa for his worldwide motorcycle fundraising event, the Distinguished Gentleman's Ride. A call for donations has gone out… the deadline: October 9.
On Sunday September 25, Mark Hawwa, who founded the Distinguished Gentleman's Ride (DGR), and some 50,000 people put on their finest suits, mounted their motorbikes and hit the road in a bid to help world-wide campaigns involved in the fight against prostate cancer and to support programs working on mental health. Mark Hawwa dropped by to visit us in Geneva and the perfect gentleman that he is, answered our questions.
Mark Hawwa, picture by Pete Cagnacci
The Distinguished Gentleman's Ride adventure
Mark Hawwa was born in Sydney to Egyptian parents. Early on in his life, he developed a taste for riding along the endless Australian roads, crossing deserts, immense vacant plains and the ocean shore that stretches as far as the eye can see... The idea of creating a community of bikers saw the light of day in 2012. "At the beginning, I created a group of bike riders in Sydney called CaféRacer,"Mark Hawwa explains. "We would take off on tours for weekends and stop at beautiful places to camp under the banner of friendship and mutual assistance."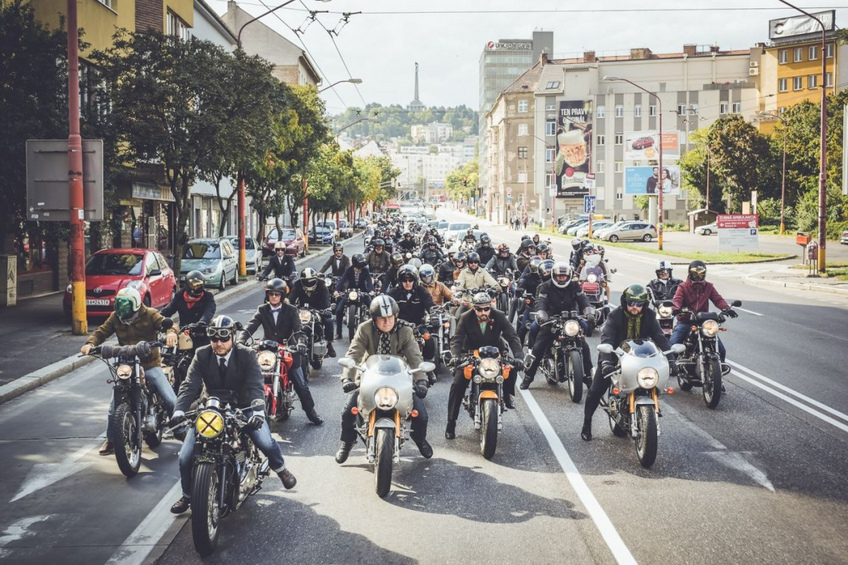 DGR 2015 Bratislava, picture by Marek Nagy
Suddenly for Mark Hawwa, it clicked! He stumbled across a photo from the Mad Men series, a photo of the fictional character Don Draper in a tailor-made suit and sitting on a bike. That's when he got the idea of a dress code. Elegance and refinement, something to counteract the stereotypical view of bikers, something to rebuild their image.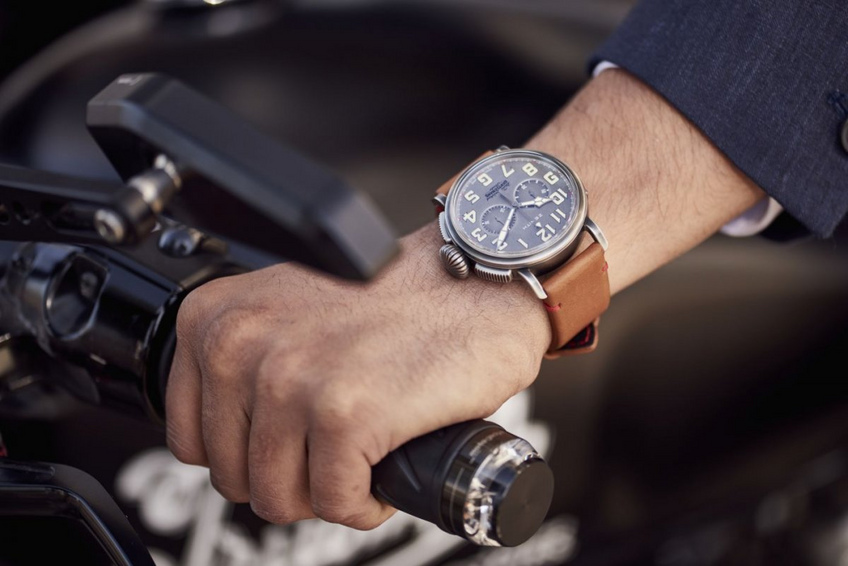 Zenith Pilot Ton-Up DGR Special Edition
The Motorcycle Diaries of Ernesto Rafael Guevara
Thanks to social media, the enthusiasm reached fever pitch quite fast. By the end of the first year, the community numbered 2,500 bikers in 64 cities. In 2016, over 550 cities around the world hosted the event. It was a success, which for Mark Hawwa, became a personal achievement beyond his wildest dreams. It's difficult not to compare this with the path taken by Che, who as a young medical student, toured Latin America on a motorbike with his best friend. It was during this adventure that they became aware of the poverty and socio-economic inequality of the countries they rode through. For Che, it turned into a vocation and he went on to join the revolutionary movement of Fidel Castro.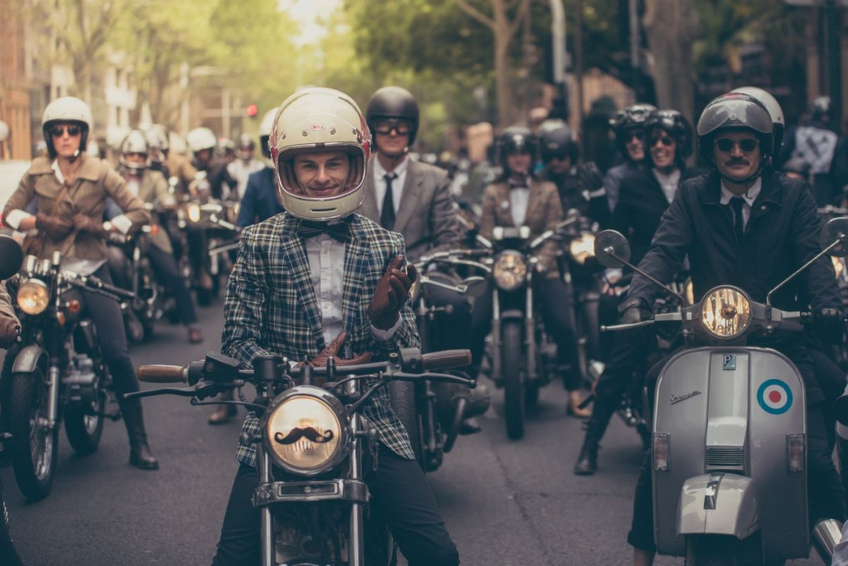 DGR 2015 Sydney, picture by Baptiste David
For Mark Hawwa, the fame of the DGR has allowed him to fundraise to support research against prostate cancer and mental health in men. His struggle is ongoing. He wants to help increase men's awareness by constantly publicizing the importance of early screening for prostate cancer, so that the number of deaths, which is still far too high, can be lowered. What's amazing, is that this charitable event was able to raise the sum of almost 4 million dollars, thanks to the generosity of all those involved, and also thanks to the indispensable partners that are a must with such a campaign.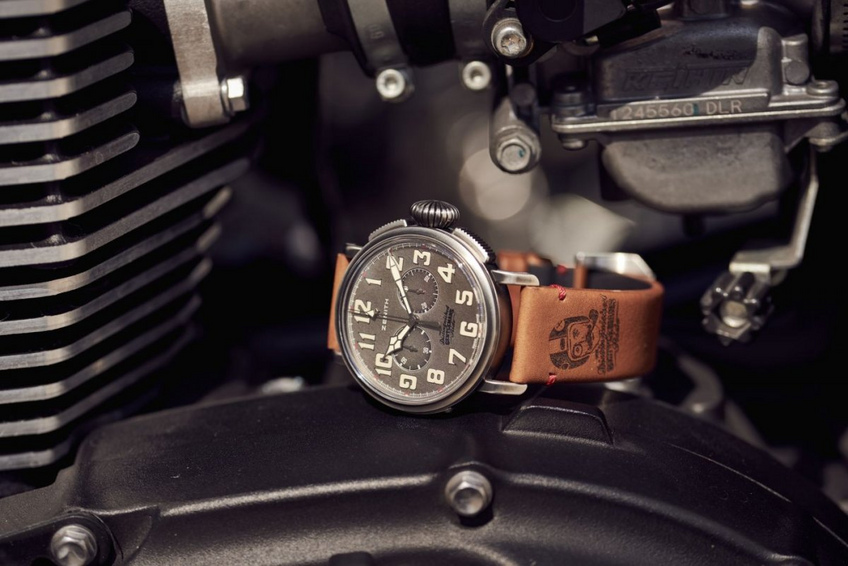 Zenith Pilot Ton-Up DGR Special Edition
Zenith: a committed partner
"The watch brand Zenith is a very enthusiastic and committed partner to the Distinguished Gentleman's Riders event,"Mark Hawwa noted. "The brand not only placed a logo on a motorcycle, but it also managed to generate real passion around the event."
Indeed, the Le Locle-based company set up a "Zenith Watch Team"and made a limited-edition watch, the Pilot Ton-Up DGR. The timepiece was especially conceive for the DGR and will be awarded to the participants from around the world who have received the greatest donations. Presented in 2016 at the Baselworld trade fair, the Pilot Ton-Up comes in a45-millimeter distressed steel case with an El Primero 4069 caliber inside, an engine well known to watch fans. The vintage-style dial offers perfect visibility. Its esthetic lines are clearly in sync with the spirit of the Distinguished Gentleman's Ride, since it has a strong personality, originality and style.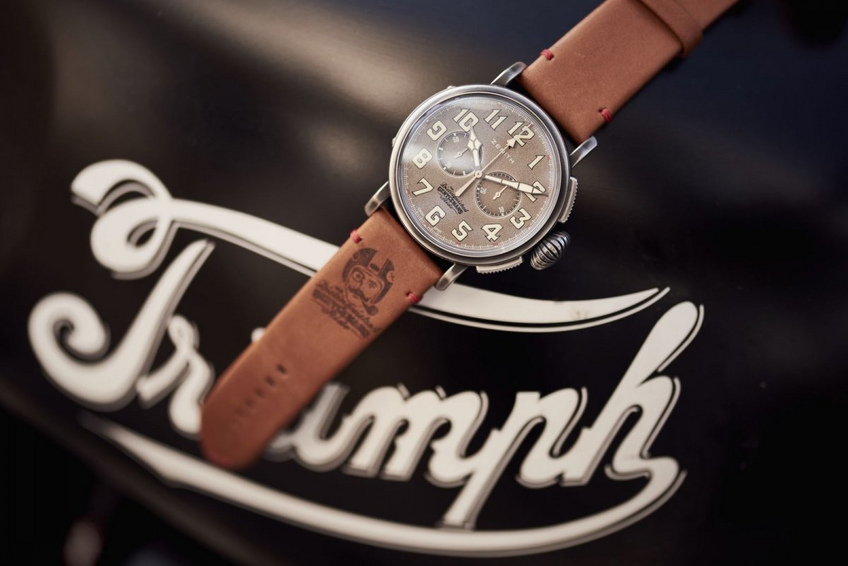 Zenith Pilot Ton-UP DGR Special Edition
Donations can be made until October 9, 2016. Please visit the official site of the Distinguished Gentleman's Ride or Zenith's official site.
Learn more: