The 26th edition of the SIHH 2016, the R&D delivers - Part 3
Producers, consumers, trends, and innovation. These key elements combine forces to move any industry along in one way or another. At the SIHH, the trends this year looked very much the same as last year, but was there any innovation? A good question.
The people who handle advertising speak often of innovation, and that means that the term has often been degraded to the level of buzzword. New materials, a new strap, a new color… none of that is truly innovative. Innovation has to be bigger, and yet, in watchmaking, it can be quite small. Somewhere in the innovation equation, must be the term paradigm shift, which in watchmaking does not have to be much.
Panerai Lo Scienzato Luminor 1950 Tourbillon GMT Titanio
Let us look at Panerai, a brand that is so rooted in its own past that the names of some collections include years. For the special edition Lo Scienzato, the brand did find an innovative solution to avoid too much weight on the wrist. After all, this timepiece, dedicated to Galileo, should, by rights, be quite heavy on the wrist, with its tourbillon, GMT, 24-hour display and power reserve (in the back of the watch) all packed into a 47-millimeter case. Using the process of direct laser sintering with titanium powder, they were able to make a hollow case, which could not be done with the usual grinding. The process is quite difficult, as Arnaud Houriet, head of Projects Innovation at Panerai, explained, not least of all because the titanium powder can actually ignite.
Another bit of innovation was delivered by Audemars Piguet. François-Henry Bennahmias himself came out to start off a very brief – and not really necessary – virtual reality tour of the Vallée de Joux with some snowy fields and forests and ending somewhat incongruously in the brand's offices. The VR show was trendy, but not innovative, by the way. Anyway, AP wanted to show the audience where the Royal Oaks are born and bred. And, to stay in-metaphor, in case you thought the horse was dead, AP managed to flogged it to life again, by touting a new sportive set of Royal Oaks in yellow gold. The fans will be grateful.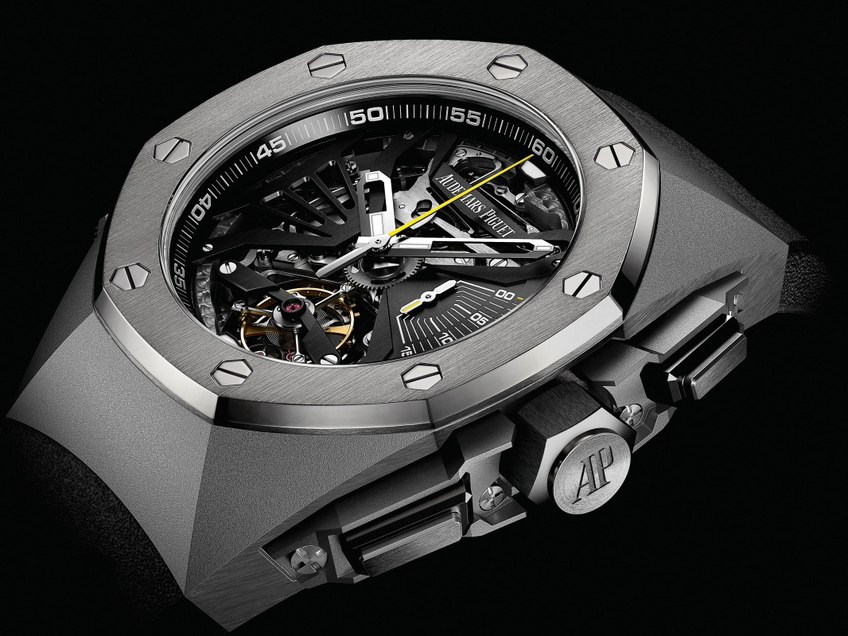 Audemars Piguet Royal Oak Supersonnerie Concept
Audemars Piguet's real show-stopper, however, was the new boasting a tourbillon and a minute repeater with a reworked architecture including a soundboard, a new case design, and a system that avoids the slight whirr when the repeater is activated. The Supersonnerie's repeating system actually generated three patents, specifically for the gong manufacturing process, for the case, and for a newfangled, i.e., silent, anchor governor. All that to produce the loudest wrist-music of any watch, says AP. A second concept, the Double Balance Wheel Openworked runs on an escapement driven by two balance wheels stacked on top of one another. This idea is not entirely new (one thinks of the Rudis Sylva Harmonious Oscillator), but this particular system was special, indeed.
Finally, Parmigiani Fleurier, celebrating its twentieth anniversary, presented a number of outstanding models, including a brand new integrated chrono. There was another project though, that raised a few eyebrows: Senfine, which means eternal in Esperanto, is a type of escapement featuring long, narrow blades and a balance wheel with far shorter amplitude, hence higher frequency. While the origins of the system go back to 18th-century England and John Harrison, this movement is known by the name of its inventor, Pierre Genequand, a retired engineer. He presented the idea as a prototype built in his kitchen to CSEM quite a while ago. The Swiss applied research specialist then turned to watch movement specialists Vaucher to start implementing the project. The Genequand escapement is now a working prototype, it seems, and offers up to 45 days' power reserve.
Beauty and the beast
Some brands consistently focus on being outside the norm, of course, and the question is: are they innovative, since in doing so, they are always within their own lineage. A good example is Richard Mille, where crazy is perfectly normal, and crazy ideas push the envelope, as it were… which could be considered innovative in a pinch… . In fact, it seems like only yesterday that the watch world was oohing and ahing at the RM-01. Now there are nearly 70 RMs, and they all seem to have some special feature, be that a shock absorbing system based on miniature pulleys and a cable that beats Nadal's serve, a tourbillon that pops up in a magnolia flower, a sapphire case, gear wheels of semi-precious stones, or the indicator for the crown position that is both practical and decorative.
Among the Mille novelties this year is a fountain pen with a nib that pushes out automatically, nut that novelty came as an aside. The pieces de résistance were three new models. The RM 67-01 Automatic Extra Flat is pure Mill, i.e., instantly recognizable, but with an additional touch of elegance that suits this tech-dominated world well. Mille also delivered the Airbus Corporate Jet (RM 50-02 ACJ), with split seconds chrono and tourbillon and a lively, colorful face shaped like a jet porthole, filled with indicators and techno stuff to wow men who like having lots of buttons to push and slide. And speaking of pushing buttons, there was also the RM-69, a reference number that inspired Mille to the "Erotique." It features a series of three six-sided rollers each bearing quotes in English that are supposed to get your prospective partner to skip the hors d'oeuvres and the main dishes and get to the cheesecake pronto. Whether it will have that effect, I leave to the emptor to caveat about, if you can buy a Mille, generally you can buy anything, maybe even the hallucination of real love. The Automatic Pink Sapphire for women (RM 07-02), machined out of a single sapphire block, which might do the trick more sustainably.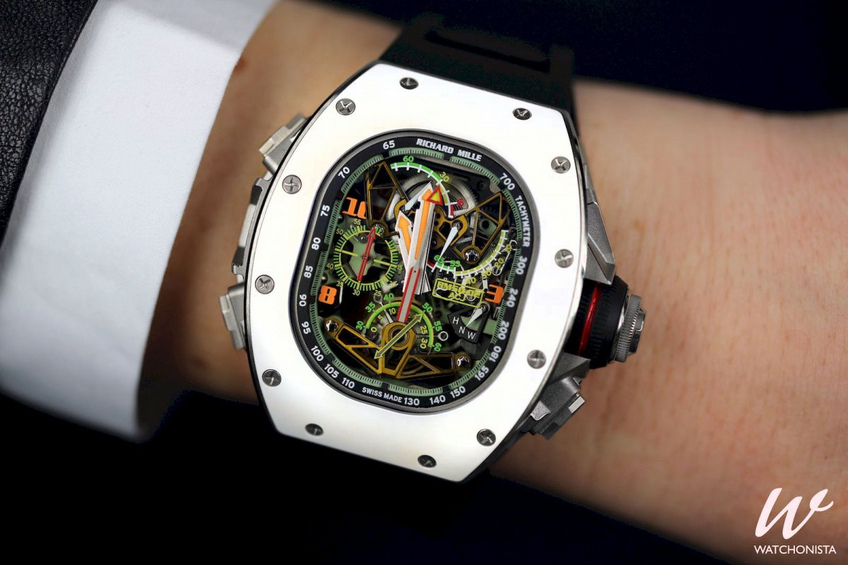 Richard Mille RM 50-02 ACJ Tourbillon
To conclude this run through the SIHH, a look at another brand that has been consistently producing remarkable references in the past years. For Van Cleef and Arpels, the key to change was its collaboration with the great Jean-Marc Wiederrecht, founder of Aghenor, which generated a groundswell of enthusiasm for the brand among more tech-oriented journalists. Up until then, Van Cleef and Arpels was considered a traditional jewelry maison, a maker of pretty but un-horological flimflam. The Poetic Complications, featuring such pieces as the "Pont des Amoureux," or the "Heure d'ici et heure d'ailleurs" for men, changed all of that. Suddenly beauty became a function in its own right, and the driver was some genuine technical wizardry behind the dial.
The partnership with Wiederrecht ended when Van Cleef decided to bring the watchmaking home, and with it came some doubt as to whether the brand could sustain its momentum. The Lady Arpels Ronde des Papillons, presented in January 2016, suggests that the Wiederrecht spirit is still hovering even if his fingers are not. It features a swallow's flight to mark out retrograde hours, while three butterflies flutter along minute arcs successively, each disappearing behind a cloud when the job is done and then reappearing just in time to start over its section of the hour. The key to this superb complication, which also implies a three-dimensional image on the dial, is an oval gearwheel, which allows the butterflies to "return" quickly to their starting position due to the shorter segment at each end of the wheel.
Van Cleef & Arpels Lady Arpels Ronde des Papillons
Van Cleef had another innovation in store for its growing fan club. The Midnight Nuit Lumineuse lets us gaze at a night sky, dark, yet luminous with distant stars. At 7:30, a pusher activates a special ceramic band, which, when deformed, generates piezoelectricity, which lights up six LEDs behind diamonds on the dial. They are the six stars of the Monoceros constellation, the Unicorn.
And, conveniently perhaps, it closed the circle on the SIHH for my visit there. The first watch I saw serendipitously was a new HYT. This very young brand, which rocketed to fame in just a few years, devised another way of lighting its dials, namely with a miniature dynamo. Proof that something is really happening in the world of watches, small steps, perhaps, like everything within the confines of such small cases.
By
Marton Radkai
,
Journalist
In an interview years ago at the height of the recession, Jean-Claude Biver boomed at me that when times were hard, it was time to invest, advertise, go to...
By
Marton Radkai
,
Journalist
The 26th edition of the SIHH, closed its doors recently and so it is time to take a look back over four plus days of watch-watching, of receiving the skinny on...