Richard Mille RM 11-03 Automatique Chronographe Flyback: concours d'élégance
Reinterpreting an icon such as the RM 011 while preserving the brand's main codes proved to be a complex and delicate task. We set out to decipher this transfiguration during a great and purely mechanical event.
The now unmissable Chantilly Arts and Elegance Richard Mille, which is organized by Peter Auto near Paris, was the perfect occasion for the fans of beautiful mechanics to discover the latest RM 11-03 Chronograph Flyback. Prestigious cars and collectibles surrounded the piece, which belongs to the Richard Mille product range. Just like the splendid avant-garde cars revealed at the Concours d'Elégance, the skillfully reinterpreted lines of this instrument house an original flyback chronograph caliber whose smartly-designed skeletonization provides it with a three-dimensional and dynamic look. It is the same look that was once used by manufacturers of prestigious cars.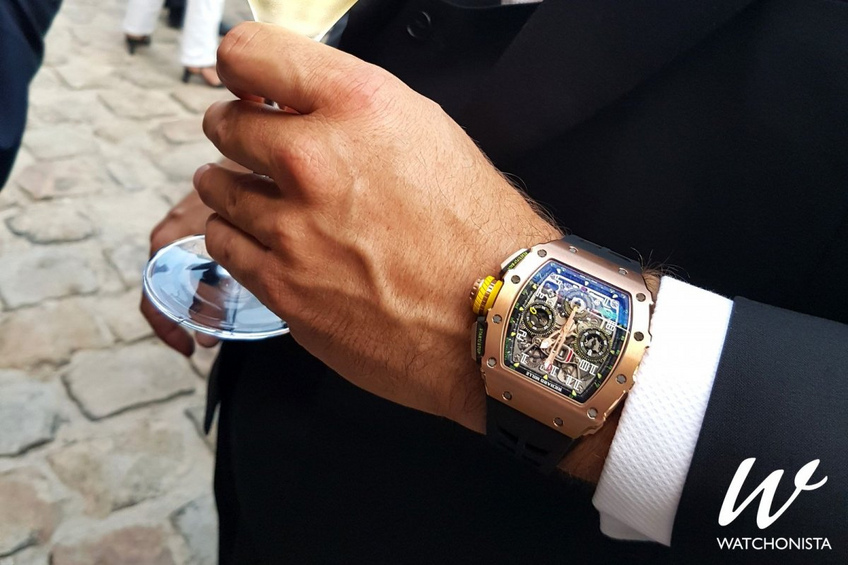 Richard Mille RM 11-03 Automatic Chronograph Flyback
Optimizing the CX
Designing a watch with a structure and materials inspired by "concept" and racing cars requires the expertise of both designers and car engineers. Richard Mille chose to revisit the past by modifying both the tonneau-shaped case and the piece's 'engine' – a task of no ordinary complexity. As he put it: "restyling is an essential part of a product's life. And a watch as iconic as the RM 011 – part of the collection since 2007 – must fit in with the natural evolution of the brand while also being in line with market trends to keep our fans interested".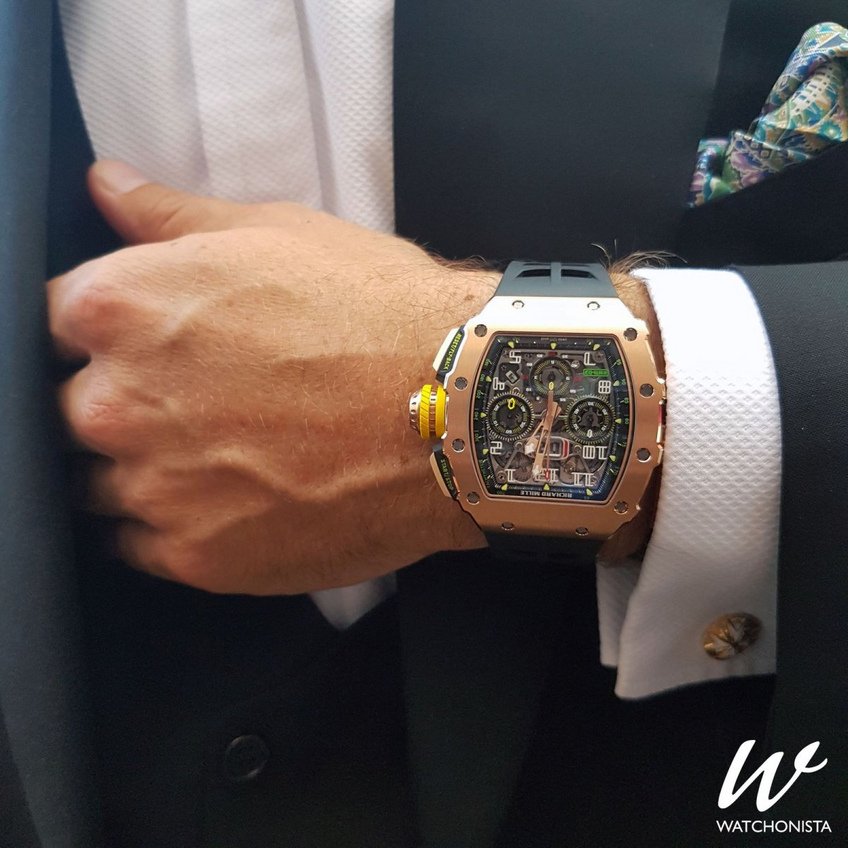 Richard Mille RM 11-03 Automatic Chronograph Flyback
It goes without saying that tastes evolve and trends vary. And what with watches being mechanical objects that are developed at one point in time and becoming reflections of their time in the future, they need to reflect their time by adopting the most striking paradigms.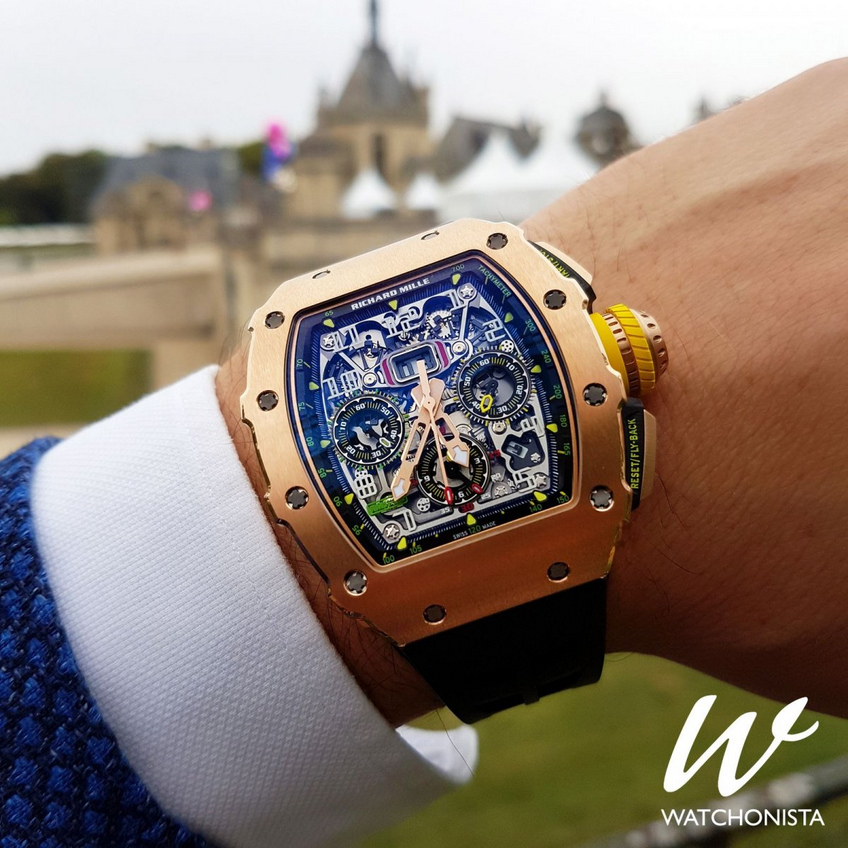 Richard Mille RM 11-03 Automatic Chronograph Flyback
At the start of the third millennium, Richard Mille set the trend of futuristic watchmaking by dismantling traditional watchmaking design and laying the ground for what is today known as "new horology". However, watchmaking has also evolved in a way which could be comparable to that of fashion and has hence had to rise to the challenge of swift rhythms and changes. As it is, a watch range is only fashionable for a while. So, to stay ahead of watchmaking creativity, Richard Mille needs to update its creations regularly.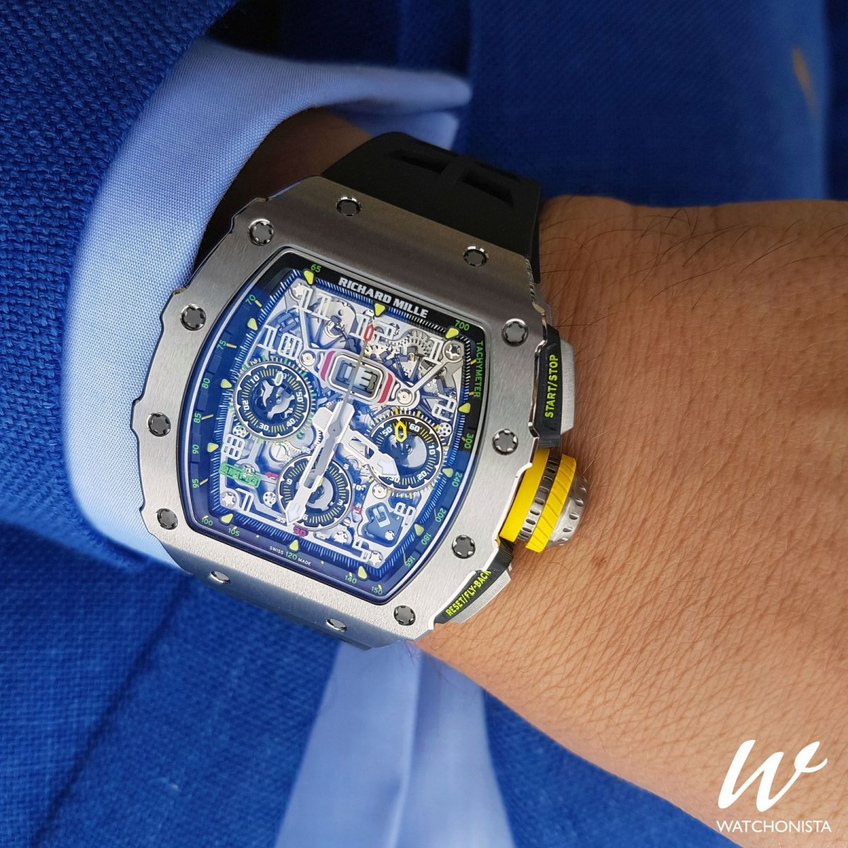 Richard Mille RM 11-03 Automatic Chronograph Flyback Felipe Massa
To create is to secure the future
The element that has been subject to most substantive changes in this piece is the self-winding RMAC3 caliber – it has been given a three-dimensional look and its complexity has been accentuated. In this layout where each detail is assigned a specific space, color has been reconceived to fit in subtly and the emphasis on the three-dimensional look, through skeletonization, has helped to add relief to the mechanical assembly while illustrating its whole complexity more effectively.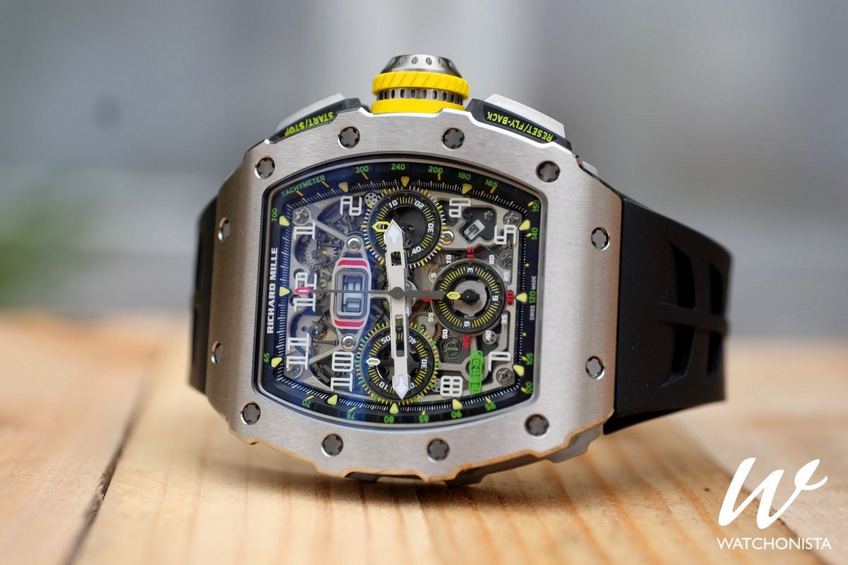 Richard Mille RM 11-03 Automatic Chronograph Flyback Felipe Massa
Aesthetics was obviously a major requirement and was intricately developed on the case, decorated with resolutely sporty finishes as the ones we first saw on the RM 27-01 Rafael Nadal.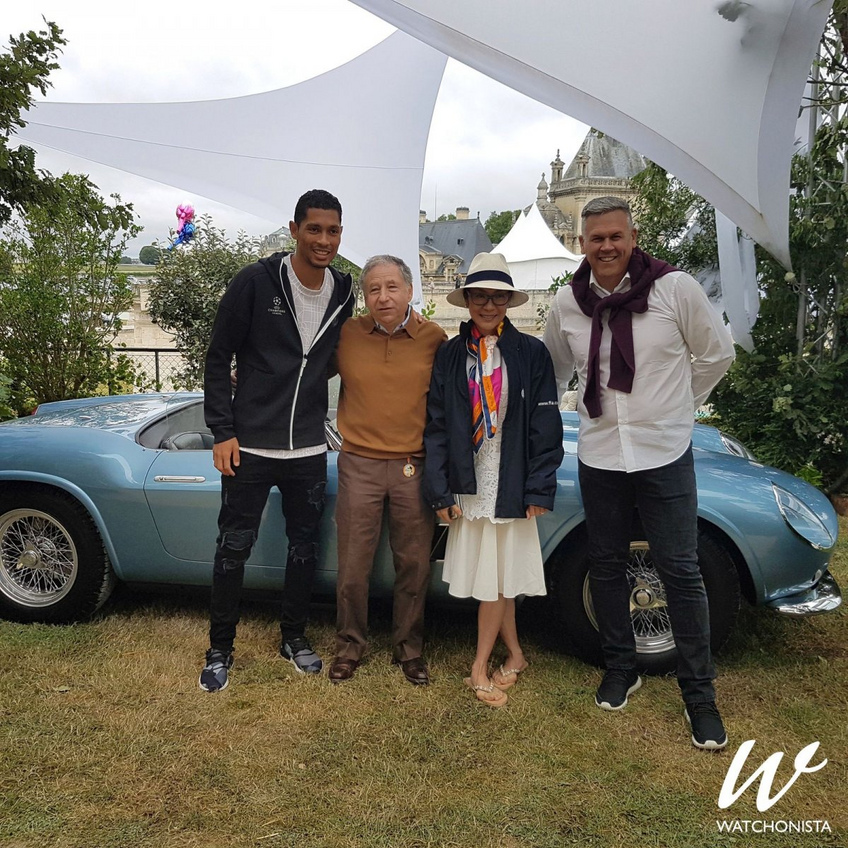 Wayde van Niekerk, Jean Todt and Michelle Yeoh at Chantilly Arts and Elegance Richard Mille
However, performance is also key, especially for a flyback chronograph that features an annual calendar with a large date. To avoid any damage to the piece over time, the rigidity and efficiency of the gear trains have been optimized by using grade 5 titanium for the plate and the bridges. The instrument is equipped with two parallel barrels to ensure the stability of the couple while providing a 55-hour accuracy to the regulating group that beats to 4 Hertz (that is, 28,800 alternations per hour) with a variable inertia balance.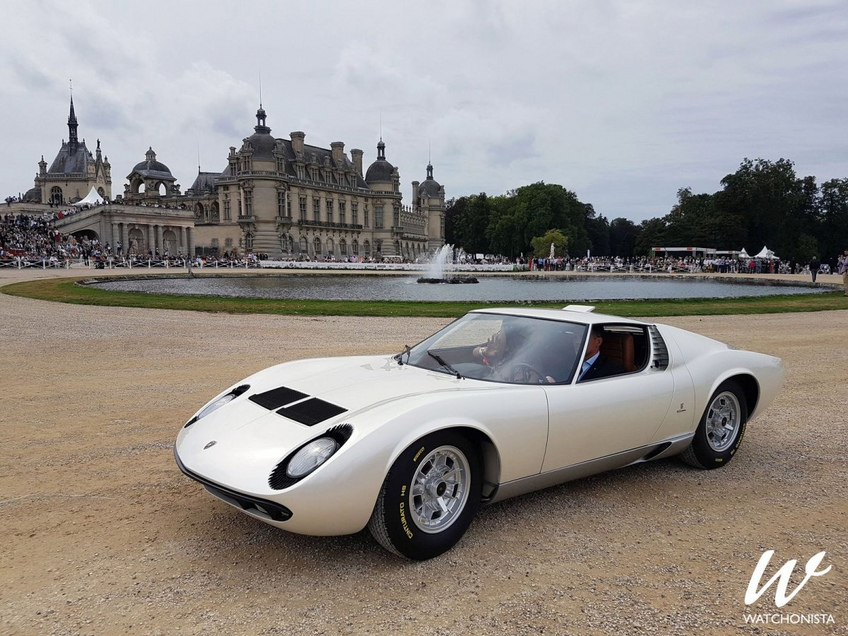 Lamborghini Miura at Chantilly Arts and Elégance Richard Mille
Being the number one
While modern, the RM 11-03 is also a particularly efficient flyback chronograph that has certainly benefitted from Richard Mille's fifteen years of experience. The reference lines of the piece have been largely inspired by car mechanics. And so, NTPT carbon works with grooved titanium just like pedals and gears do in racing cars. The crown draws inspiration from wheel rims and the case elements have been assembled like the engine blocks of racing cars.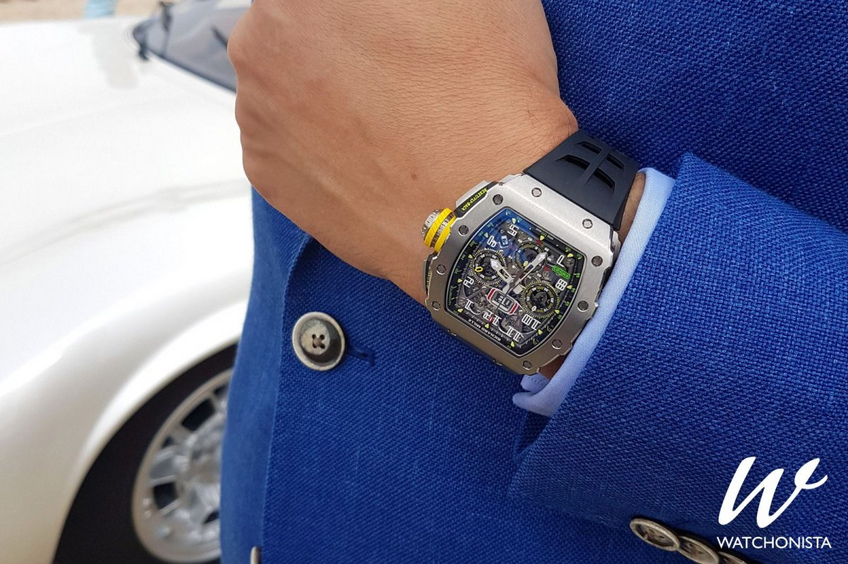 Richard Mille RM 11-03 Automatic Chronograph Flyback Felipe Massa
All this makes it perfectly clear that the RM 11-03 is a new-generation timepiece whose every stylistic detail finds its roots in the car universe so cherished by Richard Mille.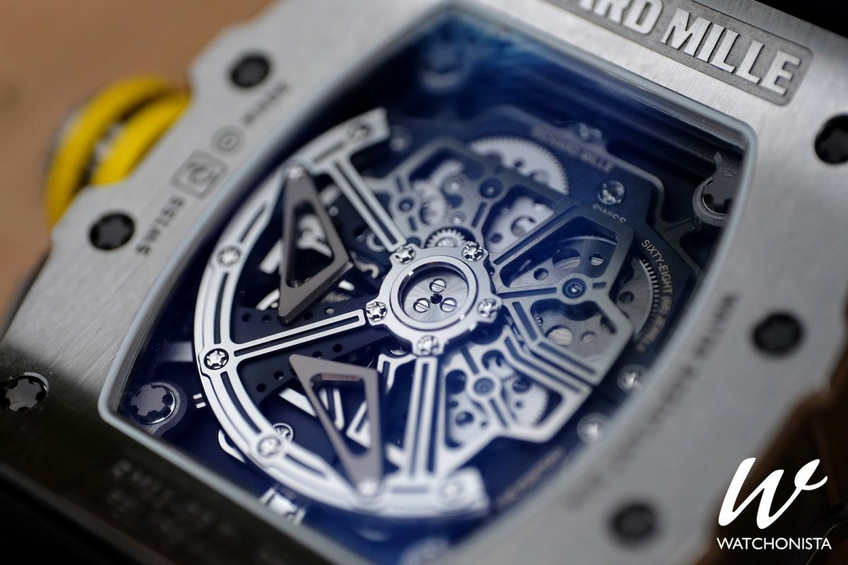 Richard Mille RM 11-03 Automatic Chronograph Flyback Felipe Massa
Compared to the range's original pieces, nothing has changed, yet everything has. In a nutshell, it's the magic of this art –keeping up with the times to maintain the appeal. That is also both the strength and the basis of this futuristic brand which knows that staying at the forefront is essential, as there is no place for average in either car racing or watchmaking.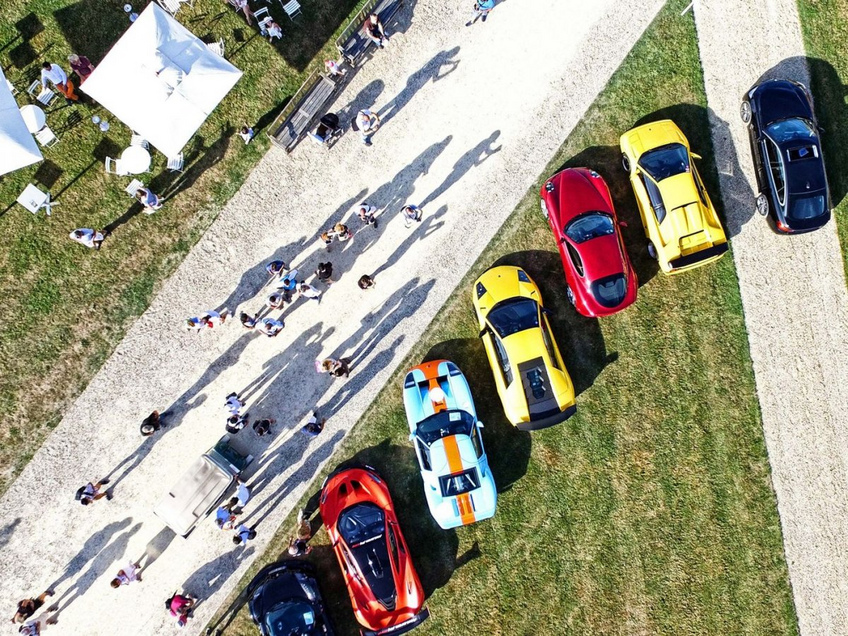 Chantilly Arts and Elegance Richard Mille 2016 (picture credits: Jean Dheilly)
By
Barbara Palumbo
,
Contributor
The Richard Mille-sponsored event brought teams of women drivers to France from around the globe, and Watchonista was there from the race's start at...
By
Vincent Daveau
,
Contributor
Graphic, technical and super chic, polo is a surprisingly violent sport. To avoid seeing any damage inflicted to the watch customarily worn by grand polo...
Watchonista was thrilled to join Richard Mille and his esteemed guests for an elegant festival at Château de Chantilly.