The epitome of independence: Armin Strom's one-of-a-kind Manufacture
It all began with friendship and skeletonizing in which fascination ­– fuelled by a reasonable and determined ambition ­– played a big role. All in all, this distinctive brand and manufacture makes in-house calibers and …
Can friendship turn into commercial and industrial success? I say yes, when it is realistic and reasonable objectives are set, which in the long run will mature into consolidating stages in the quest for recognition.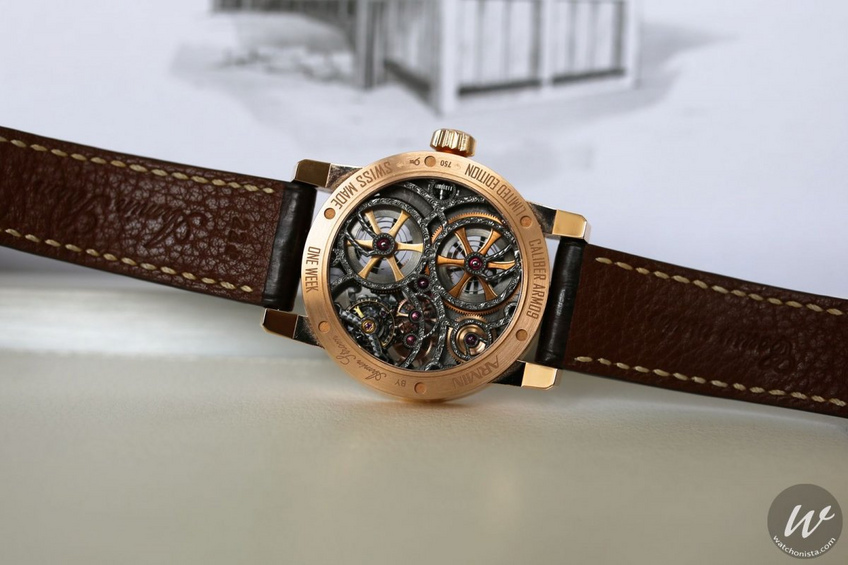 The caseback of the Armin Strom One Week Skeleton
Skeletonizing, a craft that involves art and patience
In hindsight, it all began at the small shop in Burgdof where Armin Strom worked as a watchmaker and excelled at skeletonizing. Strom's passion for skeletonizing became a reference skill when one of his timepieces joined the Guinness World Book of Records as the smallest open worked piece in the world. Yet, this passion, as it turns out, was aroused by chance as a man stood at the counter of his watchmaking workshop in Bern, racking his brain to find a way to sell a watch. This particular piece, whilst interesting, did not seem to attract clients.
Thus, in the time he had left when not attending to clients or responding to enquiries, Strom disassembled the watch. He worked on its gear trains to remove anything superfluous, and then he skeletonized, reassembled and showcased it. It was sold immediately afterwards.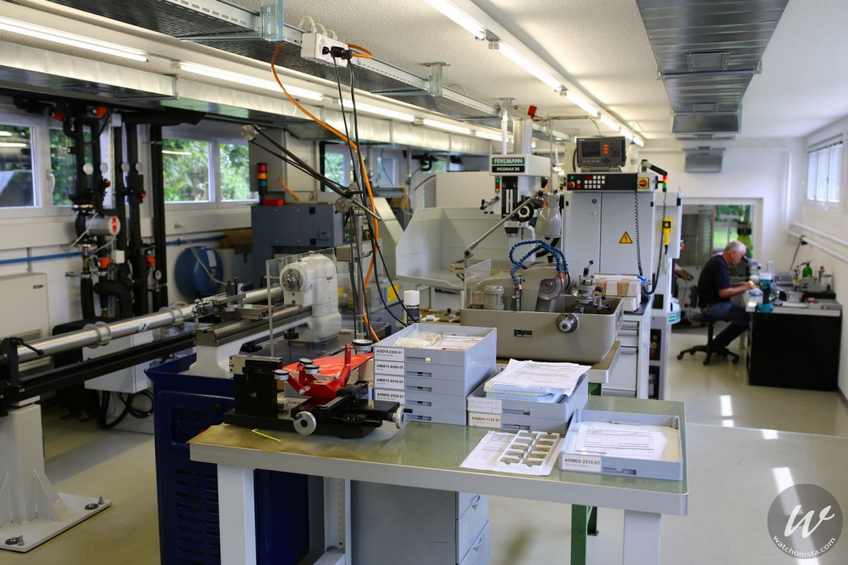 The production department of the Armin Strom Manufacture

Skeletonizing is so popular in watchmaking that almost every brand has one or more skeletonized reference in their catalogue. To be sure, the skeletonizing operations that are meant to make a watch's micromechanics alluringly visible without hindering its chronometric and precision performances are sometimes made in factories, and perfectly at that. Nevertheless, nothing beats hand-made work when it comes to beautiful executions, particularly when the best engravers decorate the skeletonized part. For instance and despite being retired, Armin Strom cannot resist regular visits to the manufacture bearing his name on its frontal façade, located in the suburbs of Bienne. There are also some collaborators whom he trained and taught his particular skills.
Armin Strom: from man to brand
While every brand focuses on highlighting its differences, be they because of their history or their creativity, Armin Strom's DNA is all about warm human values. Values of one man alone, known for his skills to the extent that existing leading brands (particularly Omega) asked him to work on their timepieces. Strom is a man who has become a one-of-a-kind brand thanks to the sponsorship of a curious entrepreneur and friend with good contacts, Willy Michel. Rumor has it that Michel – a fan of art to the extent that he gave a whole museum to the artist Franz Gertsch, one of his protégées ­– had some reservations about watchmaking. Rightly so, as he had seen Doctor Jürgen Lange, from Moser & Cie, relaunched the brand in 2002. This could have discouraged him because the amount of money invested was disproportionate in terms of the expected results, something he found that mind-boggling.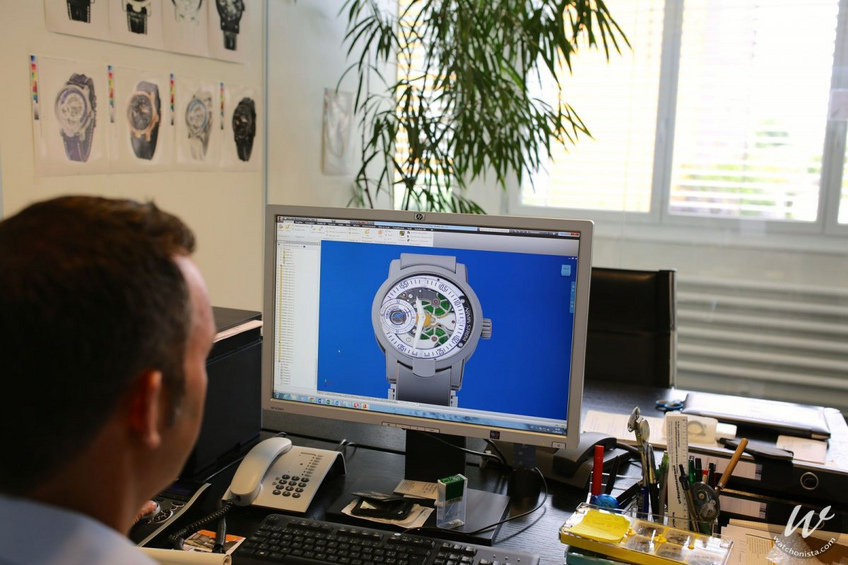 Claude Greisler, designer and developer at work

But still, Armin Strom is above all a friend. What's more, the watch designer Claude Greisler, a former repairer of old watches, has been an ever-present since the beginning of this entrepreneurial challenge.
As soon as Greisler joined the company in 2007, he was allocated a position in the management team. His opinions turned out to be priceless. He was both a designer and an informed developer who created an in-house base caliber, the ARM09. The basic architecture of the caliber contained spaces for future developments, be they micro or macro complications or useful decorations which are always decorated with the brands' identity signs. Today, the brand has seven in-house calibers and 70% of their components are the same.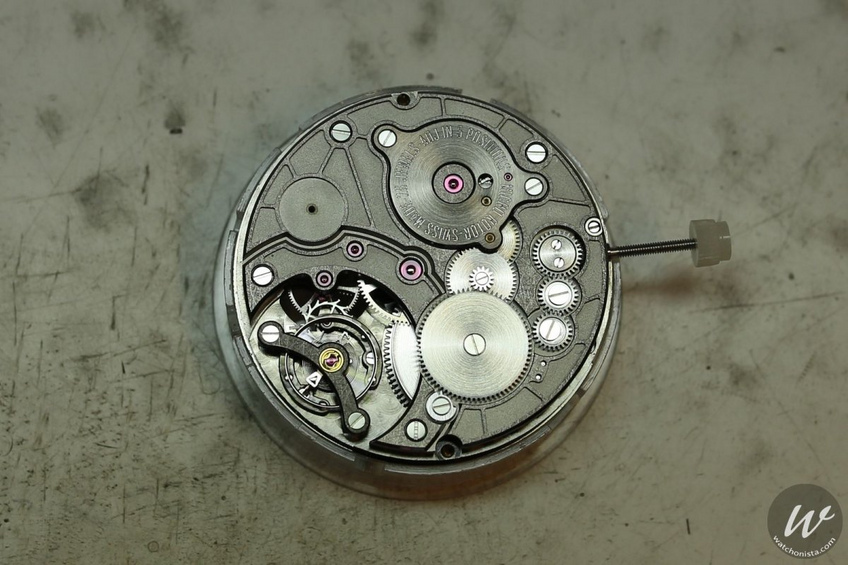 The Calibre AMR13-MR from the Racing Collection
Machines adapted to independence
Many might discover in this article some of Greisler's other talents. He is an expert in machines. In other words, in keeping with the business plan developed for the first five years towards total independence, he has always been successful in thinking outside the box and found machines that corresponded to Armin Strom's real needs. They were not necessarily famous or among the best. Sometimes, they were even constructions specifically developed to the manufacture's requirements.
The most striking example to date is this electroplating mini-chain. In watchmaking, even if a company is completely independent, it often turns to subsidiaries for this kind of operation. However, Greisler wished to carry out electroplating baths in-house. This allowed him perfect responsiveness and above all, a possibility to satisfy Armin Strom's incredible eye for detail, particularly in limited editions. This meticulousness encompasses a will to reach the best quality, even for pieces that are invisible to the naked eye. It consists of applying three layers between each operation: a gold base layer, a nickel layer – which is a thicker metal – and finally a rhodium layer.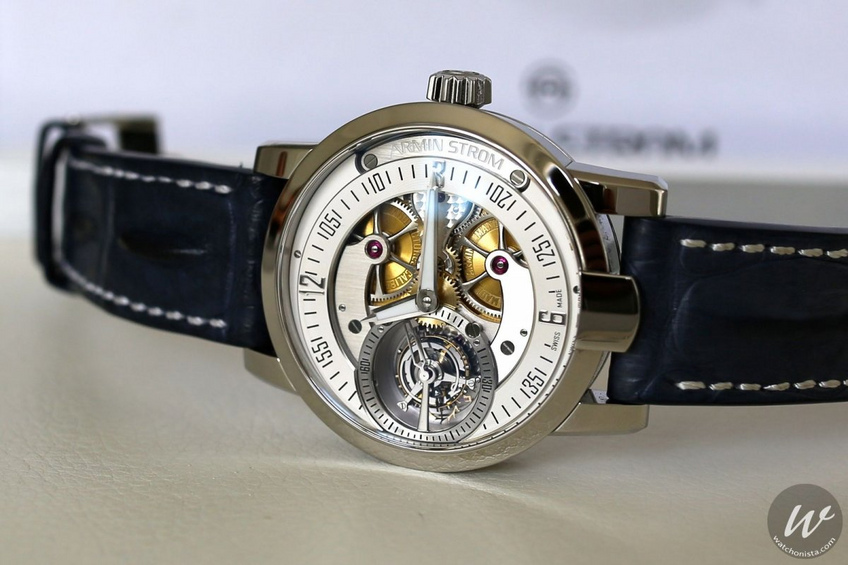 Arming Strom Tourbillon Gravity Water

Thus, the brand made it a point to be able to master a maximum of activities on its own in a relatively short time and to make its original calibers reliable. Apart from balance-springs – produced by STRAUMANN®, a brand that belongs to Precision Engineering – barrel springs and shock absorbing systems that are all produced by reliable actors which are not necessarily famous, the whole watch is made independently; from the initial conception to the final design of the calibers, including profile-turning and decoration - a true Armin Strom added value finished with circular-graining, engravings and polishing.
Popular watchmaking values
One of the signs of recognition that Armin Strom will one day no longer need is the off-centered movement which immediately tells experts that it is an in-house product. It also gives Armin Strom models this particular identity that is recognizable from a good distance. The brand's messages of watchmaking values are gradually starting to enrich the first perception based on skeletonizing and mastering decorations because this Manufacture, beyond the apparent humility of this outstanding entrepreneurial adventure, has done everything right since the beginning. Truly visionary!